On cold Saturday mornings, I like fresh baked muffins. I like the heat the oven adds to the kitchen while everyone is waking up. I like the aroma the spices bring to my home. I much prefer the texture of home made muffins to what I find in stores. I get to offer home baked goods to family and friends and I get to clean out my fridge of a number of bits and pieces ( muffins being a flexibly friendly style of baking ).
Pecans contain sterols that are known to lower cholesterol when regularly added in small amounts to a diet. Technically not a nut but a drupe, they contain 19 various minerals and vitamins and historical accounts say that some Southern First Nations peoples have in years past, lived solely on pecans for two months of the year.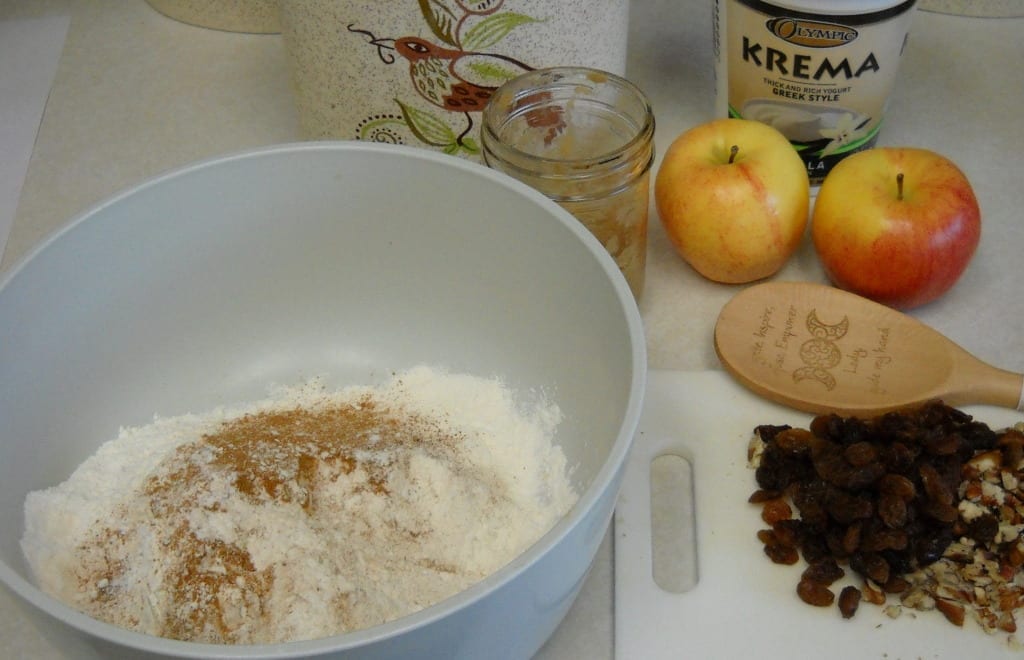 You will need:
2 cups flour
1 Tbsp. baking powder
1/2 tsp. baking soda
1 1/2 tsp. cinnamon
1/2 tsp. nutmeg
2/3 cup sugar
1/3 cup chopped pecans ( optional )
1/3 cup raisins ( optional )
1 apple, preferably tart, peeled and finely chopped
1/4 cup melted butter
1/3 cup apple sauce
1/3 cup sour cream
1/3 vanilla flavoured Greek yoghurt
2 Tbsp. cream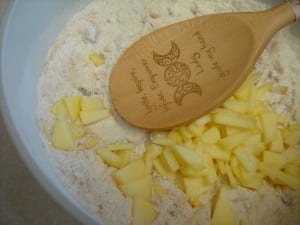 Heat your oven to 350 degrees and prepare your muffin pans. I use silicone cups. (not because I like them best but because the muffins disappear so quickly, it is easiest.)
My personal preference from a finished product perspective would be individually greased muffin tins. I like the crisper sides they give the finished product. Muffin/cupcake papers take that away but these days are busy so not having to hand wash the baking form is a win.
"In my kitchen, filled with care, I welcome, Earth, Fire, Water Air", deep breath in…..hold….and repeat. Set your intention and begin.
Combine the flour, spices, sugar and leavening agents in a bowl and stir until mixed. Add in the chopped nuts and apples and raisins. Toss to cover the additions.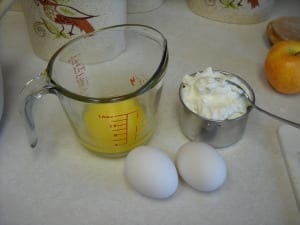 In a measuring cup melt the butter and mix in the apple sauce, sour cream, yoghurt and cream.
Remember I said I like muffins because I get to use up left overs? Well this is one of those times. You can choose to add I cup of sour cream and call it a day. You might have more applesauce on hand, add 2/3 cup and leave out the yoghurt. It is all good as long as there is enough moisture when you mix your wet ingredients with the dry. Add the two eggs to mixture and stir until smooth.
Combine the wet ingredients with the dry and mix gently only until moist, being careful not to over mix.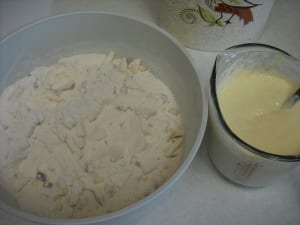 Fill the muffin pans. I actually had a little extra batter so I greased and floured that 4 inch spring form pan I have mentioned in the past and got 12 muffins and a small cake from the mixture.
For interest, I topped the muffins with some chopped pecans that I had rolled in the last of the apple cider caramel sauce, which is why they look a little over roasted. You can leave out the sauce and just sprinkle with a few pieces of pecan. Bake 18 minutes for the muffins and 25 for the "cake".
Magically pecans are connected to money and employment but they are also high in zinc which helps to generate testosterone within the body, the hormone responsible for starting sparks so combined with the apples also used for Love related workings, you might want to leave a little room in your day.
Apple Pecan Muffins always best fresh from the oven with a warm cuppa….or milk.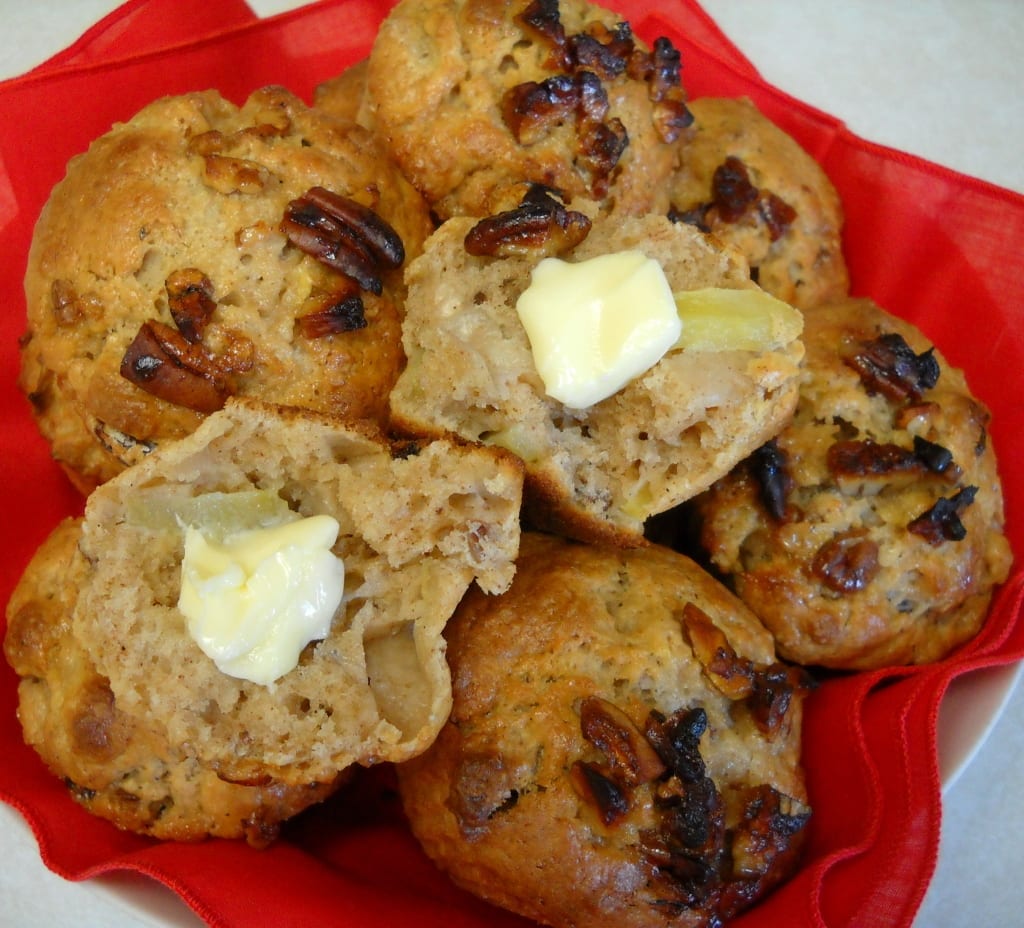 Apple Pecan Muffins from My Kitchen Wand