Hallowe'en may be past but for those of you in the United States there is still Thanksgiving to celebrate this month and plenty of time for more pumpkin recipes. Woo Woo!
Pumpkins have taken over from turnips in North America as the carrier of a candle for poor Jack-of-the-Lantern, not allowed entry into either Heaven or Hell and made to wander the worlds in between.
For today though we will be using the healthy contents of a pumpkin, not turning it into a lantern. A veggie used to symbolize the harvest and connections across the veils, pumpkins are a powerhouse of nutrients with one of the lowest calorie counts per 100 grams at only 26.
High in Vitamin A, C & E, good in dietary fiber and a rich source of minerals like copper, calcium, potassium and phosphorus, pumpkins are also a good source folates, niacin, vitamin B-6 (pyridoxine), thiamin and pantothenic acid. Lutein and zea-xanthin help protect eyes from macular degeneration.
So whether your pumpkin pie this Thanksgiving is part of the main meal or on the dessert table, including pumpkin on the menu has many benefits.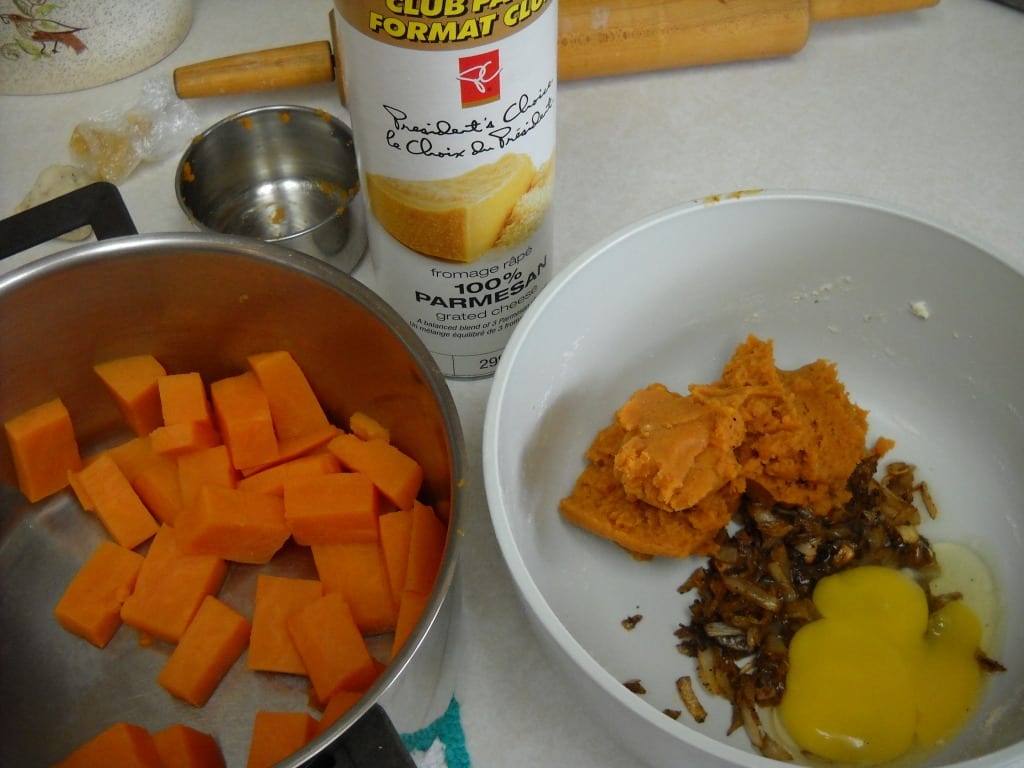 For the pastry you will need:
1 cup flour
1/3 cup butter, frozen
1 tsp. fine herbs (a mixture of chopped parsley, chives, tarragon, and chervil)
1/2 onion salt
4 -5 Tbsp. water
 For the pie filing you will need:
1 cup cooked sweet potato
1 cup pumpkin puree
1 egg
1/2 onion, chopped
2 tsp. vinegar
1/2 tsp. garlic powder
1 tsp. chili powder
1 tsp. garam masala
1 Tbps. butter
1/4 cup parmesan cheese, grated
Start by creating energetic space in your kitchen for baking. Leave any niggles outside the kitchen. If you really need them back they will be waiting for you when you are finished.
This is your space for working alchemically. Ask the compassionate spirits to guide you. Slow deep clearing breath in and hold for a moment, release and repeat. Begin.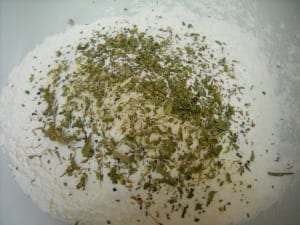 If you read anything I have shared about pastry, you know that I do it all at room temperature, fat included. I wanted to try a suggestion I came across the other day, freezing and grating the fat.
Start by combining the flours and  seasonings together in a bowl.
Toss the dry ingredients together and take your pre measured butter out of the freezer.
The idea here is that by grating the butter you will get uniformly small and mixable pieces of fat into the pastry, making it easier to achieve a nice flaky crust.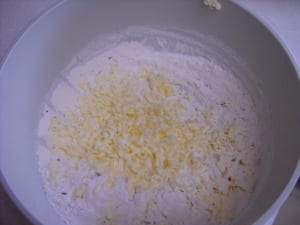 Too small a grater and you will have a mess on your hands and too big defeats the purpose.
I have a set of three sizes that I inherited from my grandmother. They never seem to dull and every so often I see them in antique stores,…. I digress.
Grate the butter into the flour mixture, toss and add the water.
Mix together as quickly as possible without overworking the dough and add a few drops more water if you feel the mixture is too dry.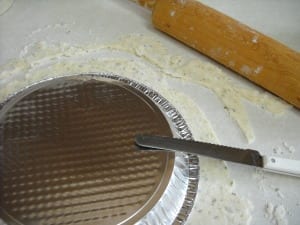 You can wrap the dough and put it into fridge to harden the fat again after you have worked the dough or if you are feeling comfortable, roll out the dough immediately and pop the completed pie shell into the fridge while you are working on the filling.
( I often make double or triple the number of pie shells I need so that I can have something quick to pull from the freezer. )
Evenly roll out the dough until it is large enough to fully cover the opening of a 9 inch pie plate and give you an extra inch all the way around.
Rough cut the pastry dough, place the dough into the pie pan and smooth the sides down and in.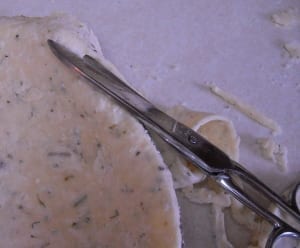 Because I am going to add cut outs on the top, I took a pair of kitchen scissors and cut all the way around the pie pan edge. It is quick, easy and gives an even trim.
Combine the remaining dough and roll out again. I cut maple leaves out. Not because there is maple syrup in the pie but because  it is autumn and the few deciduous leaves we have on the west coast are turning colour.
You can choose to cut strips and create a lattice top or maybe you have a bat cookie cutter or another leaf shape that will work. Alternately, use a fork to mark the edges and call it a day.
To make the filling, melt the butter in a frying pan. Add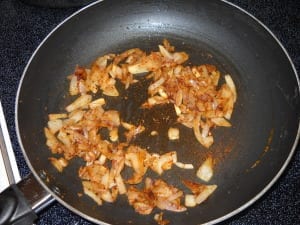 the chopped onions cook until the onions are transparent. Add the seasonings and allow to heat through for a few minutes before adding the vinegar.
Mix all the remaining ingredients together. I found this works better by hand than with a mixer. The finished product will have pieces of veggie that are recognizable but you can mix it all up until smooth if you prefer. Fill the pie shell and level the filling.
Using a little water as glue, run your wet finger around the lip of the pie shell and attach the decorative finish. Bake for about 50 minutes at 350 degrees or until the edges are browned and the filling it set.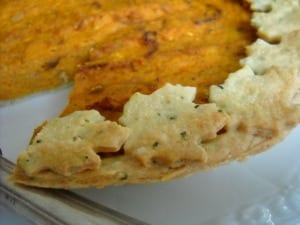 The pastry was flaky but I am not sure I would use this method again, old dogs and new tricks I guess. I am comfortable with everything at room temperature and I think I can get pastry into pie just as easily with less hand washing at my end. That said if pastry is a technique that frustrates you, this is a good way to ensure even blending of the ingredients.
Serve warm in smaller slices with Thanksgiving dinner or make it the main meal on a cold blustery night with fresh cooked brightly coloured veggies.
If you happen to have some in the house, add a drizzle of pumpkin seed oil or balsamic vinegar over each slice just before serving.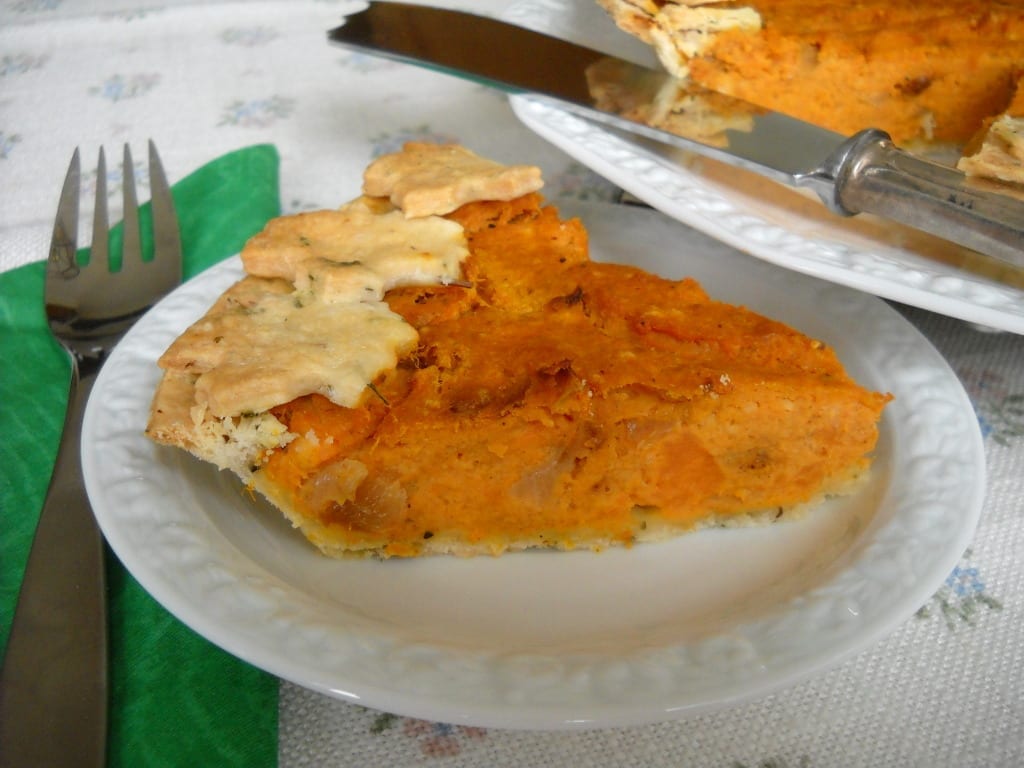 Savoury Pumpkin Yam Pie from My Kitchen Wand