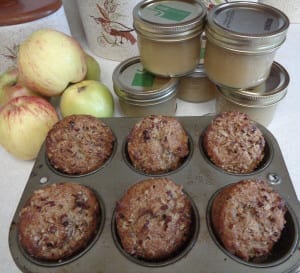 It didn't seem nice to leave the last post about making applesauce without at least one "what can I do with it now" recipe and since school starts again in a few weeks, there might be more lunches to pack very soon.
This recipe is for a batch of six. A better number for small households and easily doubled if a dozen is a more practical number.
Sometimes though you don't need that many and a tray of six might just fit in your toaster oven meaning no need to heat the whole kitchen.
A tip! Make sure your toaster oven is fully heated before these go in. I find with mine that the heating element is so close to the food being baked that the tops can get overdone if the element is on for too long.
Apples are associated the planet Venus and therefore with Love.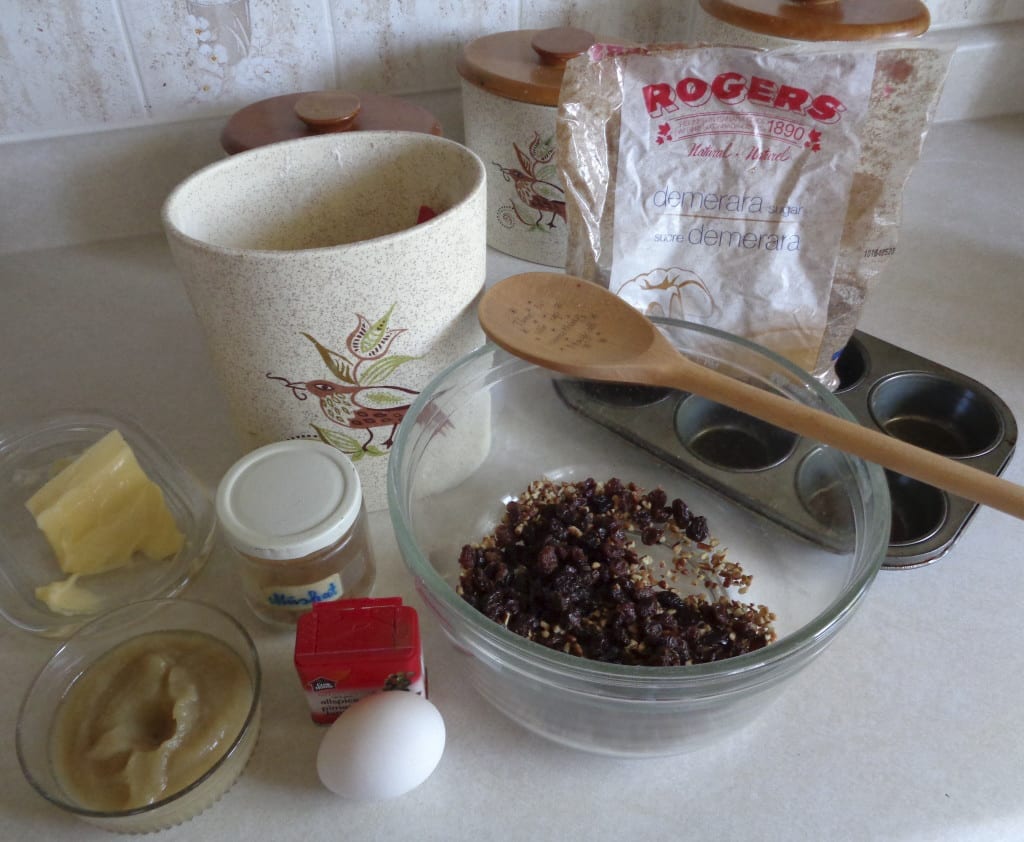 You will need:
3/4 cup flour
3/4 tsp. baking powder
1/4 tsp. baking soda
1/4 tsp. cinnamon
1/4 tsp. allspice
1/8 tsp. nutmeg
pinch of salt
1 egg
1/2 cup brown sugar
1/4 cup melted butter or oil
1/2 cup apple sauce
3 Tbsp. chopped pecans
1 cup raisins
breadcrumbs for the muffin tin
Large crystal raw sugar for sprinkling on top
Preheat oven to 400 degrees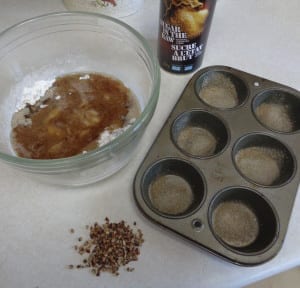 If a choice is available I will always go for the crunchier option. If you like things soft, pop a liner into each muffin tin.
My preference makes a little more work and the possibility of the muffins sticking. A simple solution is to grease the tins and then sprinkle a little finely ground breadcrumbs in the bottom of each hole.
Just as some recipes call for the flouring of the cake pan, the bread crumbs gives the base a little extra stability and crunch.
If using butter, melt and put aside to cool. I decided to use a browned butter so I placed the butter in a pan and let it melt and bubble over medium heat. The bubbles will subside on their own and the butter will turn a slightly darker shade of colour bringing a little extra flavour to any dish.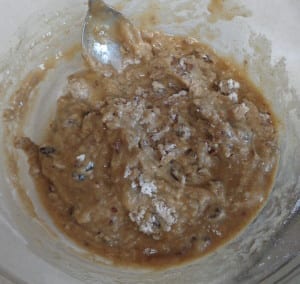 In a medium sized bowl combine and sift all the dry ingredients, except the brown sugar. Add the raisins and 2 tablespoons of chopped pecans. Toss or stir to coat.
In a separate small bowl, mix the wet ingredients together with the brown sugar.
Add the wet mixture to the dry and stir just until mixed. You can see that there are little bits of flour still unmixed in the picture to the right. That is perfectly fine.
Using a smaller spoon is helpful when transferring the batter to the six muffin tins. Sprinkle with the remaining chopped pecans and a little raw sugar crystals.
Reduce temperature to 375 and bake muffins for 18 to 20 minutes depending on the oven. These were bigger muffins forms so they were in the 20 minute range. Allow to cool for five minutes before removing muffins from their tins.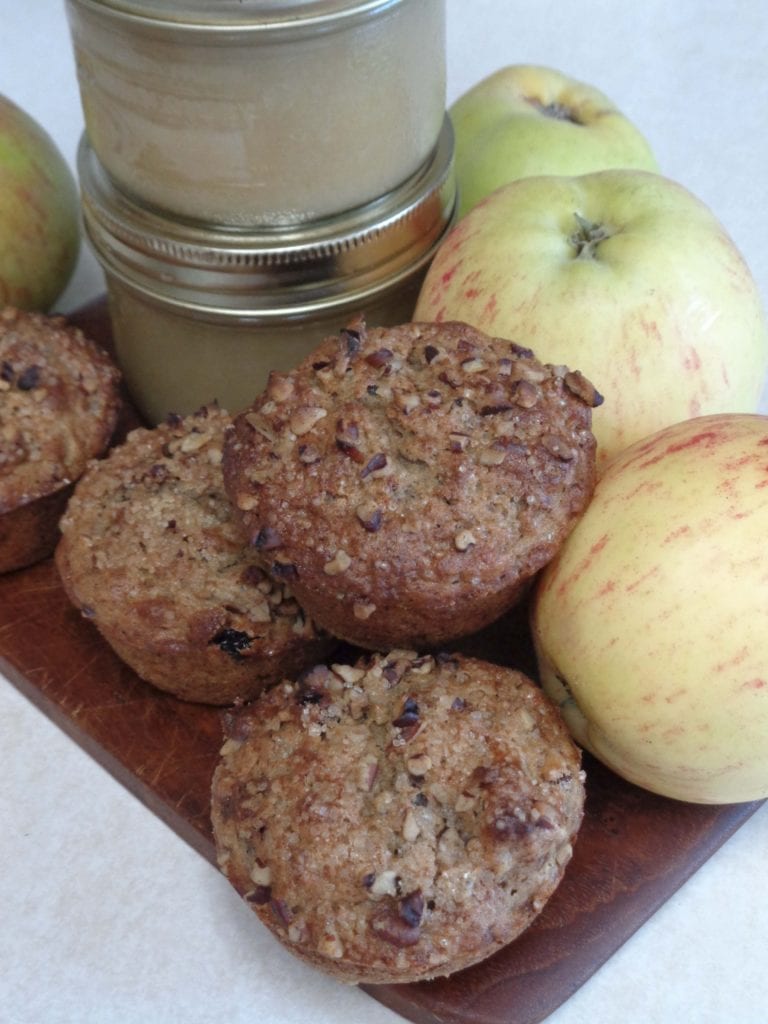 Hide! if the plan is not to share immediately. Apples to applesauce to muffins. Lovely to be able to pull from a stocked pantry and grateful for a harvest stored.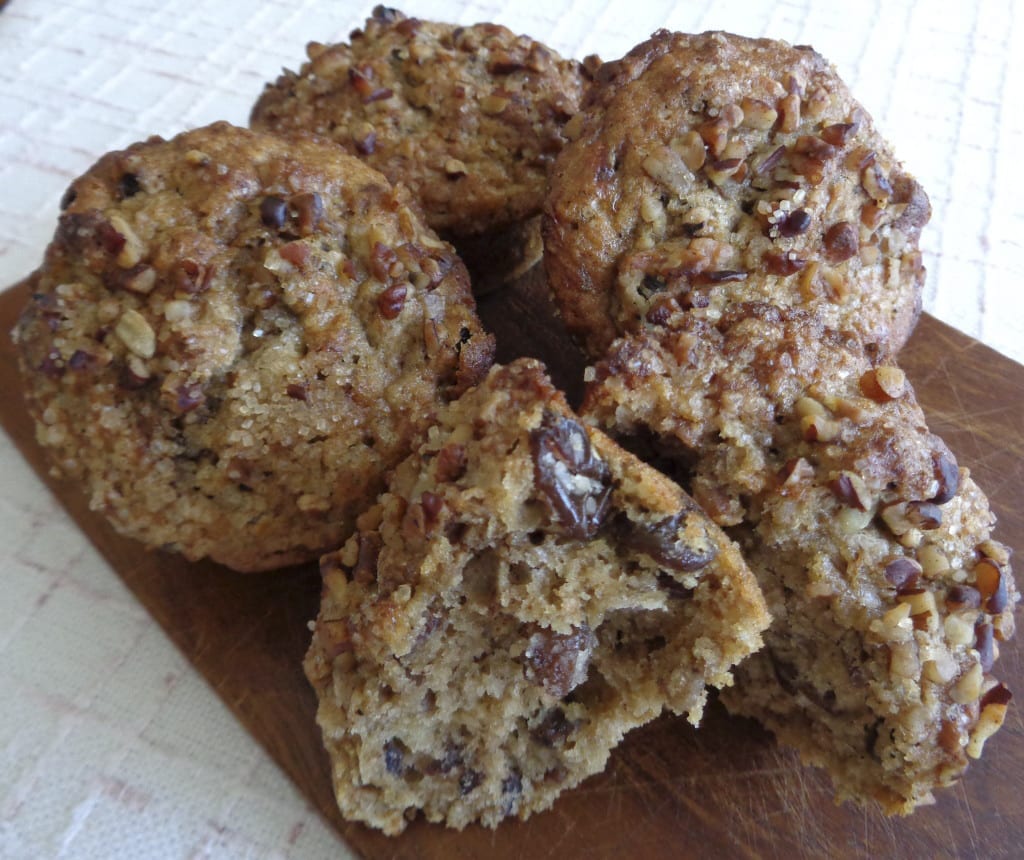 Applesauce Raisin Muffins from My Kitchen Wand