There are desserts and then there are DESSERTS! What qualifies as DESSERT! is different for everyone.
Simple, elegant, delicious. This apricot almond sauce with whiskey over a good vanilla ice cream would be my idea of DESSERT! So before apricot season ends, I wanted to make a batch and preserve a couple of jars in case of a special occassion this winter.
Apricots first arrived in Europe, from Asia in the mid 1500's so when I read about their connection to Venus, I am thinking it is the planet rather than the Goddess. Like apples, guava and cherries this connection to Venus associates apricots with the energies of love and additionally peace.
Whiskey was poured over ploughs as a way of giving life to the land. Whiskey or Uisce Beatha in Irish Gaelic is considered the Water of Life. These words written by Bill Whelan for Riverdance say it better than I can.
I am living to nourish you, cherish you
I am pulsing the blood in your veins
Feel the magic and power of surrender to life
Uisce Beatha
Almonds have a relationship with fruitfulness, good fortune and money. The Greek story of Phyllis and Demophoon is an example of fruitfulness. Phyllis died of grief when her husband, who had promised to come back to her stayed away too long. The gods changed her into a barren almond tree which burst into flower upon his eventual return and embrace of the tree.
Love, life and fruitfulness….you might also want to keep a couple of jars on hand.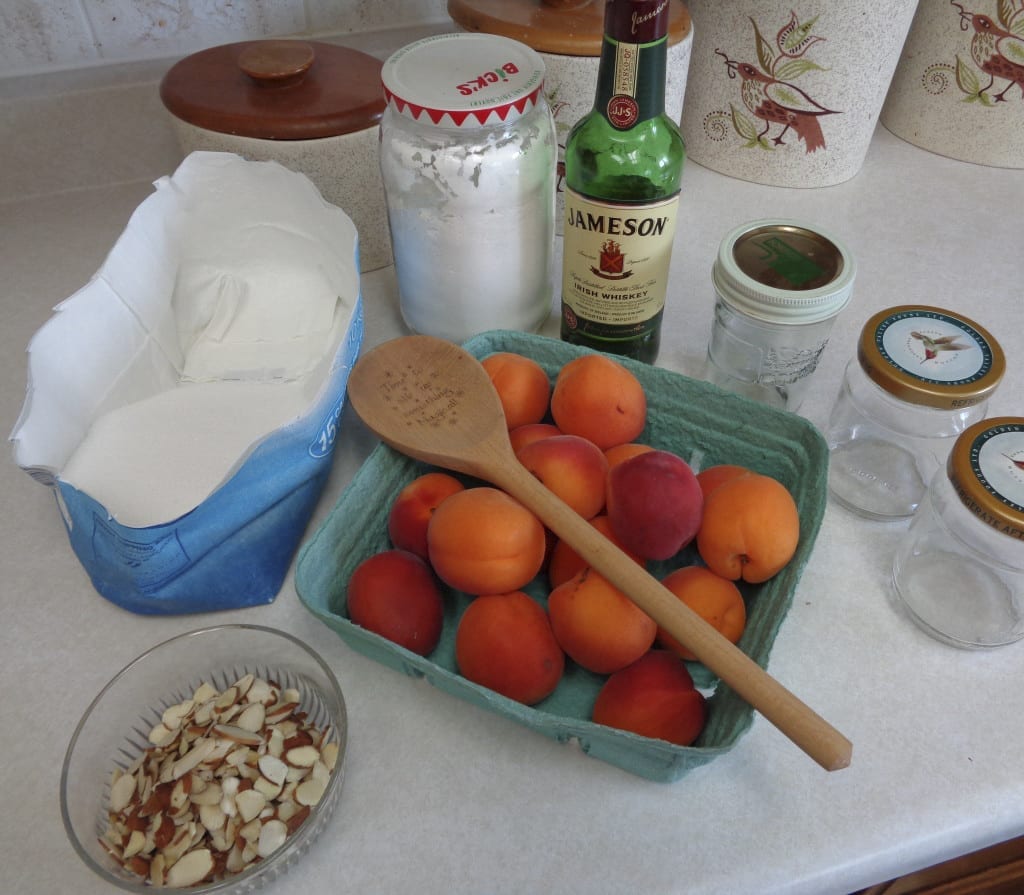 You will need:
4 cups chopped apricots
1/4 cup water
1/2 cup sugar
2 Tbsp. cornstarch
1/3 cup slivered almonds ( I prefer the skin on variety for this sauce )
1/4 cup whiskey
This recipe will make enough to fill three small jars and still have enough left over to enjoy a couple of DESSERT! servings tonight. Let me rephrase that. There will be enough sauce remaining that two people can enjoy for dessert.
Wash hands while focusing on the energies and connections the ingredients have. Let any worrying thoughts flow through you, dropping off your fingertips as the water finds its way to the sink. Release anything that keeps you from being, here, now. With a deep breath and a welcome to inspiration and the compassionate spirits…begin.
Heat three 8 oz jars in a 250 degree oven. Place the rubberized lids or sealers in a small pot with water and bring to a simmer.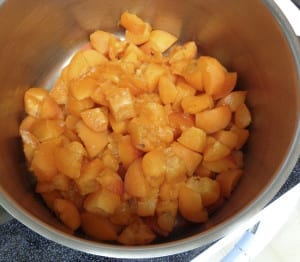 Wash and cut the apricots in half to remove the stone. This is the time to inspect and remove any blemishes or moldy bits. Because this will be a sauce, the fruit does not need to be perfect in shape, just sound in content.
Cut each half in six pieces and add to the pot.
Add the water and sugar to the pot and place over medium heat.
The water helps to ensure the bottom of the pot does not burn while the sugar helps to sweeten, preserve and draw out the juices.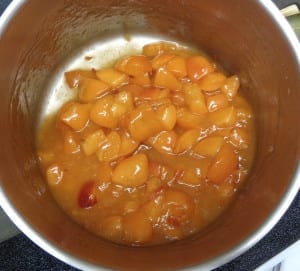 Bring the mixture to a boil, reduce heat and allow to simmer while the fruit softens and falls apart.
Remove 2 – 3 Tbsp. of the juice and mix together with the cornstarch until smooth and all the lumps have disappeared.
As the mixture simmers, pour the cornstarch mixture back into the apricots, stirring all the time.
The cornstarch mixture will cloud the juices for a few minutes while it cooks and then the sauce will return to its translucent self.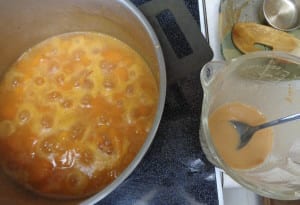 Stir in the slivered almonds and the whiskey. Brandy will work too. I am never one to suggest buying a new bottle of something for 4 tablespoons when there is an open something else useable on hand.
Remove the jars from the oven, fill and seal. Make sure the tops are clean before adding the lids to ensure a proper seal.
I popped the jars back into the oven for 10 minutes at 250 degrees and then listened to the sound of popping as the lids sucked down to seal, once taken out of the oven. Leaving the jars in the oven too long will make the mixture boil and there is no need for added cooking, just enough heat to ensure proper seals and prevent spoilage. Allow to cool before cleaning the outside of the jars if needed. Label and store in a cool dark place.
Because there is less sugar than in a jam recipe and added cornstarch, I would suggest that one year storage is best for this sauce. If is also helpful to heat the sauce when opening a jar to return the sauce to proper consistency. It can be allowed to cool down or served warm.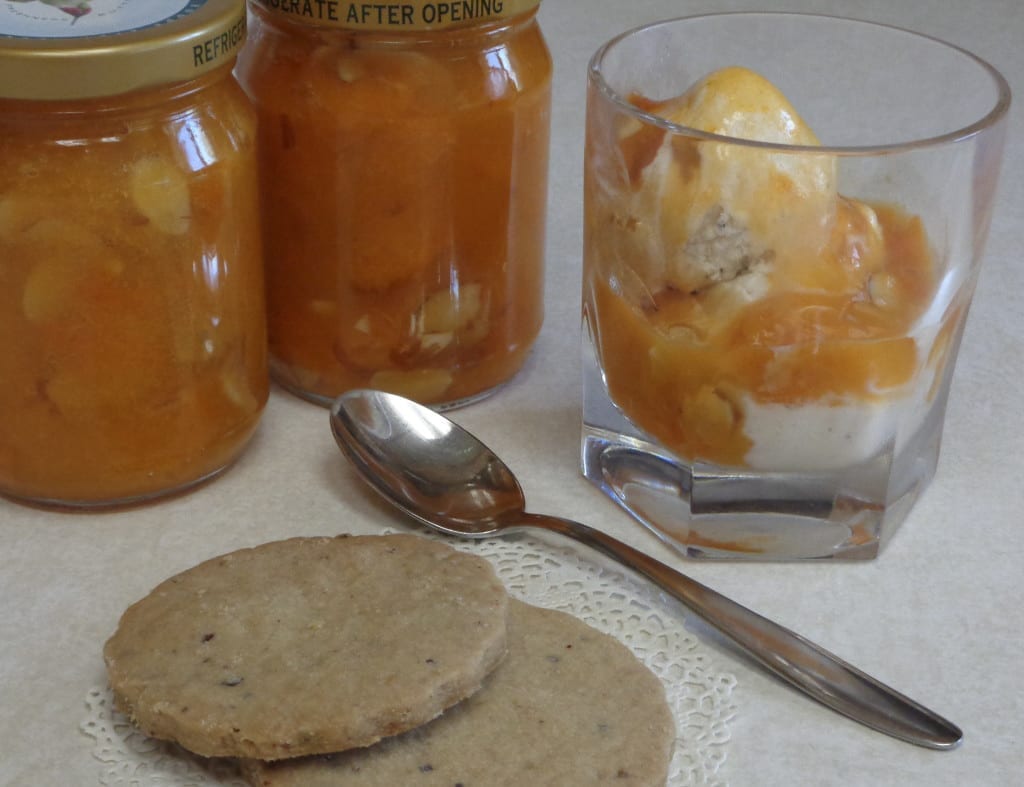 Serve with a shortbread style cookie and vanilla ice cream in a whiskey glass for fun or any other available pretty option for something more formal. Try it over vanilla or bread pudding or mixed into yoghurt.
This is not a sweet sauce and the vanilla ice cream, really any appropriate dairy helps to smooth out the tang. The whiskey brings another layer of flavour to the sauce and the alcohol, being added just prior to bottling, was not cooked away. If you prefer to make this sauce alcohol free reduce the cornstarch to 1 1/2 Tbsp.
To love, life and fruitfulness!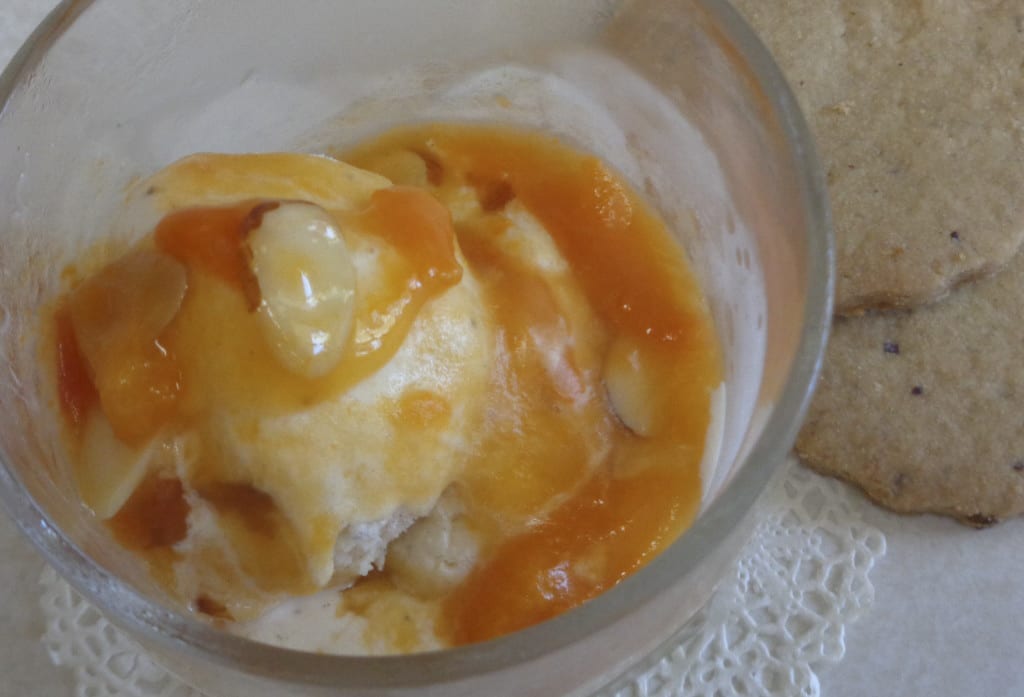 Apricot Almond Sauce with Whiskey from My Kitchen Wand