I was asked the other day if I ever baked "guy" cookies. I wasn't quite sure what was meant as in my experience guys generally eat anything tasty.
(At least they did in my 20 odd years with home stay students).
What was meant was less "pretty" and more substance, so here is something I put together today to use up a whole bunch of leftovers I have had in the kitchen. (Not saying you have to follow exactly. I am sure you have you own leftovers).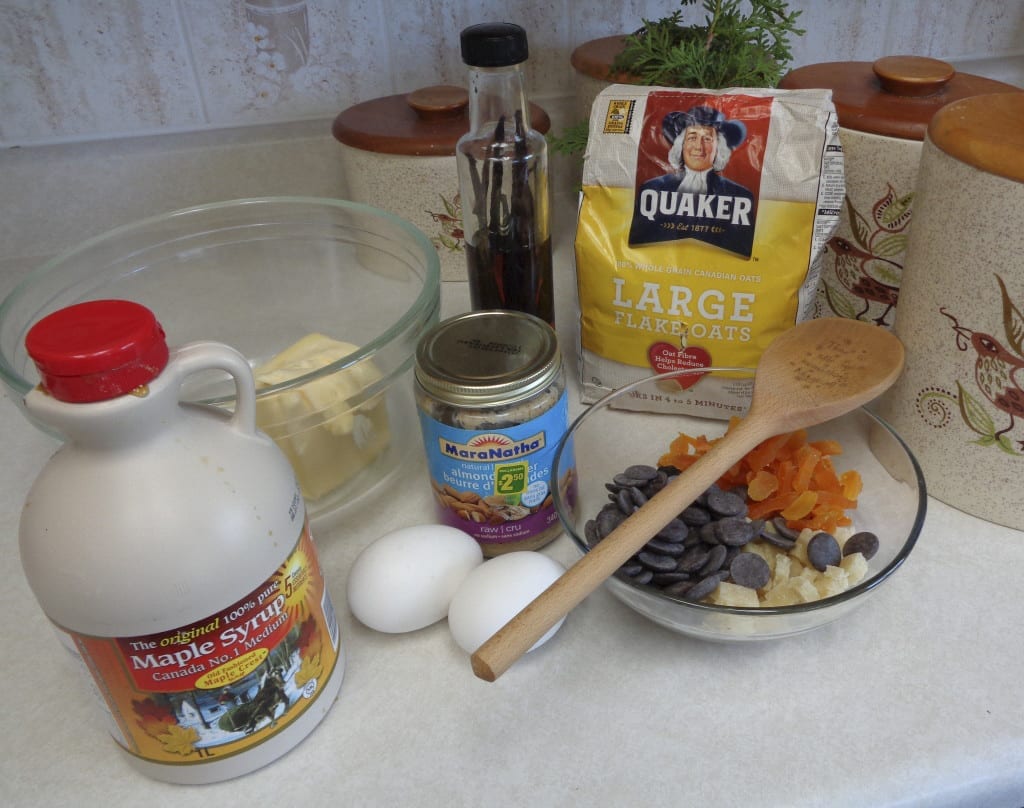 You will need:
3/4 cup butter
1/2 cup almond butter
1/4 cup maple syrup
1 tsp. vanilla extract
1 cup sugar
2 eggs
1 1/4 cup whole wheat flour
2 cups rolled oats
1/2 cup chocolate chips
1/2 cups sliced dried apricots
1/2 cup diced marzipan
This is a straight forward drop cookies recipe and I am going on faith that you will be able to follow the instructions without step by step photos as honestly I was no even thinking about posting this until it was too late. Preheat oven to 350 degrees and take a moment to center and prepare. Not all foods created in the kitchen are for intentional special occasions, some are just to say " I love you" and be filled with your caring energy.
I had home made marzipan that needed using in the fridge. If you don't have any old and handy, don't go out to buy, just skip along to slicing the dried apricots. The chocolate chips were from a new supplier and since they had a flowery after taste I did not use them in chocolates but they worked well in this cookie recipe. Really strong they were. Must have been 85% cocoa mass. Regular dark chips will work too.
Cream butter and almond butter together. Peanut or cashew butter works too but I didn't have any on the shelves and this was a cleanup mission. (Truth be told I also added about 2 Tbsp. ish of cream cheese to the mixture. The last of a batch of cream cheese I made about 10 days ago.) If you have cottage cheese at home or something similar, feel free to substitute.
Add the maple syrup and sugar to the butter mixture and mix until light and fluffy. Beat in the two eggs and vanilla. (If rum or almond are more your thing, feel free to change it up). These are after all "guy" cookies.
I used the last of some whole wheat white flour. You can also use all purpose or whole wheat or a half and half mixture.  Sift with baking soda and powder and add to the bowl. Over the flour, add the rolled oats and tasty extras and gently combine.
Place by the spoonful on a greased or parchment papered pan and bake for about 12 minutes.
The cookies will be soft went they come out of the oven and will crisp up as they cool. Transfer carefully to a cooling rack. I managed a dozen cookies on a tray that were about 3.5 inches in diameter once baked. Much bigger and you will end up with a bottom for a fruit pizza.
Once cool find a plate big enough to hold 40 ish cookies and depending on the number of guys in your house….stand back. (Hiding a portion in a cookie tin somewhere is option two).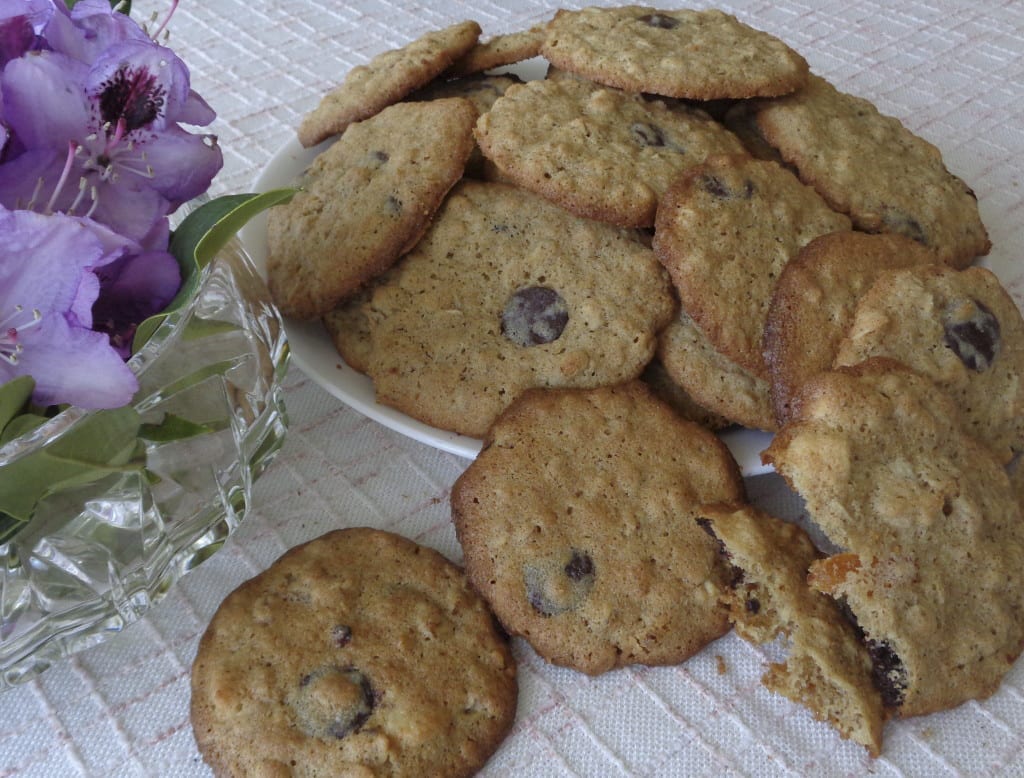 Apricot Oatmeal Almond Chocolate Chip Cookies from My Kitchen Wand.