Looking for a light but special dessert for Mother's Day? How about a hazelnut flavoured milk chocolate mousse?
Hazelnuts are said to bestow wisdom, the ability to wisely assimilate and use knowledge, something that will assist Mom's everywhere. Chocolate at it's foundation is related to giving and receiving love. In some cases (milk) more the nurturing variety, as in parenting and in others (dark) towards a more intimate connection.
Gianduja is a mixture of milk chocolate and hazelnut paste with a history that goes back to Napoleon's time. Even though Turin, Italy had had a license to produce chocolate since the late 1600's cocoa was hard to find and expensive. The confectioners around Turin, Italy created a mixture from the scarce resources and their local speciality, the Tonda delle Langhe hazelnut.
The mixture itself gets its name from the traditional shape of the sweet treat, a hand cut stubby shape resembling a cigarette butt, called "givu" in the local dialect. The hazelnut mixture is softer than normal chocolate due of the added oils from the hazelnuts and some skill was required to get the original pieces cut without flaking them into many layers. The softness of the mixture means it will melt readily on the tongue.
A character was created in 1856 to hand out samples at Carnival. His name was Gianduja and the name stuck. Today this flavour combination is know the world over in Nutella ( produced by Ferrero-Rocher in a plant nearby ) and Hedgehog chocolates. The quality of flavour remains with the orginal mixture.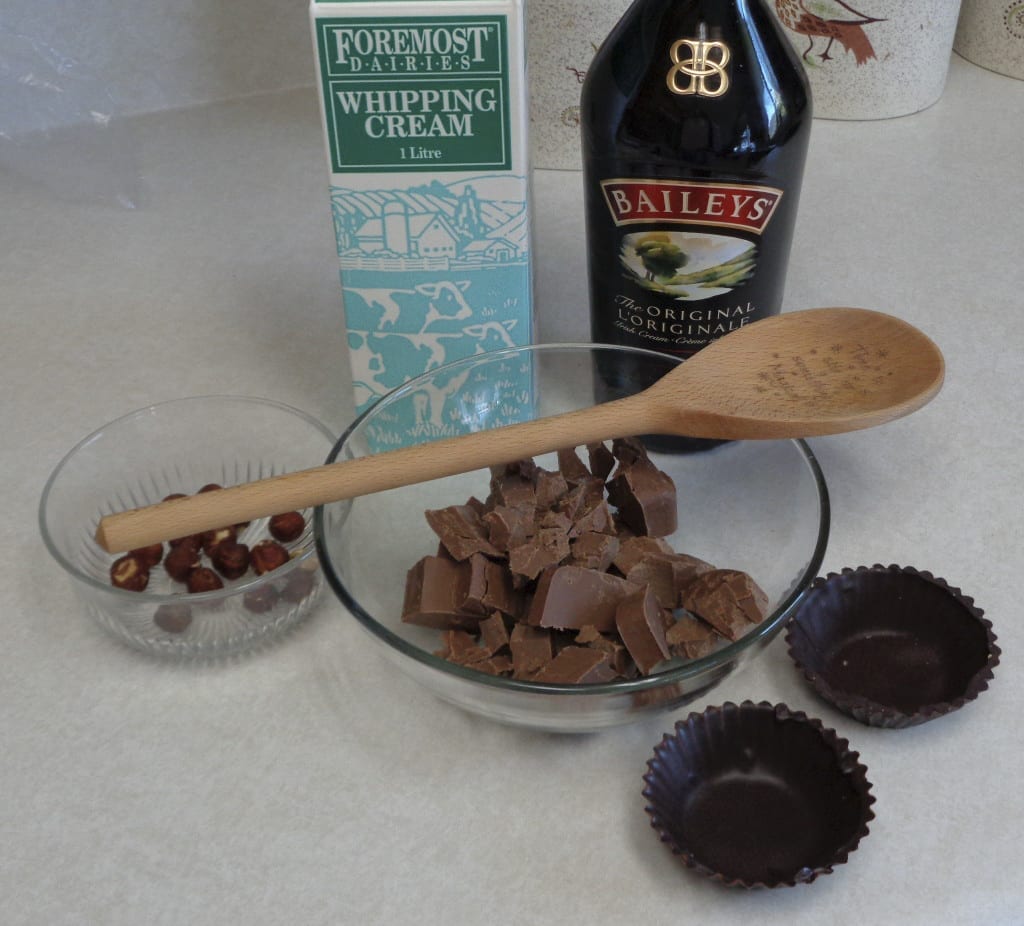 You will need:
1 1/2 cups Gianduja, roughly chopped
3/4 cup whipping cream
2 Tbsp. Baileys, Carolans or cream
2 Tbsp. finely chopped roasted hazelnuts
As this is intended as a Mothers Day dessert, begin by holding your intentions front and center as you prepare to begin. Take a deep breath in and as you slowly breath out release the tension within. This can include the busy world around you and also nigglies you might have about the relationship between the two of you. Repeat if needed while bringing your thoughts into the present moment. Set a plan to prepare with affection, a special treat for a person who has played an important role in your life.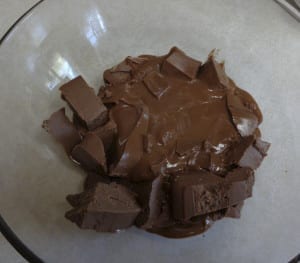 If you can not find a local supplier of Gianduja, try combining melted milk chocolate with hazelnut butter, about 3 parts chococlate to 1 part hazelnut butter. It won't be the same but close.
Chop the Gianduja into pieces and heat in a microwave for 50 – 60 seconds. It may not look as if its fully melted but a few stirs should complete the process.
If after stirring there are still small unmelted pieces, it is possible to put the chocolate back in the microwave for 5 seconds before stirring again. Chocolate can be overcooked in a microwave so add additional time sparingly.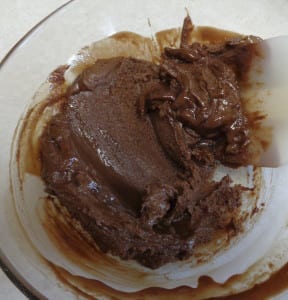 Add the Baileys and stir. I am saying Baileys but if you have Carolans in the cabinet or prefer Frangelico or another hazelnut flavoured option that is just fine. If you prefer no alcohol, substitute scalded cream. All options will work. It is simply a matter of taste.
As the Baileys is stirred into the chocolate, the chocolate will seize. This is because the fats from the chocolate and water from the alcohol or cream don't play well together.
Don't worry, you have done nothing wrong.
In another bowl whip the whipping cream until it forms medium stiff peaks.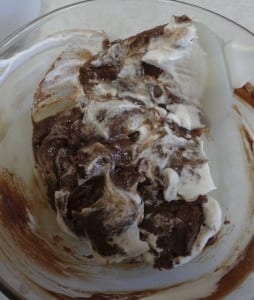 Add 1/4 of the whipped cream to the chocolate mixture and stir. This will lighten the mixture, making it easier to add the remaining whipped cream.
Fold in the last of the whipped cream and mix until the mixture is fully combined and no streaks remain.
Put the finished mixture into the fridge for 5 – 10 minutes to allow it to firm up a little. Do not leave it too long or the transfer and finishing will be more difficulta as the mousse will harden.
While the mousse is in the fridge or before you even begin, pop 6 – 8 hazelnuts onto a tray and into a preheated toaster oven.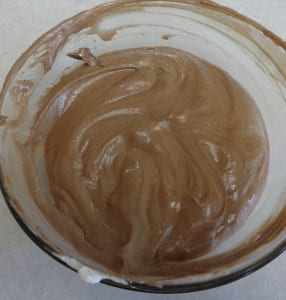 Actually option one is to purchase deskinned hazelnuts but sometimes that is not readily available so here is how to easily get the skins off hazelnuts.
Place in a 300 degree oven for about ten mintes. You will be able to hear a little crackling happening but do not over bake or burn. Remove the nuts from the oven and allow them to cool until it is safe to pick them up.
Rub between your hands over the sink and let the little pieces of skin drop. As you can see there will sometimes be stubborn ones but generally this is the simplest way to get this small job done. If you are doing a larger amount for something else, place the nuts in a towel and rub while still warm.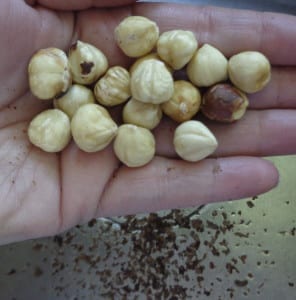 Chop finely.
Take the mousse from the fridge and either spoon or pipe the filling into a serving container. I used chocolate cups which can be purchased or made but it is also possible to use a wine glass or dessert bowl.
The mixture will stiffen up as it goes back into the fridge to cool.
If you do not have a piping bag, try cutting off the corner of a plastic bag. You can add a piping tip if you have one or leave it out and the mousse will look more like what comes from a soft ice cream dispenser.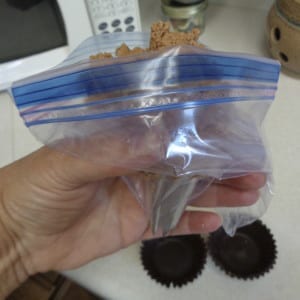 This recipe made enough for 4 small servings, just right for my plan or 2 – 3 larger ones for bigger appetites.
To finish, remove the mousse from the fridge  at least 15 minutes before serving. This will give time for the mousse to soften and be creamier when eaten. Sprinkle the chopped hazelnuts between the ridges of the piped mousse or over the top of the spooned filling.
There is an old European legend that tells the story of farmers many hundreds of years ago who prayed to Mary, asking that their crops be saved from the pests destroying them. She is said to have sent a swarm of tiny beetles bearing her signature red cloak to eat them. To this day most countries in Europe have a name for ladybugs that connect to Mary or God in some way. In Germany, the specific word for ladybug is "Marienkäfer" which means "Mary's Beetle"; in France,  "la bete a bon Dieu" is the common name. It roughly translates to "God's animal". In Russia, "Bozhya korovka" or "God's little cow", possibly refers to the beetles' spots, a little like one would find on a Holstein cow. Although technically more beetle than bug, these creatures are a symbol of good fortune and wishes fulfilled. Wishing Mothers everywhere a wonderful day of Bright Blessings.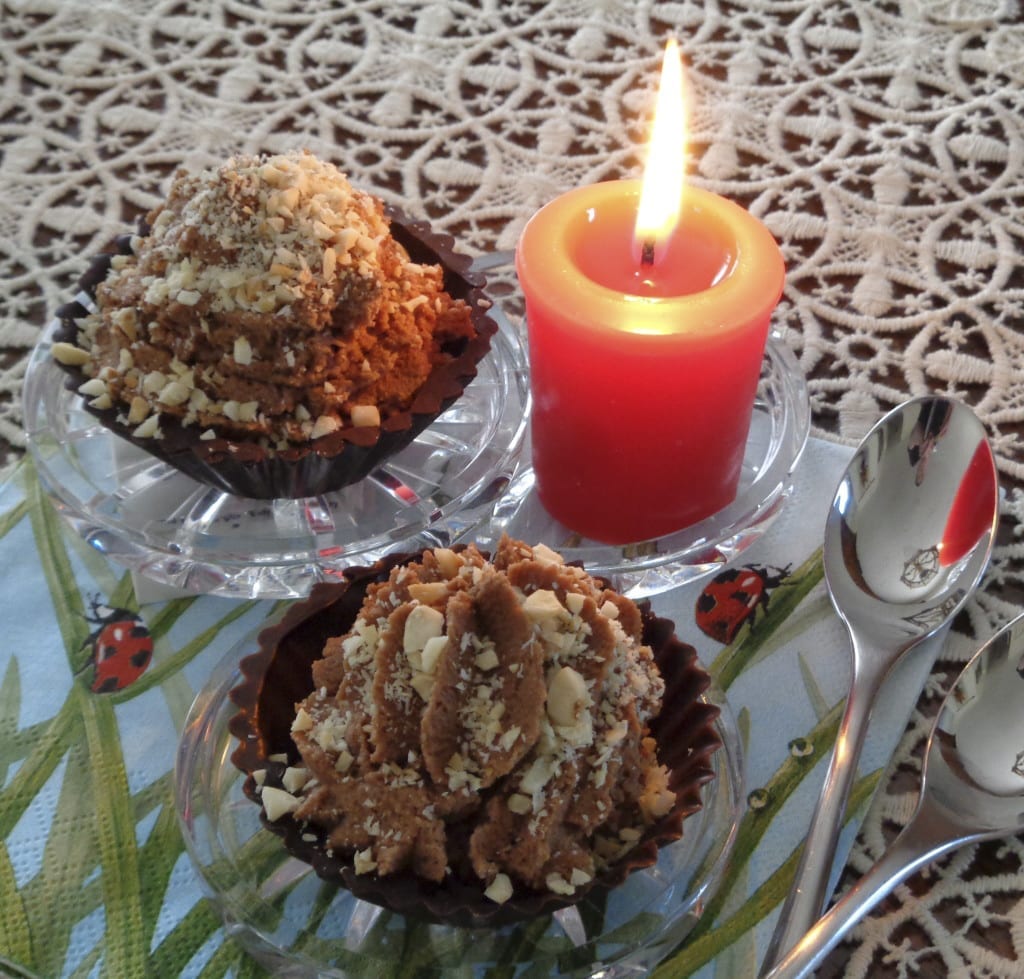 Gianduja Mousse from My Kitchen Wand