One of the sure signs that spring is here or at least on its way is fresh asparagus in the local stores. Green onions doesn't hurt either. So nice just to see fresh green vegetables. If you have never made one before, think of a frittata as a crustless quiche, prepared on the stove and then baked in the oven until the eggs are firmed up. Totally appropriate for this time of the year as wild eggs would have been just about ready for collecting in the natural world. Asparagus is a kissing cousin of the onion and a member of the lilaceae family which includes Easter lilies and tulips, spring blooming flowers.
The known history of asparagus goes back several thousand years. It was grown or foraged in eastern Mediterranean countries, locations on the African continent, where wild varieties have been discovered and possibly Egypt.
Asparagus was considered a sacred plant with aphrodisiac qualities (based on its shape) in ancient Greece and was studied for its biological and medicinal qualities. Thought then to aid with diarrhea, modern science has confirmed the diuretic properties of asparagus.
Romans enjoyed it both as a main course (Today, in German cuisine, it is still a popular dish during harvest time for white asparagus) and as an accompanying vegetable to fish. It disappeared from use through the Middle Ages until returning to Europe via Caesar's troops, as they came home from Asia. King Louis XIV was reportedly very fond of asparagus so it cultivated specifically for French nobility before becoming available to a wider market several centuries later.
Today frittata, is a quick and easy anytime option; breakfast, brunch, lunch or dinner. Change up the ingredients and enjoy a variety of vegetables as crops flow through their yearly cycles.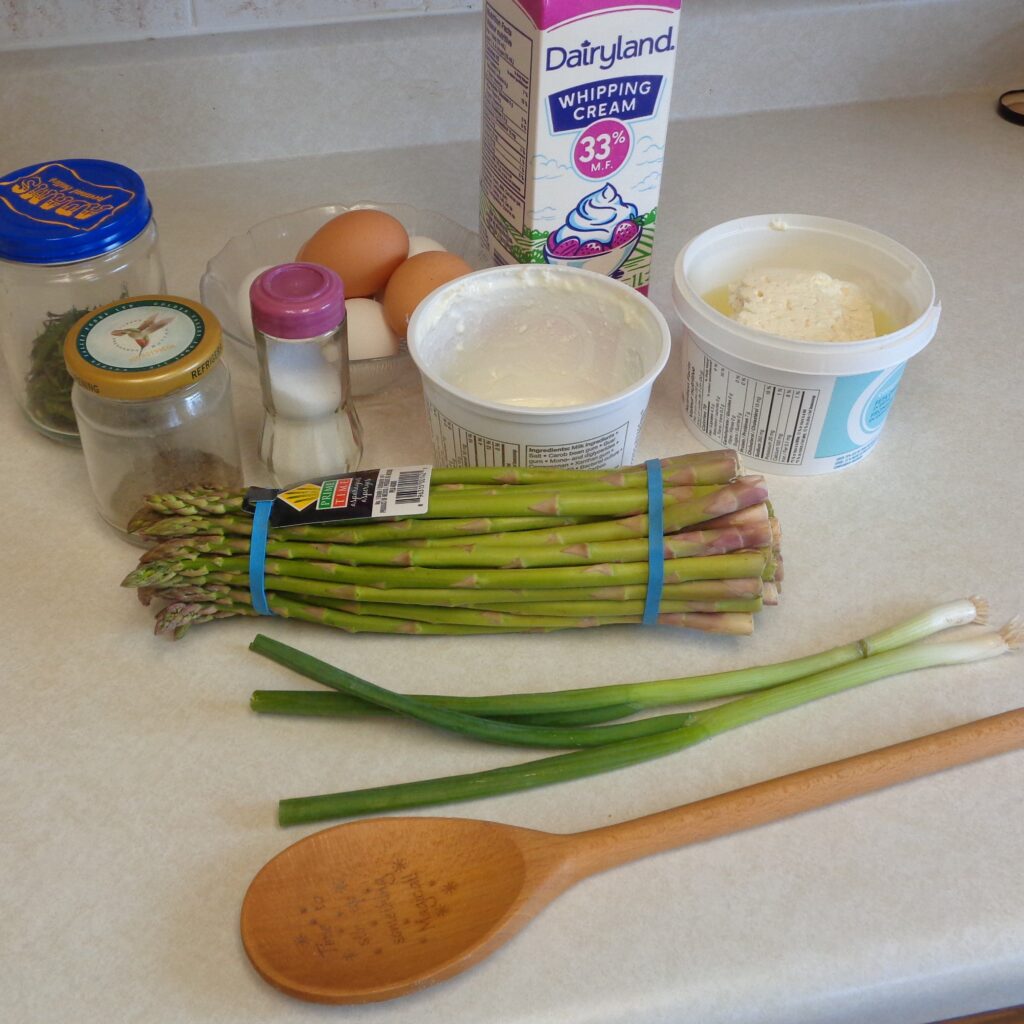 You will need:
1 bunch of asparagus, one pound
6 eggs
2 Tbsp. whipping cream
1/3 cup cottage cheese
salt & pepper to taste
1 – 2 Tbsp. dried tarragon
1 Tbsp. olive oil
2 spring onions
garlic optional
1/2 cup feta cheese
With gratitude for longer days, warmer temperatures and new spring growth, gather your ingredients. If it is a little early where you are for these things, then gratitude for the fact they are coming works as well. Finding something that lightens your energy and let's appreciation settle into your workspace is what you are looking for, a way of shifting your thoughts and coming into the present moment. Invite the compassionate spirits and begin.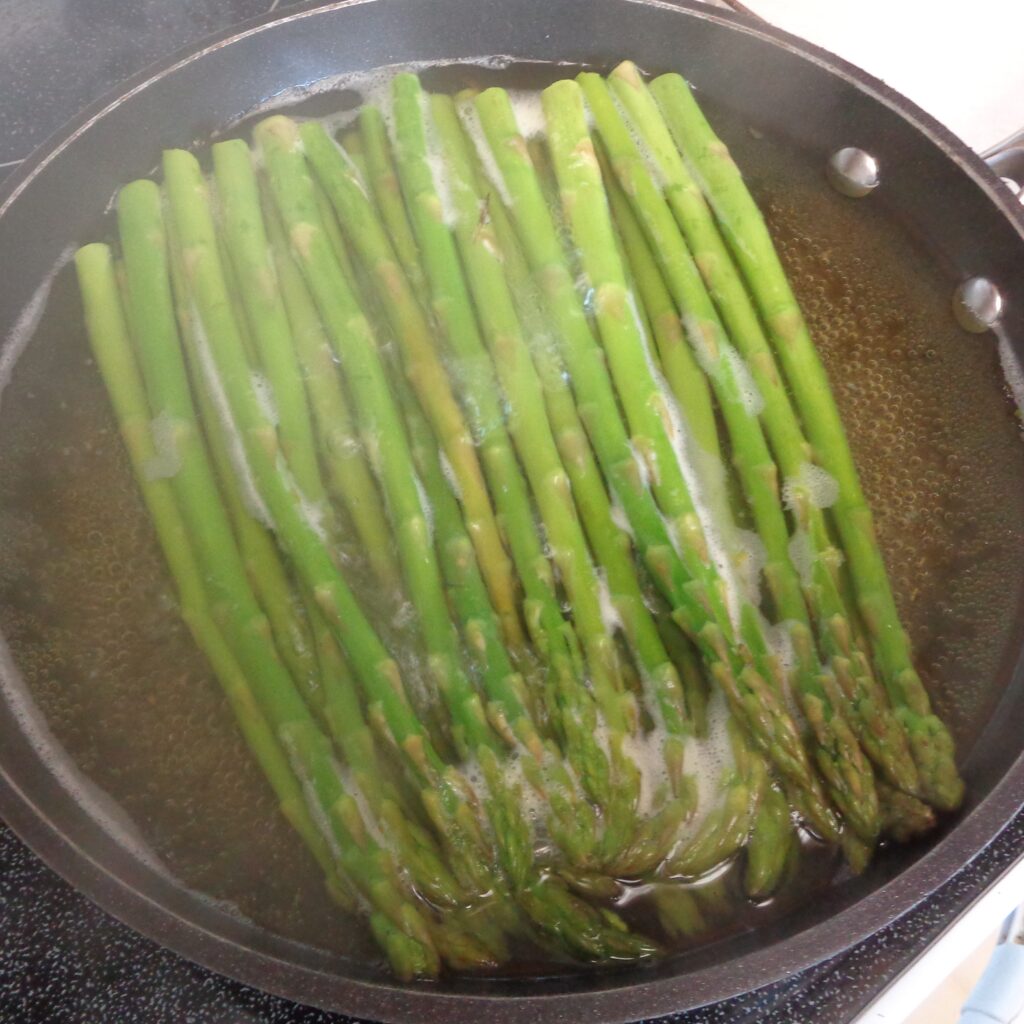 Rinse the asparagus and chop off the tough bottom portion of the stocks. Place asparagus in just enough water to almost cover the vegetable in a large skillet; bring to a steady simmer. Cook covered three to five minutes. The asparagus should be tender but still crisp. Drain and set aside while preparing the eggs.
Preheat oven to 350 degrees F.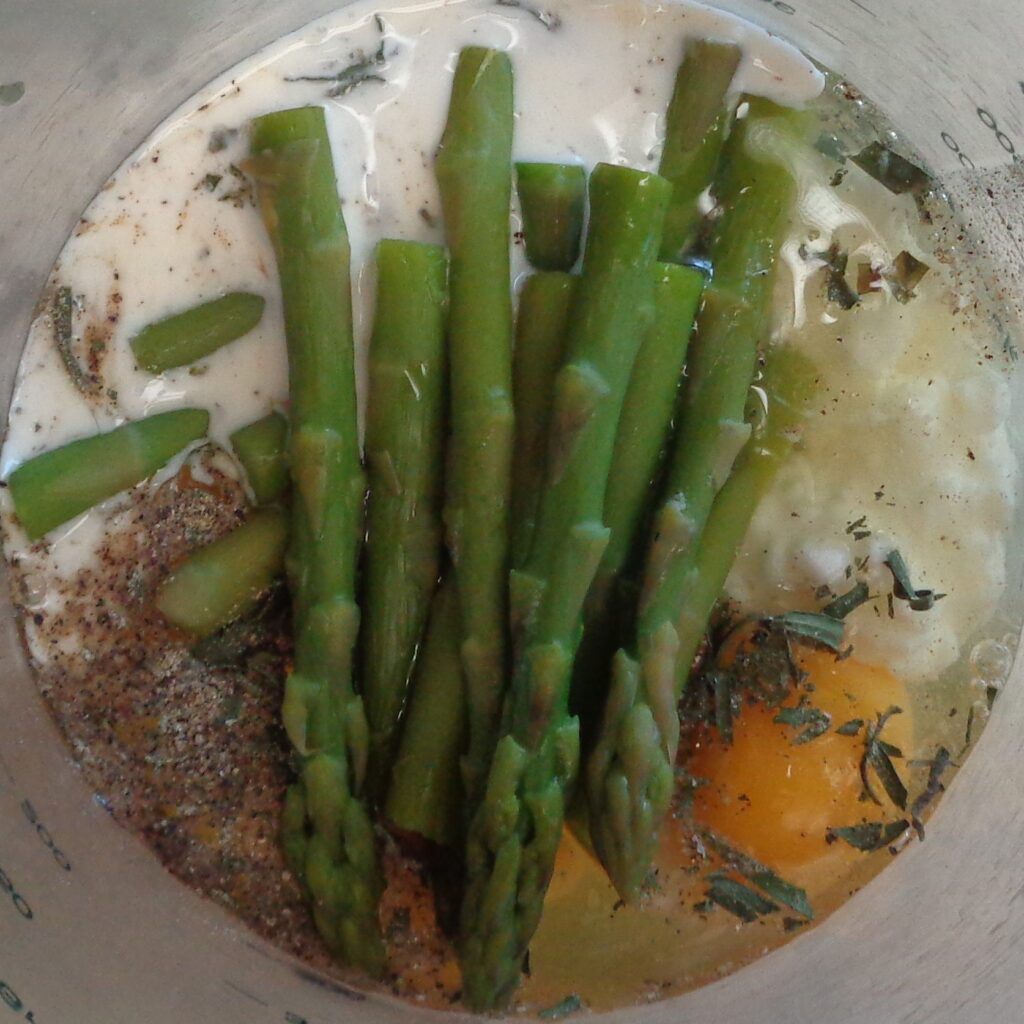 In a bowl, place the eggs, cream, cottage cheese, tarragon, salt and pepper. Cut in half and add half a dozen asparagus spears. Blend everything together with a hand mixer or wand.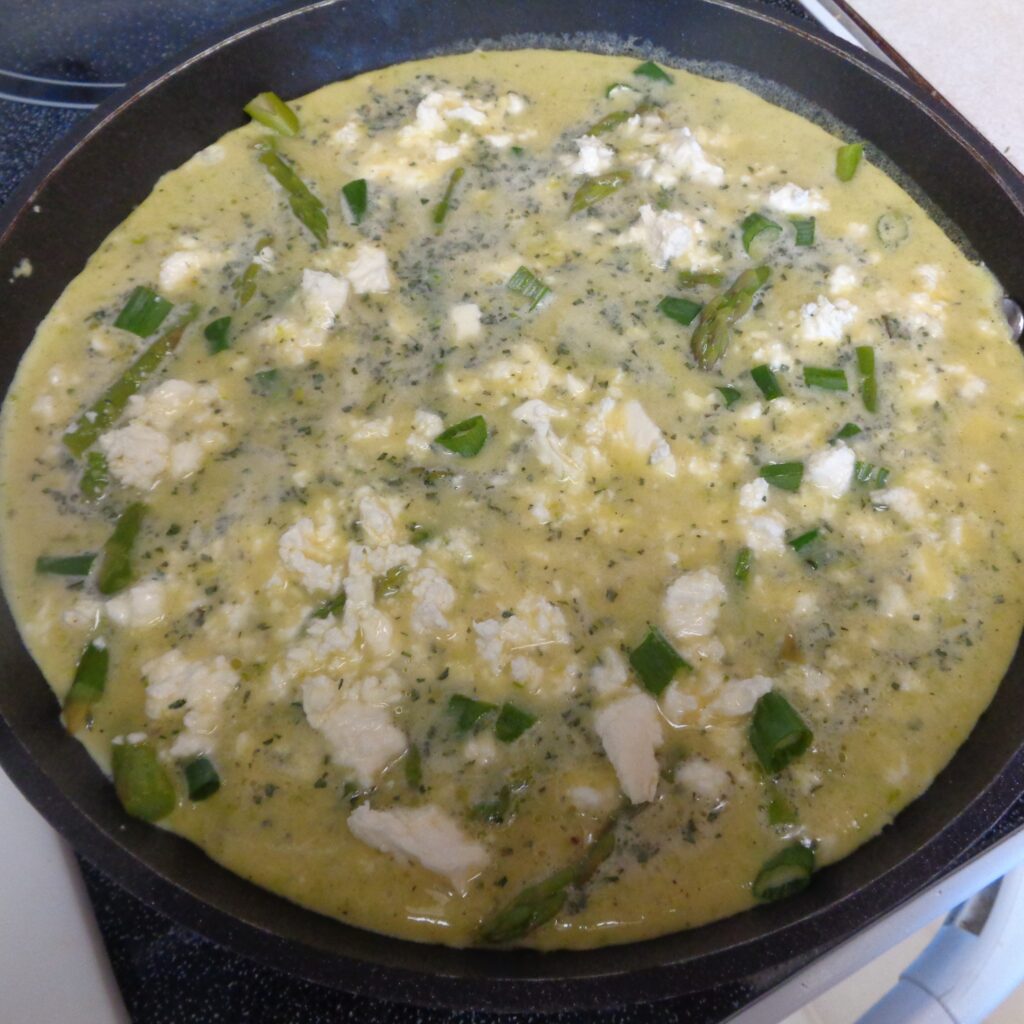 In a 7 – 9 inch sized ovenproof skillet, heat oil until hot. Saute chopped green onions and garlic (if using) and the remaining chopped asparagus for two minutes over medium heat, holding back 8 – 10 stocks or tips to layer on top of the dish.
Stir in egg mixture. Cover the pan and cook over medium heat five to seven minutes on low until eggs are almost set. Add the asparagus spear tips that were held back and sprinkle the crumbled feta cheese.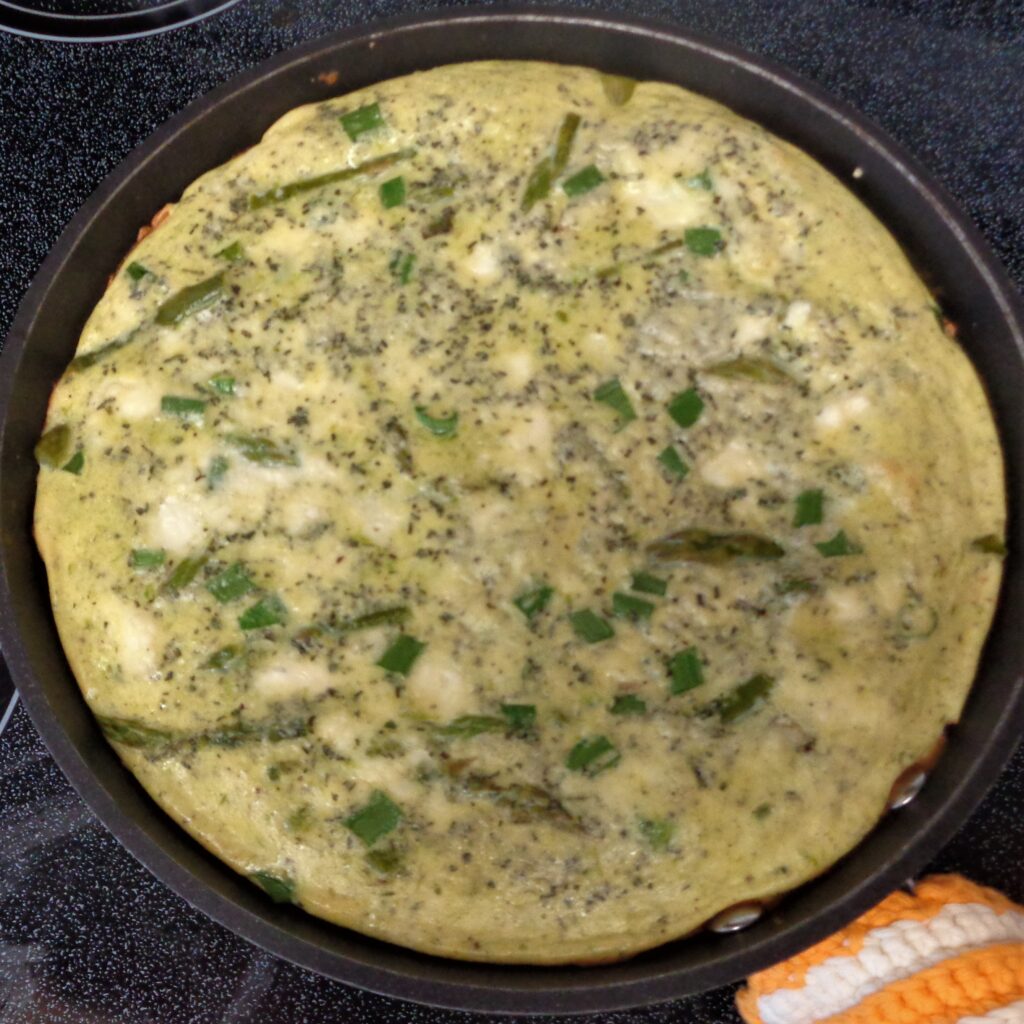 Place the frying pan in the preheated oven and bake 8-10 additional minutes or until eggs are fully set.
Serve fresh from the oven with your choice of cooked vegetable, breakfast meats or tasty salad.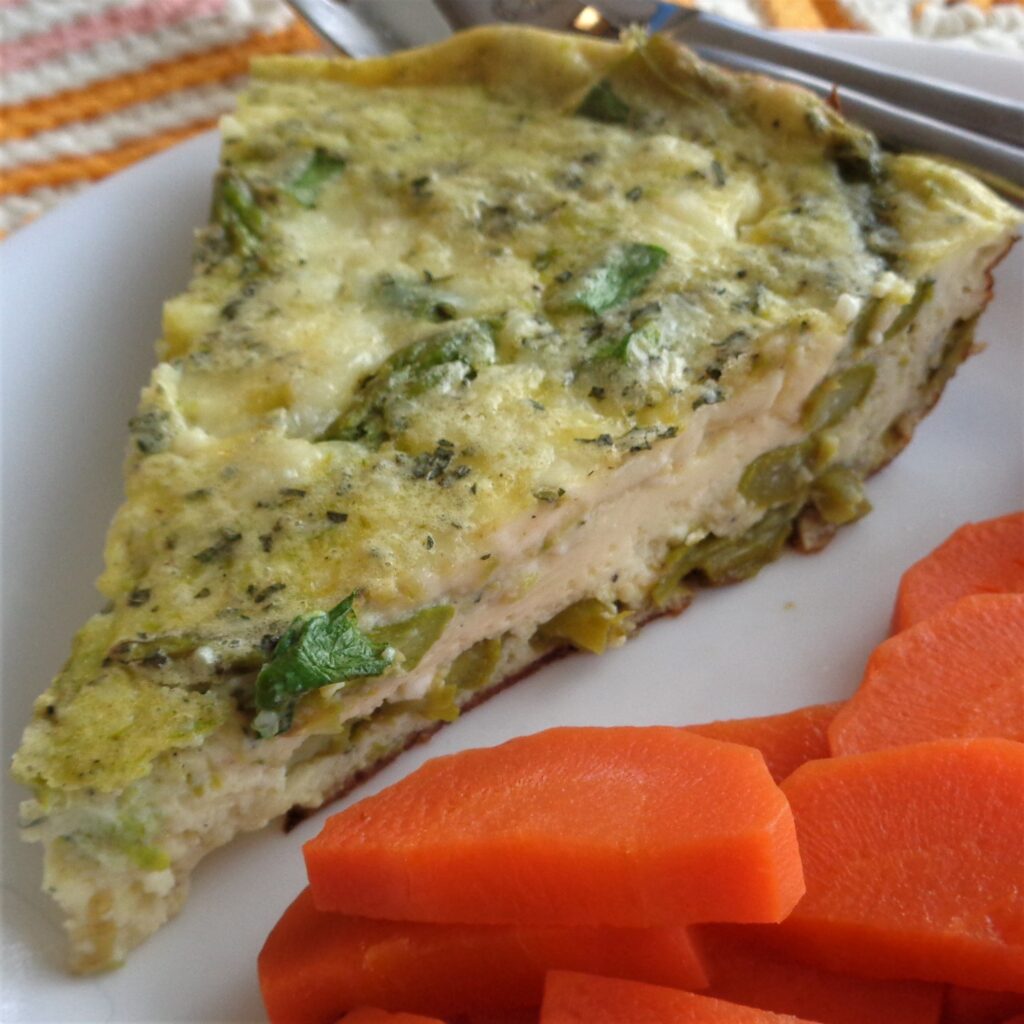 Spring Asparagus Frittata from My Kitchen Wand