In the past few months, I have been making some changes to my diet, experimenting in reducing all purpose flour and refined sugar, a learning curve to be polite. This minced turkey recipe uses almond flour and is something I enjoy having in the fridge for a quick snack. Protein doesn't always work when evening cravings start but it often hits the spot and I now have a peanut butter cookie and a cheesecake recipe that I can feel good about, when it doesn't.
A good dish to have in your back pocket (not literally) or ready to pull from the freezer.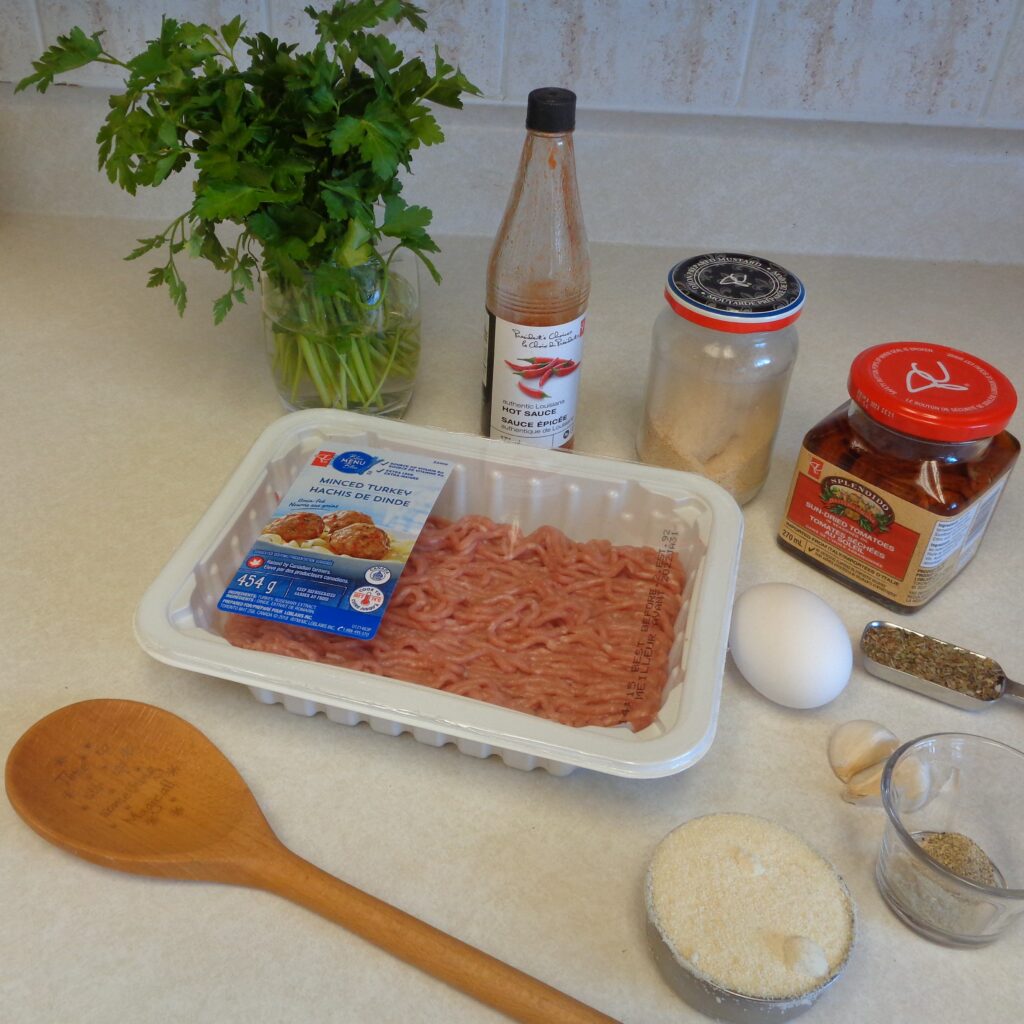 You will need:
1 pound ground turkey
1 egg
1 large or 2 small cloves or garlic
1/3 cup almond flour
1 tsp. onion powder
1 Tbsp. sweet basil
2 Tbsp. fresh chopped parsley
3 sundried tomatoes, finely chopped
1/2 tsp. salt
1/8 tsp. pepper
hot pepper sauce to taste (optional)
Stop for a moment and just be present. It is helpful to let go of all the information zipping around your mind. Clear some space for your current intention, to prepare healthy food for you and others that nourishes body and soul and tantalizes taste buds. Find gratitude for all the ingredient options available to you as well as the equipment, skills and curiosity to lovingly create in your kitchen. Take a deep breath and with an open heart, begin.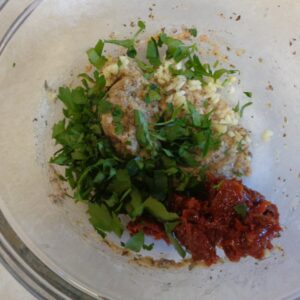 Preheat the oven to 375 degrees F. Line a cookie sheet with parchment paper and put aside.
Combine the egg, almond flour and spices. I used almond flour to increase the nutrients in the finished dish.
Squish together and give the almond a minute or two to absorb a little of the moisture.
Chop and add the parsley, garlic and sundried tomatoes on top.
Mix everything together.
Add the minced turkey and combine well. Clean hands work the best for me but spoons are definitely allowed.
Roll into balls and place on the parchment lined cookie sheet.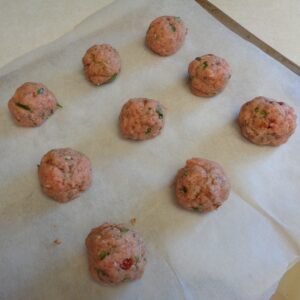 In this case, one pound gave me nine balls and one very big patty for turkey burgers. Two smaller ones would probably have been a better idea but it was a bit of an experiment.
Place the turkey balls in the oven and bake for 20 minutes or to when the inside temperature of the balls is 160 degrees F. Turkey doesn't brown as well as beef or pork so a few extra minutes under the broiler is one way to get a little extra colour. Extra time in the oven is another but not drying out the meat balls is something to keep in mind.
The patty can also be baked in the oven but in this case, I chose a frying pan as I wanted to add cheese on top. Fry until the underside is nicely browned and then flip. Cook for another 4 minutes and then add the cheese after testing for an inside temperature of 160 degrees F.
Option three is to press the entire recipe into a small free form loaf shape, top with regular or sugar free ketchup and make turkey meatloaf! This will take longer to bake so keep the thermometer handy.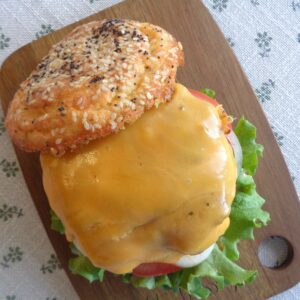 There may be liquid from the egg that coagulates around the edges of the baked meat. It happens less so if this recipe is doubled but still uses only 1 egg. It easily pulls off once cool enough to handle.
To begin with the meat balls can be dipped on BBQ sauce and used as appetizers (although I would make them a little smaller unless it is Superbowl Sunday), tossed with tomato sauce and served with pasta, crumbled into omelettes for lazy brunches and sliced for lunch time sandwiches.
Beyond that, they can go into anything your imagination comes up with and then some. Minced turkey is very versatile. Change up the spices and change the flavour to compliment your plans.
This is the simplest tomato sauce going and a very quick way to get dinner on the table while the balls are also cooking. It is from Marcella Hazan.
You will need:
1 28 oz. tin of whole tomatoes
1 medium onion cut in half
5 Tbsp. butter
salt to taste
Place the first three ingredients in a pot and bring, uncovered, to a steady simmer. Continue cooking for about 40 minutes, or until it is thickened to your liking and the fat floats free from the tomato. ( In an Italian cooking class a couple of years ago there was a discussion by the students of the difference between just butter, half and half or just olive oil. The difference seemed to be the area in Italy their forebears came from).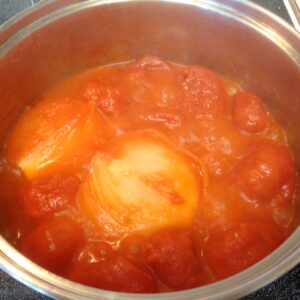 In the original recipe, the onion is taken out but I grab a wand and puree the entire mixture.
If you prefer your sauce with pieces then use a spoon or a hand potato masher to break up the pieces and give you a more textured finished sauce.
This is the basic simple sauce but there is no reason that spices like oregano or garlic or basil can't be added if that is your preference. Red pepper hot sauce is another thought. It is something I use a lot. Not to make dishes that burn your tongue but just enough that you feel it in your belly on cold nights.
Red peppers or mushrooms are also an option but when quick and simple is the order of the day. Opening a can and popping in an onion and butter can be the easy yet tasty choice.
Cook up some pasta or open a bag of konjac noodles and dinner is ready.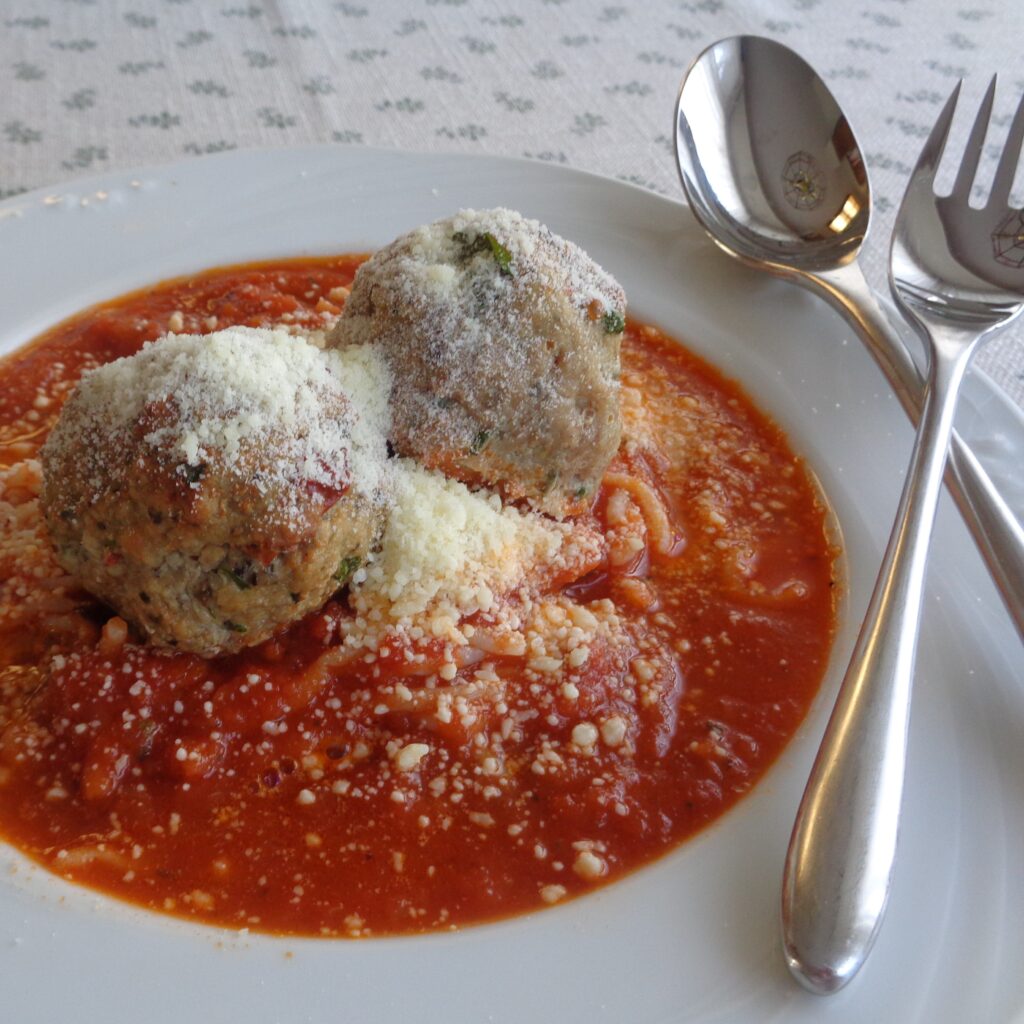 Turkey Balls with Almond flour from My Kitchen Wand