Not all treats for special occasions need to take hours to prepare. Sometimes it is the fresh from the oven warmth that does the trick and makes things special. These baked lemon doughnuts fall into that category and since is is best to bake them on the day needed, there is not a lot of preplanning to add to the "to do" list.
One version is glazed and the other sugar coated and either can have a touch of coconut added if that seems appropriate.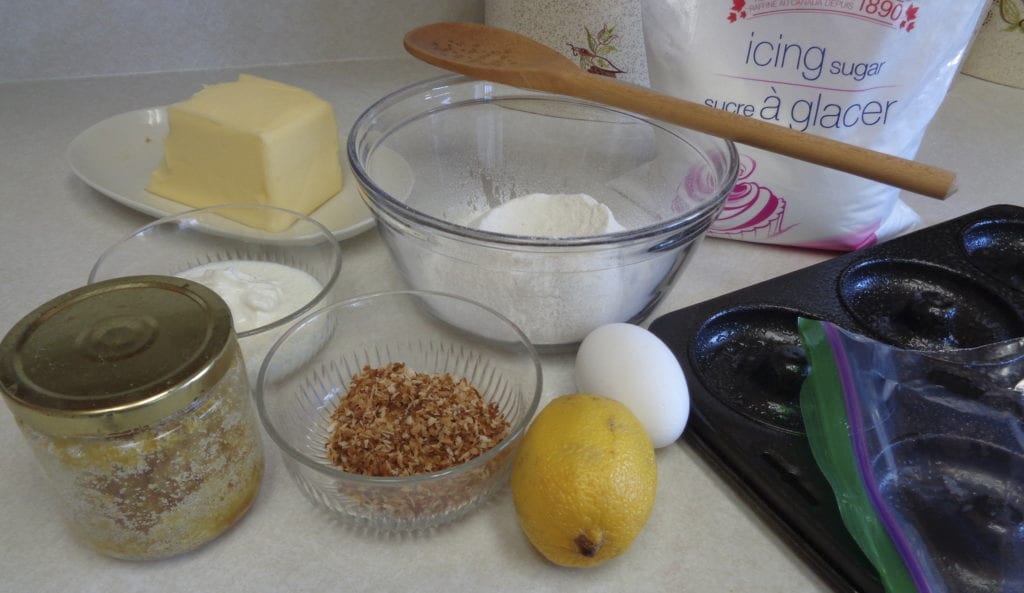 You will need:
7/8 cup flour
2 Tbsp. corn starch
6 Tbsp. sugar
1 tsp. baking powder
1/2 tsp. salt
6 Tbsp. buttermilk or plain yoghurt
1 egg
1 Tbsp. butter melted
1/2 Tbsp. lemon juice
1/4 tsp. vanilla
1 tsp. lemon zest
1 -2 Tbsp. coconut ( optional )
Tomorrow Is Mother's Day and if you are whipping up a batch of these lemon doughnuts to add to the celebration then focusing on Mom or whoever holds that energy in your life while you gather and mix ingredients would be the way to go. That said mother/daughter relationships can be complex so hold onto the good memories and shift if other ones come to mind. Open your heart and invite the compassionate spirits to join you.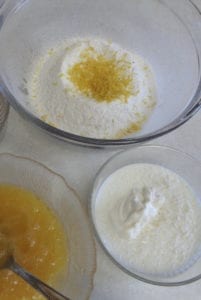 Preheat the oven to 425 degrees F. Grease the doughnut pan and put aside. This can easily be done with a pump or spray coating or wipe each mould individually with butter.
Combine the dry ingredients, sift and set aside. If you choose to add the coconut two things happen, the batter will be a little drier and there will be more of it. I would suggest reducing the flour by 1 Tbsp. and do not overfill.
Combine the wet ingredients, stir well and then add to the dry ingredients. Mix only until moist. Do not overmix.
Transfer the batter to a sandwich bag. Seal the top and then cut a corner off the bottom, creating a small hole for the batter to be piped through.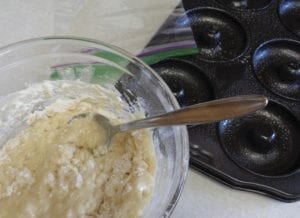 Fill each form about 3/4's full.
These are a little overfilled.
The more batter in the form the more likely the doughnut will grow over the center nob and loose some of its traditional shape.
There is just enough batter to make six doughnuts.
If you need a dozen, double the recipe and place the unused batter in the fridge, unless you have two doughnut pans and can bake then together.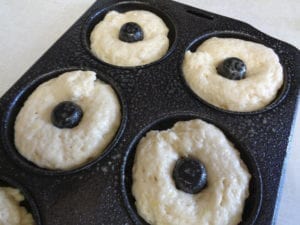 Bake for seven minutes or until the batter is lightly golden. Check and add a minute or two if needed.
The tops of the doughnuts are the undersides in the pan and since this recipe is about summer lightness, not getting them too brown is a good idea. The baked batter should be springy to the touch and it is best to leave the doughnuts in the pan for a few minutes before taking them out. This will allow the structure of the doughnut to firm up, making it less likely they will break while being removed.
Once baked, here are two options for final touches.
My original plan was to create light citrusy doughnuts with a hint of tropical goodness for a spring or summer time event. I chose a white glaze and topped it with coconut and lemon zest.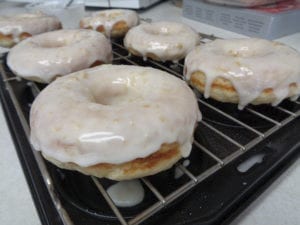 If choosing to glaze, let the doughnuts cool as glazing while warm will cause extra dripping and thinner coverage.
You will need:
1 cup icing sugar, sifted
1 1/2 – 2 Tbsp. lemon juice
1 Tbsp. coconut
1 1/2 tsp. lemon zest
Mix lemon juice into the icing sugar. Dip the doughnut half way into the glaze and then sit upright on a cookie sheet over a plate or the baking pan to drip. While still wet top with grated coconut and lemon zest. The glaze will act as glue as it dries and hold the toppings in place. In the end I kept the coconut untoasted as I was going for a light and airy look. If you choose to toast keep an eye on what is happening in the oven as things can change very quickly, especially if using sweetened coconut.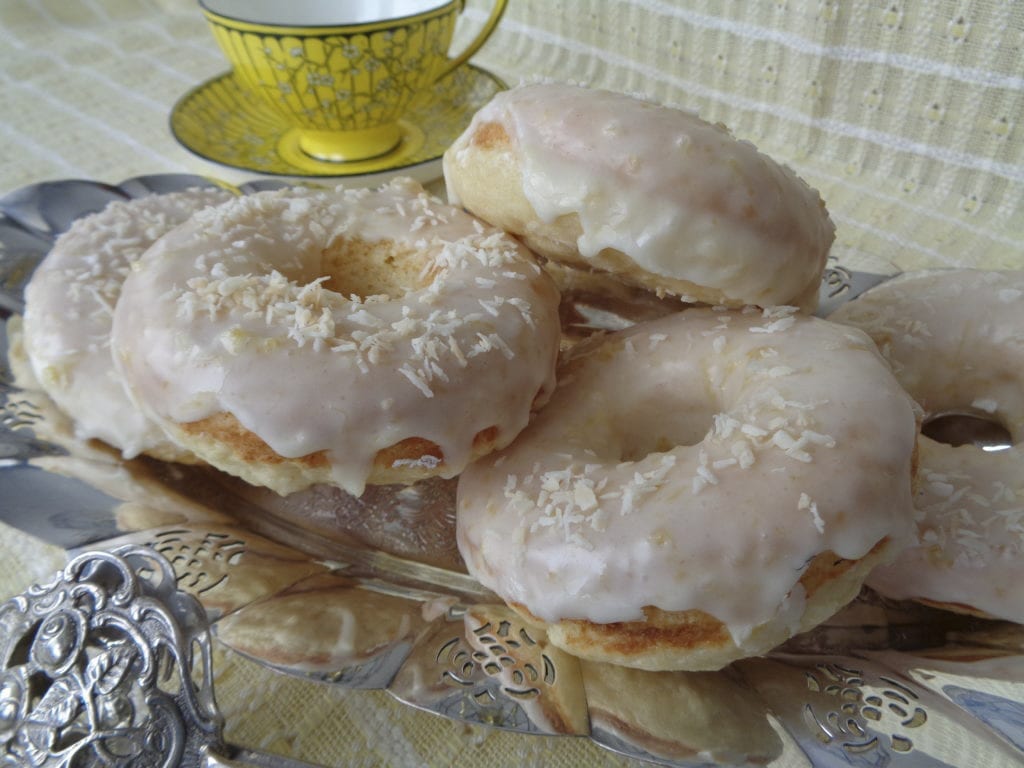 Baked Coconut Lemon Doughnuts from My KitchenWand
Option Two is what went over best around here. It lacked the tea party appeal of the glazed doughnuts but was what people seemed drawn to reach for.
You will need:
1/4 cup sugar
2 tsp. lemon zest
3 Tbsp. butter, melted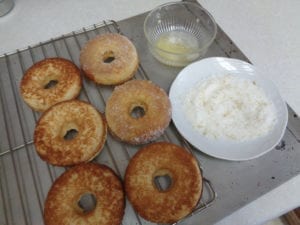 These lemon doughnuts should be finished while still warm.
Combine sugar and lemon zest on a saucer or small bowl big enough to hold the doughnut. Melt butter, also in a container large enough to hold a doughnut.
Dip the top of the doughnut in butter and then immediately place on the lemon/sugar mixture.
Return to the rack and let dry.
So there you have it, two or three options for a delicious treat that can be dressed up or down as the situation dictates, done in 30 minutes and ready to be shared, gifted or devoured.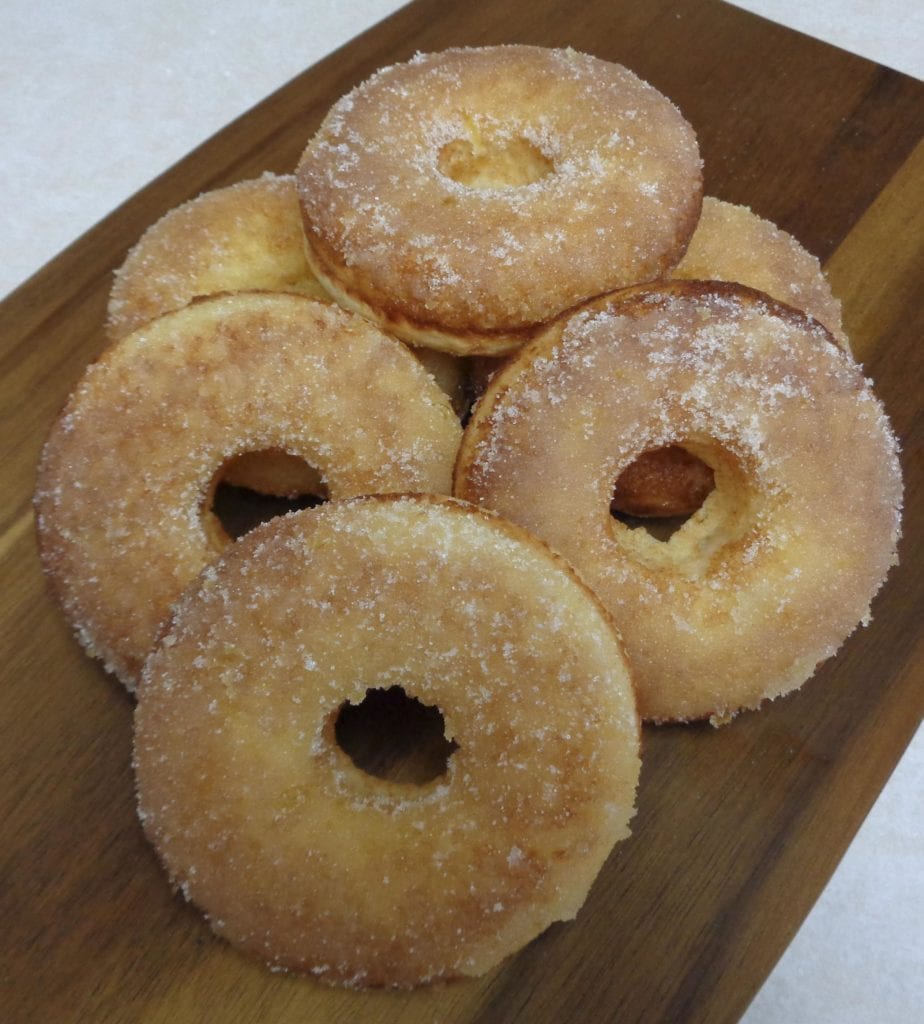 Baked Lemon Sugar Doughnuts from My Kitchen Wand