There are a common group of essential oils, of which Lavender and Peppermint are the most popular, that may help people with headaches and migraines. It is important to explore and experience what works for you as not everyone finds the same relief from the same combinations. Other possible options include Basil, Chamomile, Eucalyptus, Frankincense, Rosemary, Sweet Marjoram and Wintergreen.
Turning your personal remedy into a carry along "potion" takes only a few simple steps.
I personally feel that choosing good quality essential oils is important, especially when using for the health benefits. What is found in the corner store ( unless it is a specialty store ) will likely not do as good a job as a higher quality and probably more costly option.
Please check all the oils you plan on using for contraindications as some should not be used while pregnant or breast feeding and others can effect blood clotting capacity. Essential oils can also interact with medications so knowing all you can about the oils you are choosing to use is vital.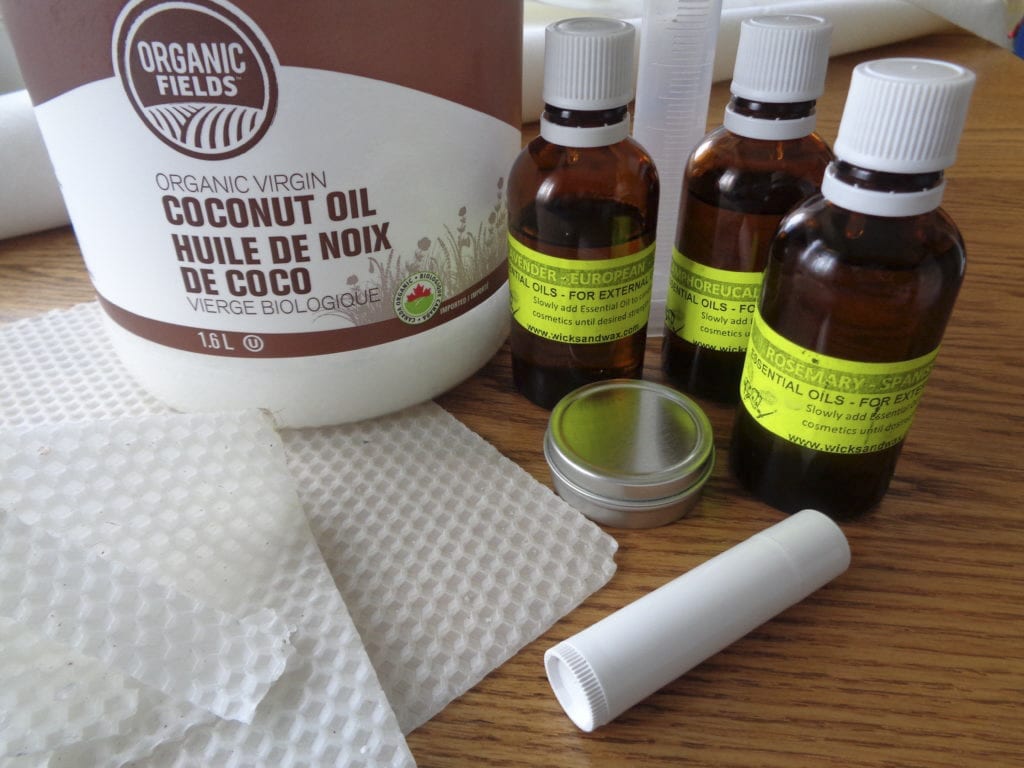 You will need:
2 Tbsp. coconut oil
1/2 tsp. melted beeswax
15 drops essential oil
pinch of Orris root ( optional )
Let's start with the coconut oil. Virgin coconut oil will melts at 76 degrees F. That means that through winter it will be solid and over the summer, it will more than likely be soft if not liquid at room temperature. It is possible to buy coconut oil that is solid to temperatures in the 90's. That coconut oil has been hydrogenated.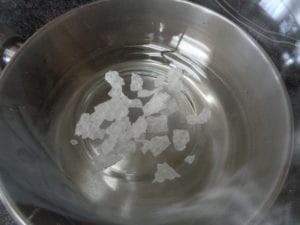 To counter this tendency to liquify a little beeswax can be added to virgin coconut oil.
The more beeswax added, the firmer the finished product so depending on your climate you may want to adjust the amount.
I have the white beeswax sitting in a glass bowl over simmering water. The beeswax will need to get to 175 degrees to melt. I have added 1/2 teaspoon of the 2 Tbsp. coconut oil this mixture calls for to aid in transferring the accumulating heat and melting the beeswax.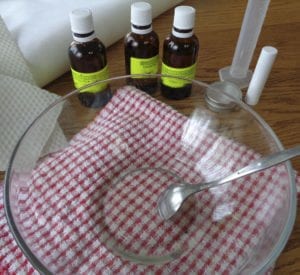 Once melted and off the heat, so it can begin to cool, add the remaining coconut oil and stir to melt. There is no reason the coconut oil needs to be up in the 175 degree range when it will melt at 76F.
Since the bowl, coconut oil and melted beeswax are all clear, I am going to ask you to take my word for it that there is actually something in the bowl.
Add the essentials oils that are working for you. My mix was 6 Lavender, 6 Eucalyptus/Mint and 3 Rosemary.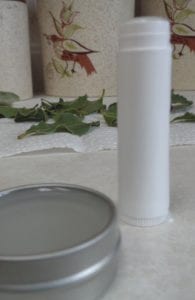 Transfer the liquid to the containers you will be using. I made one metal jar and one lipstick tube.
In this fuzzy picture you can see that the mixture is starting to cool and getting cloudy.
You can also just see the rounded top on the lip stick tube. Due to the shape of the tube it is best to over fill just a bit as the contents will shrink as the mixture cools.
Label your finished products so that is easy to find when those first indications become recognizable.
The back of your neck, wrists, temples and forehead are suggested locations for use. This mixture will melt easily into your skin once applied and is best applied every few hours.
This recipe makes a small batch, 2 containers. I knew that they were going to be in use fairly quickly so I did not add any orris root. If the plan is to make a larger volume and have the finished products sit for a while then you may want to add the orris root as a natural fixative.
Essential oils are generous things, they continue to dissipate into the air, sharing the bounty so to speak, unless encouraged to stay where they are. Some oils like Black Pepper, Frankinsence and Myrrh are natural fixatives but you may not be planning to use them as an ingredient. Powdered Orris root is a plant based fixative and as this recipe makes such a small volume, a pinch ( under 1/16 of a teaspoon ) is all you need to keep your containers smelling powerful while they sit and wait to do their job.
I like the idea of putting the balm into a lip stick tube because it means I can apply without getting my fingers involved; a little on each wrist, rub them together, job done. I know others who like the tins for their own reasons.
If you don't have a good supplier close by, check out Wicks and Wax.com as all the ingredients and supplies except the coconut oil can be sourced there.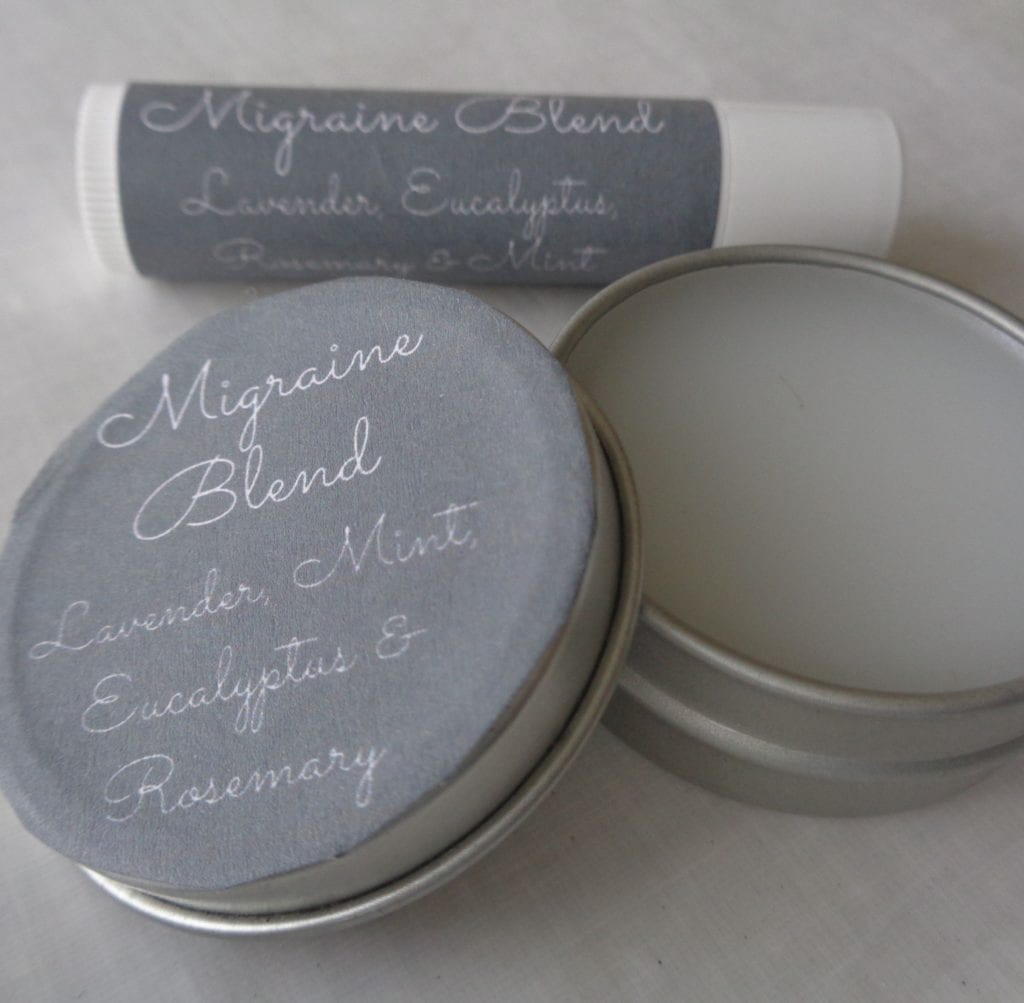 Headache/Migraine Carry Along Help from My Kitchen Wand