Nesting and hibernating can be part of cold winter days. A time to catch up on the reading/movie list or binge watch what there has been no time for over the last few months…..and it is awards season.
This snack, with all the toppings you might find on a baked potato includes dairy, always an appropriate addition at Imbolc and would work well when your group gathers to celebrate.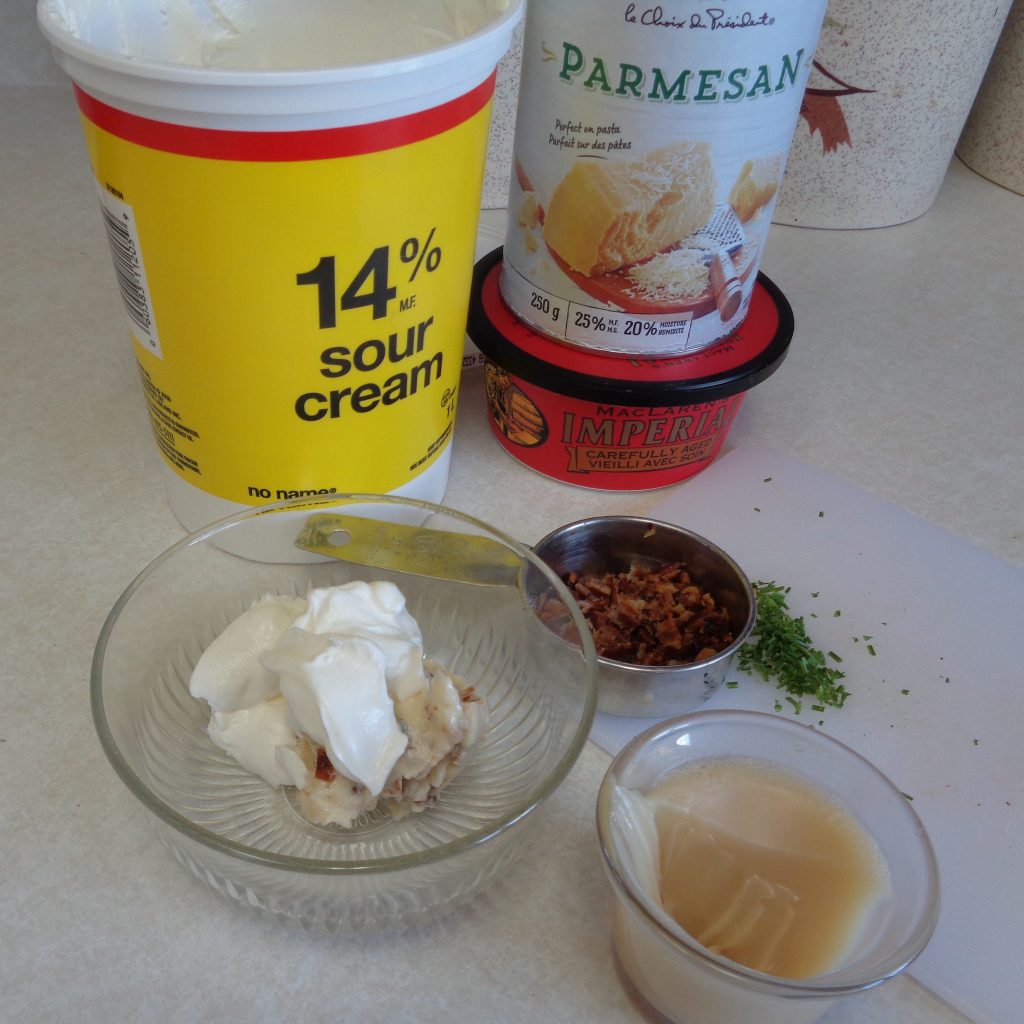 You will need:
4 – 5 cups hot popped popcorn ( 1/2 – 2/3 cups of kernels)
1  Tbsp. butter
1 tsp. bacon drippings
1 1/2 Tbsp. sour cream
3 Tbsp. crisp and crumbled bacon bits
1 tsp. finely chopped chives
1 Tbsp. grated Parmesan cheese
In the process of  cleaning the freezer earlier this month I pulled out some back bacon that has come out and gone back in through several previous defrostings. It was time to use, pass along or let go of the package.
From the crisp and crumbled bacon came three recipes for those who love bacon, Maple Bacon Butter,  Sweet & Spicy Nuts & Bacon Nibblies, and this one.  A little bit of Maple Bacon Butter, which can be made with or without the maple syrup was still in the fridge and that is what was used for this popcorn but if you are starting from scratch, the basic recipe ingredients are above.
Taking a deep breath and holding it for a moment before releasing, exhale the distractions of the day and relax. Repeat, and repeat again as needed. Bring your focus to the present moment and feeling your heart relax and open, " In my kitchen filled with care, I welcome, Earth, Water, Fire, Air". Invite the compassionate spirits in and begin.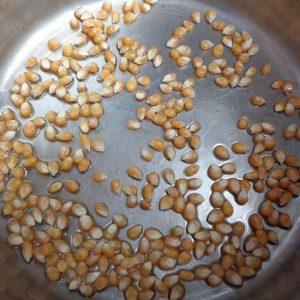 Start by popping the popcorn. I have a hot air popper but there is enough snow on the roads that driving over to pick up the machine from a friend I had lent it to was not going to happen. Option two was the old pot method. If you have unflavoured popcorn ready for the microwave that is an additional possible option but making your own is in my humble opinion a better place to start. The amount popped is totally up to you, enough for one and a good movie or buckets for neighbourhood party.
If the pot method is new, drizzle into a heavy bottomed pot medium to large sized pot with a good lid, 1/2 tablespoon oil. Let the oil heat to medium and drop in a couple of kernels to test for temperature. Once they pop, add the rest of the kernels and replace the lid. Take off the heat and let the kernels do their thing. If the oil gets too hot and you can smell that it has burned, know you will be able to taste it on the popcorn as well so best to begin again. Some people like to tilt the lid just a bit so that some of the steam can be released and the popped kernels stay dry. Other like the lid on until the popping stops.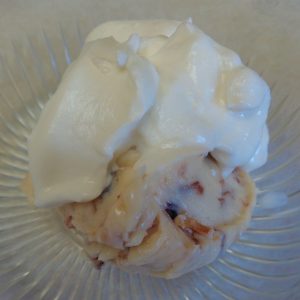 Mix the butter, dripping and sour cream together and gently heat until the butter is melted and mixable.
Add two tablespoons of bacon and the Parmesan cheese. Stir well.
Toss with the popcorn until coated.
Sprinkle the remaining crumbled bacon and chopped chives on top and serve immediately.
Are you are someone who likes to increase the coating to popcorn ratio?
If so, just know that the popcorn will get soft and hands will get greasy so best to serve the popcorn with one, or more, sheets of paper towel.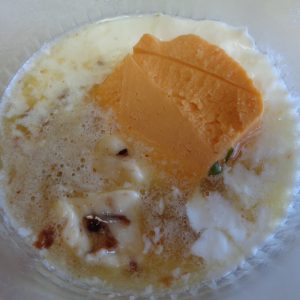 I opted for Imperial cheese as it is usually a special treat over Yule and there was a little still in the fridge calling to me.
Combine a spoonful of sour cream with a spoonful of bacon butter and heat until the butter is melted.
Stir together and add one tablespoonish of Imperial cheese.
While continuing to stir, the cheese will melt and combine with the butter and sour cream.
Pour over the popped popcorn, toss until coated and transfer to a serving bowl.
Sprinkle any remaining bacon bits and chopped chives on top and serve immediately.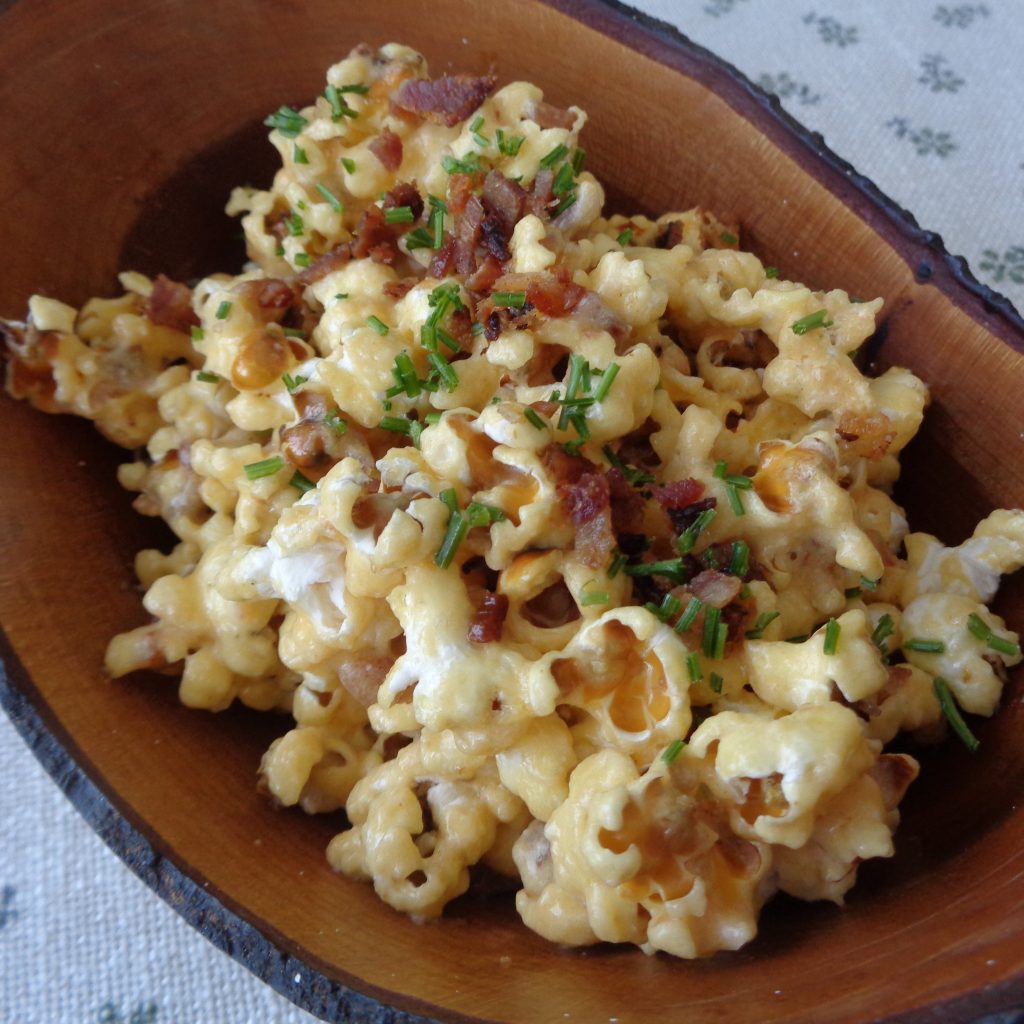 Baked Potato Popcorn from My Kitchen Wand