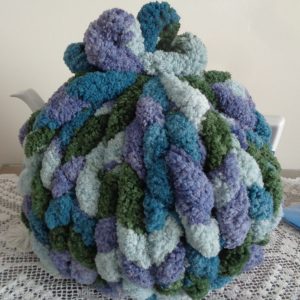 This post was intended to coincide with Hat Day and Hobby Month As you can see it worked better as a tea cozy. But more on that at another time.
For today a quick snack for those that like things sweet and spicy. Actually quite appropriate if you are into watching awards shows or if there are still nuts from Yule that could use a little freshening up. Creating space by using up leftovers is absolutely part of the plan for this time of year.
The spread of volume in the Cajun spice and brown sugar is because we all have different tastes and what is perfect for one is waaayy off base for someone else.
I used 1 tsp. Cajun and 4 Tbsp. brown sugar for my stepmom but you may like more kick and less sweet and more beverage of choice to balance everything out.
This is a good recipe for baking in a toaster oven as there is just enough product to cover the bottom of the pan and no need to heat a full sized oven unless, that is already the plan.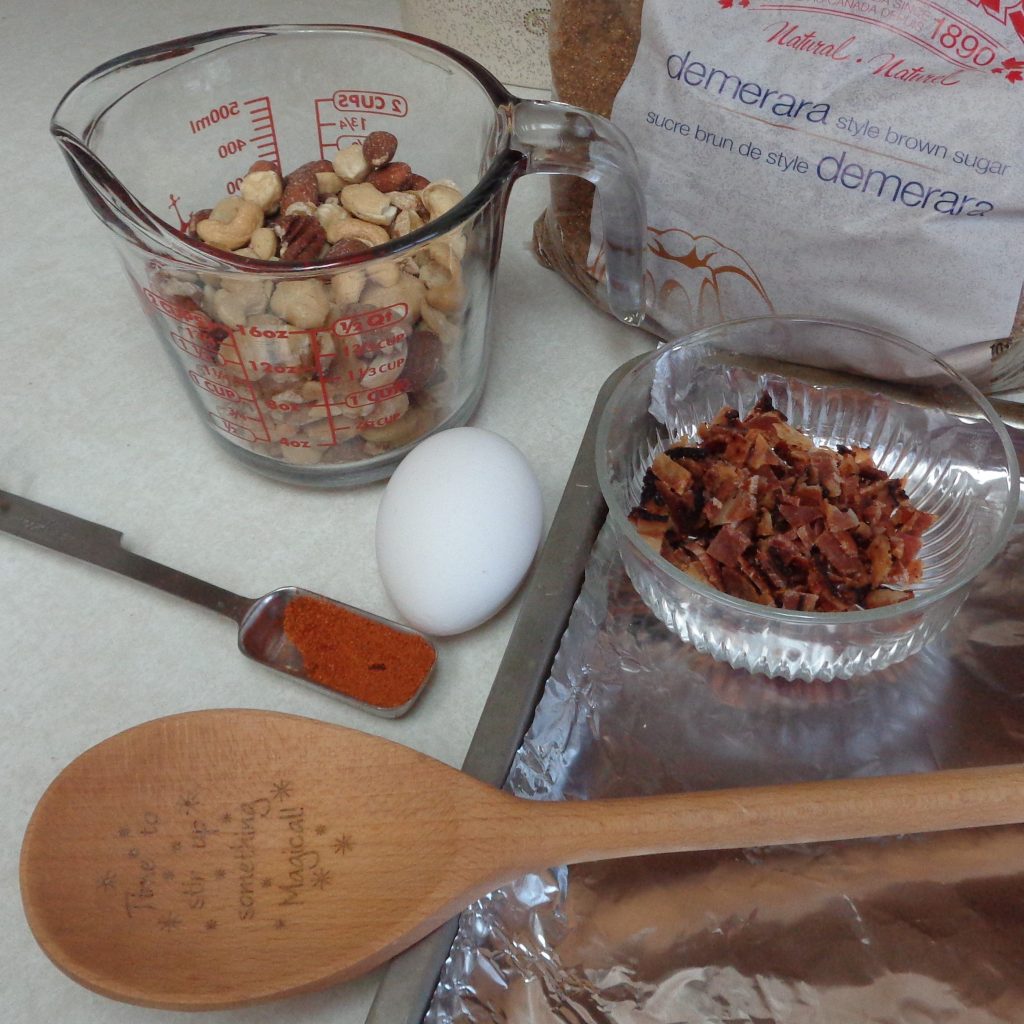 You will need:
2 cups mixed nuts
1 egg white
1 – 2 tsp. Cajun spice
2 – 4 Tablespoons brown sugar
4 slices of crumbled cooked back bacon
Preheat the oven to 350 degrees F. Size and cut a piece of  tin foil large enough to cover the tray of your toaster oven. Place dull side down on the tray and put aside.
Nibblies and "nigglies" often go hand in hand as one has been known to be used to put a lid on the other. So let's start by releasing any nigglies and bringing your focus clearly into the present moment. Let any nigglies go by washing your hands under warm soapy water and letting the water and distractions drip off the ends of your fingers. Another option is to imagine a container with a lid. Place your nigglies in the container and put the lid on. Leave them in the container while you work and retrieve them only if absolutely necessary when you are finished. Take a deep breath, hold, release and begin.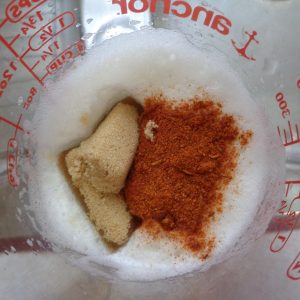 Whip the egg white until fluffy  but not dry before adding spice and sugar.
I say spice because while I was using up the last of some Cajun spices, you may have/prefer a Indian curry, Tex/Mex blend or Thai spice mix.
Stir in the dry ingredients.
Once well mixed, add the crumbled bacon and nuts.
Stir again until coated and transfer to the tin foil.
Bake for 10 minutes and then check. Stirring up the nuts is fine if something is looking to0 brown. There may be some sticking of the coating on the foil.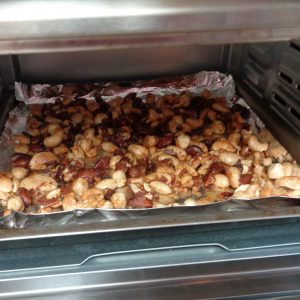 The liquid will probably still be bubbling and another 5 minutes to bake the nuts and crisp the coating needed.
Once baked, remove from the oven and transfer the foil and nuts to a cooling rack.
They will need a few minutes to cool before putting in a serving dish and getting out the drinks.
Store any leftovers in an airtight container. They will last several weeks, or until the next awards show.
Nuts are generally a good source of protein, fiber and fat, most of which is monounsaturated fat. Omega-6, omega-3, polyunsaturated fat, (some saturated fat) as well as vitamins, especially E, a variety of minerals and magnesium may explain that while there is analysis of research that suggest diets high in nuts do not significantly affect weight gain or weight loss, they also show that people who eat nuts live longer than those who don't.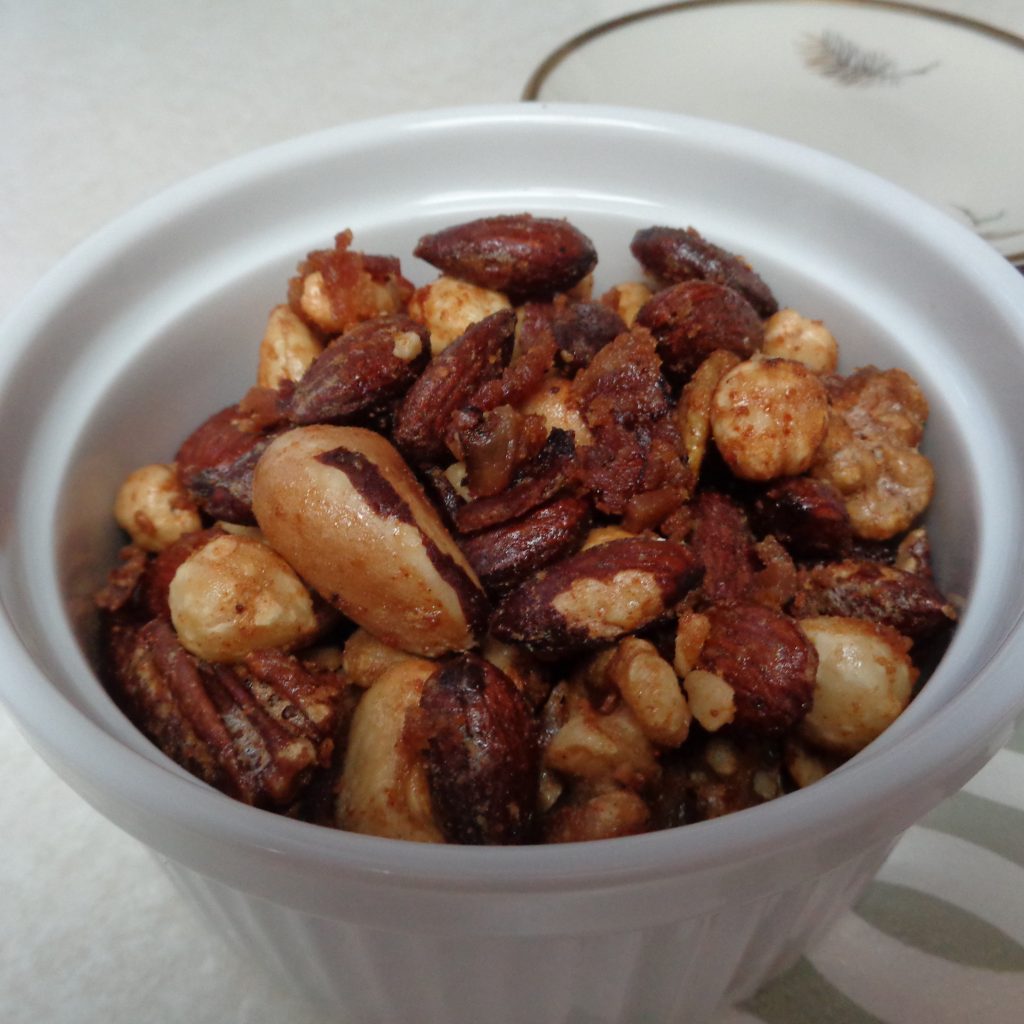 Nuts & Bacon Nibblies from My Kitchen Wand