When your household is two people, a recipe for 12 is just too much so here is one for 6 banana muffins that is quick, simple and a little healthier than many. It came together one night when I was looking for something to nibble after a busy day and sitting all alone on the fruit plate was a black spotted banana, just perfect for baking.
Bananas are connected to love, money and spirituality. In India they are treated as holy food, fit for offerings to Hindu Gods. They were also planted near house doors in early New Orleans for luck.
At midnight the lighting is horrid for pictures but that is no reflection on the recipe!
You will need:
1/4 cup melted butter, cooled
1 ripe banana, mashed
1 egg
1 tsp. vanilla or rum extract
1/3 cup greek yoghurt
1/2 cup cane sugar
1/2 tsp. salt
1/4 cup raisins (optional)
1/2 cup all purpose flour
1/2 cup whole wheat flour
3/4 tsp. baking powder
1/2 tsp. baking soda
Pre heat oven to 350 degrees.
Mix together the first eight ingredients. Sift the last four over the mixture and stir until just moist.
When it comes to using two types of flour, the whole wheat really helps to ground the finished product. No whole wheat in the house? Try 7/8 cup all purpose flour with 2 Tbsp. bran or wheat germ.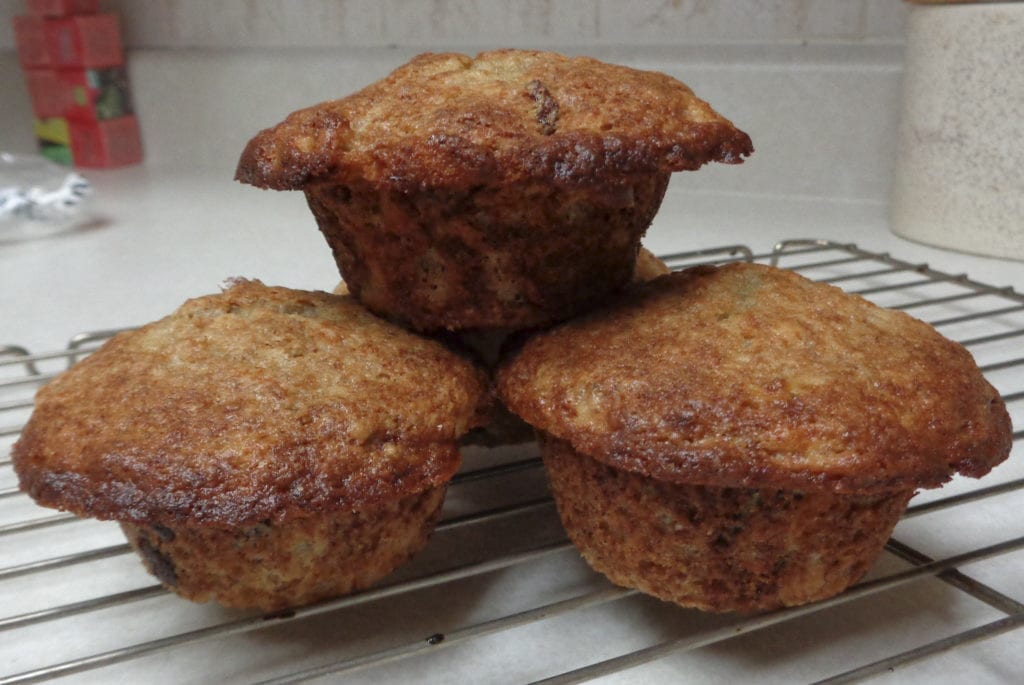 Not a yoghurt fan? Try sour cream with a little milk mixed in. Buttermilk will work as well as regular milk but keep in mind that the muffins may need to bake a little longer with higher viscosity ingredients so keep an eye on the baking time.
Adding in a couple tablespoons of chopped nuts, dates or cranberries is also an option. I had my heart set on a simple banana muffin.
There is enough batter here that it is best to not use paper liners and loose the space. One way to cut down on the muffin tops, If you want to, is to leave enough banana out of the mashing to place a thick slice on top of each muffin before popping them in the oven. It should decrease the batter by about a teaspoon per muffin. Personally, I like the crunchy edges.

Bake in greased muffin cups for about 25 minutes. Let cool for a few minutes before taking out of the tins. This will let the structure of the muffins strengthen.
Another idea is to mix the two sections in separate bowls and finish them up first thing in the morning. Store cool and air tight. The muffins will be baked and steaming about the time you are ready for breakfast and the leftovers can be mid afternoon snacks.
Fresh from the oven, they are more than fine as is but what picture doesn't like a little melting butter?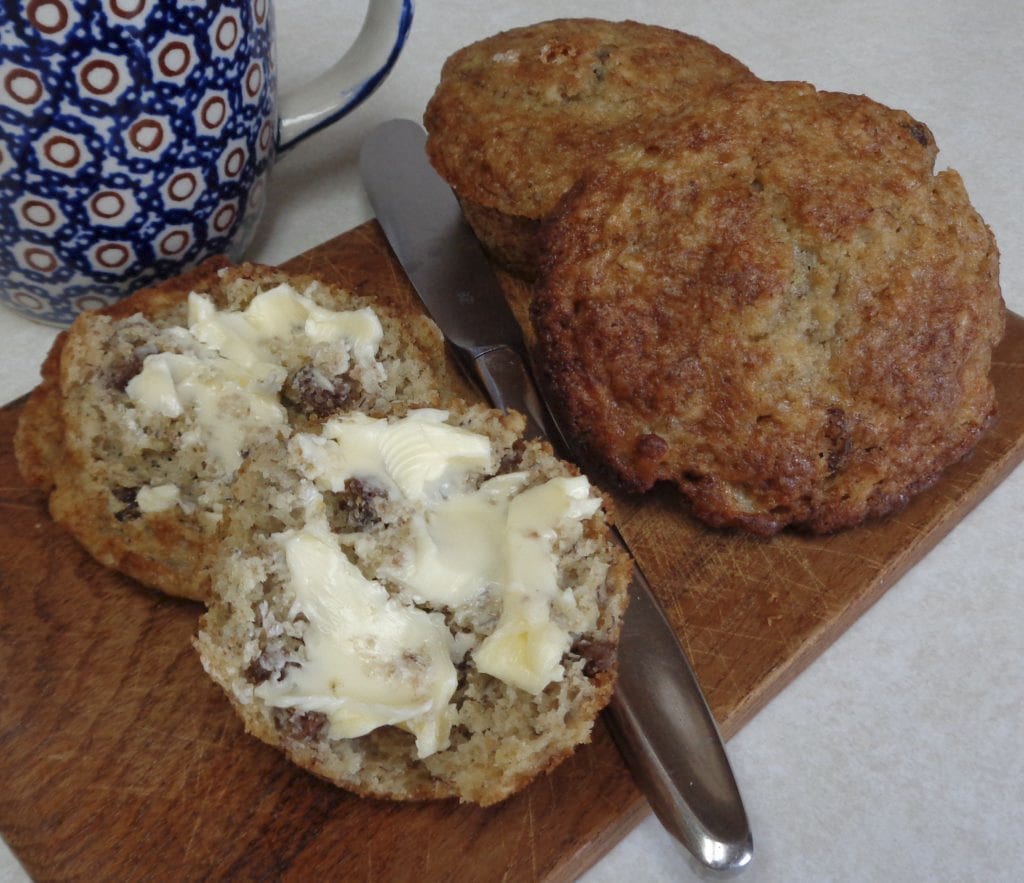 Banana Raisin Muffins from My Kitchen Wand