Do you really need an underlying reason to make flapjacks on a cold winter morning?
Pancake Day will be here shortly and with it the coming of Lent. For some, pancakes were seen as a cleanup of the last of the `good stuff`before a voluntary period of lack.
For others, they were a sun shaped offering to the Gods for a change in the weather and a good harvest. Served with lots of butter to flatter and soften (Butter up) any deity who might be thinking of holding on to winter.
These are hearty, tummy filling pancakes that will be sure to please a Divine personality with a persnickety perspective along with a suggestion for a fir flavoured honey for use next time.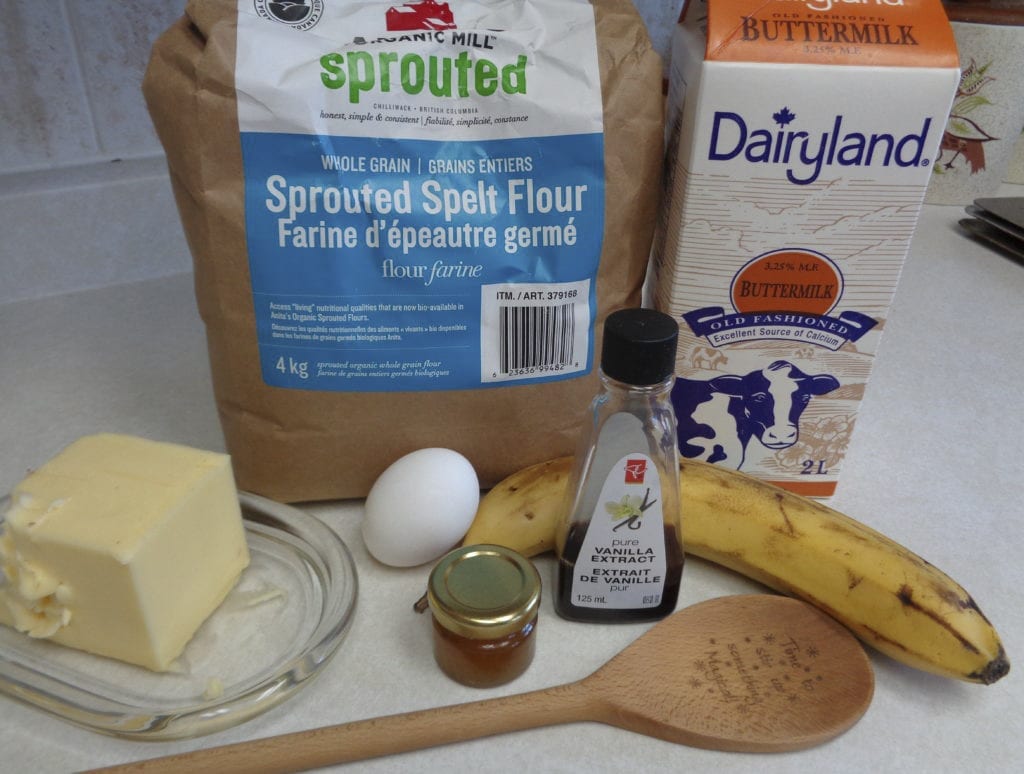 You will need:
1 Tbsp. butter
2 Tbsp. honey or sugar
1 cup spelt flour (sprouted spelt is good too)
1 1/4 tsp. baking powder
1/4 tsp. baking soda
1 banana cut in half
1/4 tsp. salt
1 large egg
1 cup buttermilk
1 tsp. vanilla
2 Tbsp. ground nuts ( optional )
Gathering supplies is a way of beginning the shift into being present in now. Washing hands is an opportunity to release your nigglies if you let them drop off your fingers as the drips fall and putting on an apron can be a statement of the line between there and here. Close your eyes and take a deep breath, hold a moment and release. Weekend brunch or winter ending offering to Volos, being in the moment and present as you work, is a sacred place to begin.
Combine butter and honey and heat until butter is melted, stir. This can be done on the stove or with a microwave. Set aside. I chose honey as I am going to finish this off with some fir flavoured honey. If your choice is sugar, the sugar can be mixed into the dry ingredients.
Sift all the dry ingredients into a bowl, stirring to combine. Add nuts if using.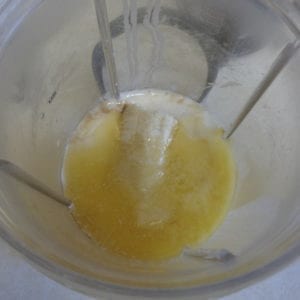 I put all the other ingredients into my Magic Bullet and pulsed a few times but whisking will work too. Egg, buttermilk, half the banana and the cooled butter with or without honey. Once mixed add to the dry ingredients and stir only until mixed.
Heat a skillet, frying pan or griddle over low to medium-low heat while the batter sits. Spelt will absorb liquids differently than all purpose flour so what may seem a little dry will moisten as the batter waits to be cooked.
When skillet is hot, grease lightely and pour batter onto skillet. The skillet will indicate hot when a few drops of water sprinkled on the surface sizzle. A pancake can be anywhere from just under 1/4 cup of batter to 1/3 cup. Anything larger tends not to be as easy to flip. The first batch of pancakes will almost always take a little longer to cook.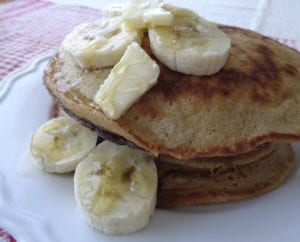 It will be ready to turn when the edges are dry and bubbles are visible in the middle. Flip and let cook for another 1-2 minutes until pancake is cooked through.
Serve immediately with several additional slices of fresh banana, a bit of extra butter ( just to be on the safe side) and fir tip honey. Maple syrup works too and I am going to go out on a limb and assume that there is a greater likelihood maple syrup is in the cupboard, but keep reading.
Repeat with the remaining batter. It is possible to keep pancakes warm in a preheated oven but fresh off the pan is always best.
Fir Tip Honey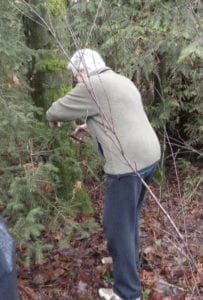 During the summer months, it is easier to find flower petals such as rose, lavender and lilac to infuse honey. At this time of the year it can seem like there is nothing much going on but depending on your climate, I would encourage looking for new growth on evergreen trees. Last year, around this time Jean and I walked through her property and collected new fir needles to add to honey.
If you are not sure how to tell fir from pine or spruce here is a link that will help.
A quick google will show a number of recipes for making tree flavoured simple syrups for drinks and pancakes.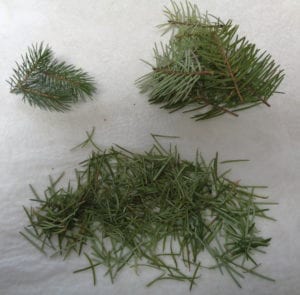 Last year, instead of relying on refined sugar, I placed my new fir needle harvest in honey and let it sit for several months.
This year I am going looking for a selection of all three to make a combination.
Take the needles off the center stalk and ensure they are clean and dry.
Gently heat an amount of honey 2 to 3 times the volume of the needles. This will thin the honey and allow the ingredients to combine more easily.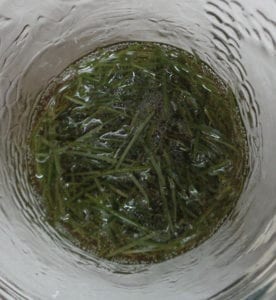 Place in a sterilized jar and store in a cool location away from light.
The longer the honey sits, the stronger the infusion. Try for at least five weeks.
Use as an alternate to maple syrup on pancakes, scones and bread pudding.
organicfacts.net says fir can `reduce pain, prevent infections, improve respiratory function, increase the metabolism, detoxify the body, and reduce body odor.`
So whether you are asking for winter to finally be over or are just having a satisfying breakfast before heading to the slopes, these tasty spelt buttermilk pancakes will hit the spot.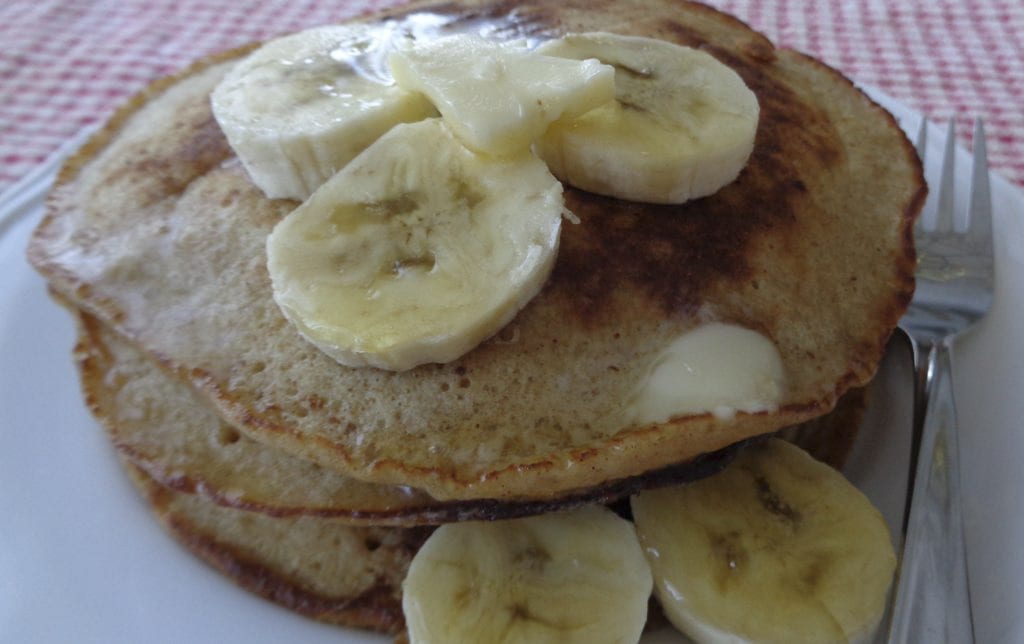 Banana Spelt Pancakes from My Kitchen Wand