During the winter, salads are not always top of my list for lunch. However, it is orange season and what I did want to share was that the orange infused vinegar I posted towards the end of January, has uses other than just as a cleaning product.
Beets are also "in season" and the two pair nicely. The feta was part of a Christmas gift as were the candied nuts. So I tossed everything together and took a break from spring cleaning. There is more than enough vinaigrette for two or three salad servings, so just increase the beets, spinach, feta and nuts to accommodate larger numbers or create smaller servings and use as a first course.
In folk magic it has been suggested a man and woman eating from the same beet will increase their chances of falling love, so I guess its actually perfect timing for this recipe.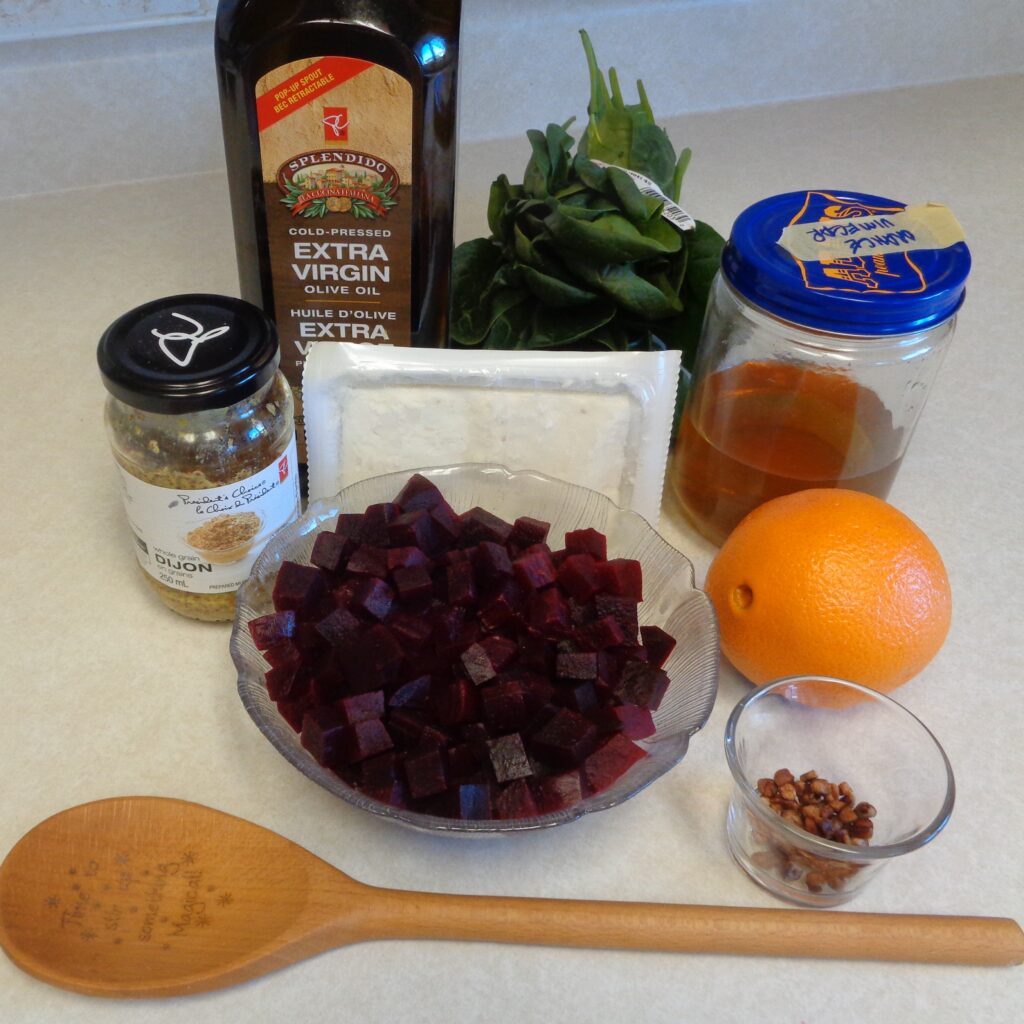 You will need:
1/2 medium beets, diced or sliced
3 Tbsp. olive oil
1 tsp. grated orange zest
1 Tbsp. orange infused vinegar
2 Tbsp. orange juice
2 tsp. liquid honey
1 tsp. Dijon grainy mustard
1/2 tsp. salt
1/4 tsp. pepper
1/4 bunch fresh  spinach
1 medium navel orange
1 Tbsp. goat cheese, crumbled
1/2 Tbsp. finely chopped nuts ( candied or toasted work too)
"In my kitchen filled with care, I welcome Water, Earth, Fire, Air". While gathering your ingredients sent out an invitation to the compassionate spirits to join. Wash hands and put on an apron, both things that can be used to focus intention and bring you into the present moment. Still yourself. Take a deep breath. Release and begin.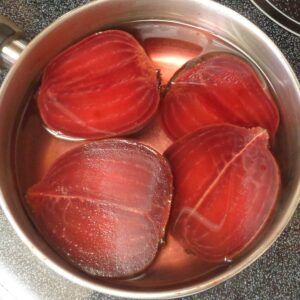 Wash the beets and prepare by either boiling or roasting them in the oven.
These beets were pretty large so cutting them in half worked better for the pot. If boiling add a Tbsp of lemon juice to help the beets keep their colour. It will take about 45 minutes of simmering to fully cook
You will see in the next picture that they were in fact much darker once cooked.
To roast, set the oven to 350 degrees, wash and place on foil on cookie sheet. This will also take about 45 minutes for the beets to become soft.
Once soft, allow the beets to cool until they are manageable before peeling the skin away.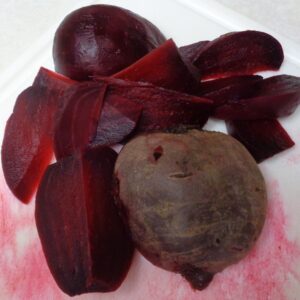 Slice or dice the beets. Slicing is prettier if you have smaller beets and are planning on arranging a salad plate.
Dicing working well if tossing everything together is the plan.
The skin should peel away easily once the beets are cooked but if there any issues, simply peel under warm water or use a knife to scrape the peel off.
Rinse the spinach and allow the water to drip away before removing the stem and breaking the leaves into smaller pieces. Using a different vegetable such as iceberg, mixed greens or arugula is also an option.
In the middle of winter, here on the west coast of Canada, spinach is the most cost effective option.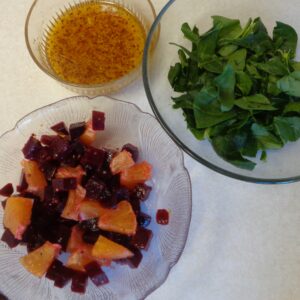 Create the vinaigrette by mixing together olive oil, orange zest, infused vinegar, orange juice, honey, mustard, salt and pepper.
I keep orange zest in sugar in the fridge. There will be enough fresh zest found on the outside of the orange and orange juice if about 1/3 of the orange is juiced and the remaining sections diced for the salad itself.
Pour 2 Tbsp. of the vinaigrette over the diced beets and oranges. Toss. Be aware the orange sections will turn reddish. The way to avoid this if it is a issue is to  toss separately or place the sections on top and add additional dressing.
Place the beet salad on top of the spinach. Finish with the crumbled feta an your choice of chopped nuts.
Serve with additional dressing and enjoy.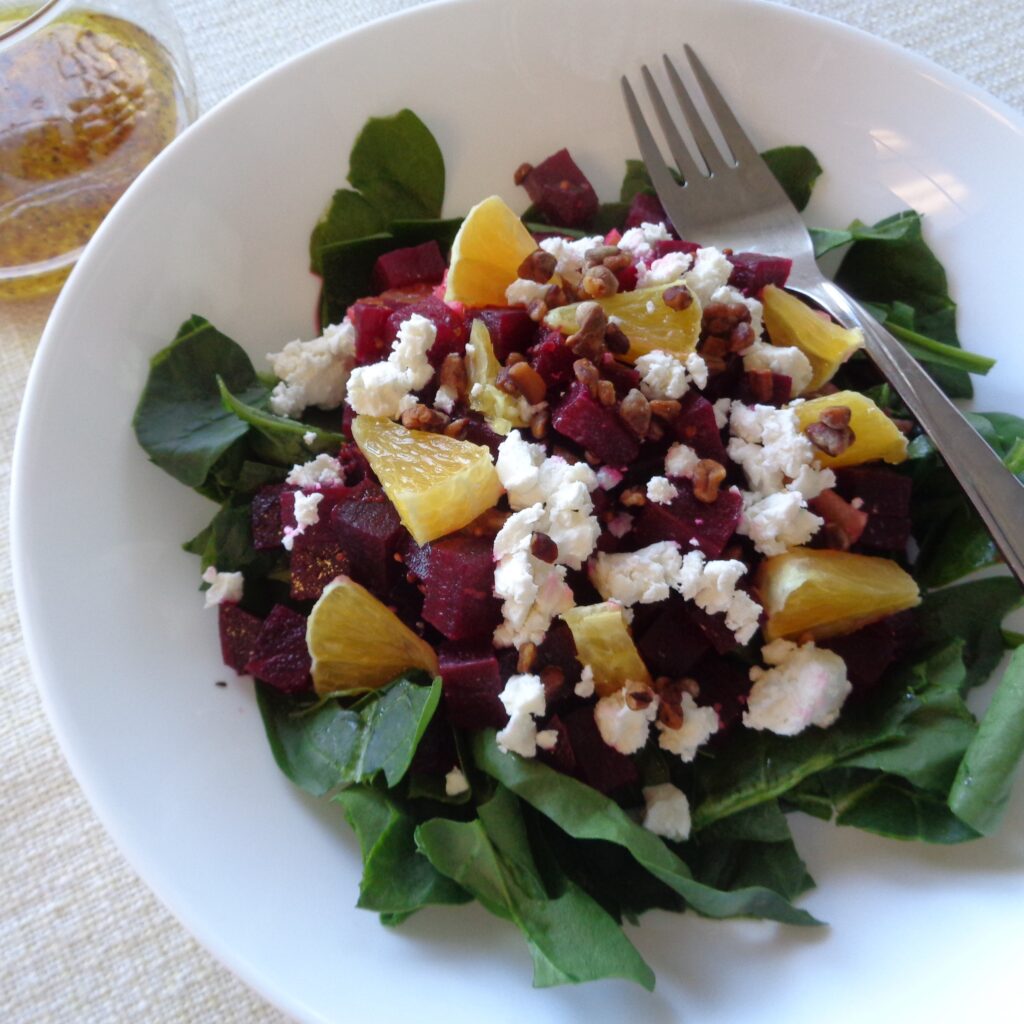 Beet Salad with Orange Vinaigrette from My Kitchen Wand