It is time to dig deep into your ethnic roots and pull our any connection to Italy either from this life or possibly one past. Everyone may be Irish on March 17th but on January 6th, we can all look forward to having been visited by a giftgiving witch.
La Befana flies tonight, bringing presents to good little Italian children or coal if you are on the naughty list. Thankfully that coal is made from sugar these days and is known as Carbone dolce della Befana (sweet coal of Befana).
Legend says that Befana met three wise men, following a star, in search of an extrodinary baby. They invited her to come along. The witch said no as she was in the middle of cleaning ( probably already feeling the pull of spring influences ). In some tellings a second person tries as well and again she says no but after being left to finish her cleaning she begins to wonder if the right decision would have been to go and collects up cakes and cookies as gifts and heads off, following the brightest star.
In one version of the story, Befana never finds the baby but gives her gifts and baking to the children she finds along the way. In another version of the story she does find the baby Jesus and presents him with her gifts. He in return gifts her with "motherhood" of every child in Italy.
It is said that if you leave a glass of wine out when she comes to visit, she will sweep the floor before she leaves your house, getting rid of the challenges of the old year.
Befanini are a simple traditional roll and cut cookie decorated with sprinkles, shared with friends, family and the friendly witch who fills your stockings this night.
1 3/4 cups all-purpose flour1/2 tsp. baking powder
1/4 tsp. salt
12 oz. butter, at room temperature
10 Tbsp. granulated sugar
3 yolks
1/2 tsp. vanilla extract
finely grated zest of half a lemon
1 Tbsp. rum
1 1/2 Tbsp. milk
Multicolored sprinkles
This cookie has been described as a shortbread but with the added egg yolks you will find it a softer cookie that a British shortbread.
So let us begin as we always do with a deep breath in and a shift in awareness to center around your intentions in the kitchen. As hands are washed and aprons are gathered, feel the releasing of niggles into the warm water dripping of your fingers and the separating of there and here as you don your apron and begin this project, another offering of love in action.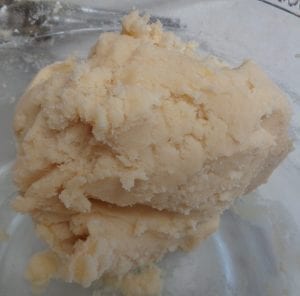 Sift together the flour, baking powder and salt. Put aside.
Whip the room temperature butter until it is light and fluffy, then add the sugar and 2 1/2 egg yolks. Continue beating.
Cover the half egg yolk tightly and place in the fridge for later.
Add the lemon zest, vanilla and rum. I used actual rum because it was handy but if extract is easier, then 1/2 tsp. will do the job as well. Mix.
Add the dry ingredients and stir until everything comes together in a ball. Wrap and store in the fridge to cool. The dough can be shaped into a ball or patted into a flat circle. I find the flat circle easier to roll once the dough is cool.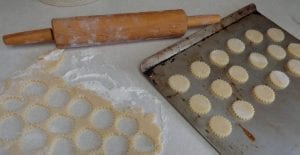 Preheat oven to 350 degrees F.
With a rolling pin, working in both directions, roll until the dough is even and about 1/4 inch thick. Using small cookie cutters create cookies and transfer the dough to an ungreased cookie sheet.
Combine the remaining half egg yolk with the milk and using a brush, brush the top of each cookie. The trick here is to keep the volume of liquid just right. Too much and the colours will melt as the cookies bake. Too little and the sprinkles won't stay put. Sometimes using the brush to clear off the extra for use on another cookie is helpful.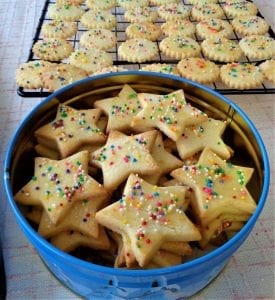 Sprinkle with fine colourful sprinkles/nonpariels. The really small ones.
Bake 8 – 11 minutes keeping an eye on the trays to make sure they do not get too brown around the edges.
Once the cookies are removed from the oven they will be soft so allow them to stay on the cookie tray, getting stronger, before transferring to a cooling rack for further cooling. This will help prevent breakage.
Panatone is another speciality food at La Befana and there will probably be some in a local store, left over from Christmas at a good price.
This is also a great time to get out any Hallowe'en witch moulds you might have in storage so that you can temper up some suckers to go along with your treats.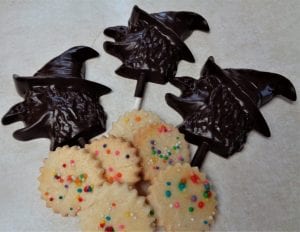 Another specialty dish that my Italian friend makes most years is a flatbread with rosemary or basil.
Into each bread is placed blessings written on paper and wrapped in tin foil.
The younger people write most of them but we all got to add one of two.
Once baked, it was cut into squares.
Not every piece had a blessings and there was much searching and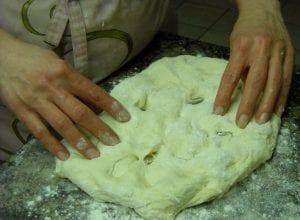 half eaten flatbread until all the messages were found.
La Befana may have started as a local tradition in Rome but it has expanded into a national celebration.
If has been suggested that La Befana is connected to the feast of Epiphany or as one would say in Italian La Festa dell'Epifania.
Tracing roots back through Roman myths and festivals would connect her to the goddess Strenia and a tradition of exchanging gifts at the beginning of each year. Strenna was the word used for gifts given at Christmas.
So wouldn't it be fun to share a few sparkly star cookies with "the kids" today and tell the story of a dedicated witch who decided that today there were more important things than housekeeping and went out to share joy, gifts and cookies with the children of Italy in a true manifestation of divine love. You might even say, she exemplified epiphany.
Befana's Blessings for a memorable 2018.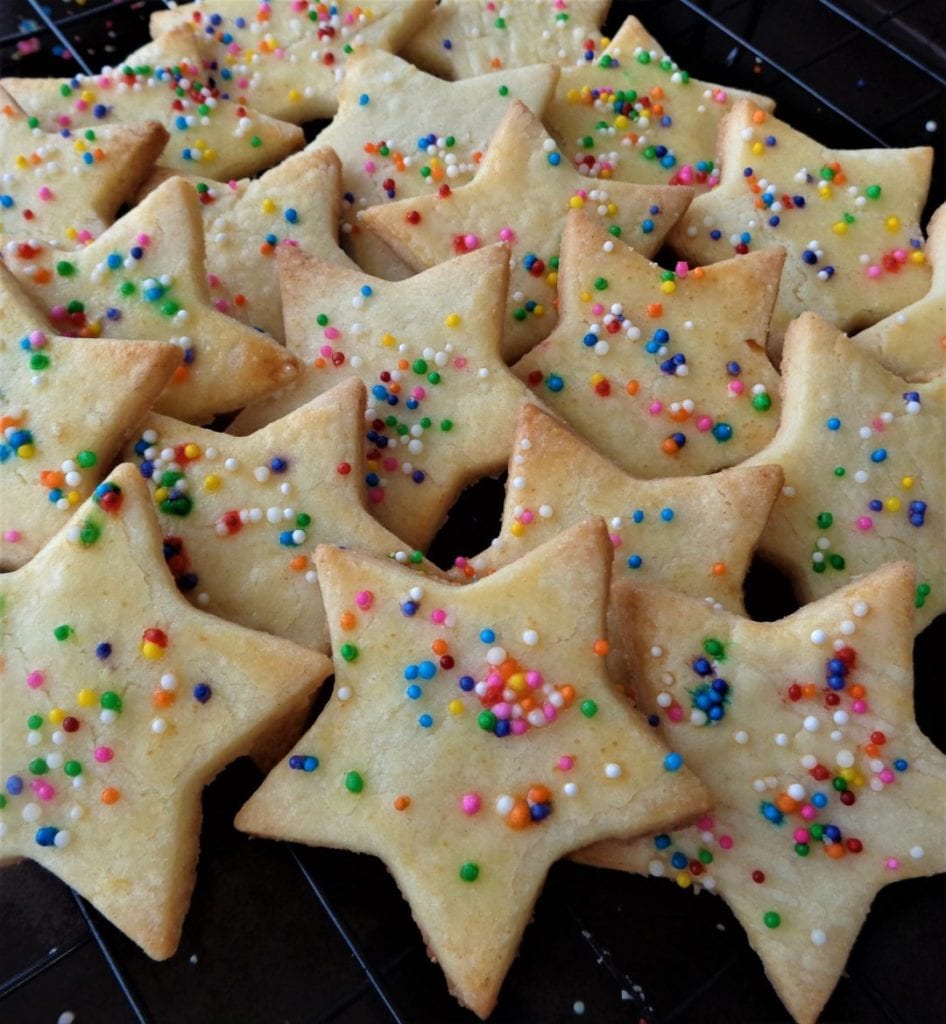 Befanini from My Kitchen Wand