Blackberry season is upon us and although they are thought of, in some parts of the world, as food for fairies and should therefore be left alone, there seem to be many first harvest recipes that include blackberries as they are the naturally available fruit of the season.
"Thank you fairies for your willingness to share."
Blackberries are related to wild roses, They both have protective thorns that catch on clothes and skin so be careful is you are picking with children. They grow wild here and can make for a nice family outing. Find bushes away from busy streets and exhaust fumes.
My grandfather had a tobacco tin with an attached handle. He tied the middle of a piece of thin rope to the handle and then tied the ends of the rope around his waist, like an apron. It left both hands free for picking, holding branches back and keeping his balance. He used it for many years.
So, what to do with the blackberries for Sunday tea with a visitor? My preference in a cheesecake is usually plain with a fruit sauce. I think because I like the temperature differences on my tongue but today I thought I would bake something with the" fruit in". I also did not want lots of leftovers so I went for a smaller option.
This recipe was too much for my handy 4 inch spring form so there were also a couple extra tarts. Tripling the ingredients will make a standard 10 inch spring form cheesecake.
You will need:
1/2 cup fresh blackberries
1-2 tsp. sugar
1-2 tsp. liqueur
1/2 cup flour
1/4 cup butter
2 Tbsp. brown sugar
1 pkg. plain cream cheese
1 egg
3 Tbsp. sugar
orange zest knife tip
3 Tbsp. Greek yoghurt or sour cream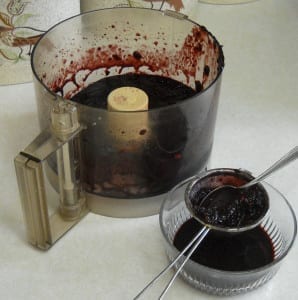 "In my Kitchen, filled with care, I welcome, Earth, Fire, Water, Air". Now that we are in the season of harvest, there is so much to be grateful for. Gardens offer a plethora of bounty to enjoy, and store. Hold thankfulness in your heart as you take a deep breath in, come into the present moment and begin.
Preheat oven to 350 degrees.
Purée the blackberries in a blender or food processor. Strain and discard seeds. Stir in liqueur and sugar to taste. Set aside for later.
I have a bottle of homemade cascade berry liqueur that I used, If you have something fruity at home, use at that instead. I am not suggesting a purchase for 1 – 2 teaspoons of the bottle, so if nothing is handy, use vodka or leave out entirely.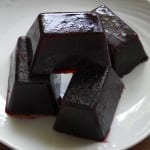 Also, I posted last week a suggestion for making more blackberry juice and then freezing as juice cubes for other projects later in the year; teas, sorbets, coulis and hot drinks on cold winter days. So another option is to just pull a cube from the freezer and allow it to thaw.
In a food processor, mix the flour, butter and brown sugar until a crumb mixture is created.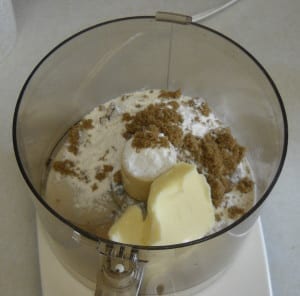 Press into the bottom of your pan and bake for 10 minutes.
There was more than enough crumble for the bottom of my 4 inch spring form pan and five extra tarts.
While the crumble is baking, rinse out the bowl, place in back in position, ready to mix the cheesecake.
Combine the cream cheese, sugar, egg, sour cream or yoghurt and orange zest.
Mix in short bursts until the filling is smooth and well blended.
Pour the cheesecake batter into the pan until it is half full.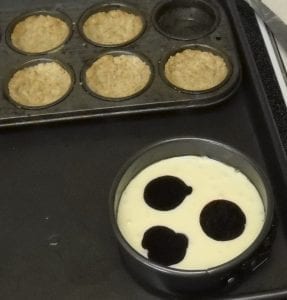 Once half full, take a teaspoon and drop the blackberry mixture into three circles on top of the batter. Two small teaspoonfuls in each circle should be fine.
Using a toothpick or knife tip move the blackberry mixture around to create swirls. Move from one to circle to the next or start in the blackberry mixture and move the toothpick outwards to create "arms".
Gently pour more cheesecake filling on top, without disturbing the batter and repeat with the blackberry mixture, once again drawing a decorative design with a knife tip or toothpick.
Bake for about 30 minutes. The top will jiggle a bit but the edges should be set. The tarts were done in about 15 minutes and they kept fingers away from the cheesecake intended for my guest.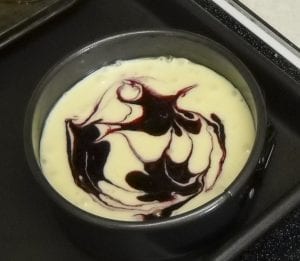 Allow the cake to cool for about an hour before placing in fridge and and fully cooling. The top may fall a little.
It is possible to also turn off the oven, prop open the door and let the cake cool in the oven.
Blackberries are full of Vitamin C & K as well as manganese. Fresh ones are high in fiber. There is also a 2013 study that suggests blackberries may support oral health.
In the oral history tradition of the Squamish people is a story about the Raven and gathering blackberries. The raven is a little like Loki, a trickster. He is sly, silver tongued and self serving. In this tale he feels justified in helping himself to what others have worked hard to obtain. A legend to share if you have helping hands in the kitchen?
Serve with additional fresh berries or drizzle each plate with extra blackberry "coulis".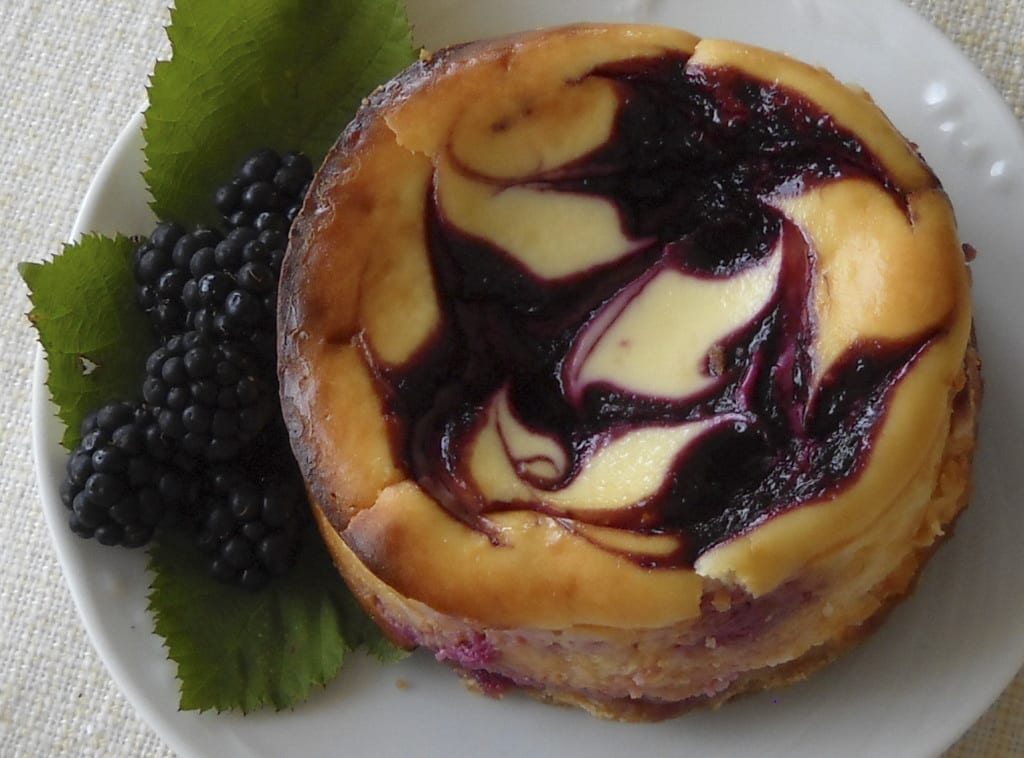 Blackberry Cheesecake for two or three from My Kitchen Wand.