Italian/Sweet chestnuts are in many markets and specialty stores this time of year, a sure sign that Christmas is near and while roasting on an open fire may come to mind first, I wanted to do some experimenting down alternate pathways.
I had chestnut puree sitting on a shelf  ( 900 ml/3 1/2 + cups worth) and it seemed to say "don't you love me?" every time I looked in it's direction, complete with the impression of big brown sad eyes looking up at me. I took the plunge a few weeks ago and there are several previous posts with one more to go. For some people reading this, buying puree is just not done! Fresh chestnuts are the only way! That would not have solved the issue of those eyes.
If you are feeling adventurous then making puree from fresh chestnuts is definitely an option. I will say up front they are a bit of work but like pumpkin puree, well worth the effort.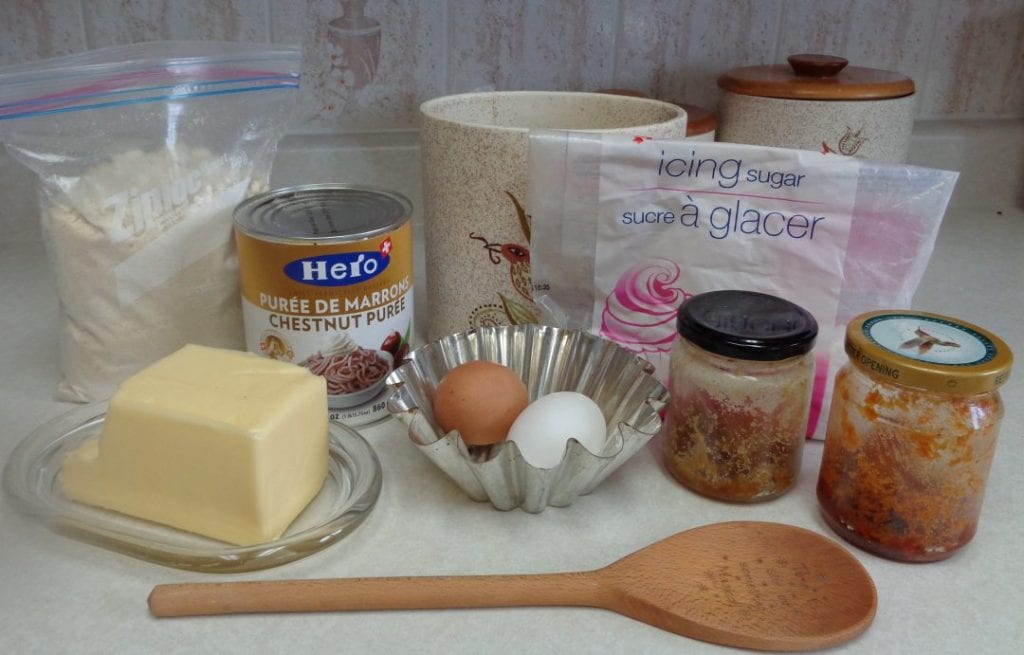 You will need:
1/2 cup + 2 Tbsp. pureed chestnuts
1/2 cup + 2 Tbsp. ground almonds
2 egg yolks
3 Tbsp + 1 tsp. granulated sugar
3 Tbsp. +1 tsp. unsalted butter softened
1 1/4 tsp. lemon zest and orange zest combined

1 1/2 tsp. all-purpose flour
2 egg whites
chestnut chocolate cream or powdered sugar to finish off
Close your eyes for a moment. Take a deep breath and hold it. Two. Three. Four. Slowly Release. Repeat. Destressing comes with the out breath as the more air your can release, the bigger the next in breath can be. As you breathe out let your shoulders drop. Bring your focus into the present moment. What are your intentions for this project? Staying in the present moment as well as you can, begin.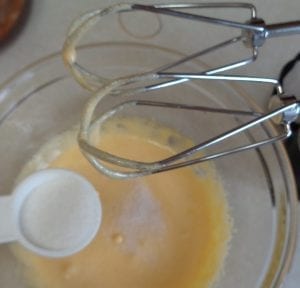 As I mentioned, I have been exploring, so in some cases, such as this cake recipe, I only made a small amount of batter/dough/soup etc. to test out taste and texture. In this case, as seen in the picture above, I used a jelly mold as a cake tin and ended up with cake and a few additional cupcakes. The cake was easily be cut into quarters or six smaller slices. Doubling the ingredients would be enough for a 5 x 7 loaf pan and three times should fit a 9×9 cake pan.
Preheat oven to 350F. Grease and flour the baking pan.
Separate the room temperature eggs, setting aside the whites for a moment. Whipping warm eggs gives more volume and therefore lightness to the cake.
Beat the egg yolks together with the sugar until light and fluffy.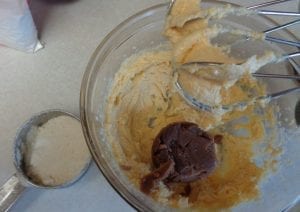 Add in the zest (using both orange & lemon was a good idea), flour and butter and gently mix in. Add the almond flour and chestnut puree, combine.
In a separate bowl, whip the egg whites into soft peaks and then fold them into the egg yolk mixture. Work gently as the air incorporated into batter by all that whipping is what leavens and lightens the cake. Transfer the batter to the form and place in the middle of the preheated oven.
Bake until a toothpick inserted in center comes out clean. Cool in pan about 5 minutes. Gently remove cake from the pan and cool completely. A 9×9 pan will take about an hour (test around 50 minutes). My smaller version was good in 25 minutes.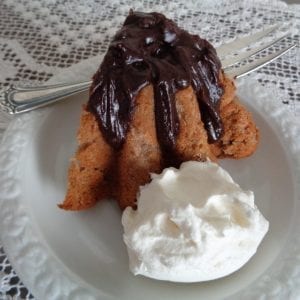 Baking in a jelly mold means having to thoroughly grease and flour the tin so that nothing sticks, which I thought I had done.
There were however little pieces that stuck to the form. That required a change of plans and this cake was topped with Chocolate Chestnut Cream.
A whiter, lighter option might be a dusting of icing sugar to highlight the flavour of the cake itself.
One of the things I have discovered while playing is how well chestnut combines with other flavours.
In this mini theme it has been mixed with coffee, mushrooms, marzipan and citrus notes, all with good outcomes.
Chestnuts are a flavour not often used in North America unless there is, via family or friends a cultural connection. I would highly recommend doing a little exploring until you find a combination to enjoy.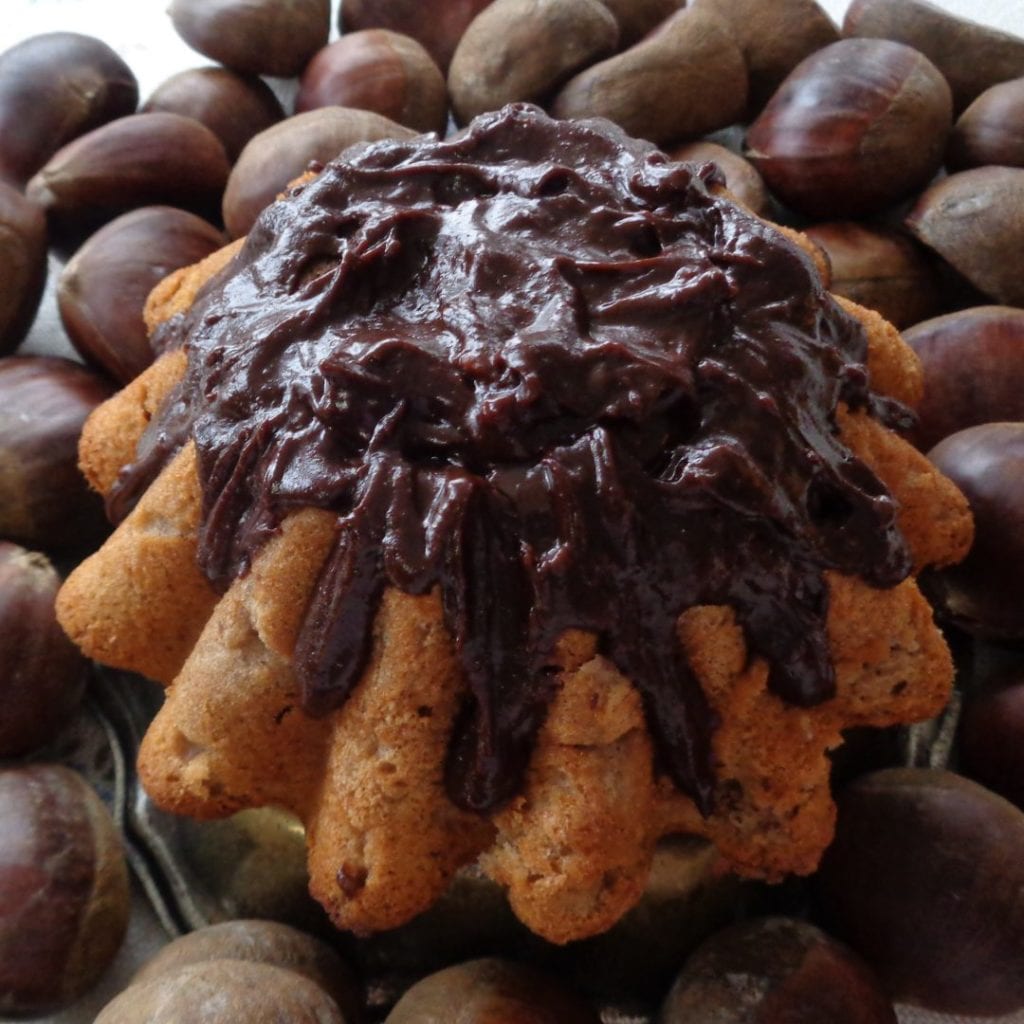 Chestnut & Citrus Sponge Cake from My Kitchen Wand