Pâte à Choux has been around since the middle of the 1800's and although no one is really sure it is thought they originated within the royal kitchens of the French monarchy. I tend to think that makes sense as the first ones I made were turned into swans with long elegant necks and wings. Cream puffs and eclairs use the same basic pastry with different shapes and fillings.
The pastry is easy to make. The trick is getting a goodly amount of heat at the start of the bake period so that the pastry puffs up and then dries out at a lower temperature.
Chestnuts and coffee blend well together and make these an uncommon, Oh! addition to any winter get together.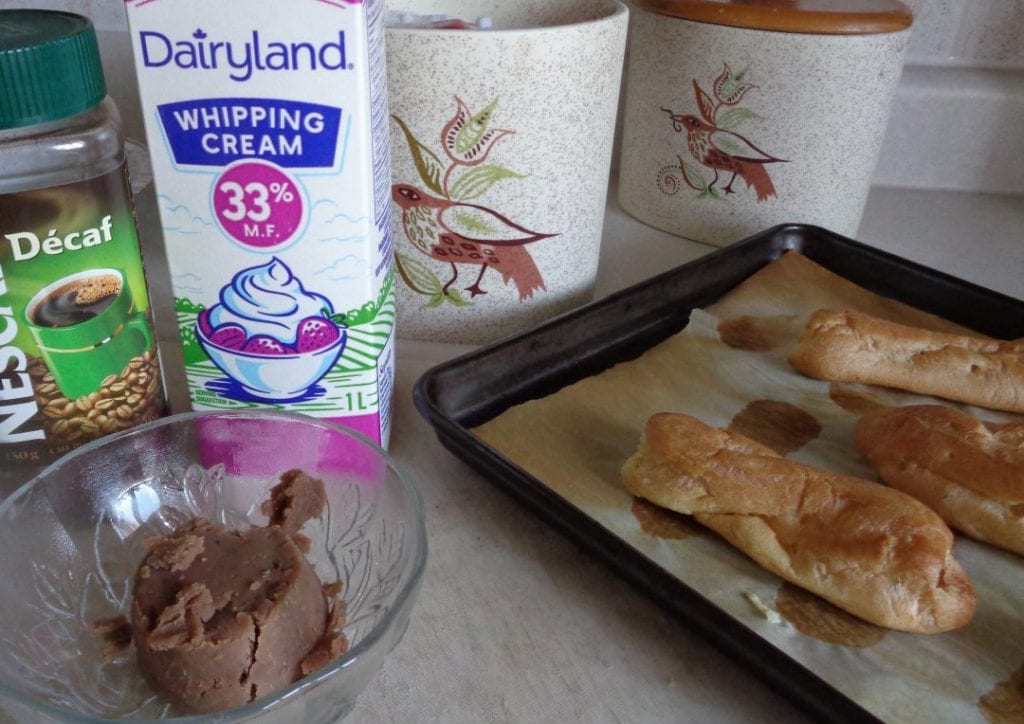 For the pastry you will need:
½ cup water
¼ cup butter, cut into pieces or slices
1 tsp. sugar (optional)
1/2 cup flour, sifted and level
2 eggs, large
For the filling you will need:
2/3 cup chestnut puree
2 tsp. whipping cream
1 1/2 Tbsp. sugar
1/2 tsp. vanilla paste ( optional)
1 tsp. instant coffee
pinch of salt
3/4 cup  heavy cream (1 cup if you prefer an lighter flavour)
For the top you could use:
2 oz. semi sweet chocolate
1/4 cup heavy cream
Confession time. I cheated and used the chestnut chocolate cream posted yesterday.
It is especially important at this time of the year when the to do list lengthens, to take the time to bring your attention into the present moment before beginning a new project. When your mind is all over the place, it is not on what you are creating. Wash your hands and put on an apron with the intention of creating a separate space within which to work your magic. Take a deep breath, hold ….and release. Repeat. Begin.
Let's start with the choux pastry (Pâte à Choux) by preheating the oven to 450 degrees F. and putting a sheet of parchment on a baking tray. The amounts here are half of a standard choux pastry recipe but they gave me more than enough for my needs (11 small eclairs).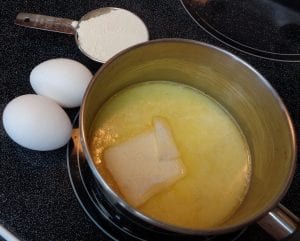 Add the water and butter to a small saucepan and heat until the butter is melted and the liquid is steaming. Do not boil.
Take the mixture off from the heat and dump in the flour.
Literally. Just turn the measuring cup upside down and let the contents drop.
With a spoon, stir quickly and continuously until well combined.
Add the first egg, again beating until it is fully incorporated into the batter before adding the last egg.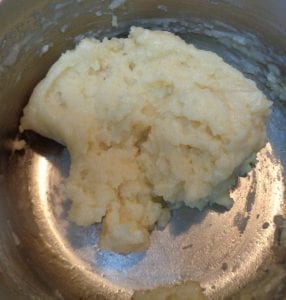 There are recipe options that specify unsalted butter and if that is what is handy, then add 1/4 – 1/2 tsp. salt when the flour is added. It is also possible to sprinkle over a couple of teaspoons of sugar.  I am generally happy to keep the sweetness factor down and rely on the flavour of the filling.
If you have a piping bag, lovely. If not a sandwich bag will also to the job done. Fill the bag you are using and snip off the corner of the sandwich bag. Sometimes placing the bag in a glass helps with the filling, keeping the container stable while the batter is transferred.
Pipe oblong lines across the parchment and back. I had cut too small a tip and was too lazy to cut it larger so I actually went back and forth over the batter three times.
A standard size for an eclair is about 5 inches long but smaller ones are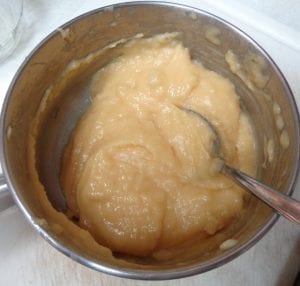 a better choice when the eclairs are just one option in a selection of holiday choices. It is also possible to make cream puff shapes instead and spread the wealth even further.
Be sure to leave enough space for the batter to puff up without touching the pastry around it. 2 – 2 1/2 inches should do it.
10 minutes in the oven at 450 degrees F. before reducing the temperature to 400 degrees and baking an additional 15 – 20 minutes.
Transfer to a cooling rack and leave until cold.
When ready to fill, the eclairs can be cut open horizontally and filled or using the handle end of a wooden spoon, poke a hole all the way through and fill using a second piping bag. Something to note is that there will be less filling in each eclair when not cut open but you know which way I am going to go, right?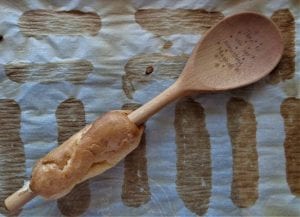 Allow to cool completely.
In a bowl, combine the chestnut puree, 2 tsp. whipping (heavy) cream, sugar, vanilla, salt and instant coffee into a paste.
Whip the cream until soft peaks form. Continue to beat while adding in the chestnut mixture. Whip until fully combined being careful not to make butter.
Transfer the mixture to a piping bag and place in the fridge until ready to put the pieces together. A fluted tip can add extra prettiness if the eclairs are being cut horizontally. I used a plain tip as I will be filling from both ends of the eclair and it won't be seen.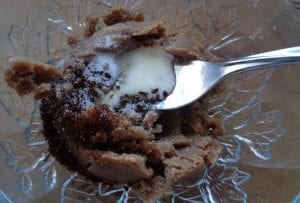 Ganache is the traditional topping for an eclair and I didn't use it on these. As mentioned above, I used the chestnut chocolate cream posted yesterday.
If you would like to, it is two simple steps. Melt the chocolate in a microwave at half power starting with one 30 second interval or over warm water in a bain-marie making sure either way not to overcook the chocolate. Add the cream after a few minutes of warming, mixing between each interval in the microwave and every so often over water. Mix until the chocolate and cream are completely combined and allow to cool a bit before using.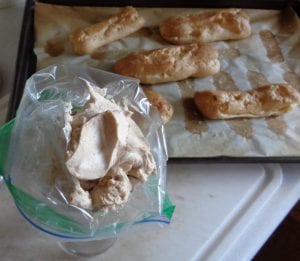 When ready to serve, take the piping bag from the fridge and fill each eclair.
Top with your choice of garnish and serve immediately.
These are best stored in an airtight container and it is important to note that the cream filling will continue to soften the pastry over time.
I chose to not cut the eclairs open because they are easier (read less messy) to eat that way, especially if you are making smaller ones for finger food. It is possible however to get more filling into ones that have been cut open, when the top half can sit gently on mountains of filling. As in all things chose what works for you and adjust the recipe accordingly.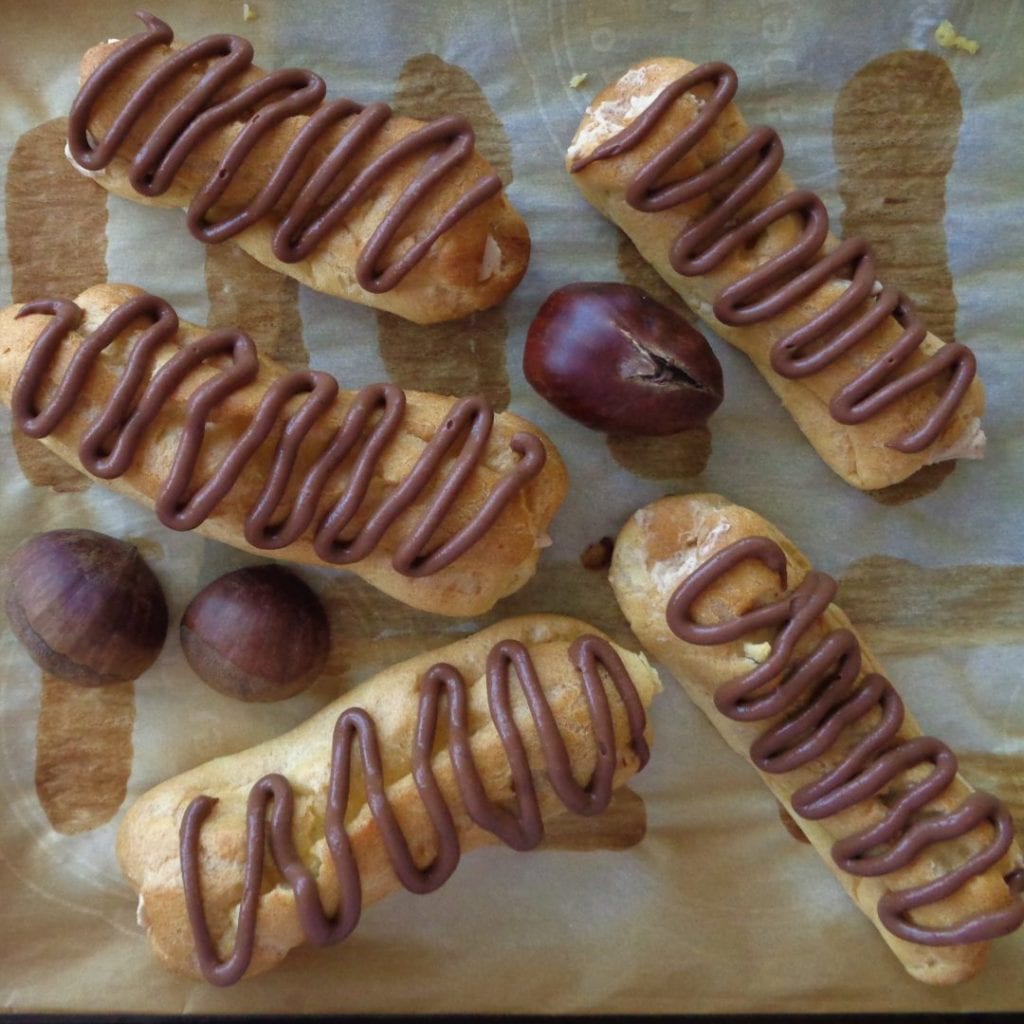 Chestnut Coffee Eclairs from My Kitchen Wand