This year I thought I would offer up family friendly Valentine treats. Nibblies that everyone can enjoy. Below are two recipes for a soft centered chocolate, one with added cream cheese and the other with a nut butter. The bonus is you don't have to temper any chocolate unless you really want to.
Cocoa beans first arrived in Europe via Christopher Columbus but it is said there were so many other things deemed exciting on the returning ship that not much was made of the dark beans.  Twenty fourish years later our love affair with chocolate began when Don Hernán Cortés returned with more sacks of the bitter beans and the secret to turning them into a tasty beverage.  It wasn't until 1846 when Joseph Fry found a way to make chocolate a solid product, that we finally began to see available in stores, what we know as chocolates today.
Coincidentally, this happened in the middle of the Victorian Era when celebrating Valentine's Day was at the height of its popularity. It was not uncommon to include a token of affection with a card. Cadbury started designing fancy boxes and a tradition was born. It didn't hurt that chocolate was and still is thought of as an aphrodisiac.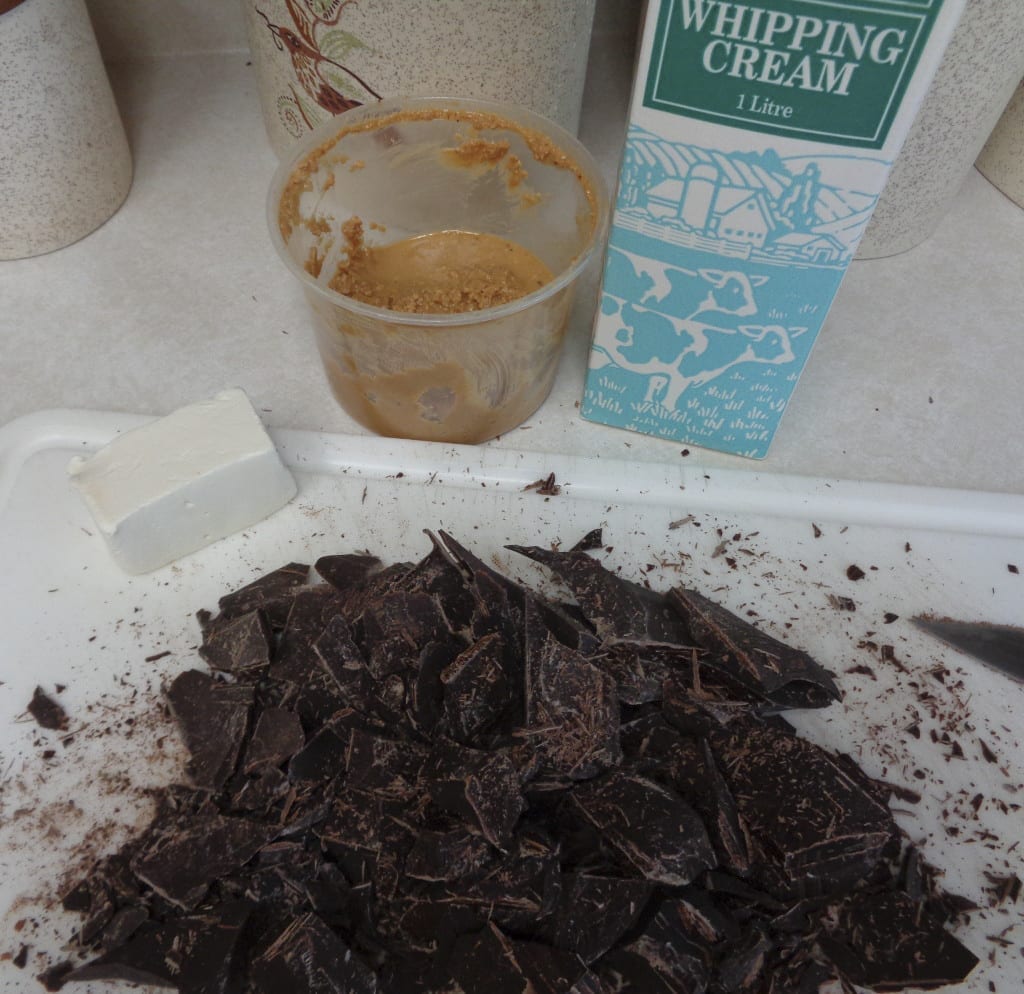 You will need:
1/2 cup melted semi sweet chocolate
1/2 cup crunchy peanut, almond or cashew butter or peanut butter substitute
3 Tbsp. scalded cream
or:
1/2 cup melted semi-sweet chocolate
1/4 brick cream cheese
2 Tbsp. scalded whipping cream
and
any of the selection of finishes mentioned below
Since this is a hands on experience, washing hands several times before and during rolling is a good idea and also a great opportunity to use the warm water as a way to let go of the outside distractions and bring attention into the present moment. "In my kitchen, filled with Care, I Welcome, Earth, Fire, Water, Air".
Chop the semi-sweet chocolate into small pieces and place in the microwave for short time periods. Start at 45 seconds and reduce the time after each stir and before starting the next session in the microwave. Option two is to stir in a bowl over simmering water. Either way, please know that leaving the melting unmixed can overheat the chocolate, loosing the smooth and creamy experience and making the chocolate crunchy and grainy.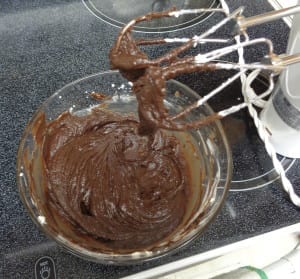 I am using semi sweet for these truffles but if you prefer milk or white, feel free to change it up. Additionally I used Callebaut chocolate, but there are many options of similar quality available. Choosing an option with at least 30% cocoa butter will help the mixture melt creamily. If the choice is for a melt and pour style chocolate. made with palm oil, the chocolate will not be quite as fluid and a hand mixer will be helpful.
Once 3/4's of the chocolate is melted, it should be possible to take the bowl off the heat and stir the remaining pieces until melted. The bowl can always go back on the heat for any stubborn pieces.
While stirring, scald the whipping cream for 15 – 30 seconds in a microwave until hot but not boiling.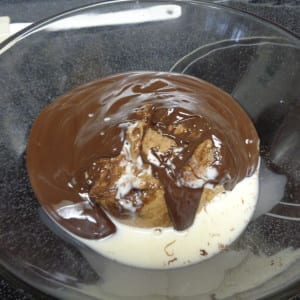 In a clean bowl add the nut butter or the cream cheese, the scalded cream and 1/2 cup of melted chocolate. Mix well until smooth and thick. Transfer to a container and store in the fridge to harden. If both recipes are being made repeat with the remaining ingredients.
Once the mixture is cold, take small spoonfuls of the cooled mixture and roll into balls a little smaller than a walnut.
Finish off by rolling in any of the following options: ( or choose your own ) cocoa, chopped roasted nuts, graham wafer crumbs, chocolate, coconut flakes, vermicelli, crushed plain potato chips. Top with drizzles of contrasting chocolate, candy sprinkles, roasted nuts, chopped praline or pretzels, edible silver.
For the record, I used cocoa on the cheesecake truffles and finely chopped crunchy nut cookies on the peanut butter cup truffles.
The trick here is to roll the truffle balls by hand which will melt the outside of the ball, making it easier to attach the coating before the mixture cools again. Complete one ball at a time rather than roll all the balls and then try and coat them. Making this a family affair allows one person to roll balls and others to finish off the decorating. Rotating duties is only fair.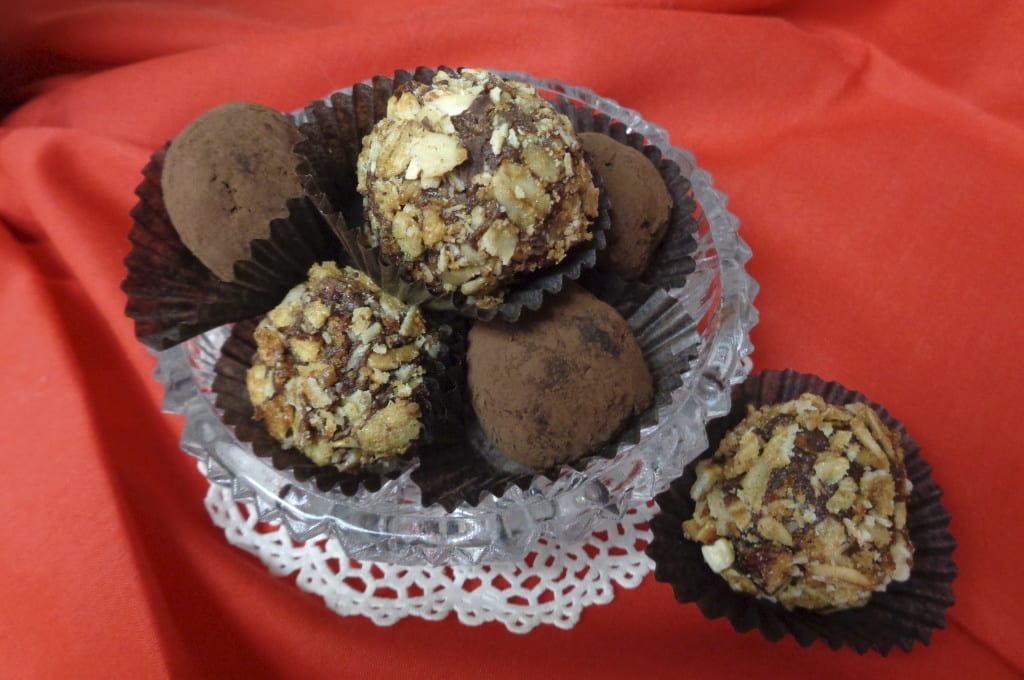 Chocolate Cheesecake and Peanut Butter Cup Valentine Truffles from My Kitchen Wand