If you are someone who thinks "yeast bread from scratch, way toooooo much work", I hope you enjoy this post. It is easy, there is no kneading and you can mix it up the night before for fresh bread 30 minutes after it gets into the oven the following morning.
Last week I shared Einkorn pancakes, including some of the many health related reasons I am choosing to put more Einkorn in my diet. Einkorn is considered the "original" wheat from which all others come. I bought mine at Anita's. Finding it in your area might take a few calls but I am certainly enjoying playing with something that has not been changed to accomodate big company commercialization.
This is a crusty artisan style bread made from the same variety of wheat. It is a plain loaf to get started but once the basics are in place, play time can commence with added herbs, spices, fruit or cheese.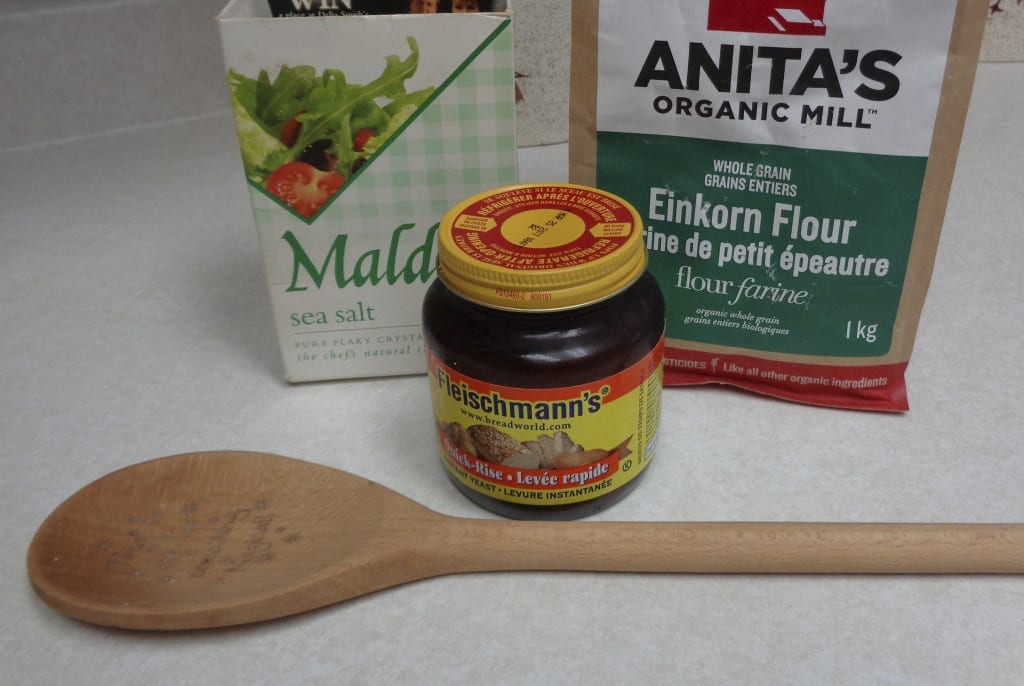 You will need:
2.5 cups Einkorn flour
1/8 tsp. yeast (yup that's right)
1/2 tsp. salt
up to 1 cup warm water
Begin by getting rid of your nigglies. One way to do that is to let them wash away under warm water as you wash your hands. Another is to take a deep breath, hold and release. However you choose to create space for making magic in your kitchen, bring your focus into the present moment and recognize the shift. Your intention here is to create something healthy and life giving for yourself and others; to share your love as you work with ingredients within the area of your non physical body. Let your heart open and expand, begin.
"Measure the flour into a bowl and add the yeast and salt. Stir. Add the water and stir until mixed. Let sit 12 – 14 hours. Form back into a ball. Place in a pre-heated covered container and bake." So simple, but let's fill out the inbetween bits a bit more.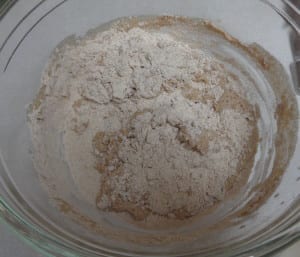 This recipe makes what would be considered a demi or half loaf. Doubling the amounts and baking a little longer will work just fine. I do the demi size as we are a small family and being as there is already enough of an issue about the speed with which we go through this fresh bread, there was really no need for a larger loaf.
Mix the dry ingredients together. You will need between 14 and 16 tablespoons of water for 2 1/2 cups of Einkorn flour. Add the first 3/4 cup at one time and then the remaining water as needed.
Your dough should be soft and sticky and gooey. If you are using a spoon Kitchen Wand, it will get covered (as will your hands if mixing by hand). Once almost mixed, clean up before a final gathering into a ball.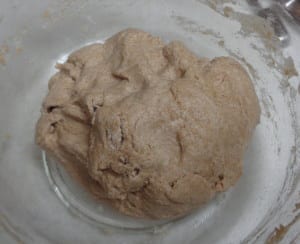 Place the ball of dough into an airtight dark container. This can be a ceramic bowl and plastic wrap and lid or something similar with enough room for the dough to grow. Place in a dark location.
The reason for this are the carotenoids mentioned in the Einkorn pancake post. Carotenoids are a natural pigment usually associated with fruits and vegetables. Einkorn flour is high in the yellow, orange and red pigments and these carotenoids will darken over time when exposed to light.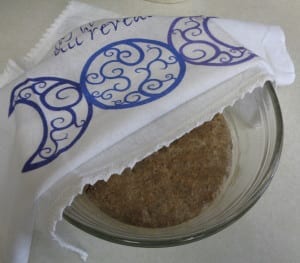 The health benefits from carotenoids are more easily accessed when fat in some form is included during consumption. That is why golden tumeric tea is served with a little oil on top and why I can feel good about suggesting a little butter on this bread when we get to the serving part.
If only a teatowel is placed over the bowl, the top layer of dough will darken. So placing the dough away from the light for the 12 to 14 hours it now needs is important.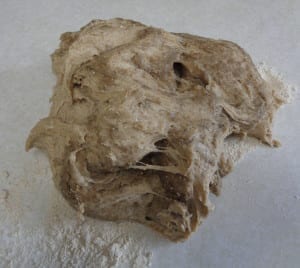 Preheat the oven to 500 degrees.
Once the dough has sat and the yeast has done its thing, remove the dough from the bowl and place it on LOTS of Einkorn flour.
The picture shows that the dough is still sticky and the flour will tend to disappear into the dough.
As the oven heats place the container and lid the bread will be baked in in the oven as well.
Once the oven and container is hot, reduce the oven to 425 – 450 degrees.
Place the balled dough in the hot container. If the top is not as covered with flour as you would like, quickly sprinkle a little more on.
Place a lid on the container and return the bowl with dough and lid to the oven for 30-35 minutes.
One of the benefits of baking the bread this way is that the steam releasing from the bread will be trapped inside the container leading to a crusty crust.
425 degrees for 30 minutes delivers a slightly less crisp crust and 450 degrees for 35 minutes is what the picture below shows.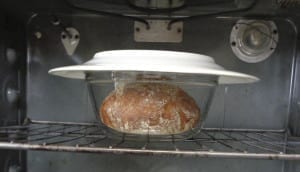 Once baked, allow to cool for at least half an hour before cutting. (Some people like to let the bread cool in the oven with the lid off). Using a serrated knife is best on this crunchy crust.
No kneading needed. Mix up the dough after dinner, place in a dark cupboard and bake the following morning. Fresh tasty homemade bread for breakfast or brunch depending on your schedule.
Is it gluten free? No. This is not a solution if you have celiac disease. However if you are gluten sensitive or just want a wheat flour with better nutritional value, this is worth a try as the gluten in this bread is a different mixture as you can see from the lack of any kneading required to support its creation.
Is the flour more costly to buy? Yes, but this is a whole grain product and it will take less to feel you've had enough. The members in my household who have never been whole wheat fans like everything I have made with Einkorn flour. The bread itself, once cooled has an almost rye kind of flavour. It is springy and moist inside a crunchy crust and a demi never lasts the day.
When trying new foods there are always times when I think okay, not bad, but would I go out of my way to do this again. Einkorn has been a surprisingly enthusiastic yes!, from everyone in the house.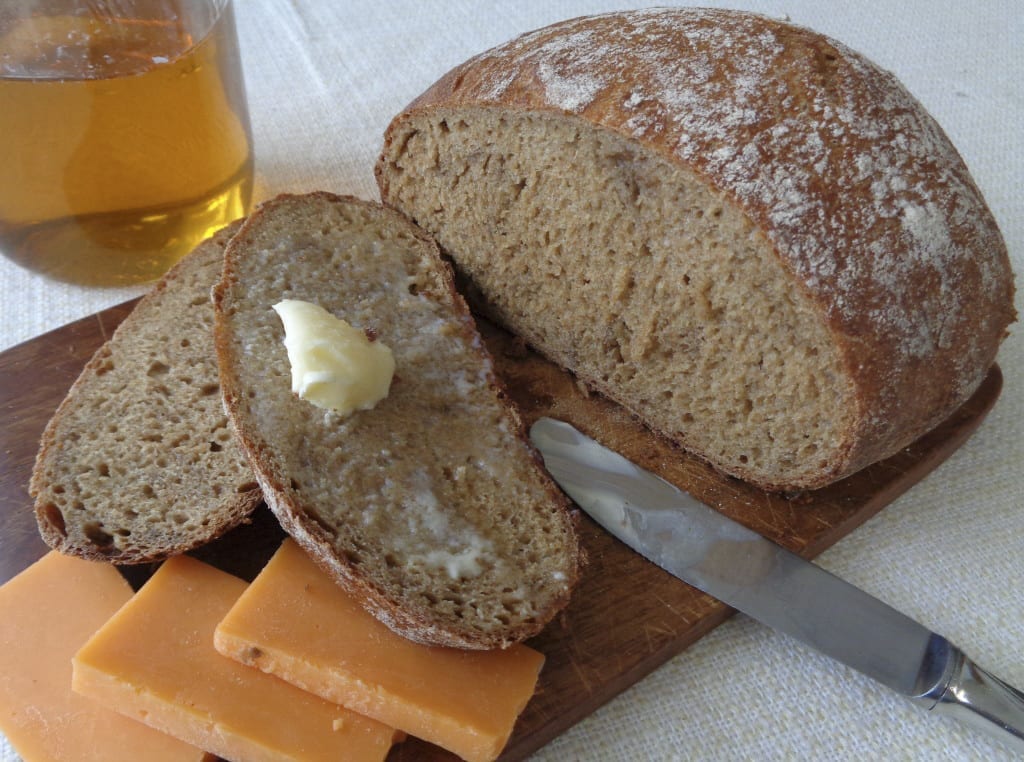 So Simple Einkorn Bread from My Kitchen Wand.