What to do on a wet and cold afternoon? Few things make you feel cozier than fresh baking, warm from the oven. I even got to go out for a short time so I could come back into a house smelling of melting chocolate and rum. ( It was worth a second trip out. ).
If you don't have Skor bits, two suggestions, replace with more macadamia nuts, of buy a couple of bars and find a hammer.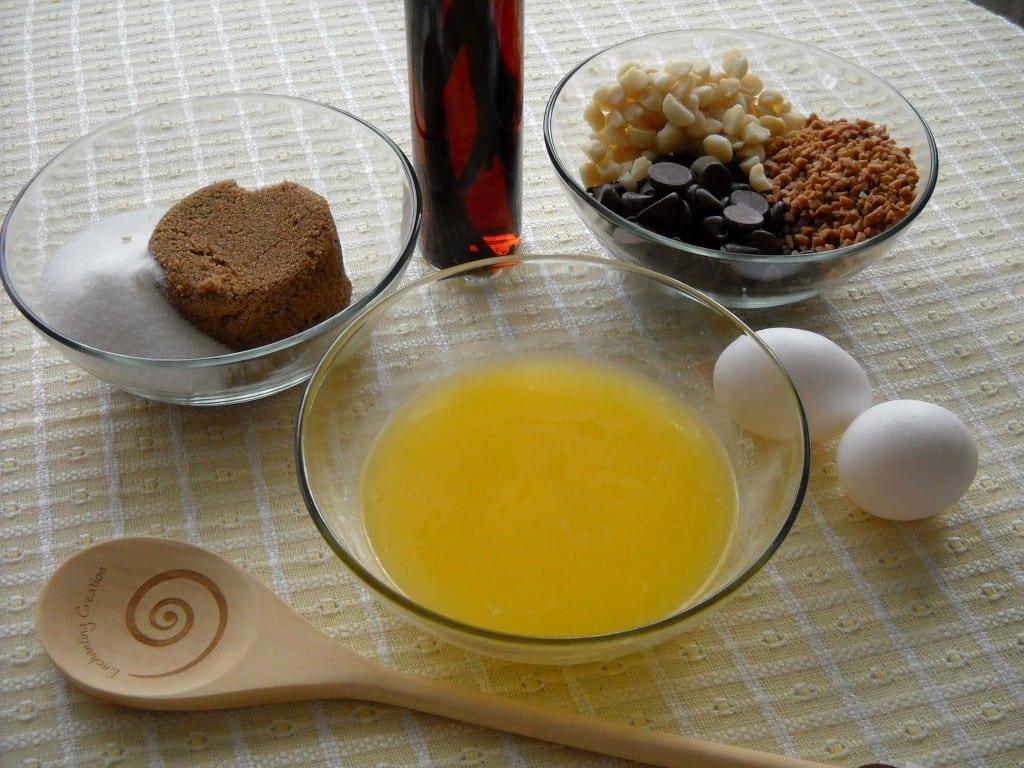 You will need:
2 1/4 cups of all purpose flour
1 1/2 tsp. cornstarch
1/2 tsp. baking soda
1 tsp. salt
1 cup butter
1/2 cup white sugar
1 cup brown sugar
3 tsp. rum flavouring ( you can use vanilla if you prefer )
2 eggs
1 cup good, large, chocolate chips
1/2 cup macadamia nuts
1/2 cup Skor bits
Start with a deep breath and gratitude for the abundance in your life that brings all these tasty and not so inexpensive ingredients together in your kitchen. Just being in a position to write or read this puts us in a blessed position relative to the lives being lead by so many members of our global family. Feel the blessings, especially if you are finding it a "tough day". Relax, shift focus and if you have one, grab whatever you use as a Kitchen Wand.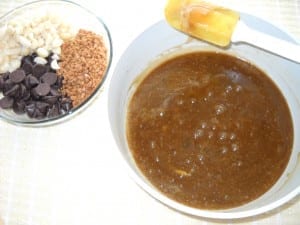 In this recipe instead of creaming the butter, we are going to melt it and then add the sugars, mixing well. It felt like a rum kind of day, so after I took the photos with my home made vanilla extract, I changed my mind. Add whichever one you choose to the liquid ingredients and add in the eggs. Mix well. You can see the bubbles in the bowl. It is pretty liquidy. ( Is that an actual word?)
Mix your dry ingredients together, the flour,cornstarch, salt and baking soda.
The purpose of the cornstarch is to act as a thickener. These are a soft gooey cookie if baked to the right point ( actually a little under baked ) and the cornstarch helps keep everything together.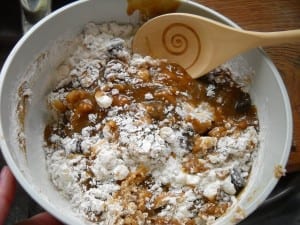 Take enough chips out of the cup to top your cookies ( 24 – 30 ). Add the dry ingredients and the goodies to the liquids and mix until just combined. Do not over mix.
Pop some wrap over the bowl and store in the fridge for at least 3 hours, more if you can manage and making the dough the day before is not an issue either. So if you need finished treats for an "elevensies" get together and want the chocolate chips still soft but not the early morning work, this recipe will work for you.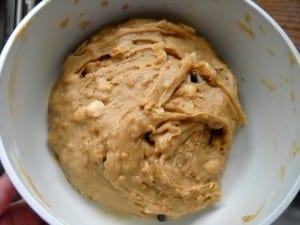 Scott Cunningham calls chocolate a food of prosperity and luxury. Macadamia nuts also have a connection to prosperity so gratitude for bounty is highly appropriate on several levels.
When the batter is cold, place on a parchment covered baking sheet and top with one or two chips. This picture was taken on the second time through the oven and the trays were still warm so you can see that the batter is softening and beginning to spread while the cookies wait for me to get my act together and take the shot. I make the dough balls higher than they are wide to help keep them together as they bake. If the batter spreads too much all the cookies will melt together but additionally the soft gooey cookie will change into a chewy to crispy version.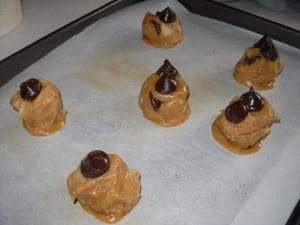 Bake at 350 degrees for 8 – 10 minutes depending on the size of the cookies. Take them out before you think they are done if you like soft cookies. They will continue to bake on the cookie sheet for several minutes. Let them sit five minutes before transferring to a cookie rack and putting in the next batch.
When the cookies are warm the sweetness from the Skor bits can be a bit much but as they cool down the sweetness will also reduce itself.
Truly these are a cookie made for milk or tea or coffee. I was going after the colours in the picture not the best flavour combination, so find yourself a wet and dreary day and turn it into something special for family and friends, especially if they get to nibble while the chocolate still feels like silk on the tongue and stretches like a properly aged mozzarella. Appreciate, appreciate, appreciate your blessings; the best way to keep the doors open to receiving more.
Chocolate Chip, Macadamia Nut, Skor Bits Cookies from My Kitchen Wand