We have a new store in town with lots of not so easy to find items, one being amaranth, an ancient grain growth in warmer climates like Mexico and Peru.
My introduction to amaranth was a picture I saw of Day of the Dead Skulls from Mexico. The cooked amaranth was mixed with honey and used to form skulls before being "decorated" with candy eyes, peanut teeth and raisin noses.
Amaranth is high in lysine, an essential amino acid and when combined with cornmeal, spelt flour and sunflower seeds, as in this recipe, a more complete source of protein results in the finished product.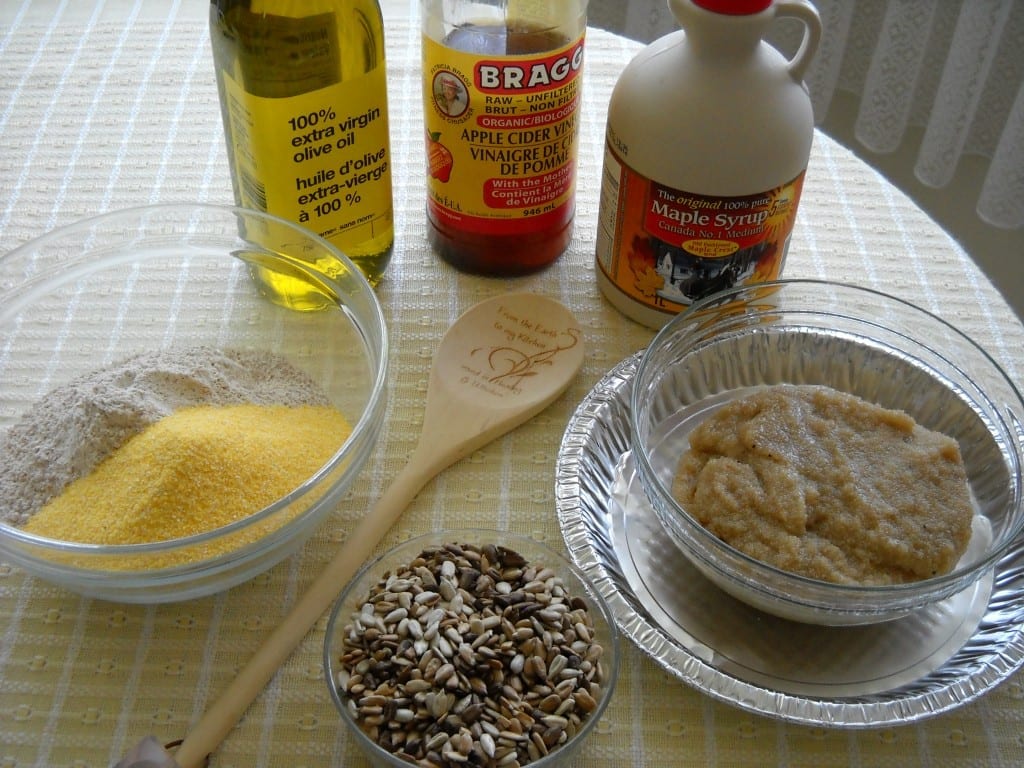 You will need:
1 cup water
1/2 cup amaranth
3/4 tsp sea salt, divided
3/4 cup sunflower seeds
1 1/2 cup spelt flour (or 1 1/2 cups whole wheat flour)
1/2 cup cornmeal
1 1/2 teaspoons baking powder
3/4 teaspoon baking soda
1 cup milk ( soy, goat, dairy or almond )
6 Tablespoons olive oil
3 Tablespoons apple cider vinegar
1 Tablespoon maple syrup
Optional:
1 teaspoon cinnamon
1/2 cup raisins
Shift focus and be present in the kitchen. I made this recipe for a meeting I was going to, concentrating on the healthy aspects of the bread and three people said, " Wow, my body likes the goodness in this!" or words to that effect.
Spelt is a ancestor to wheat, higher in proteins and fiber but it does have gluten. I find when I bake with spelt my insides are very happy the next day.
This recipe comes together a little differently than many quick breads as the amaranth is cooked first. Place the water and 1/4 tsp salt in a pan and bring to a boil. Pour in the amaranth, give a quick stir, reduce heat and cover. Allow the amaranth to simmer for between 30 & 45 minutes, until all the water is absorbed.
Spread the sunflower seeds on a sheet and toast for 8 – 10 minutes. I used my toaster oven and needed to pay attention as the heat source is much closer to the seeds. It was a hot day and I didn't want the full oven on for longer than need be.
When the amaranth is ready, preheat the oven to 350 degrees.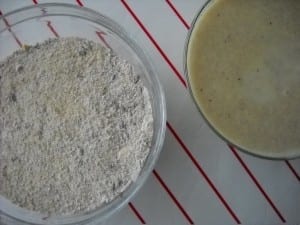 Combine all the dry ingredients, including the remaining salt, together in a bowl. Mix. Add 1/2 cup of the toasted sunflower seeds.
In a different bowl add all the liquid ingredients to the amaranth. ( I cheat. I cool and fluff the amaranth and then add the remaining ingredients to the pot I cooked the amaranth in. )
Lightly oil a 9 or 10 inch pie pan.
Pour the wet ingredients into the dry ones and mix sparingly. DO NOT over mix. Your batter will be pourable but thick as you fill the pie plate and sprinkle with the last quarter cup of sunflower seeds.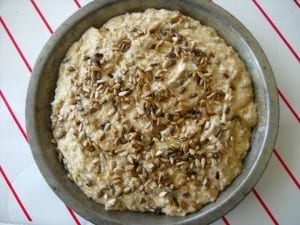 Bake in the middle of your oven for about 45 minutes or until it tests ready with a toothpick. ( The toothpick will come out clean and not have uncooked batter still attached )
Allow to cool and cut into wedge shaped pieces.
A couple of thoughts. This is a moist crumbly "bread" and works well for something like a Ploughman's Lunch with cheese and pickles. I found there was still a bit of a baking soda flavour to the bread that went away over a few days. I would reduce the soda a bit next time as this bread did not stay around long enough to age.
I also doubled the batch I made and added cinnamon and raisins to the second "loaf". Those additions covered the baking soda flavour wonderfully and made for a great breakfast with cream cheese and fresh fruit.
Great fiber and much better protein levels than some quick breads. Another packed lunch option.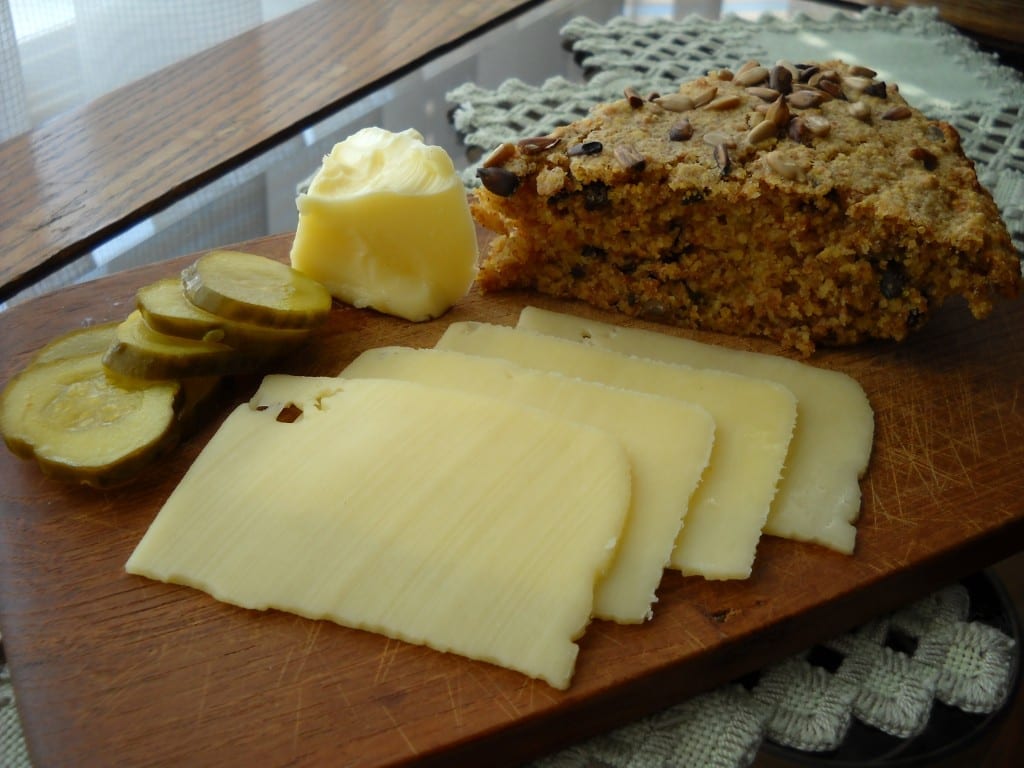 Spelt Amaranth Sunflower Bread from My Kitchen Wand