We have new neighbours! They follow a vegetarian, no egg diet and came for tea last year. I decided to go with my regular wacky cake recipe and substituted out the egg for a little vinegar to help the baking soda along. This is an old recipe for chocolate cake that has been around since the days of rationing during World War Two when eggs were a scarcity and would be considered vegan.
Peppermint added a little punch that went over well but is not everyone's taste so feel free to adjust the amount of extract. Finished off with peppermint chocolate whipped cream, this recipe can be fully vegan by substituting the included icing sugar option.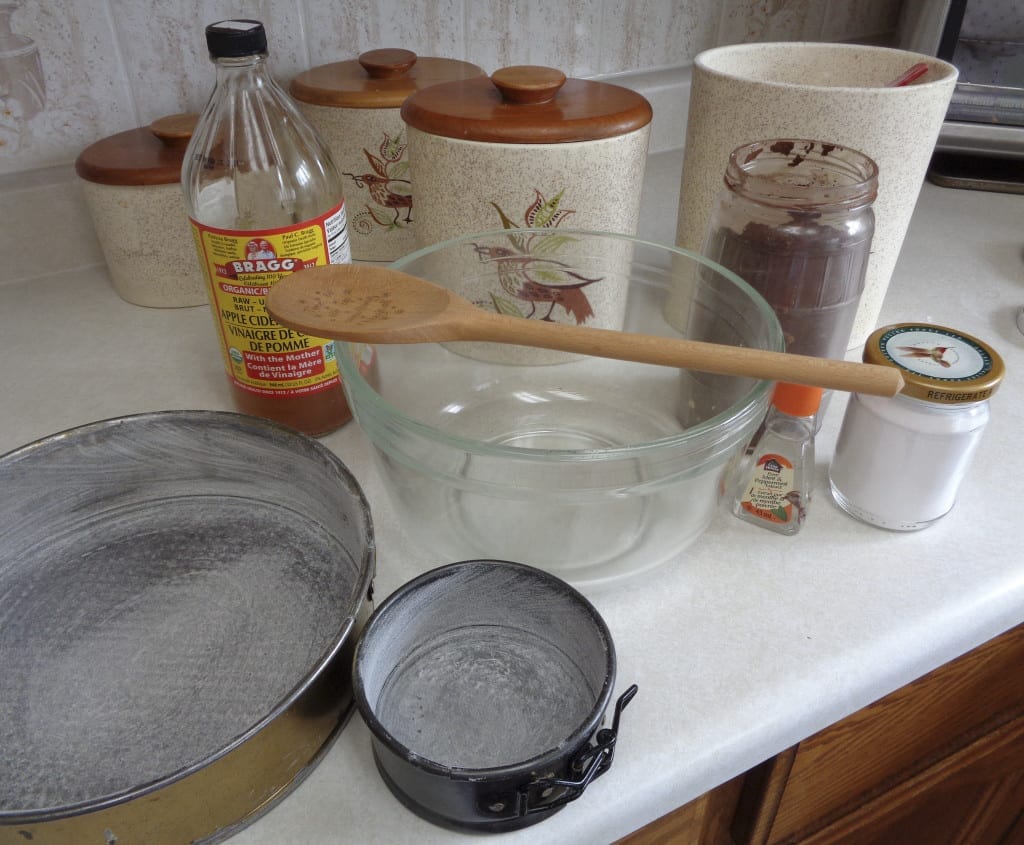 You will need:
2 3/4 cups flour
2 cup sugar
7 Tbsp. unsweetened cocoa powder
2 tsp. baking soda
1 tsp. salt
2 cups warm water
I tbsp. mint extract
2/3 cup vegetable oil
2 tsp. distilled white or apple cider vinegar
Begin with a deep breath and clear your thoughts of any nigglies that will keep focus off the work at hand. See them heading away attached to a balloon of dropped in basket floating down a river, some image that helps shift your thoughts into the present moment. Invite in the compassionate spirits and begin with a purpose in mind, in this case to create a welcoming experience for people visiting my home for the first time.
Let's start with cocoa. As I remember it I used dutch process cocoa for this cake. Dutch process cocoa is going to make a cake darker than regular cocoa. It is good to know you have about 1/4 cup of cocoa to flour ratio that can be played with depending on what kind of cocoa is in the cupboard and what kind of strength in flavour you are looking for. Upping the cocoa and reducing the flour is just fine.
Preheat the oven to 350 degrees. Grease and flour a large springform pan. If you have been following me you will know that I like to take a little cake batter out of some recipes and make a smaller 4 inch springform cake as well. There is no sense of loss to the main cake and I can finish off a smaller version for a single person or couple.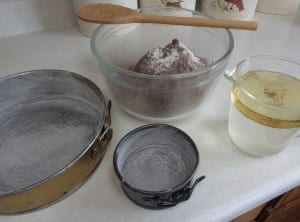 Add the dry ingredients to a sifter and sift into a large bowl.
Mix the wet ingredients together.
Combine and mix just enough to moisten the dry ingredients. Do not over mix.
Pour the batter into the pans and bake until the cnter is springy, the edges are loose and a toothpick in the center comes out clean.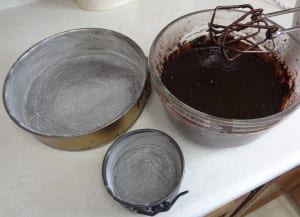 That will take about 30 minutes for the main cake and 20 for the smaller one but all ovens are different so test.
Let the cake sit for about 10 minutes and then release the springform and let the cake sit until cold before continuing. If time is available once the cake is cool, Place in the fridge for an hour or two. It will make cutting the fresh cake easier.
Dairy was acceptable so chocolate mint whipped cream was the go to option. It makes a nice light compliment to the weight of the cake.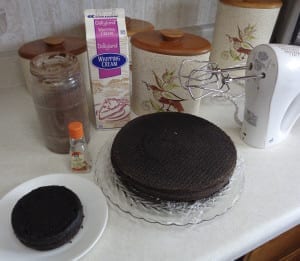 For a vegan option use:
1 cup cocoa powder, unsweetened (sifted)
1 1/4 sticks of vegan butter, margarine or coconut oil (softened)
3 1/2 cups powdered sugar, organic (sifted)
1/2 cup non-dairy milk (room temperature)
1 tsp. peppermint extract
This cake used:
3 cups whipping cream, cold
1/4 cup sugar
1/4 cup cocoa
1 – 2 tsp. peppermint flavouring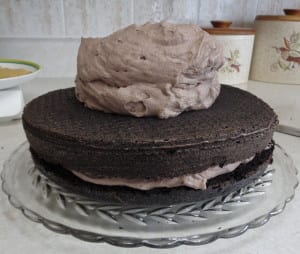 Whip the whipping cream in a bowl until bubbles begin to form and sprinkle in the sugar and cocoa. Continue whipping until firm peaks form. Add in 1 tsp. peppermint extract and taste for sweetness and strength of flavour, Add a second teaspoon of extract if needed and adjust sweetness to suit.
Cut the cold cake in half horizontally. Place the top section of the cake upside down on the serving platter. It might be necessary to cut a little of the top off if it is higher in the center. That will help keep the cake even.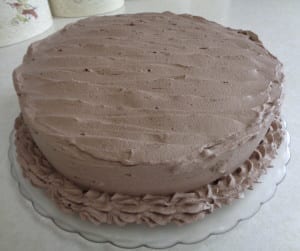 Spread enough of the whipping cream onto the cut side of the cake to give a layer about 1/2 thick. Spread out towards the edges. Place the bottom section of the cake upside down on top of the cream. This will give a nice flat surface to work on.
Add more whipped cream and cover the cake. Decorate as you would like.
I chose to melt some additional dark chocolate and drizzled it along the lines formed on the top of the cake.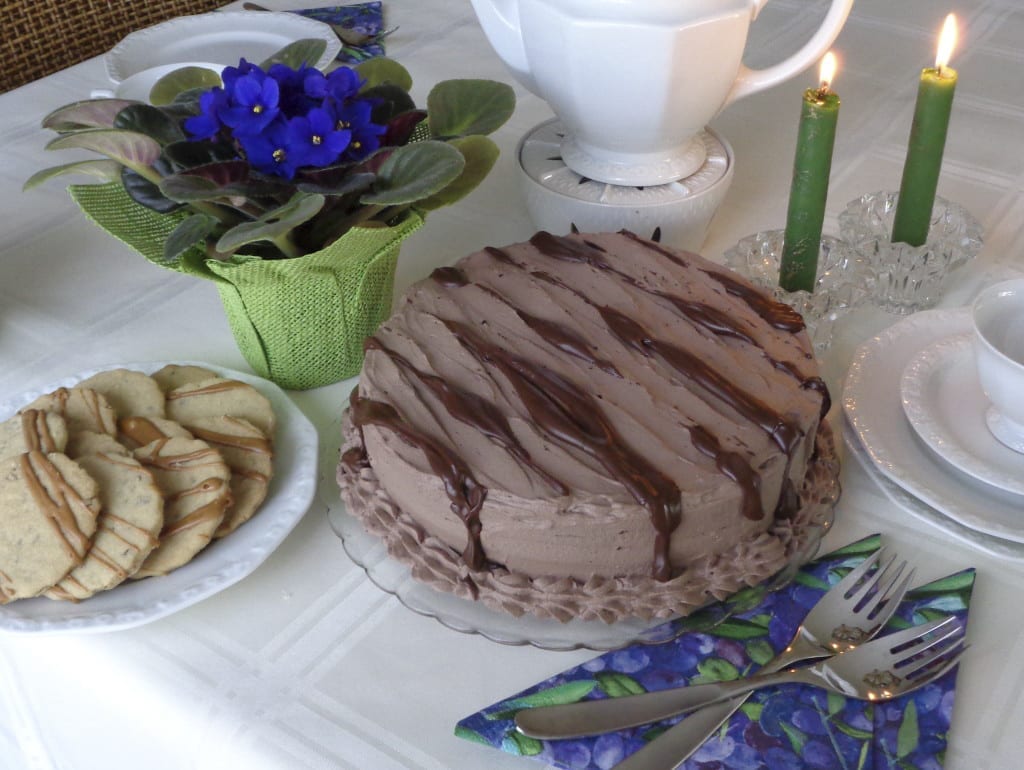 Rich, moist and full of flavour. A lovely way to get to know the neighbours. They felt respected and I have a post for Chocolate Mint Day, which "just happens" to be today!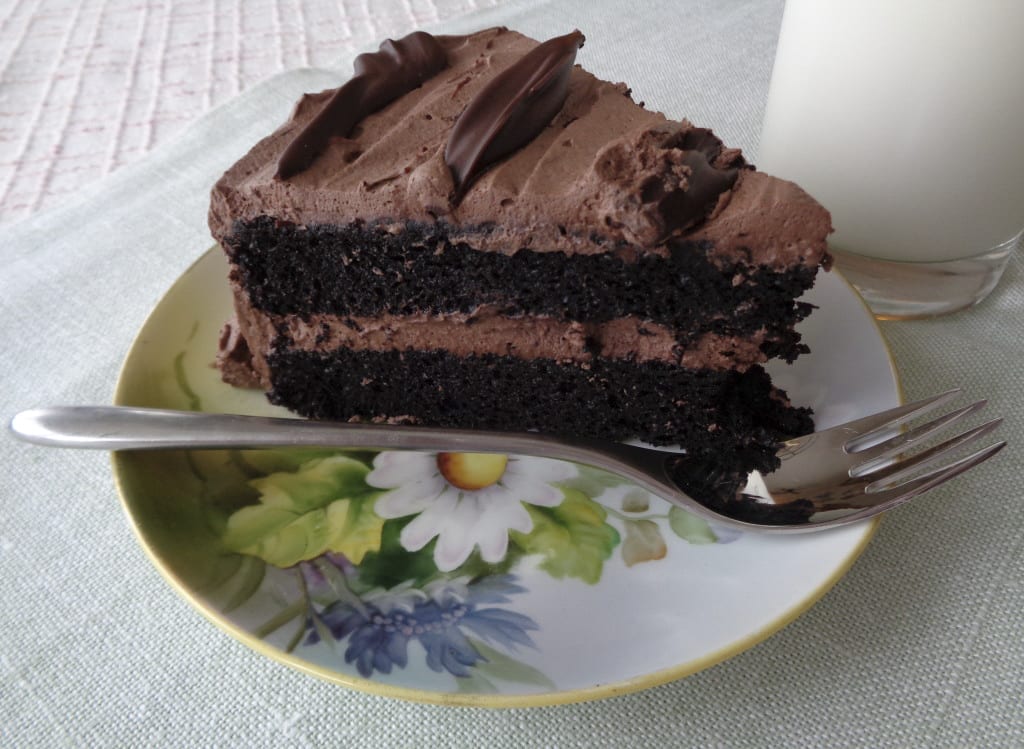 Chocolate Mint Cake from My Kitchen Wand