Meyer lemons have been available to the general North American public since the early 1900's. They are smaller and brighter with a smoother, thinner skin than Eureka lemons, the variety most commonly seen in local produce stores. Thought to be a cross between a regular lemon and either an orange or mandarin, Meyer lemon rinds have a uniquely complex flavour and are not available year round.
The species hit a bump in the 1940 and all trees were destroyed to save other citrus fruit when it was discovered to be a carrier of a citrus virus that had wreaked havoc on citrus crops around the world. By 1950 the problem had been solved and Meyer lemon trees were once again available in North America.
Lemon juice is cleansing and purifying. Try using it for magical messages and as an invisible ink as we did for a Lammas celebration several years ago.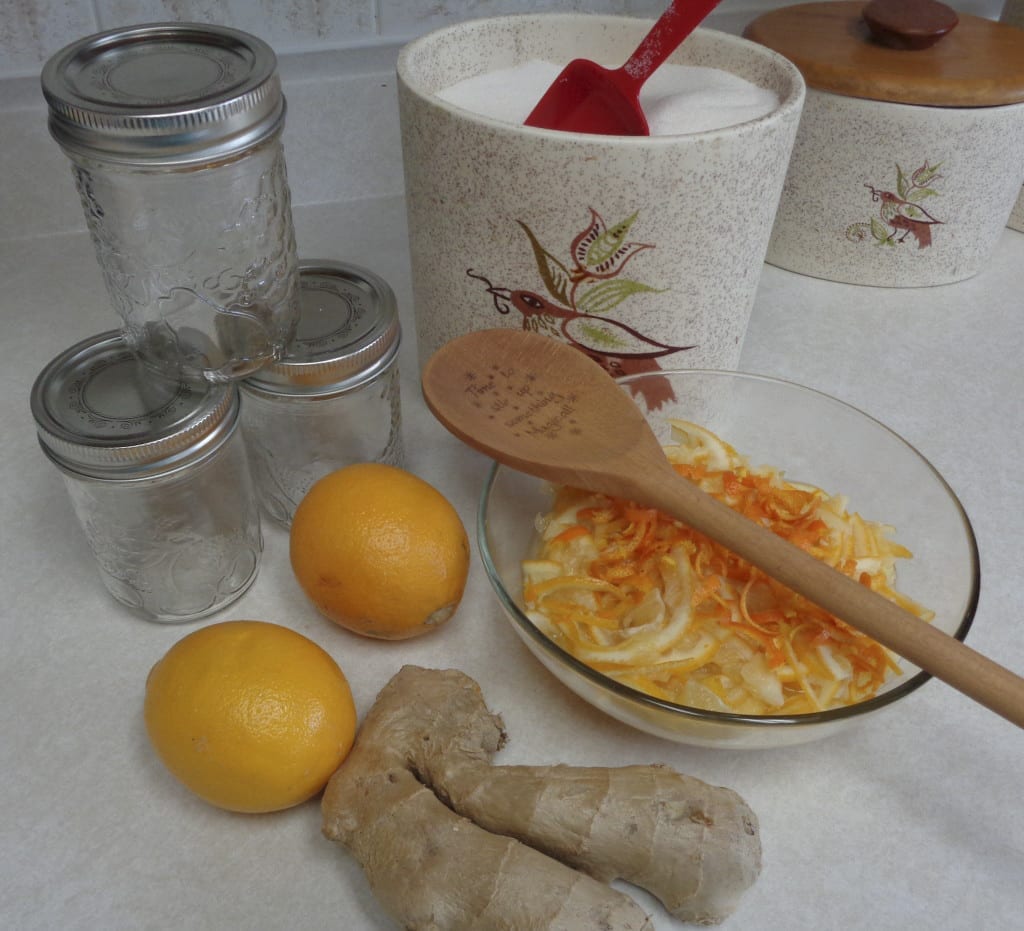 You will need:
1 lb. Meyer lemons ( 4 )
1 Navel orange
About 5 cups sugar, depending on the amount of fruit after cooking (5 1/4 cups was what I used after measuring)
1 cup fresh juice, start with the orange juice and top up with meyer lemon juice ( about 5 into total )
1 1/2 tsp. peeled and grated fresh ginger
Scott Cunningham in Wicca in the Kitchen writes, " Lemon is a love fruit but should be mixed with sugar for maximum results ". Take a moment before starting and think of love, your love for what you are doing and your intention for this marmalade. Who will it go to? How do you feel about that person? Keep your heart open as you wash your hands and begin to work. Combine your feelings with love energy already present. Take a deep clearing breath and begin.There are two ways to test for readiness when making marmalade without pectin, one is by temperature and the other by sample. If going with the sample method place two or three small plates or saucers in the freezer before starting this recipe.
Put 5 or 6 clean 8 oz. jars in the oven and turn the oven on to 250 degrees F. Place the sealers in a small pot with water to cover and put on a small back burner for later.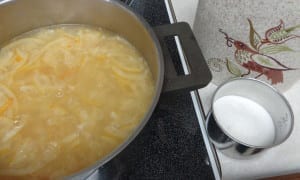 Wash and dry the lemons and orange. Cut both ends off each lemon and using a mandoline, slice each lemon as thinly as possible. This can be done by hand (ensure your knife is sharp) but if you have the option, they will be finished more thinly and more quickly with help. Separate any pieces of seeds that might be in the mix and keep as much of the juice as possible. I also cut each slice in quarters so that there were no big pieces of skin. Zest the orange and add to the bowl. I used a medium size grater to get pieces similar in size to the meyer lemons.
Place the slices in a large stainless steel or ceramic pot with 4 cups of water. Turn the heat to medium-high and bring the fruit and water to a boil. For 15 minutes cook the mixture, uncovered, stirring occasionally.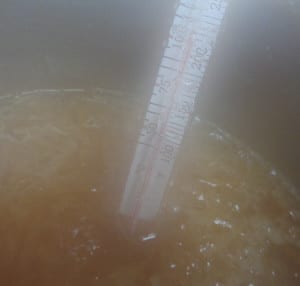 During the cooking time juice the orange and meyer lemons. Start with the orange and then juice as many additional lemons as needed to reach one cup. Zesting these lemons first and using the zest for something else is always an option.
Peel, grate and measure the fresh ginger.
Remove the pot from the heat and measure everything in the pot before returning the contents to the pot. I had 4 cups of lemon, orange and water.  For each 1 cup of mixture that you have, measure and add 1 1/4 cups white sugar.
Add the fresh juice and stir. Set over medium heat and bring to a boil, then boil rapidly, stirring occasionally, for 10 minutes.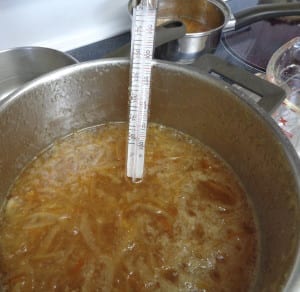 Add the fresh ginger and a thermometer if using. Continue to boil, stirring occasionally, 10 to 15 minutes more. You might notice the mixture has thickened a little. When the pot was at a full boil it came up to the top so be sure to use a large enough pot. Remove from the heat.
Marmalade needs to come up to the jelly stage on a thermometer. At sea level that is 220 degrees F.
Now would be a good time to turn the heat on under the pot with the sealers and bring them to a boil.
Without a thermometer, the simple way to test is to put 1 tsp. of the marmalade on one of those saucers in the freezer. Return the saucer with sample to the freezer and wait for 2 minutes.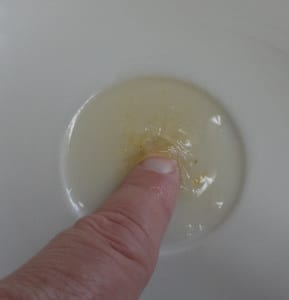 It is ready if the marmalade wrinkles when nudged gently with a finger. If that doesn't happen, put the pot back on the heat and continue to cook for 1 to 2 minutes. Repeat the test on the second saucer. Keep trying until you have wrinkles. Citrus fruit is naturally high in pectin and it will come together when cooked enough.
Take the jars out of the oven and transfer the hot marmalade into them. Watch your fingers, the marmalade may not be bubbling but it is still hot. You will want to leave at least 1/4 inch of space at the top. After making sure the rims are clean and any air bubbles have been removed, place a sealer on top and tighten with a ring.
Once the jars are filled return to the oven for 10 – 12 minutes. Then turn the oven off and allow the oven to cool with the jars inside.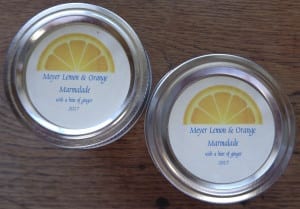 Alternately, a waterbath can be used. The jars are sealed when you hear the snap of the sealers being sucked down and can see the indentation of the seaerl. If you can push the lid down it is not sealed. Any unsealed jars are best kept in the fridge and used first.
Label and store in a cool dark place. This is my first attempt at getting my new printer to print labels. a little off center for some but happy that it is working.
At a time when not many things are growing, I appreciate the fact that we have a delivery system to bring citrus fruit north so that there can be brightly coloured bottles of tastiness tucked away in the pantry.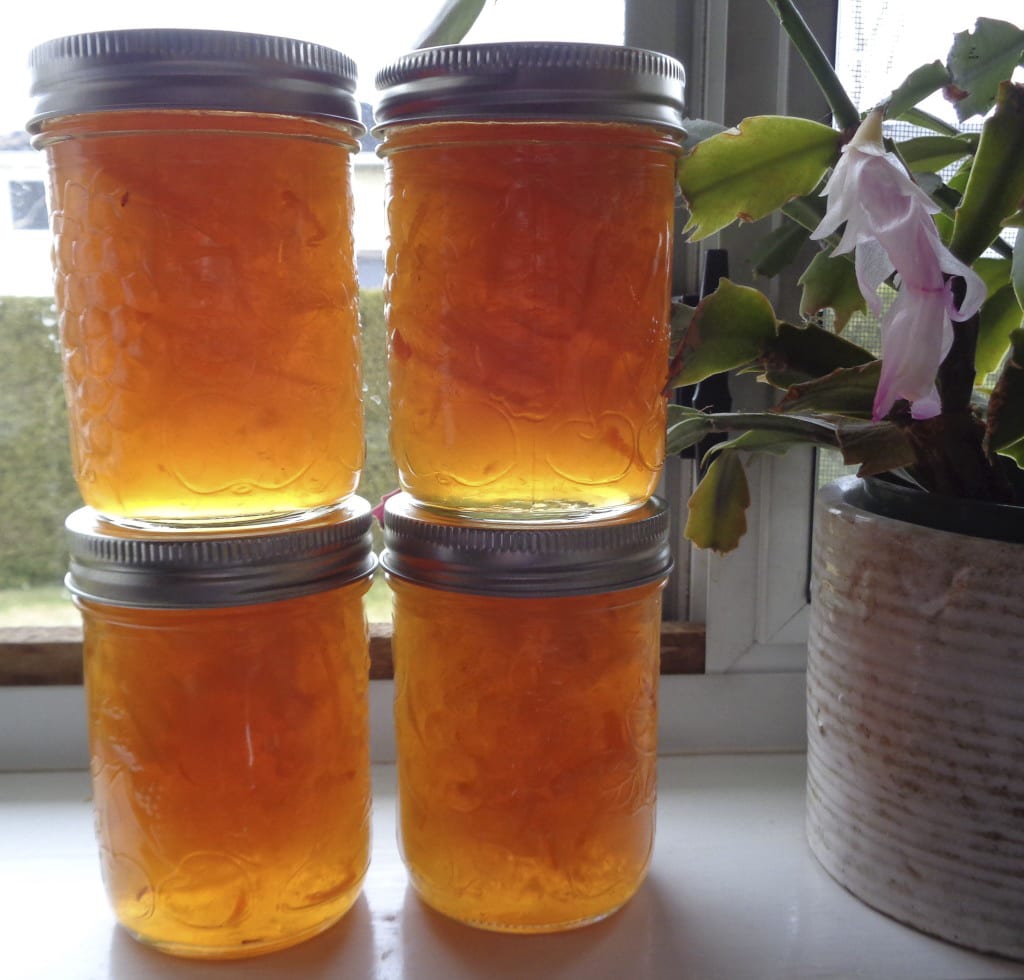 Lovely by itself on toast and a winner as part of a glaze on chicken or pork. Try adding this to a cheese plate or directly into your next batch of scones.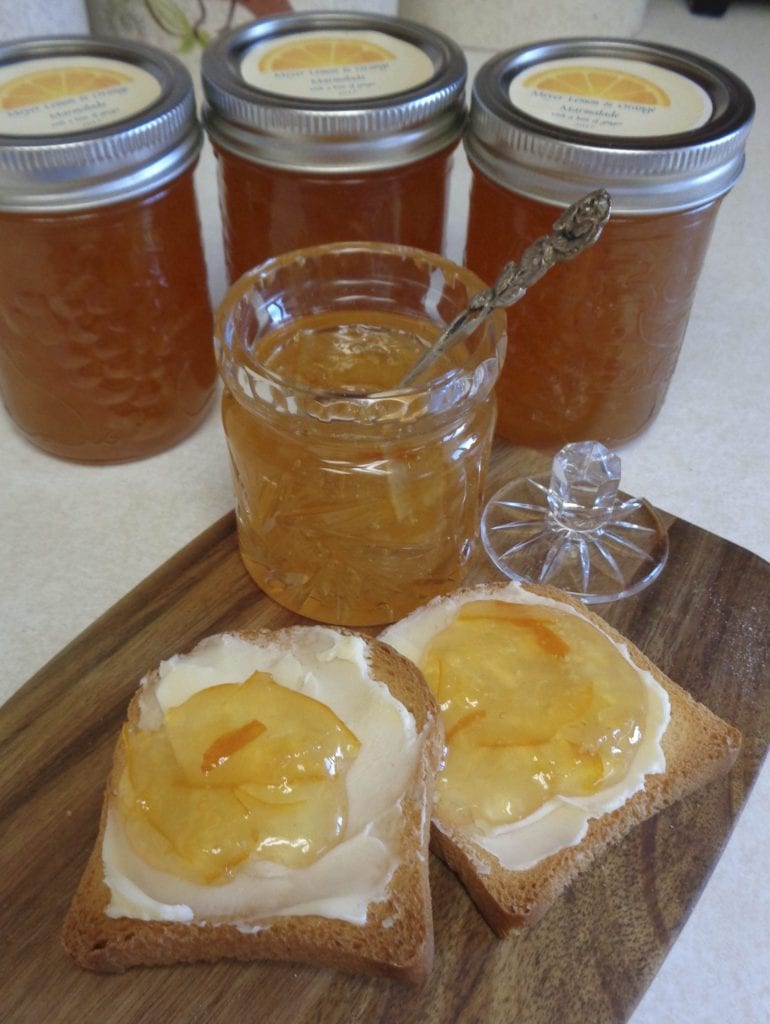 Meyer Lemon, Orange and Ginger Marmalade from My Kitchen Wand