I taught a bath bomb class last week. We were scheduled for 13 people and 20 showed up. It got a little crazy on my end but everyone seemed to have a good time. I wanted to share some of what was created as examples of easy to make, won't break the bank Christmas gifts that can still be completed in the next ten days and for those of us running around like chickens without heads, it is nice to know there is a soothing time coming.
One of the deeper reasons that time to ones self is a blessings at this time of the year is that the bussle of Christmas is counter to the energy of the season, which is explore the dark places within and to therein find the jewels of our soul that have been tucked away for one reason or another. Making the time to relax and shift focus is healthy and offering that opportunity to someone else is a gift in itself. A bathbomb just makes it extra special.
So let's get started.
My basic recipe is:
1 1/2 cups baking soda
3/4 cup citric acid
1/4 cup cornstarch
1/4 tsp. orris root ( when using essential oils. Orris root acts as a fixative, holding the oils in the bath bomb. )
Witchazel in a spray bottle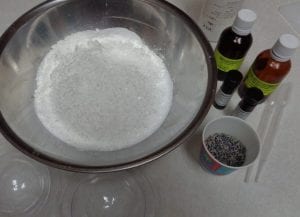 Lavender & Cedarwood
Add: 1/4 cup Epsom salts to the basic recipe
Begin by breaking up any clumps of baking soda. Run your fingers through the mixture and squeeze any clumps until they collapse.
Spritz the dry ingredients with witch hazel and squeeze the moisture into the mixture.
Add: several drops of red and blue soap dyes
Squeeze while continuing to spritz with witch hazel. Adjust the tone to achieve purple.
Add: 40 drops lavender essential oil and 8 drops cedarwood essential oil.
Drop the oils onto the sides of the bowl and then use the dry ingredients to wipe along the sides. This will help the mixing in of the oil. If the oil is dropped directly into the dry ingredients, clumps happen and the mixing is more difficult.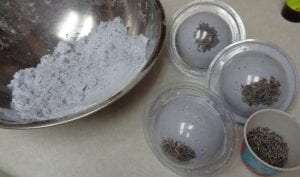 Squeeze and spritz until the mixture resembles wet sand. Wet enough to stay together when clenched in your fist but dry enough that the mixture will not continue to bubble, loosing its form once out of the mold.
Into one half of the mould sprinkle a few dried lavender buds. Pack in the bath bomb mixture to each half. Do not pack too tightly as you will want the final push to come when both sides of the ball come together. Give each side a slighly rounded top and squeeze both halves together.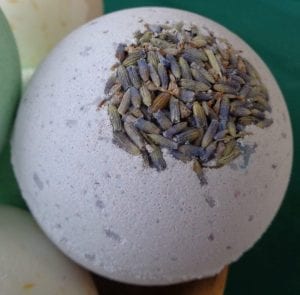 It may be helpful to take the top half off and clean out the rim to make sure the bomb gets as much pressure as possible.
Leave to dry for 15 minutes, remove top half of the mould and let dry for several hours before removing the bottom section. I let these sit overnight.
If you do not have ball moulds handy, it is possible to use dixie cups. I have been known on occasion to use votive candle moulds as well. In truth, I prefer them to ball moulds. They are smaller and simpler to pack but that is strictly my opinion.
Allow to dry for several days before wrapping up as gifts.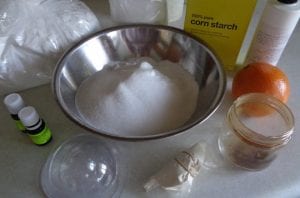 Clementine & Cinnamon
Add:
40 drops of clementine essential oil
10 drops of cinnamon essential oil
along with 4 – 5 spritzes of witch hazel.
Divide the mixture into 3 bowls. Leave one bowl white. In the second bowl add 1 tsp. ground cinnamon and mix well.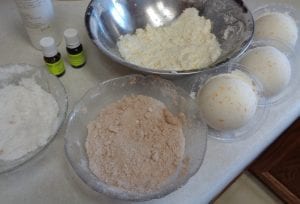 In the third bowl add the zest of one orange, mix well. There will be enough colour from the oils in the zest to lightly colour the white ingredients in one bowl with pops of darker orange tones from the zest itself.
Spritz each bowl with witch hazel and squeeze until the mixtures resemble wet sand.
Layer the ingredients into the moulds, cinnamon first, followed by white in one half with orange followed by white on the other half.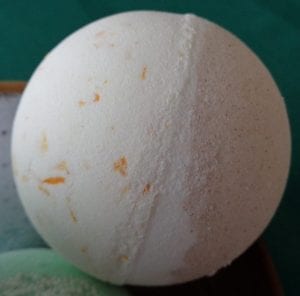 Over fill the moulds and press together tightly.
Follow the instructions above about drying time.
The intension here is to ensure that the bottom section is structurely sound before removing it from a mould. For the bath bombs that are all one colour it does not matter quite so much as they can be respritzed and repacked if taken out too early.
Layered bath bombs not so much, so be patient.
Once the bath bomb has been removed from the mould, feel free to gently trim any remaining rough edges around the middle of the bomb.The one in the picture has a little way to go yet.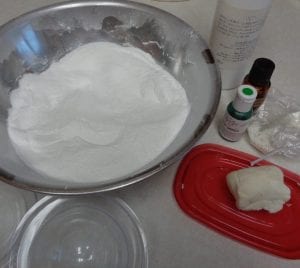 Peppermint
Add: 1 Tbsp. grated Shea butter
green food colouring to taste
20 drops of peppermint essential oil
There is on going discussion about whether added butters should be added as a liquid or grated. My concern is more in the quantity department. The more slippery the bathtub, the higher the possibility of falling, so please keep any added butters to a minimum and be careful when getting up and stepping out.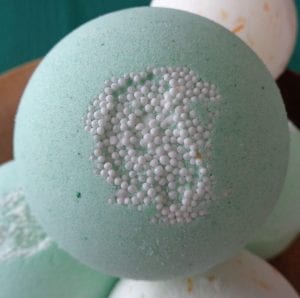 Follow the steps as in the previous bombs and when ready, pack into moulds.
I decorated with a few white nonpariels in the bottom of the mould before adding the bath bomb mixture. Any other appropriate small candy sprinkle will work as well. It is sugar and will melt in the water.
Wash the moulds well between uses, find other options that work for you such as single use yoghurt containers. I finished up some extra mixture by packing it into a measuring cup and tapping it loose.
This recipe made three large balls each with a little left over that ended up in smaller containers. The difference in how much was left over was due to the additives. One batch was plain, one had added Epsom salts and the third, added shea butter.
Bath bombs can be coloured with food or food colouring so check the cupboards for inspiration.
How tightly moulds are packed will also have an affect on how much is left over.
I chose a selection of oils for a variety of purposes and all with an underlying Christmas/Yule connection. Lavender is soothing, peppermint and cedarwood are calming and clementine is envigorating. They are only a small selection of the many choices available. Take a look at what is sitting at home right now and adjust to your intension and budget.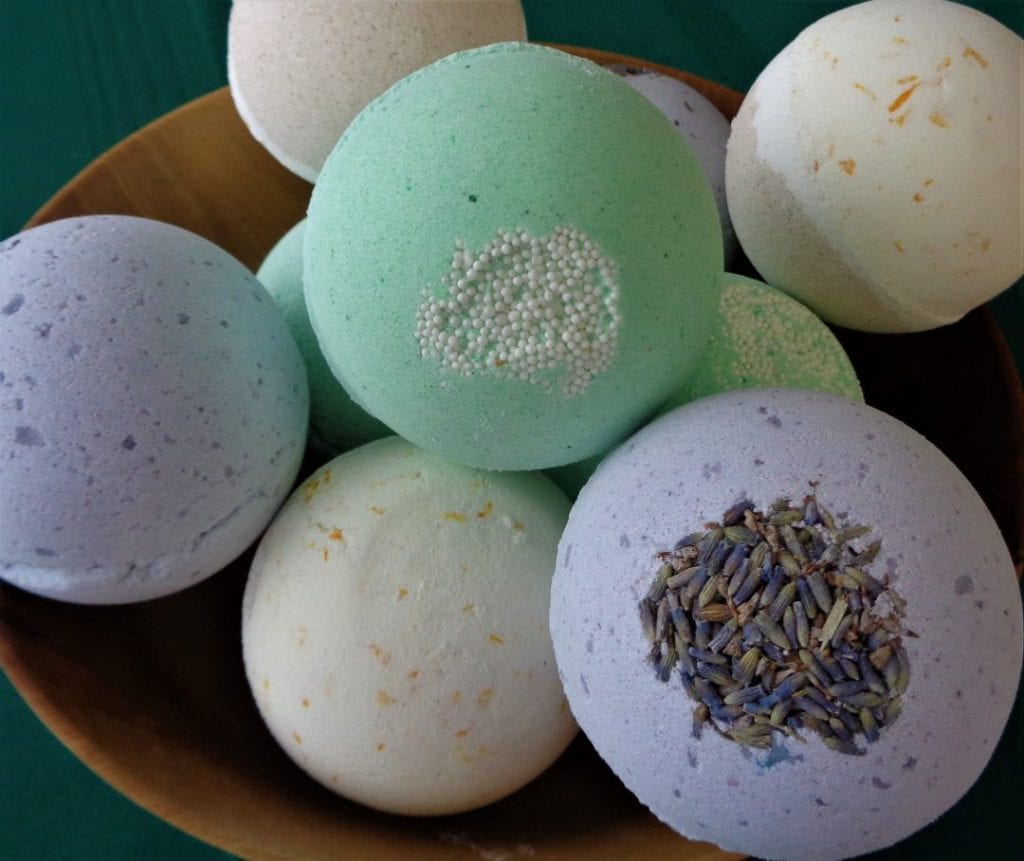 Christmas Bath Bombs from My Kitchen Wand