One of the best things about turkey leftovers to me are turkey sandwiches; fresh bread, cranberry sauce, mayonaise and turkey. Yes! You may have a different combination and yours may be served hot with gravy but however you enjoy the leftovers, pumpkin bread for those tasty sandwiches may just put lunch, dinner or after school snack over the top.
This version is made with ground pecans for added protein and demerara sugar which turns the bread a delicate brown. Change the sugar to white and the brightness of the pumpkin will come through. It was also made entirely with whey, instead of water and milk but if that is not handy then the alternative works too.
As Thanksgiving is a time for giving thanks, there is a suggestion at the end of the post for a little fun around the dinner table, while the leftovers are being created.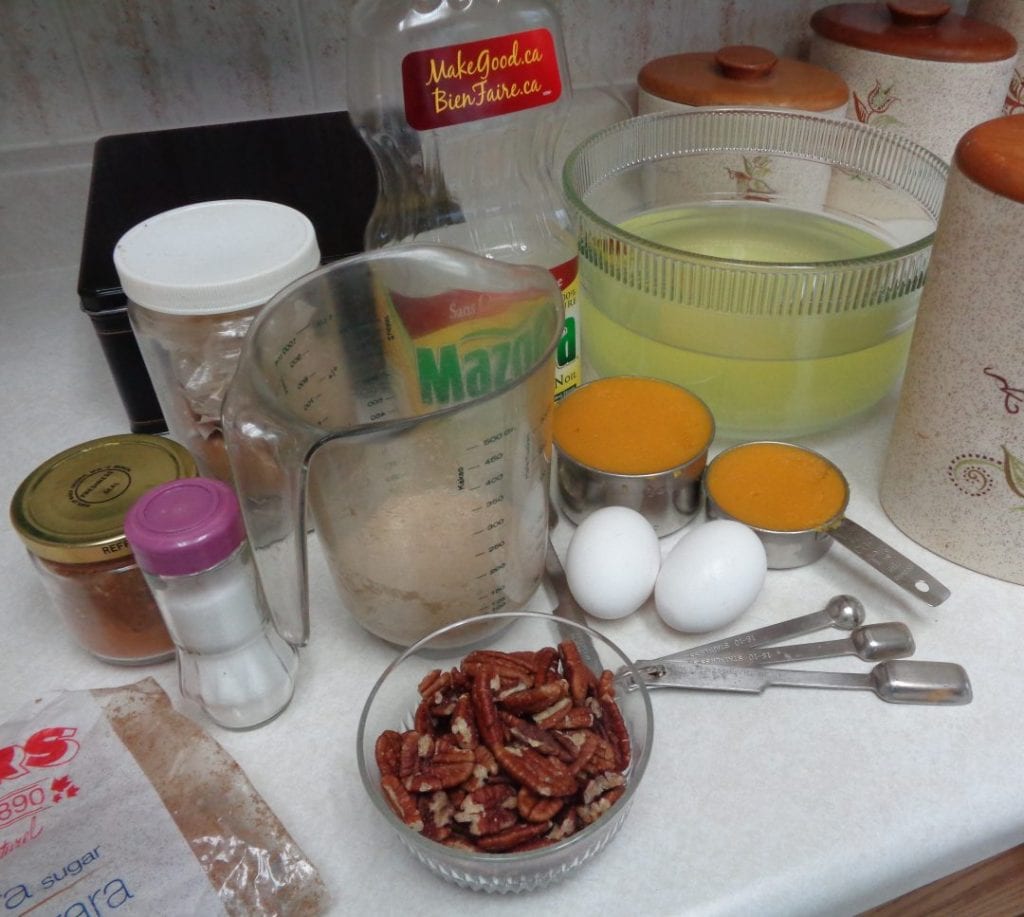 You will need:
1/2 cup whey or water
2 Tbsp. dry yeast
2/3 cup warm milk or whey
2 eggs
1 1/2 cups pumpkin puree
2 Tbsp. oil
5 1/2 cups ish all purpose flour
1 cup ground pecans
1/2 cup demerara sugar
2 tsp. salt
1/2 tsp. cinnamon
1/2 tsp. cardamon
Thanksgiving can be a hectic time in the kitchen so what better way to release the go-go-goness ( I know. It is not a word) than a deep cleansing breath or two…or three. Your intention afterall is to acknowledge the bounty of the year and show appreciation for the harvest and the food that will support your family and friends through what would have been the lean months to come in times past. Opening your heart in gratitude is the best way to begin.
Start by adding yeast to slightly above room temperature water or whey in the bowl you will be working in. Let it sit for a few minutes and then check for bubbles. This will confirm the yeast is active. The mixture should be foamy and growing.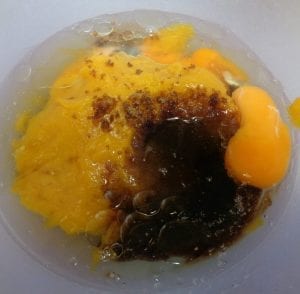 To the yeast add all the rest of the ingredients except for 2 cups flour. Hold the flour back to add after initially mixing the ingredients in the bowl.
This will do two things, help you get just the right amount of flour into the final mixture and not overtax your hands or handmixer. If you have a kitchen machine then two minutes will be just long enough to get the process started. If working with a handmixer, a little longer might be required. Mix the ingredients together.
I went with cardamon and cinnamon but changing it up with pumpkin pie spice or speculaas spice is a good alternate option.
The mixture will be sloppy.
Gradually add the remaining flour, a little at a time. You are looking for a dough stiff enough to knead but not dry.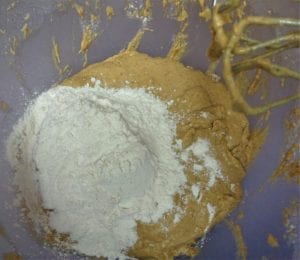 Once things are looking good, knead the dough for 5 – 7 minutes by hand on a well floured counter or in a bowl with dough hooks/paddles.
Kneading is complete when the dough is smooth and elastic.
Clean out the bowl and add a little oil.
Form the dough into a ball and place in the bowl, turning until the dough is fully covered in oil.
Cover with let rise until doubled in size, about 1 hour. If you know for sure that the bowl is large enough to hold the expanded dough, then a tea towel on top is fine. It will stay clean. If you are not sure, try covering with greased or sprayed plastic wrap. Find a warm corner for the dough.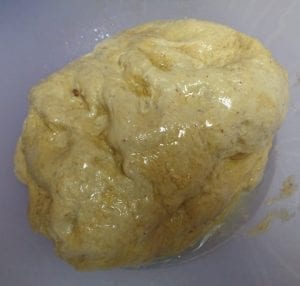 The point here is to keep the dough away from drafts as it rises and not to loose the dough over the top if the bowl is too small.
Grease 3 bread pans. I was thinking two pans but when you see how well it rose, you will see why I say three.
Turn oven on to low.
Punch down and turn dough out onto a clean work surface, either floured or lightly oiled. I prefer shaping the dough on flour so I can get that crusty look but the choice is yours.
Divide dough into three even amounts.
Shape dough into loaves and place into pans.
Option two would be to make a combination of dinner rolls and loaves. Greased muffin tins can make light work of keeping sizes equal. Take one third of the dough and roll it thickly. Cut into equal width slices and place in tins.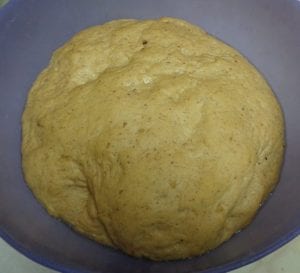 Turn the oven off. It should only be slightly warm and not have registered that it acheived any temperature.
Place the pans in the oven and allow to double in size again. This will take another 45 – 60 minutes.
Once doubled. Take out of the oven, turn the oven on to 375 degrees F and preheat.
Return the pans to the oven once the temperature is achieved and bake for about 30 minutes, or until golden brown.
If a thermometer for testing is available, the inside should read 190 degrees F.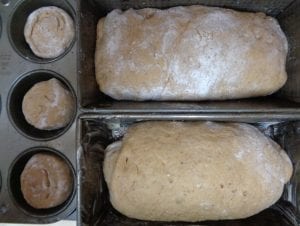 Remove bread pans and set on a cooling rack for at least 30 minutes before removing from the pan.
This pumpkin pecan bread works wonderfully:
Freshly sliced with butter
Toasted with plum jam or pumpkin apple butter
Filled with turkey dinner leftovers
Soaked in eggs for French toast with evergreen needle honey
Turned into autumn bread pudding with applesauce
Or something equally yummy that you put together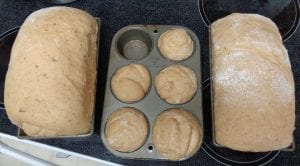 Looking at the picture to the right you can see that three slightly smaller loaves would have been just fine.
Here is an idea for turning some of this dough into Thanksgiving dinner buns. Use prepared muffins tins. Roll the dough into three small balls about the size of a walnut for each muffin tin, as if you were making cloverleaf buns. On a 3/4 inch by 2 inch piece of fresh paper write a message. Fold the message in half and place it between the balls. Let rise and bake.
The messages can be encouragment, things we are feeling blessed about this year, qualities we appreciate in the people at the dinner table or memories of past events that were happy times together.
From mid October to the end of November, Pumpkin Pecan Bread is a tasty way to enjoy the season.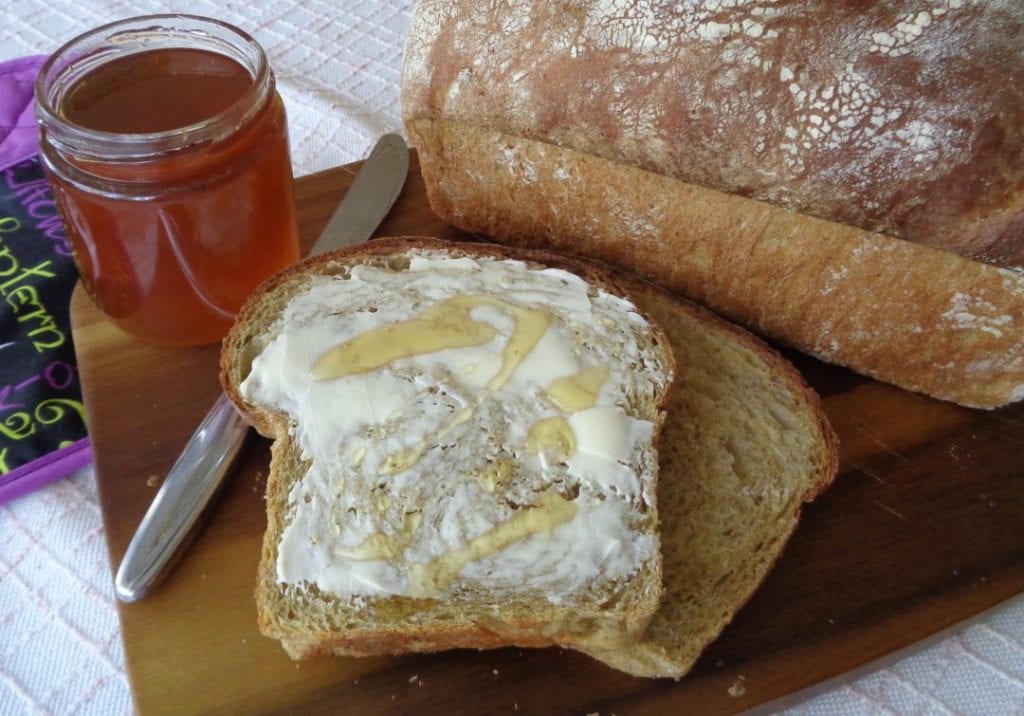 Pumpkin Pecan Bread from My Kitchen Wand