I was invited to a South African Bring and Braai last week. To braai is to BBQ and this was a birthday party to boot!
Along with the BBQ were a selection of salads and one stood out as a wonderful option for Lughnasadh. I have posted recently about the tradition of picking the first bilberries of the season in Ireland at Lammas and also that this is a festival celebrating the first harvest of grain. Originally intended for wheat, in this part of the world it can also, in good years, include corn.
Putting the two together in this salad creates unexpected deliciousness and when I not so subtly asked about the recipe, it was generously offered.
You will need:
4 ears sweet corn, charred
1 cup fresh blueberries
1/4 cup chopped fresh cilantro
1/2 cup parsley, chopped
1/2 red onions, diced
2 cloves garlic, finely chopped
3 limes,  juiced
olive oil, the volume of one lime
Kosher salt and pepper, to taste
1/2 cup crumbled feta cheese
One of the great things about this style of salad is that making customizing adjustments is encouraged.
If for example, you don't like cilantro, just leave it out or adjust the parsley. Got five ears of corn? An extra one is just fine. Switch out the red onions for purple or sweet ones if that suits your taste buds better. Nature offers so many wonderful combinations.
A BBQ is a great way to char corn on the cob, if it happens to be already on. An alternative is to heat a cast-iron pan on medium-high. Add fresh kernels and cook for 2 to 3 minutes.
To remove corn kernels from a cob, carefully cut down the sides of the cob with a sharp knife. Sometimes it can help to cut off an end so that the bottom is more stable. If the cutting is done in a bowl or casserole then all the kernels and liquid will stay in one place and not spread over the counter.
Gather all the ingredients, except the feta cheese, into a bowl and toss to mix.
The two important things to remember are to add the crumbled feta just before serving and that the salad benefits from sitting a day to let the flavours mix. Three limes might seem like a lot but a day of maturing will make all the difference. If you are also making this for a gathering/celebration, then getting something done the day before is a BONUS!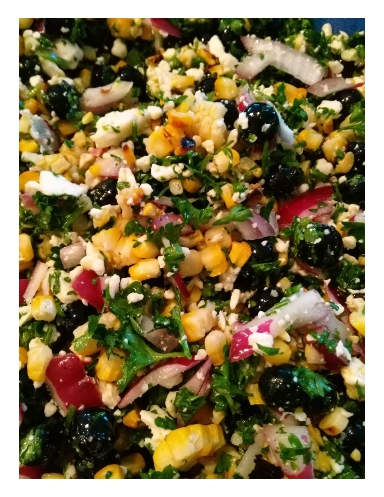 Corn Blueberry Salad via Detta & Mo from My Kitchen Wand. Happy Birthday Elsje!