Friday, August 8th is a very important day according to Wellcat.com. It is SNEAK SOME ZUCCHINI ONTO YOUR NEIGHBORS PORCH DAY! a day all gardeners look forward to with relish…uuummm zucchini relish!
Zucchini or courgettes as it is known in other parts of the world, are a summer squash, only 21 calories per cup, an amount that also supplies approximately 25% of your daily recommended vitamin C and 10% of suggested dietary fiber when including the peel in a dish. ( not that you have to share that with the family ) A good source of manganese and vitamin A, it contains no saturated fats or cholesterol.
Wicca in the Kitchen suggests carving the name of a wondering (male) partner into a zucchini and putting it in the freezer but that is another post entirely.
Sweet potatoes, not to be confused with yams, give us a goodly amount of vital minerals such as iron, calcium, magnesium, manganese, and potassium. The minerals are very important components of enzyme, protein, and carbohydrate metabolism. They are also full of many vitamins our bodies need to source regularly to stay healthy; pantothenic acid (vitamin B-5), pyridoxine (vitamin B-6), and thiamin (vitamin B-1), niacin, and riboflavin. Full of Vitamin A and beta-carotene, which are anti-oxidants, sweet potatoes are a complex carbohydrate which means they raise blood sugars slowly, good for managing diabetes.
Once the vegetables are grated this is super quick to put together and even that is easily done if you have the option to grate mechanically. If you have lots of veggies to share with the neighbours, enough pans and and the space in the oven, try making 4 or 5 or 6 times the recipe. It will cut down on heat in the kitchen and takes proportionally much less time.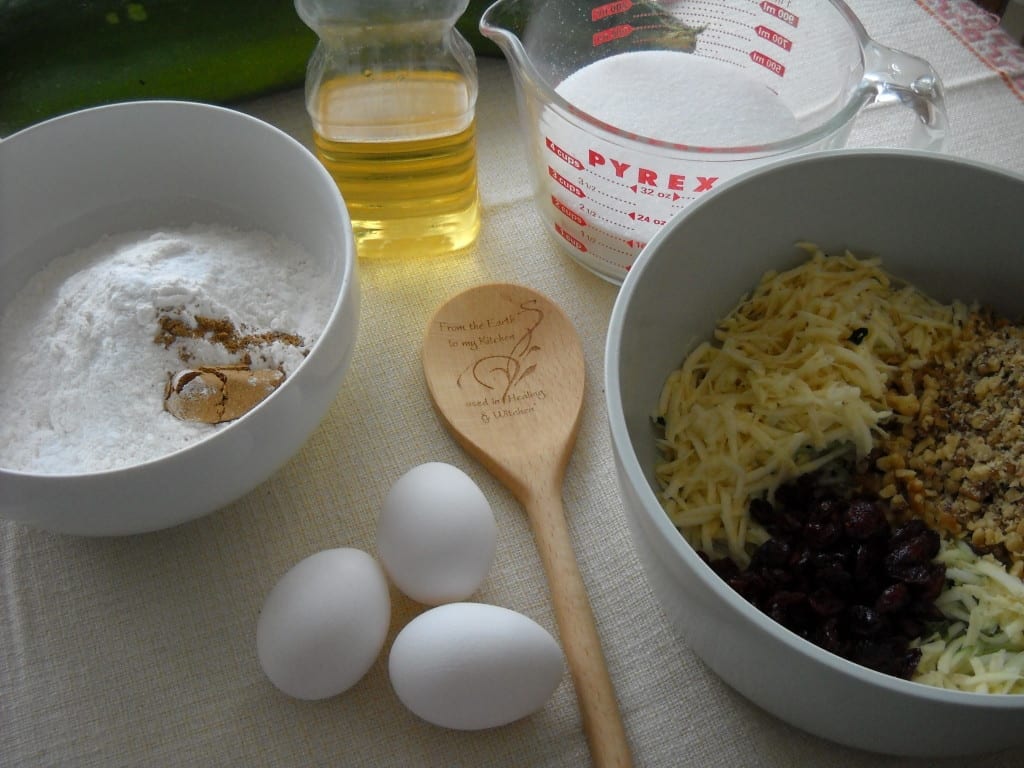 You will need:
2 cups flour (or 1 cup all-purpose & 1 cup whole wheat if you would like a denser finished loaf. )
1 Tbsp. 5 spice
1 tsp. baking soda
1/4 tsp. baking powder
1/4 tsp. salt
1 cup white sugar
1 cup brown sugar
3/4 cup vegetable oil
3 eggs
1 tsp. vanilla extract
1 1/2 cup grated zucchini
1 1/2 cup peeled and grated sweet potato
1 cup chopped walnuts or pecans
1/2 cup dried cranberries or chopped dates or raisins or nothing
Inhale gratitude for the abundance in your garden, exhale gratitude for the space you are about to create in your pantry. Inhale thankfulness for all the friends you can share your abundance withand exhale thankfulness that the zucchini season has an end. Invite in the compassionate spirits and begin…
Set the oven to 350 degrees and grease and flour a loaf pan, put aside. Prep the vegetables by peeling the sweet potato and washing the zucchini. Grate the vegetables by hand or machine and put aside.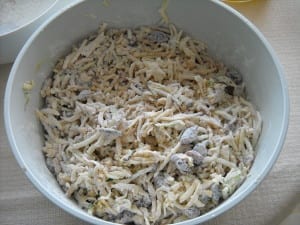 Mix all the dry ingredients ( flour, spices, leavening agents ) together minus the sugar in a bowl.
I tossed half this mixture into the vegetables, fruits and nuts and gently mixed them together.
I then used the measuring cup the sugar was in; added the eggs, oil and extract, mixed well and added the liquid mixture to the other portion of dry ingredients.
Stir only until moist and add vegetable mixture. It is best not to over mix.Transfer to the loaf pan and bake for about 75 minutes or until the edges pull away from the pan and a tooth pick or knitting needle comes out cleanly from the center of the loaf.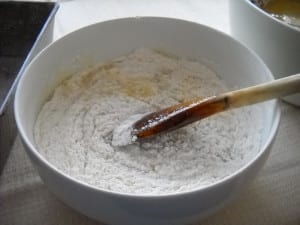 Allow a few minutes before removing for the pan and fully cooling.
A couple of thoughts. Five spice is a mixture of cinnamon, cloves, star anise, fennel and roasted peppercorns. If you don't have it handy try a combination of cinnamon, nutmeg and cloves. Substitute rum or almond extract for the vanilla or the zest of an orange. Pop in the juice as well and reduce the oil by the same amount.
When cool, wrap well as you are leaving this on the back porch. Add a copy of the recipe if you want to really add to the mystery. Not hand written, that is traceable.
Find your camo gear to assist in getting around the neighbourhood in the early morning without getting caught. Work your way around guard animals and other obstacles. Place on back porch and stealthily retreat.
HAPPY ZUCCHINI DAY!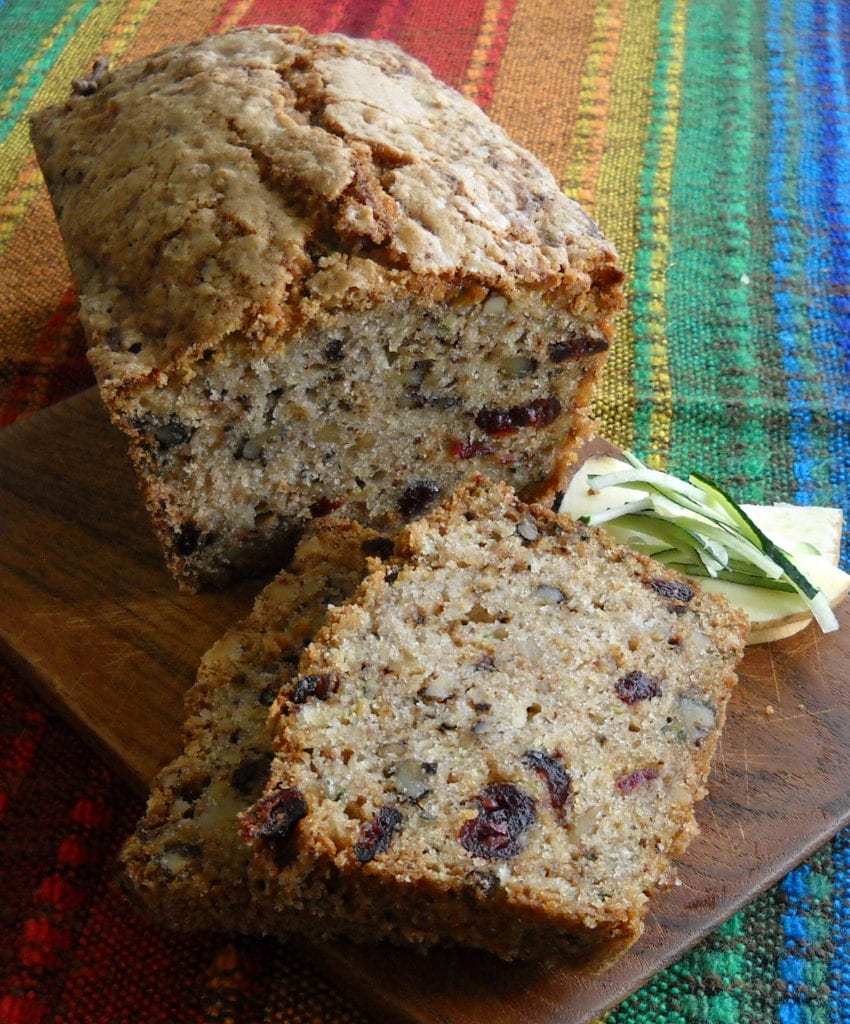 Zucchini Sweet Potato Loaf from My Kitchen Wand