Baby Boos are those small albino pumpkins that are all the rage. The larger white pumpkins are known as Ghost pumpkins, Snowballs, Luminas or Caspers (as in the friendly ghost) and the other day, while at a market,  I was given five of the little ones. Having posted a video a few weeks ago about using decoupage to add flowers and leaves to pumpkins as Thanksgiving decorations, I was excited to see what might still be interesting in the woods for decorations.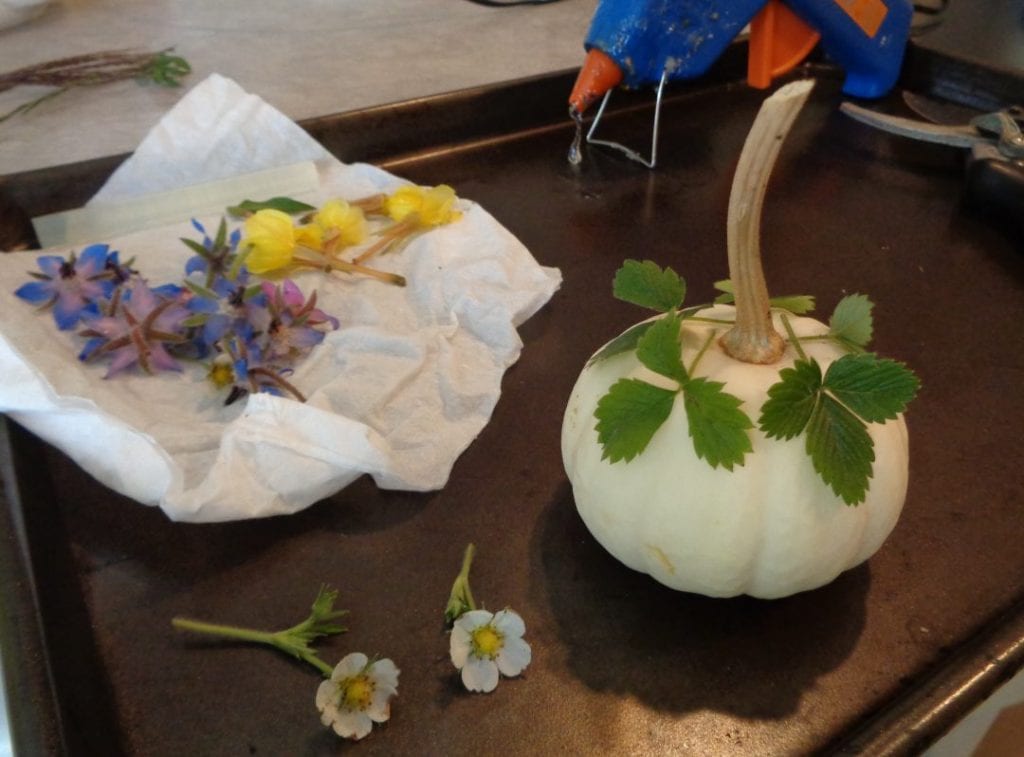 I was thrilled with what was available to use. Brightly coloured leaves, small flowers and berries were still to be found and would make for a lovely nature walk/treasure hunt with the grand/kids. Bundle up warmly. Bring along gloves/boots and snippers as well as a something to hold the bounty.
In the end it was decided to use a glue gun to add the pieces so as to keep the height and volume of the decorations.
The first step was to wash and dry the Baby Boos. There may be some places that are not so pretty on the skin. Most of the blemishes can be covered with leaves so don't compost without trying. Place the pumpkin on an easy to clean surface as the glue will drip a little while designs are being composed. A cookie tray worked just great.
In the end a mixture of fresh and dried plant matter was used. Small pine cones would work as well but all that could be found here were a little big.

Here is the finished selection. Playing with a range of decorations meant that nothing really matched. It would be best to repeat a design if intending these as a Thanksgiving table center. Repeating the colours of your china on the pumpkins would be one option.
Another idea would be to use a decorated pumpkin at each place setting, leaning a short name card against each pumpkin. Additionally, if there is a drill handy, hollow out the center, just enough for a taper candle and use the pumpkin as a candlestick holder.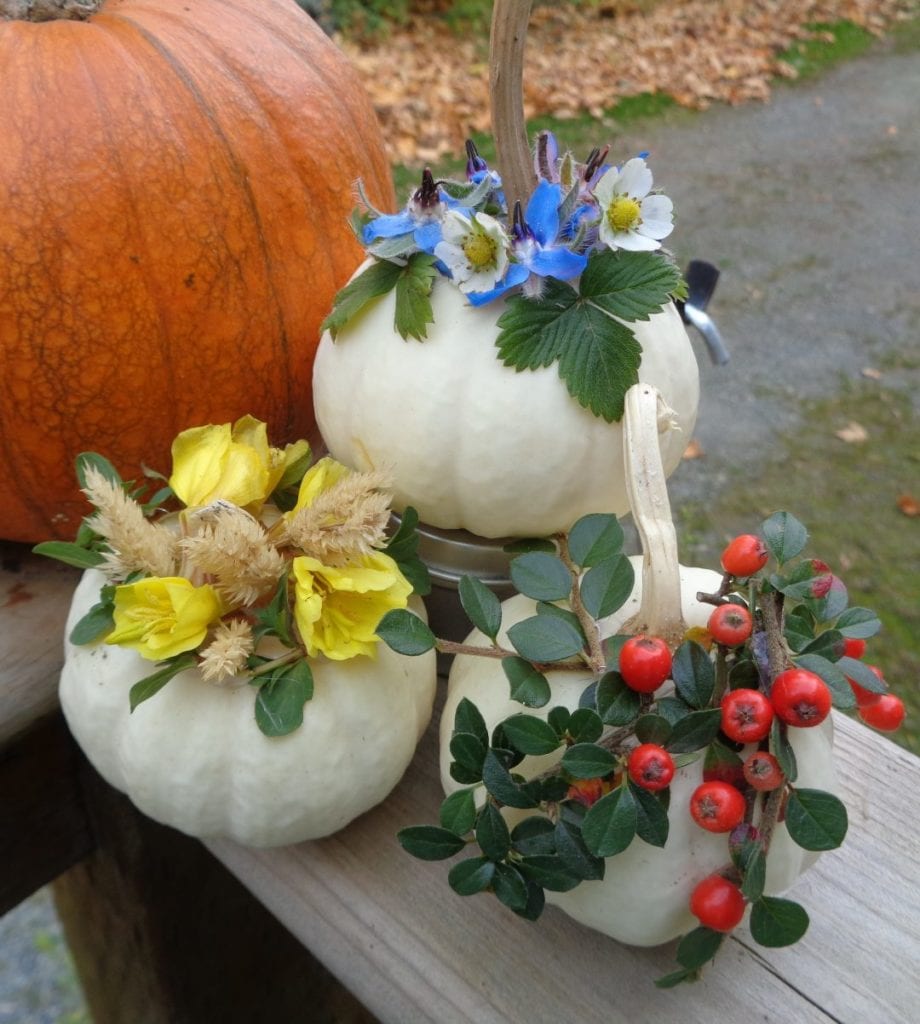 Starting at the top and working clockwise. The blue one is strawberry leaves with borage and strawberry blossoms. The red and green one is cotoneaster, full with berries. The yellow flowers are Evening Primose with dries grass and cotoneaster leaves.
The ones below contain dried hydrangea with leaves, fresh borage and Roberts geranium flowers. Dried rosehips with Roberts geranium leaves are on the last one.
There was no intention to keep these fresh for days and the fresh flowers will not last without water but for the duration of dinner they will be fine. So once the turkey is organized, gather up the supplies and take a wander through the garden, along the road or down a pathway.
There is still plenty of beauty to be found.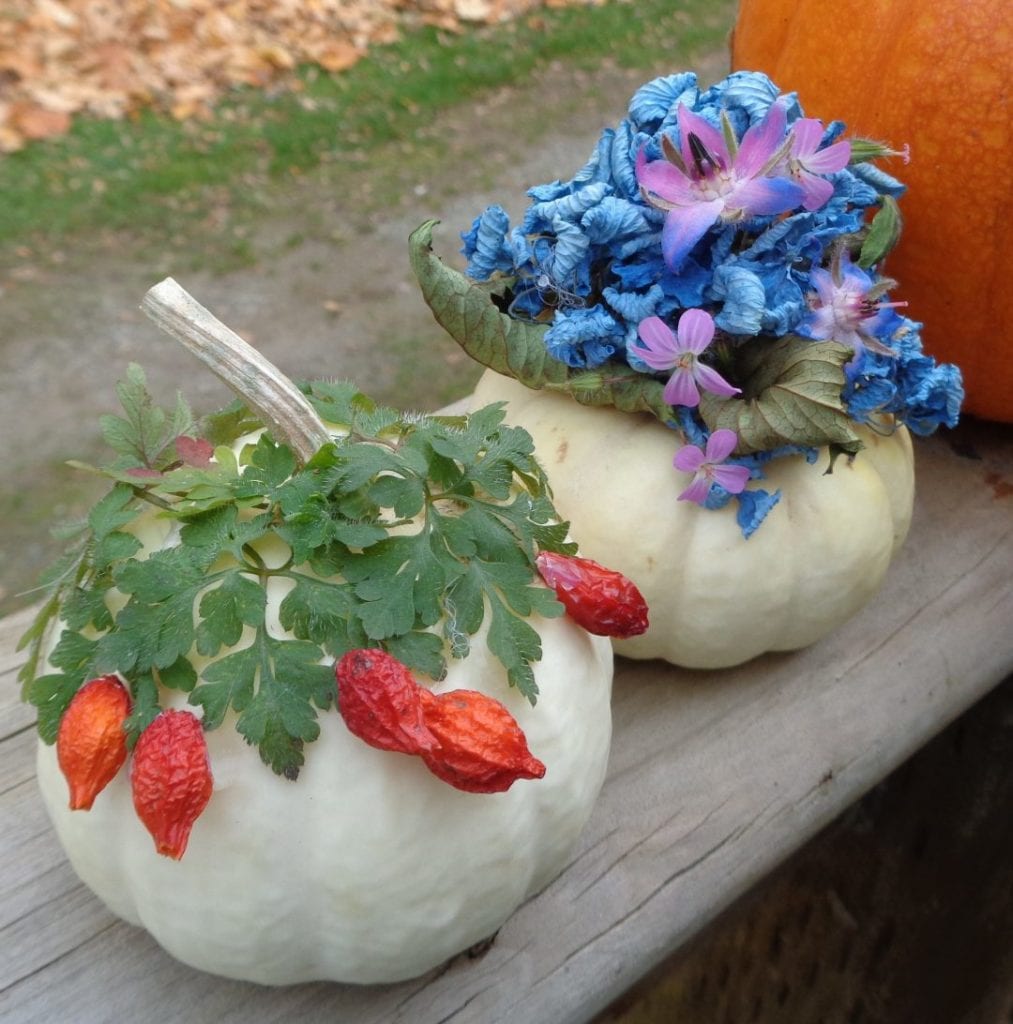 Decorating Baby Boos from My Kitchen Wand