Legend says that eating beets was the secret to Aphrodite's beauty. Which makes me wonder if that is the reason beets are painted on the wall of the Wolf's Lair, a brothel in Pompeii that was preserved when Vesuvius erupted in 79AD. Might beets be the original aphrodisiac, making Aphrodite, the Goddess of Love, Pleasure & Fertility, also protector of beets?
At Delphi, the Oracle proclaimed that beets were worth their weight in silver due to their profound mystical potency.
Modern research confirms that due to high levels of boron, beets can boost sex hormones. Tryptophan, also in beets relaxes the mind and creates gentle feelings of well-being. In other words, beyond just tasting good, beets can get you in the mood.
Potassium, magnesium, fiber, phosphorus, iron; vitamins A, B & C; beta-carotene and beta-cyanine is just the beginning and Thanksgiving dinner is one occasion when these poached in apple juice beets get to stand out, either as a hot veggie option or diced and tossed in balsamic vinegar and served as salad.
You choose! Who knows what dessert might end up being after the guests have gone.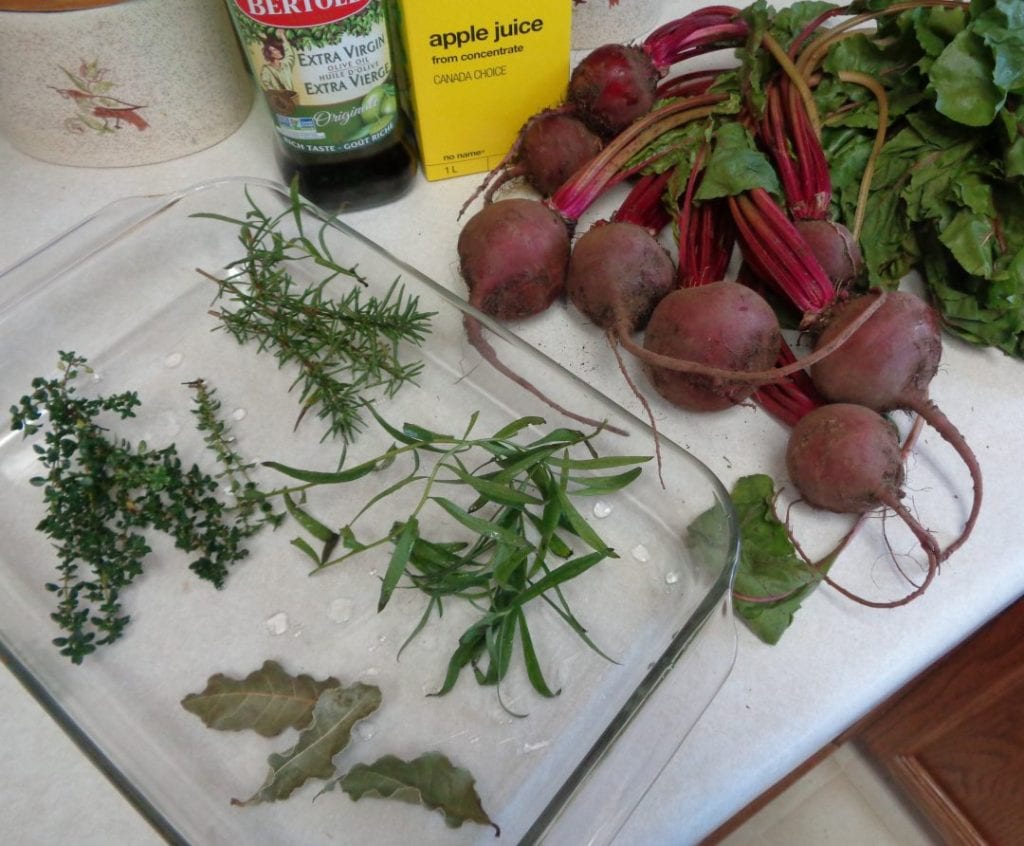 You will need:
8 – 10 fresh beets
2 – 3 Tbsp. olive oil
handful of fresh thyme
2 -3 bay leaves
3 short springs of rosemary
2 -3 stems of tarragon
1/4 – 1/3 cup apple juice
Making the salad? add:
2 Tbsp. balsamic vinegar
pinch of salt
1/3 cup chopped parsley
Something inbetween roasting, steaming and poaching is how these beets will be cooked so preheat the oven to 425 degrees F.
Take a deep breath in and bring your active mind into the present moment. If that is a challenge, try concentrating on the qualities that the beets are bringing to dinner; relaxation, a sense of well being, enjoyment. Wash your hands under warm water and let the nigglies flow away with the water drops, down the drain and back to the great ocean.
Begin by chopping off the stalks and scrubbing the outside of each beet clean. If there are a variety of widths, cut the bulbs in half so that the cooking times will be more compatible. I used a lasagna pan for this but depending on how many beets you have a different size may work better.
Toss the beets in olive oil and place cut side down in the pan. Do not layer. Add the apple juice.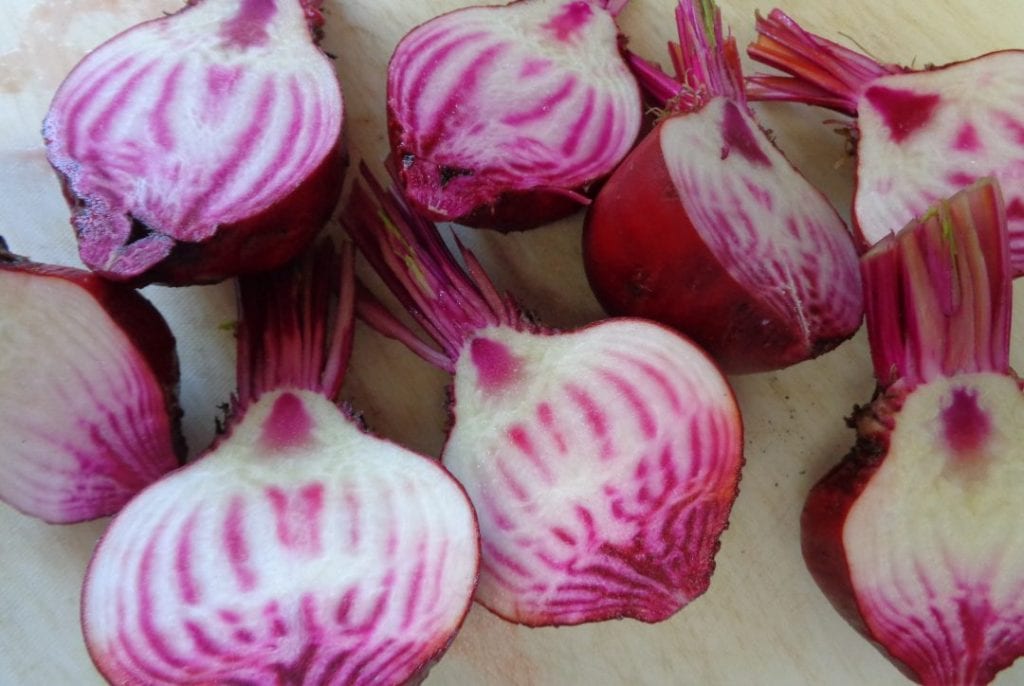 Place the herbs in the pan, on top of the beets and cover with a tight fitting lid or aluminum foil. The beets need the steam to cook so a proper fitting lid, however you do it, is important.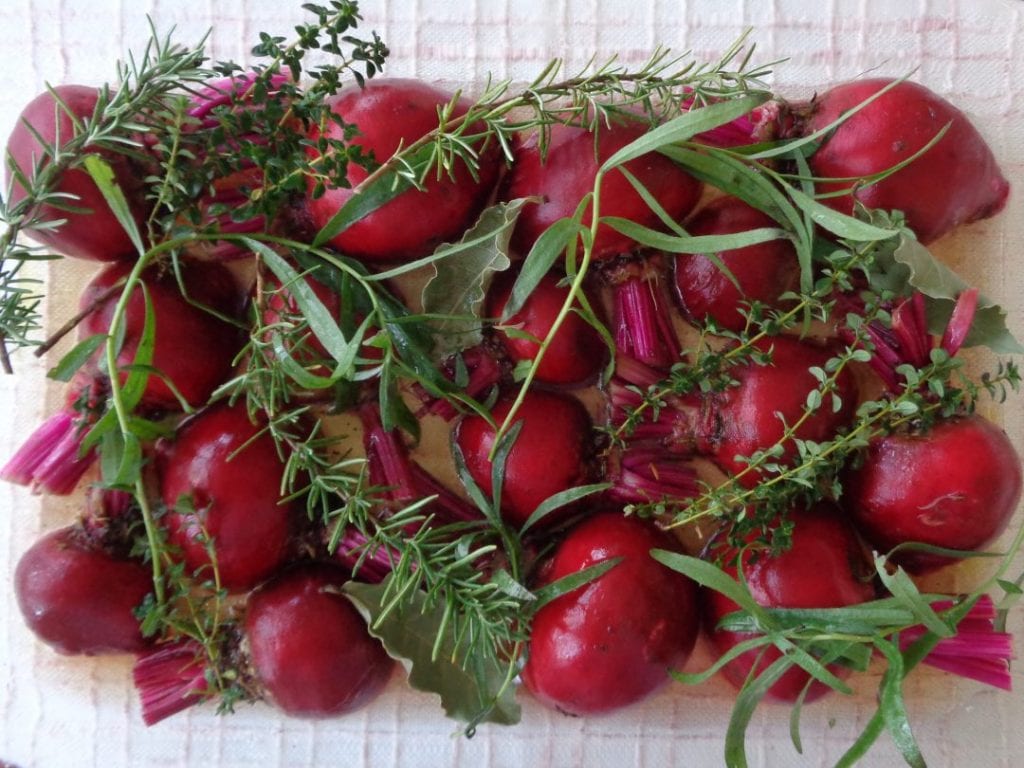 These beets came from Jean's garden and are not the typical through and through red variety most of us are familiar with. The flavour is a little lighter and the finished colour runs to orange and yellow as well as red. The fresh herbs are the last from my little herb garden as it is going to be too wet and cold from now on. You may have other options and it is fun to experiment. I am just showing what I did.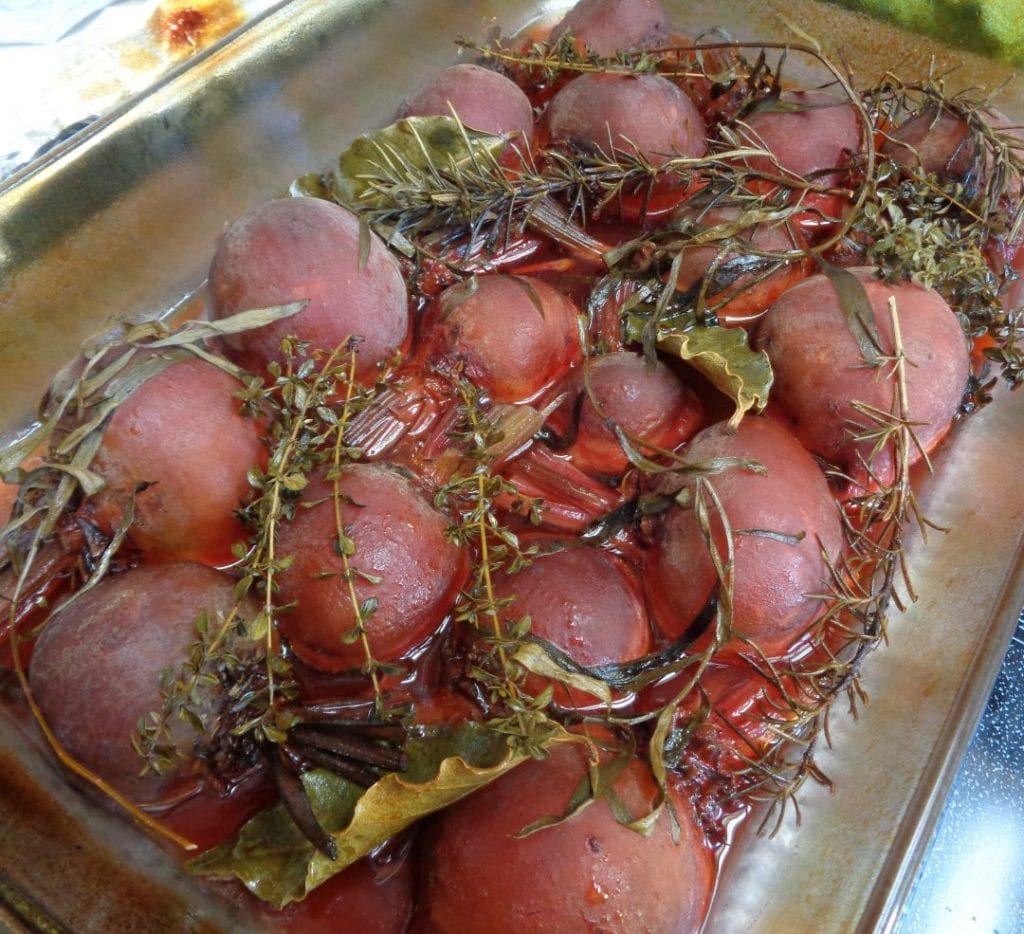 Cover and bake for about an hour. Smaller beets will take less time and larger ones a little longer. They are done when a knife easily penetrates the skin.
Above is how they really looked as they came out of the oven and below is how to "sexy" up pictures, by pouring the sauce from the pan or something else moist over the beets.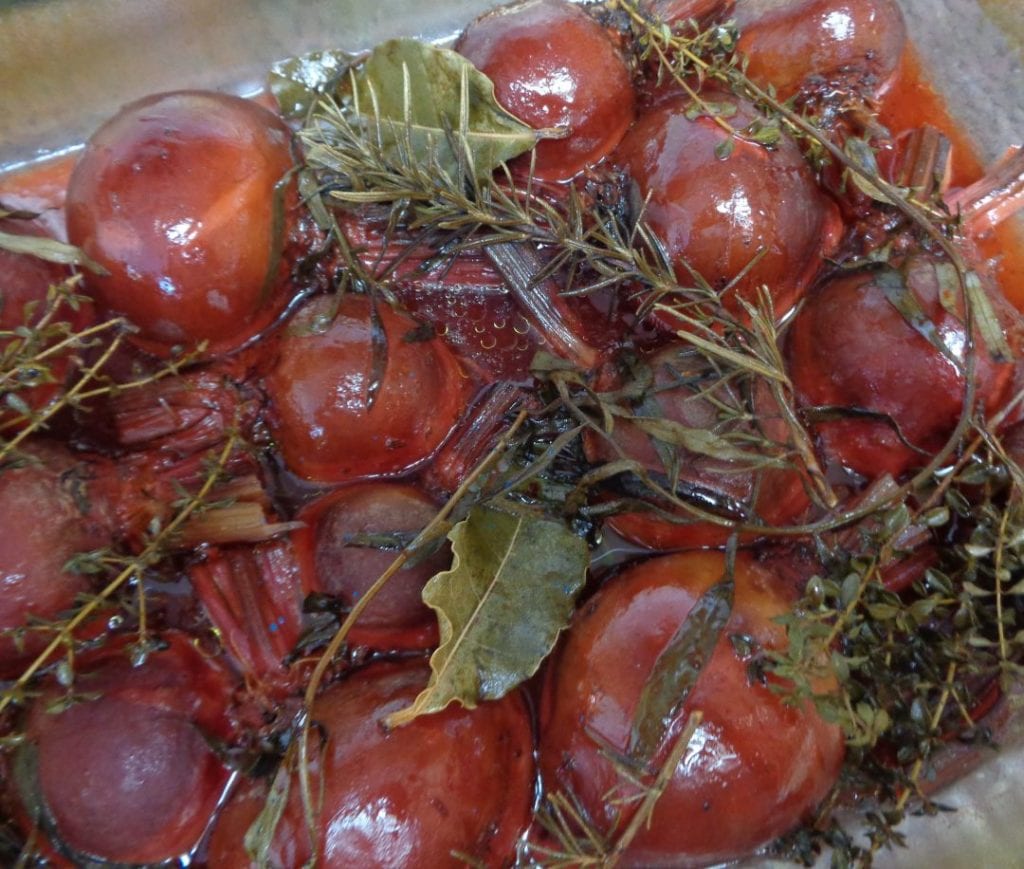 Once the beets are cool enough to handle remove the skins, place in a bowl, keep hot and finish off by pouring the remaining juice from the pan over the beets and sprinkling some freshly chopped thyme on top. Serve hot.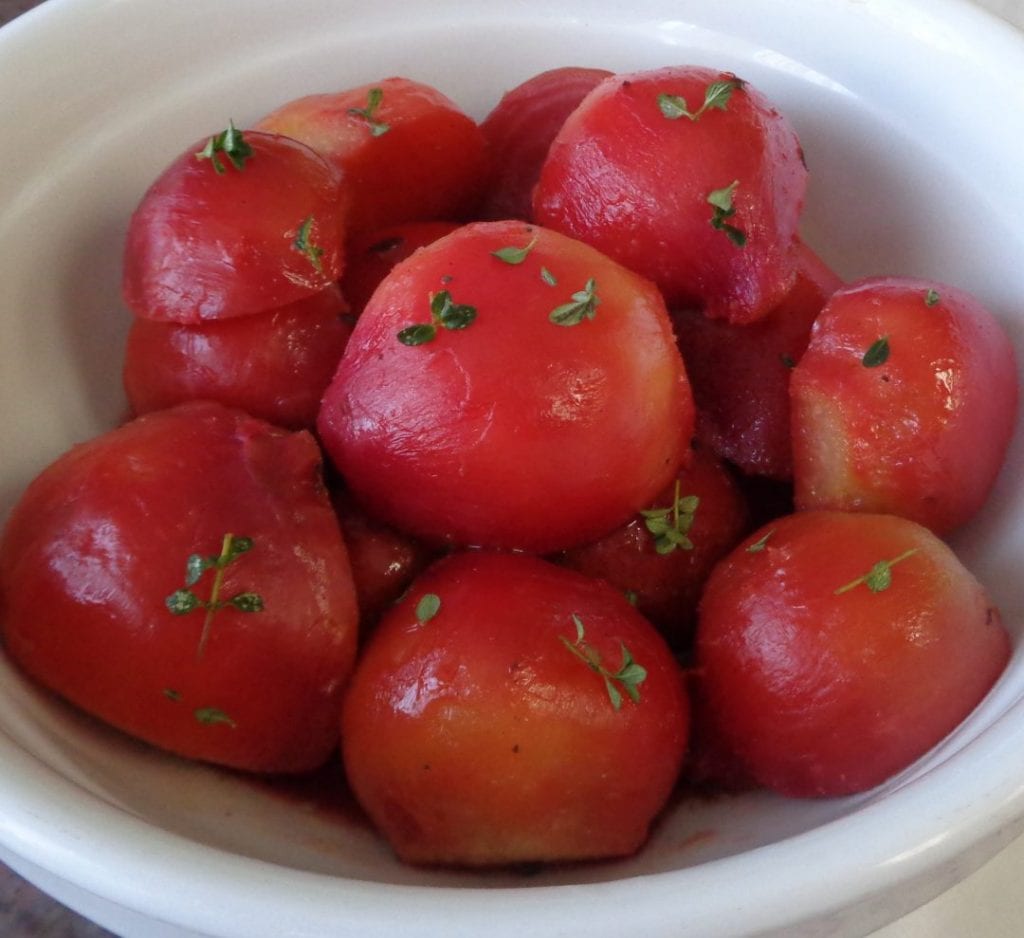 A friend of mine slices her cooked beets onto a bed of arugula, then sprinkles balsamic vinegar and crumbled feta cheese on top.
This version used the cooled beets diced and tossed in balsamic vinegar with a pinch of sea salt and the remaining juice from the baking pan. Toss in some chopped parsley and let sit to marinate. Serve at room temperature.
Love, pleasure, relaxation and feelings of well being, appropriate additions to Thanksgiving dinner, don't you think?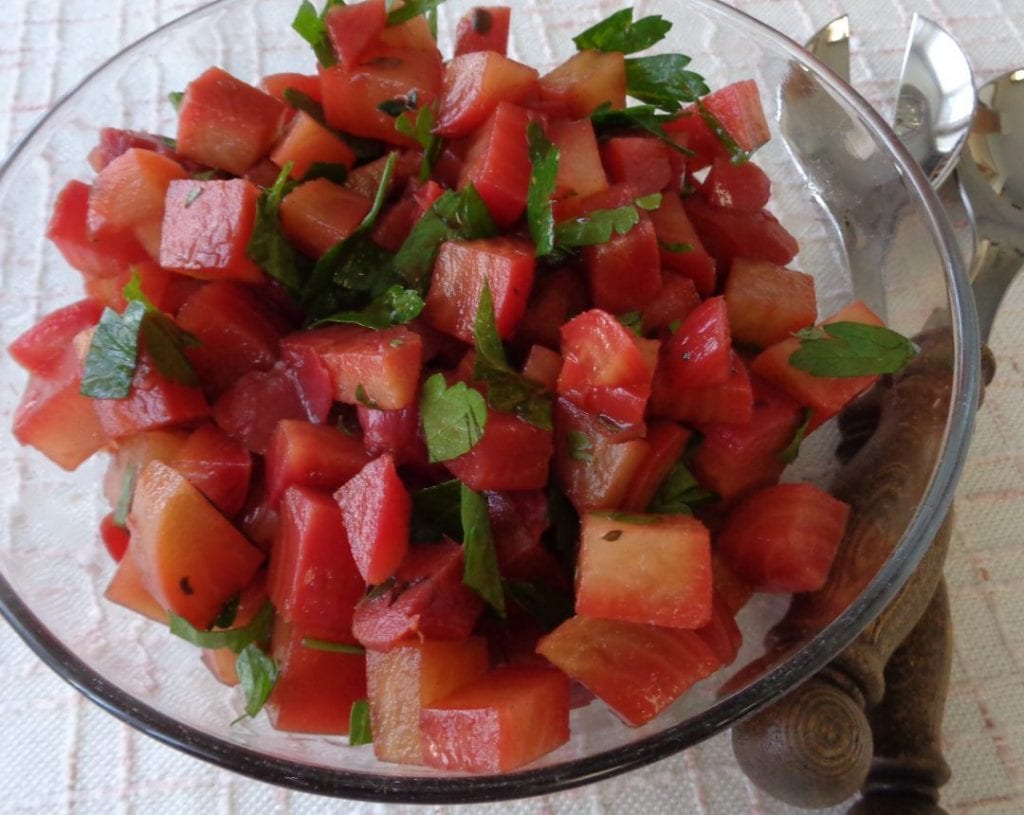 Beets with the last of the garden herbs from My Kitchen Wand