In that time where summer transitions to autumn and we are not really ready for gingerbread or spiced pear cakes, this lighter fresh option makes sense to me. Delicate and fragile, the taste of pears stands alone.
I have mentioned before that I have a favourite little 4 inch spring form that I often use when baking cakes in addition to my regular nine inch pan. The larger cake generally finishes up a little shorter but I get an additional small cake that can be cut into two or three pieces, perfect for a senior appetite. It is just the right size for taking along when visiting the older members of my community. I am doing that today as August 21st is Senior's Day and I have plans!
With only 35 grams of flour, this is an easy cake to substitute a gluten free flour in and the cornstarch is already gluten free but read the packaging labels to be sure.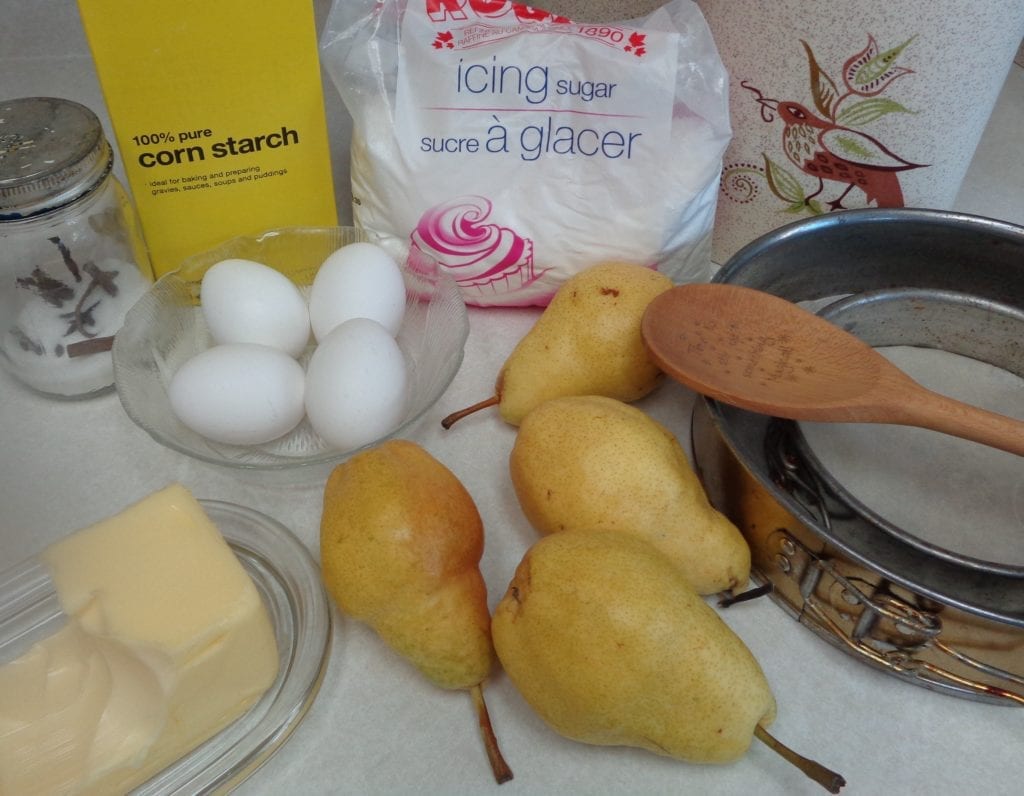 You will need:
1/3 cup plus 1 Tbsp. butter, melted, plus extra for greasing
3 eggs
1 cup plus 2 Tbsp. icing sugar
1 tsp. vanilla extract or vanilla essence
4 Tbsp. flour
4 Tbsp. cornstarch
1 tsp. baking powder
pinch of salt
3 ripe pears, peeled, cored and cut into medium dice
Sweetened Whipped Cream you will need:
1 1/4 cups whipping cream
1 – 2 Tbsp. vanilla infused sugar (or plain sugar and 1 tsp. vanilla extract, paste or essence)
Gather the ingredients and supplies. Wash your hands and put on an apron. This simple ablutions help to create a transition of focus, helping to let go of the past and focus on the present. Consciously take a few deep breaths as you clarify your intentions and begin.
Preheat oven to 300 degrees.  Grease the ring of a 9 inch round spring form. Turn the base upside down to get rid of the lip and then cover with a circle of piece of parchment paper before clamping the ring in place. This is a delicate cake and not having to dig underneath the lip is helpful in keeping the cake whole.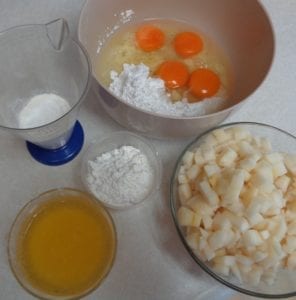 Peel and cube the pears, no bigger than 1/2 an inch. Measure and put aside the ingredients.
Note: If you have the appropriate measuring cups, measuring by grams by volume is a snap. (It is that conical container with the blue bottom on the left hand side and makes European and Australian recipes sooooo easy). I have adapted the recipe but just in case you were wondering what that funny looking thing was.
Combine the eggs, icing sugar and vanilla in a mixing bowl, and whisk with an electric mixer on high speed until the mixture has about tripled in volume.
By hand and using a whisk, gently fold in the sifted all-purpose flour, cornstarch and baking powder with a pinch of salt until you have a smooth batter. Don't dump. Sifting is important here, even just running your fingers through the dry ingredients before adding will help.
Slowly pour in the cooled melted butter and still using the whisk gently fold until totally combined. Butter can sink to the bottom of the bowl as it is heavier so tilting the bowl while folding will help ensure you are getting everything mixed together properly.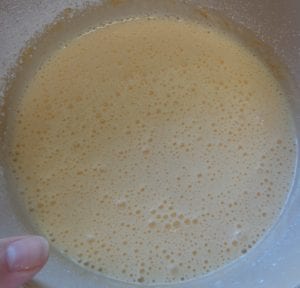 Transfer the mixture into the prepared spring form pan and scatter the pear pieces evenly over the surface. They are going to sink. It is not an issue.
Bake for about 45 mins (when the full recipe is in one baking form and not in two as I am doing), or until a skewer/toothpick/knitting needle inserted into the center comes out clean. As with many cakes that use eggs as a leavening agent, this one will come out of the oven looking tall and fluffy, then deflate a bit after cooling. You did nothing wrong.
You can see it what happens to the larger cake in the picture below.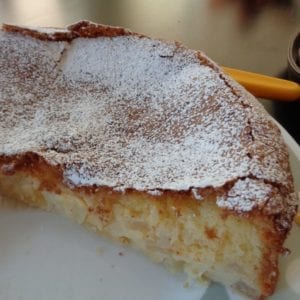 The cake is best left to cool completely before running a knife around the edge to gently separate the cake from the tin. Cooling will allow the cake to be more stable when moving.
Leaving the parchment paper on the bottom, carefully transfer the cake to a serving plate. Sliding is best. Sprinkle with sifted icing sugar and serve with sweetened whipped cream.
To make sweetened whipped cream, also known as Chantilly cream, combine the whipping/heavy cream and vanilla sugar medium mixing bowl and beat with an electric mixer until medium to dry peaks form.
Too much whipping will make butter so watch what is happening carefully as time goes on. The fresher the whipping cream the shorter the whipping time and if you do make butter, don't throw it out. Press out the liquid, add a little salt, and enjoy. I keep a jar of vanilla bean infused sugar in the pantry. Substituting plain sugar and vanilla flavouring is also an option.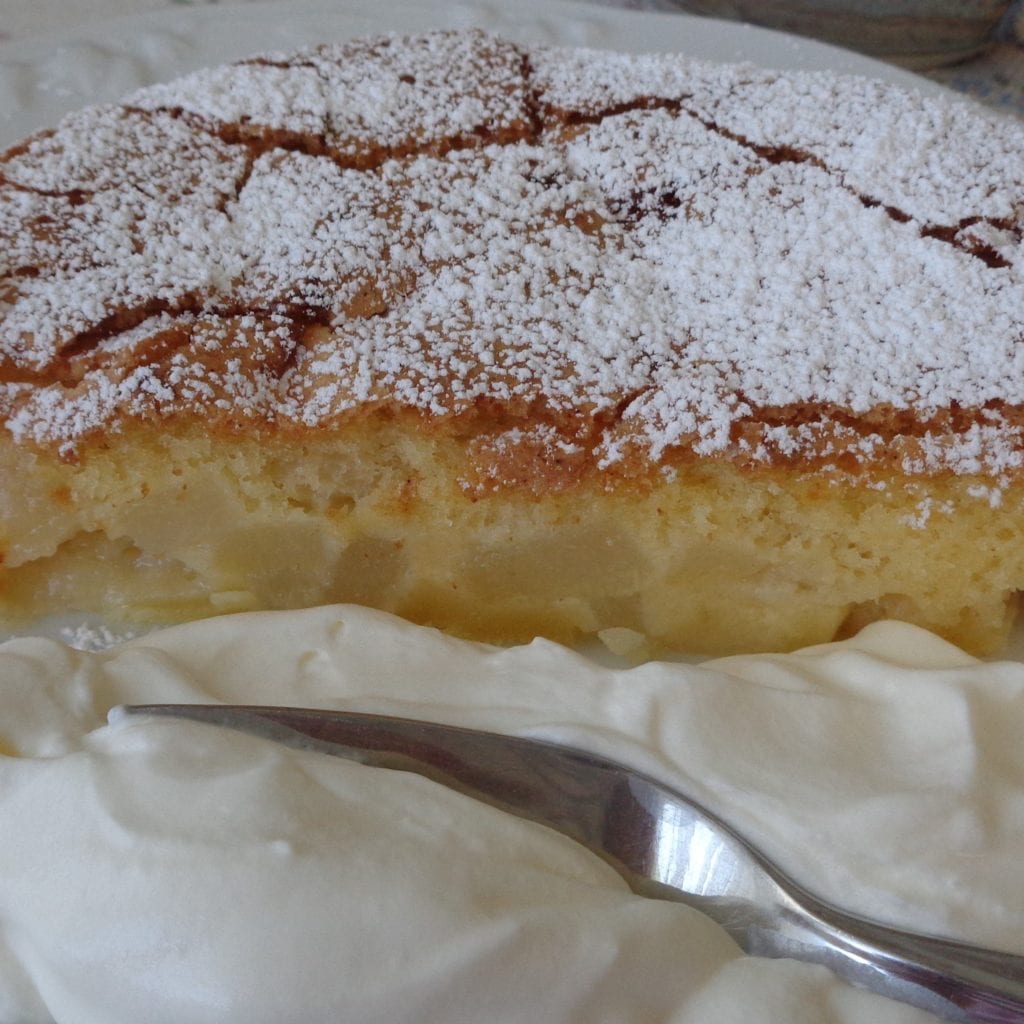 Delicate Pear Cake from My Kitchen Wand