Baklava is a sweet Mediterranean dessert made from filo(or phyllo) pastry, nuts of some variety and honey or a syrup. After baking the thin sheets of pastry to golden brown perfection, honey or syrup is immediately poured over the individual pieces or a full tray allowing the sweetness to be absorbed into the layers of pastry.
It is widely believed that baklava originated during the 700 hundreds B.C. in Assyria. For many years it was baked for special occasions but only for those who could afford the luxury. Today baklava is still a staple of special occasions but enjoyed by all.
Karen at Aromatica Fine Teas offered up a special package of Chai Sansibar Rooibus for this delicious syrup with added layers of cinnamon, ginger, cardamom, red pepper, bruised peppercorns and vanilla.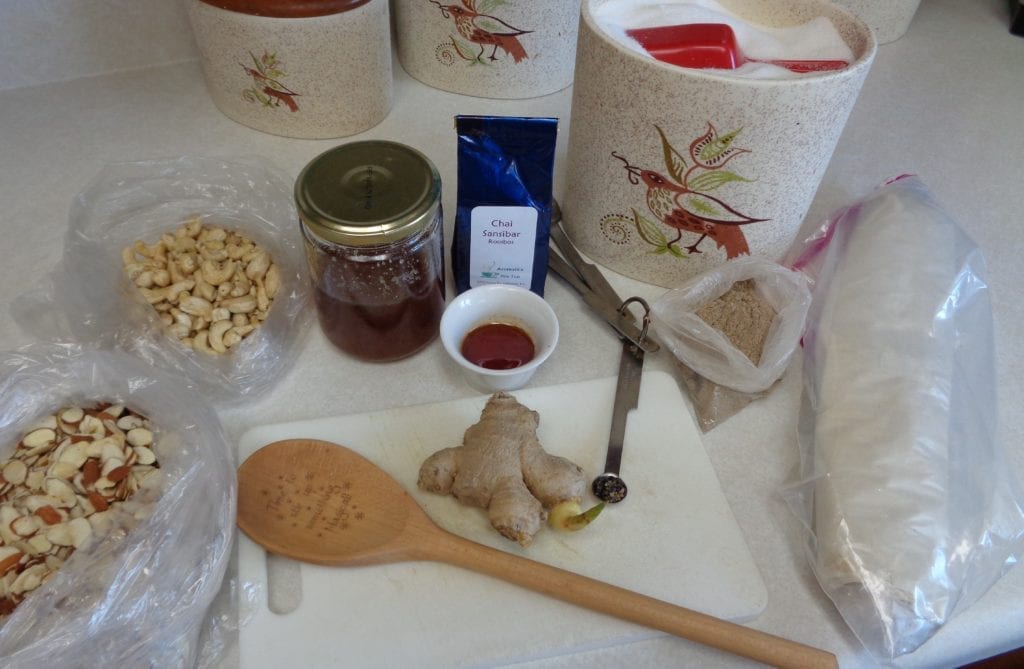 You will need:
1 1/2 cups granulated sugar
4 3/4 Tbsp. honey
2 Tbsp.  Chai Sansibar Rooibus tea
¼ tsp. cardamom seeds
1 1/2 inch  fresh root ginger, peeled and chopped
2/3 cup toasted flaked almonds
2/3 cup cashew nuts
½ tsp. cardamom seeds, ground
12 sheets ready-made filo pastry
5 Tbsp. butter, melted
Close your eyes and take in a deep breath of air. Hold it for a moment and then release. Feel your shoulders drop and your body start to relax. Repeat until you feel disconnected from any "nigglies" that are weighing on your mind. Come into the present moment with gratitude for all the bounty available in your life and begin.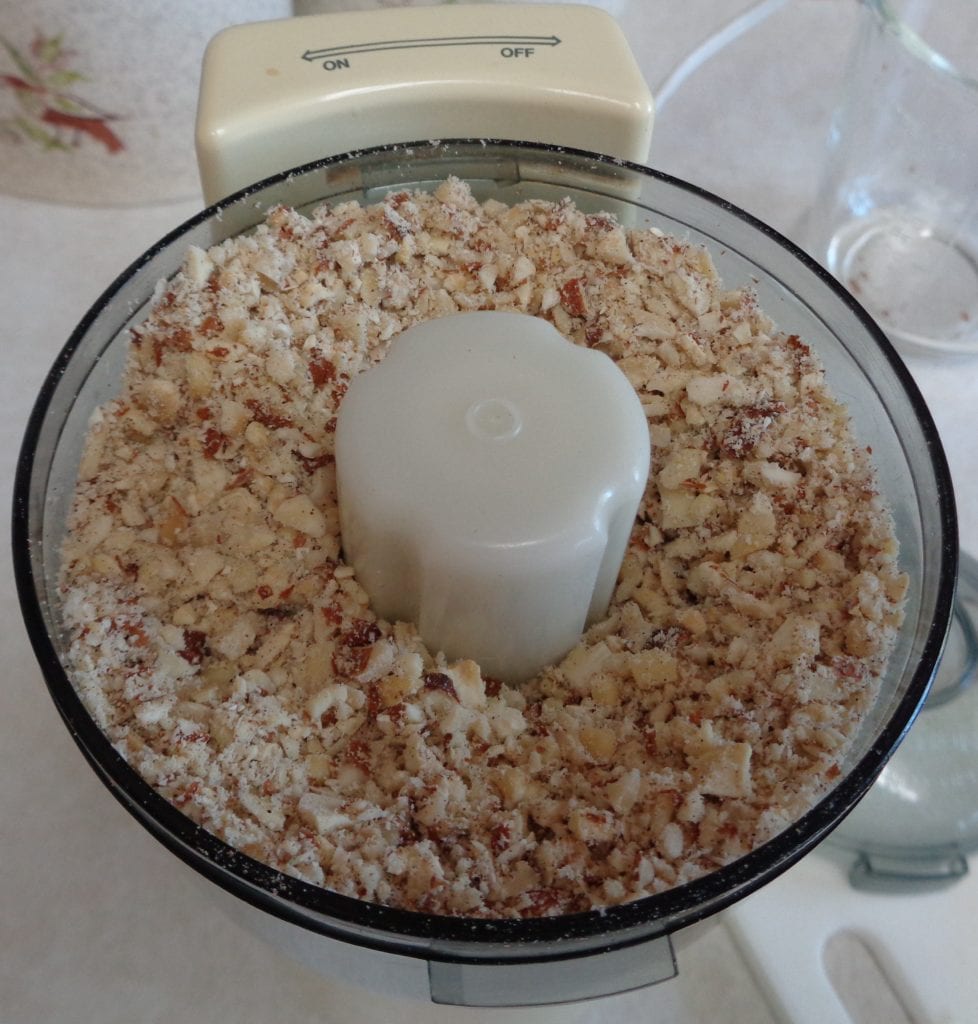 Create the filling by combining both nuts and cardamom in a blender and pulse until finely chopped. Set aside.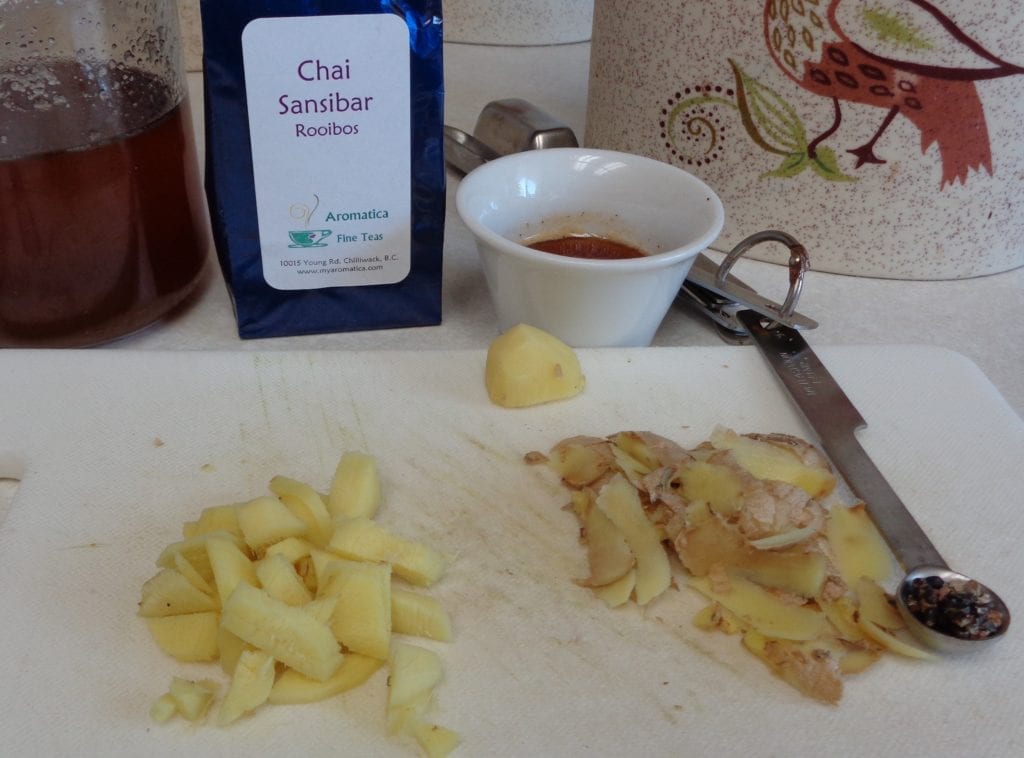 Peel and chop the ginger. To a pot, add the sugar, honey, tea, cardamom and ginger with 2 Tbsp. short of a cup of water and heat to dissolve the sugar. Bring to a simmer.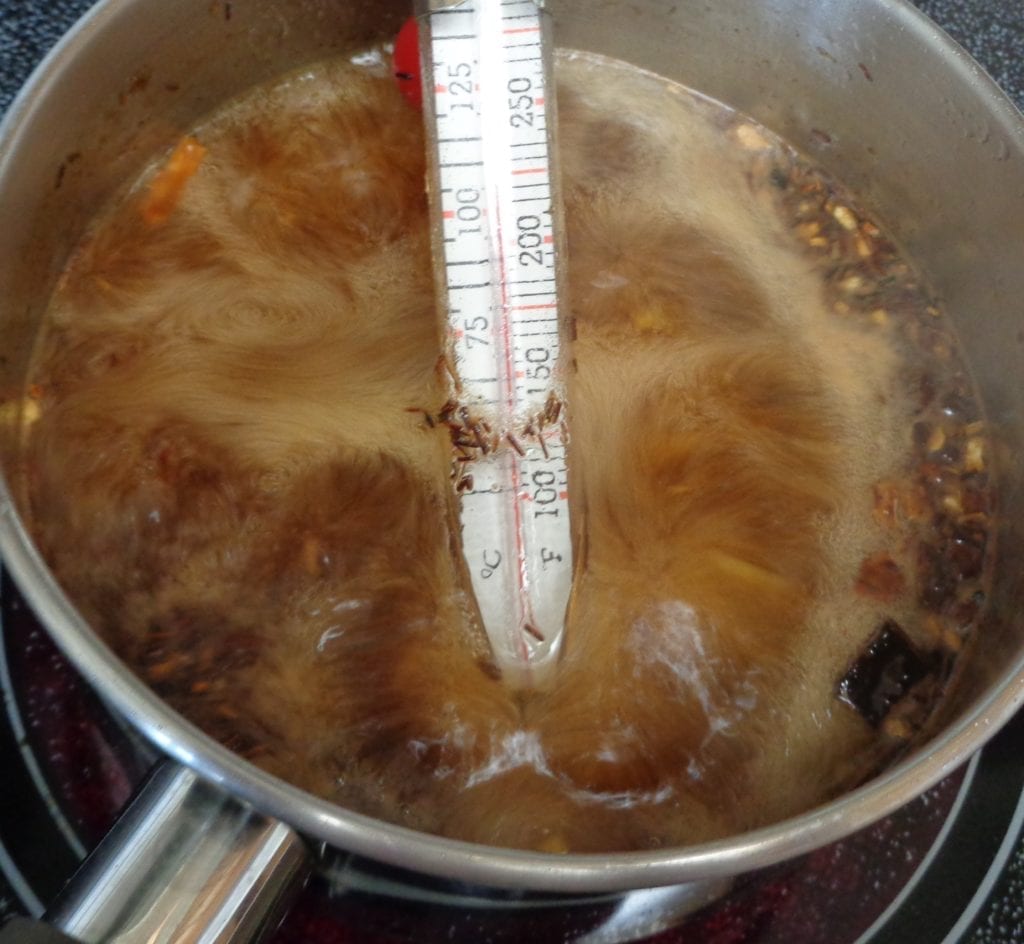 Continue simmering for 15-20 minutes, allowing the liquid to reach 200 degrees F. then set aside to cool until warm, before pouring the warm syrup through a sieve and separating the liquid.
Preheat the oven to 350 degrees F and grease a baking tray with butter.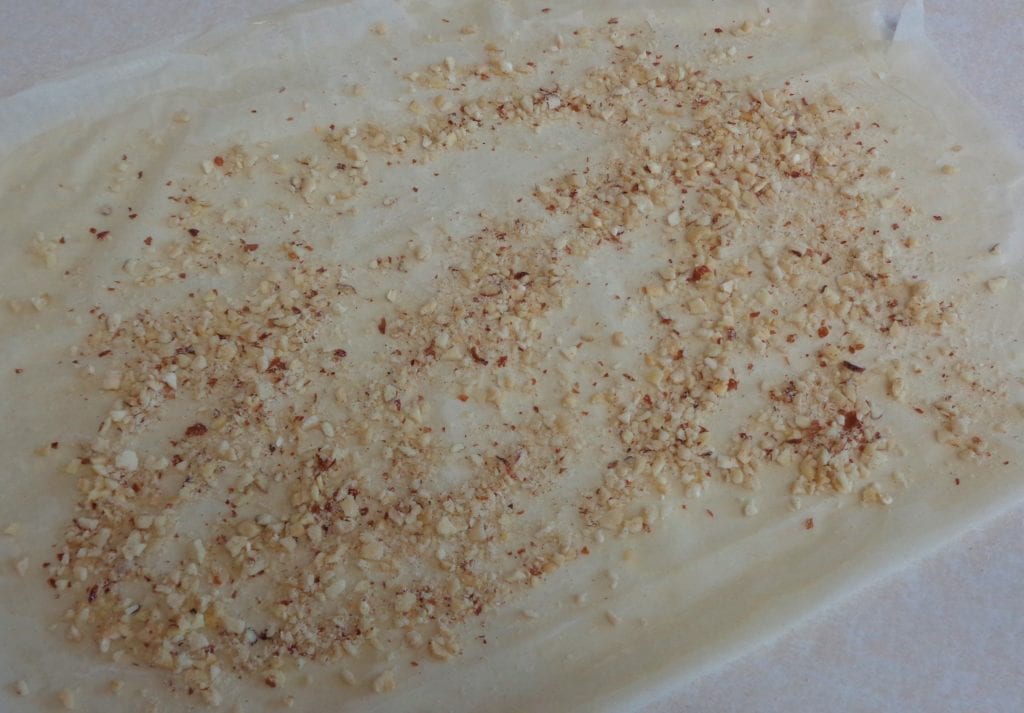 Take one sheet of filo pastry to work on and keep the others away from the air. Filo dries quickly and then becomes brittle. Brush melted butter over the sheet of filo pastry before folding it in half, lengthwise. Sprinkle about one tablespoon of the nut mixture over the filo, leaving a one half inch free as a border around all the sides.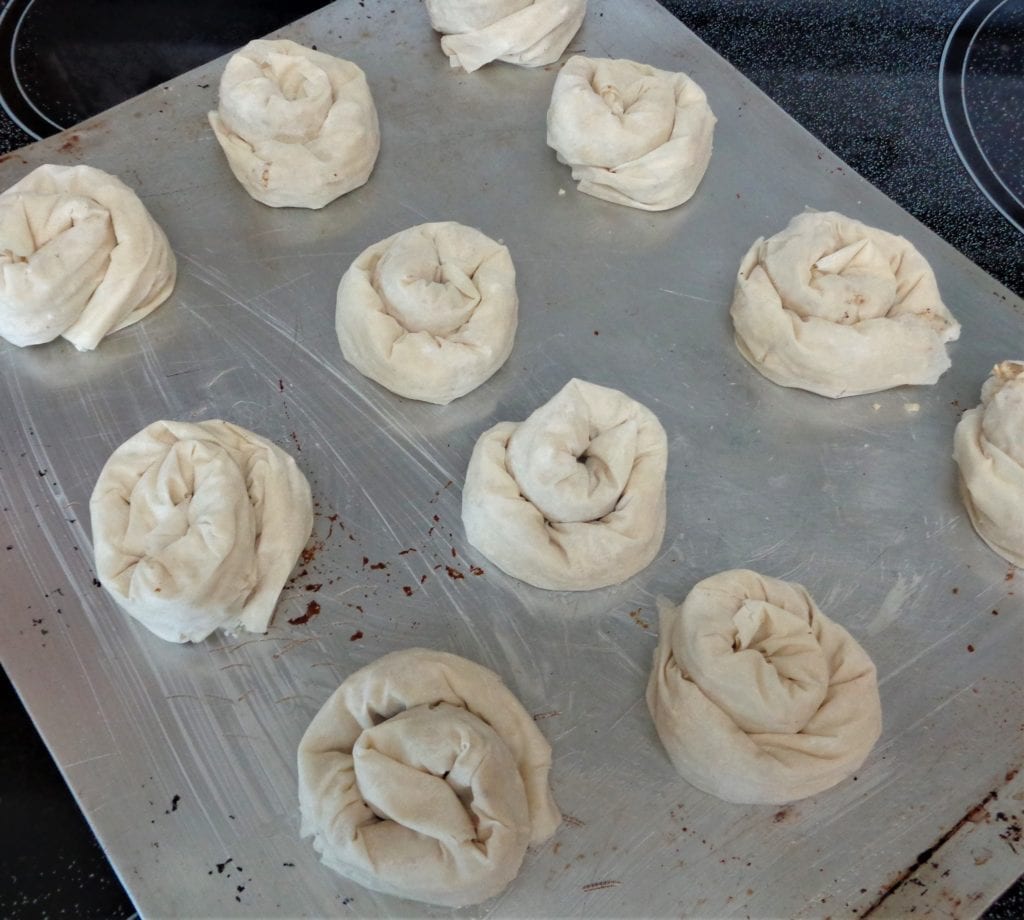 Starting at one of the long edges, roll up the filo into a long cylinder shape. Brush generously with butter and roll the cylinder into a tight spiral. Brush with butter again and place on the prepared baking tray. Repeat the process with the remaining sheets of filo and place them next to each other in the baking tray.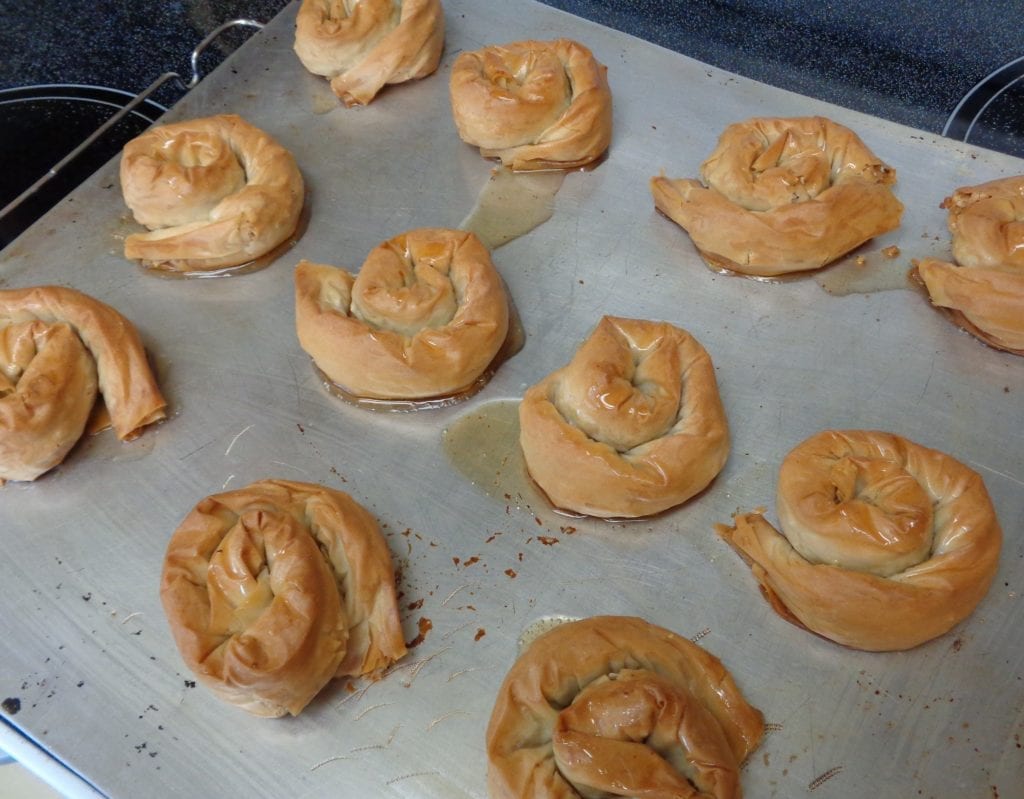 Bake for 50 minutes, or until golden-brown.
When cooked, spoon half the syrup all over the baklavas. Leave for five minutes and then spoon over the remaining syrup. Sprinkle with slivered almonds.
Let the baklava cool a little, before serving.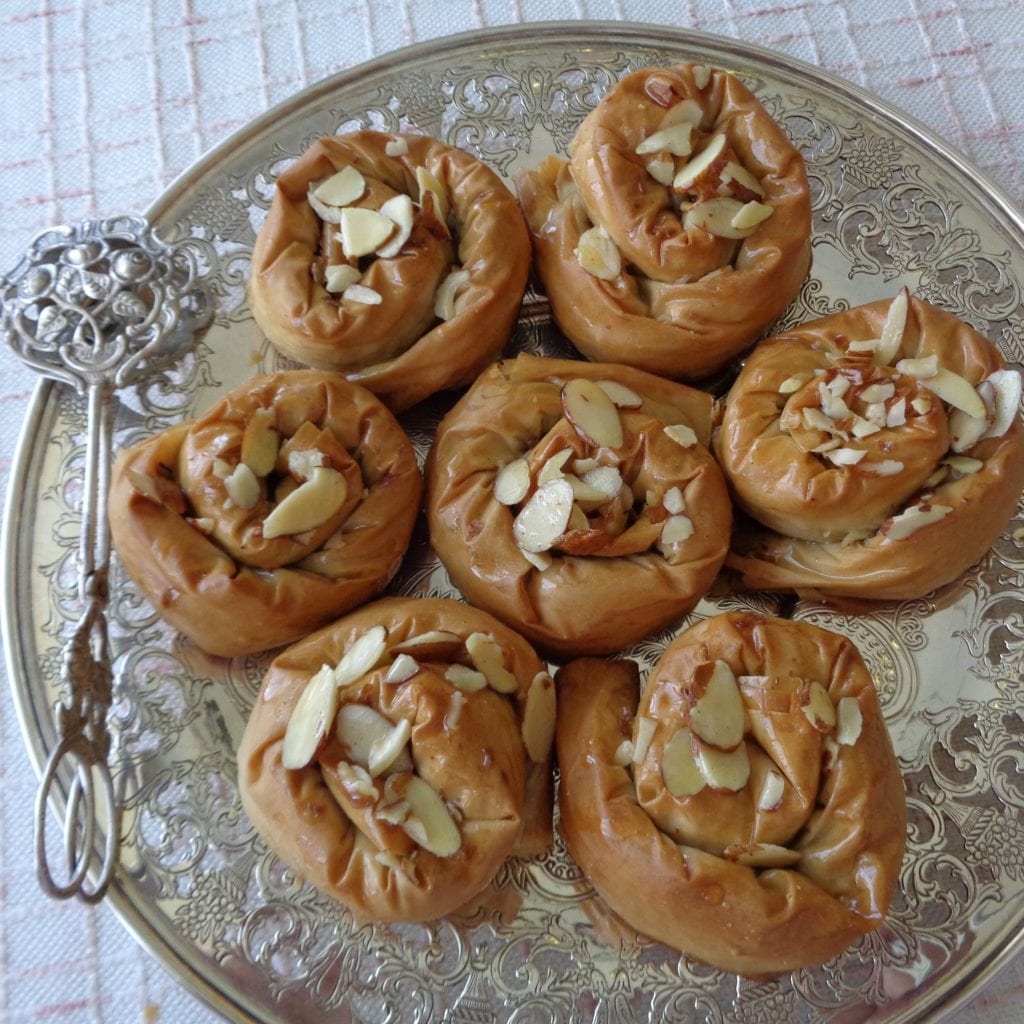 Chai Rooibus Baklava from My Kitchen Wand