Since we (I) am on a bit on a theme this week, I thought it would be a great time to add in a recipe using Einkorn flour. Intolerance to wheat is on most peoples radar these days and changing the variety of wheat being used can make a big difference in how your body uses what you are eating. Einkorn is considered the original wheat, an ancestor to Emmer and Spelt. While not gluten-free, it has a natural gluten easier for many people to digest and is considered "gluten-safe". If you would like a more technical explanation click here.
Ötzi the Iceman is Europe's oldest mummy, dating back to 3,300 B.C. and when he was thoroughly investigated, it was discovered that part of his last meal had been Einkorn bread.
As wheat has been tinkered with over the years to produce better yields and a product more suited for commercial production, things about what we think of as "regular" wheat and for some, the consequence of eating that wheat, have changed.
Einkorn has high amounts of protein, phosphorous, vitamin B6 and potassium when compared to modern day wheat. Einkorn will also not spike your blood sugar the way that wheat and many common gluten-free (tapioca, rice etc.) flours do. Teff, amaranth, chickpea, quinoa or bean flours aside, the use of high glycemic index subsitutes can encourage sugar cravings and overeating.
It also has plenty of carotenoids, those lovely natural red, yellow or orange pigments usually thought of as only in vegetables and fruits, something that reminds me of the red buckwheat pancakes made for Maslenitsa celebrations in Russia, as an offering to the sun. It is also more expensive but being a whole grain, you will feel satisfied with less.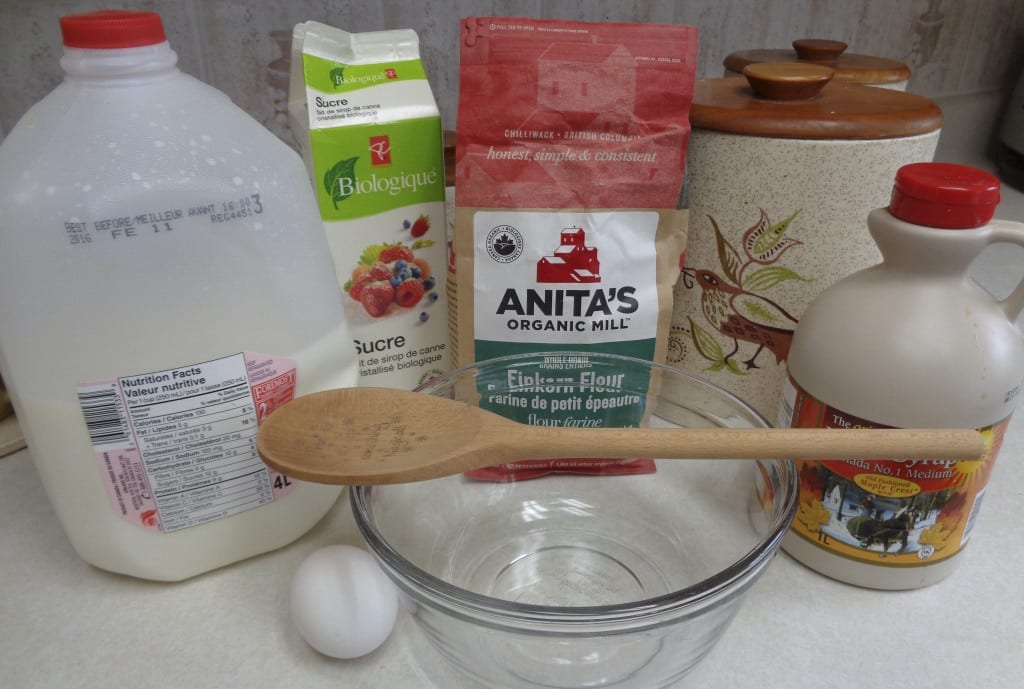 You will need:
1/2 cup Einkorn flour
1 tsp. baking powder
2 tsp. sugar, optional ( I used pure cane )
1 egg
enough milk added to the egg to equal 1/2 cup
1 Tbsp. butter for  pan
Maple syrup, blueberries. blackberry puree or anything else you would prefer
Close your eyes for a moment as you take a deep breath in. Hold that breath before exhaling, bringing your focus into the kitchen. Invite in the compassionate spirits to assist as you let warm water draw out all the nigglies from within and wash them down the drain. Define your time and space by putting on an apron and begin…
Measure 1/2 cup of einkorn flour into a bowl and add the baking powder and sugar if using. Pancakes generally have a minimal amount of sugar and since all the toppings were naturally sweet, I chose a small amount. Stir to mix. ( If you are increasing the number of pancakes by half or doubling, adjust the liquid ingredients by only adding more milk to 3/4 or 1 cup, do not add another egg until the flour is increased to over 1 cup. )
The fact that this recipe only gives four pancakes is really nice for small families. Most recipes use 1 egg to make 8 to 10 pancakes, much more than is needed in this house.
Pre heat the pan. I have found that these pancakes cook best at a lower temperature than all purpose flour pancakes and after making them several times, have settled on 4 on my stove or just below medium.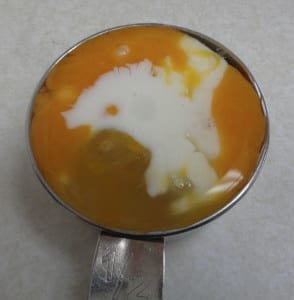 Break an egg into a measuring cup and stir well to combine the yolk and white.
Add milk to the egg and fill to half a cup.
Stir the liquid ingredients into the dry ingredients.
Usually quick breads are stirred just until the dry ingredients are moist and leaving a sprinking of dry in the batter is okay. Einkorn flour accepts liquids differently than all purpose flour and may require an extra stir but do not over mix.
There is enough batter here for four medium pancakes so one large pan will be enough. They will grow so leave space for expansion.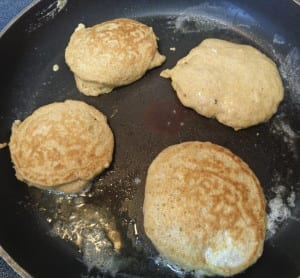 When bubbles are visible on the top of a pancake, flip it over and cook the underside.
Serve hot with a topping of your choice. I used blackberry puree, frozen from last summer with some thawed blueberries I heated on the side of the pan while the pancakes cooked and a little maple syrup. A quickly dissolving dusting of sifted icing sugar for the picture but I didn't really feel it needed any extra sweetness.
I find Einkorn flour lighter than regular whole wheat, partially because once milled the individual grains of flour are smaller. I also didn't have that heavy feeling I sometimes get when having commercially prepared pancakes.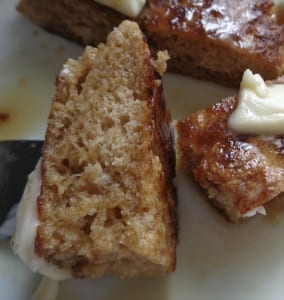 I am looking forward to making these again with buttermilk/sourmilk and baking soda as baking powder is a relatively new (1843) addition to the kitchen and baking soda, a derivative of Natron, goes back at least as far as Ancient Egypt.
I like the thought of getting close to something that might have been eaten 5,000 years ago.
Yes, I know maple syrup and blueberries are another matter entirely, coming from the other side of the world.
Einkorn is not native to North America but has a home here now. It is available both as a ground flour and whole grain, millable at home. It is not a one cup to one cup substitution but Einkorn flour, for many, is worth the tasty and enjoyable exploration.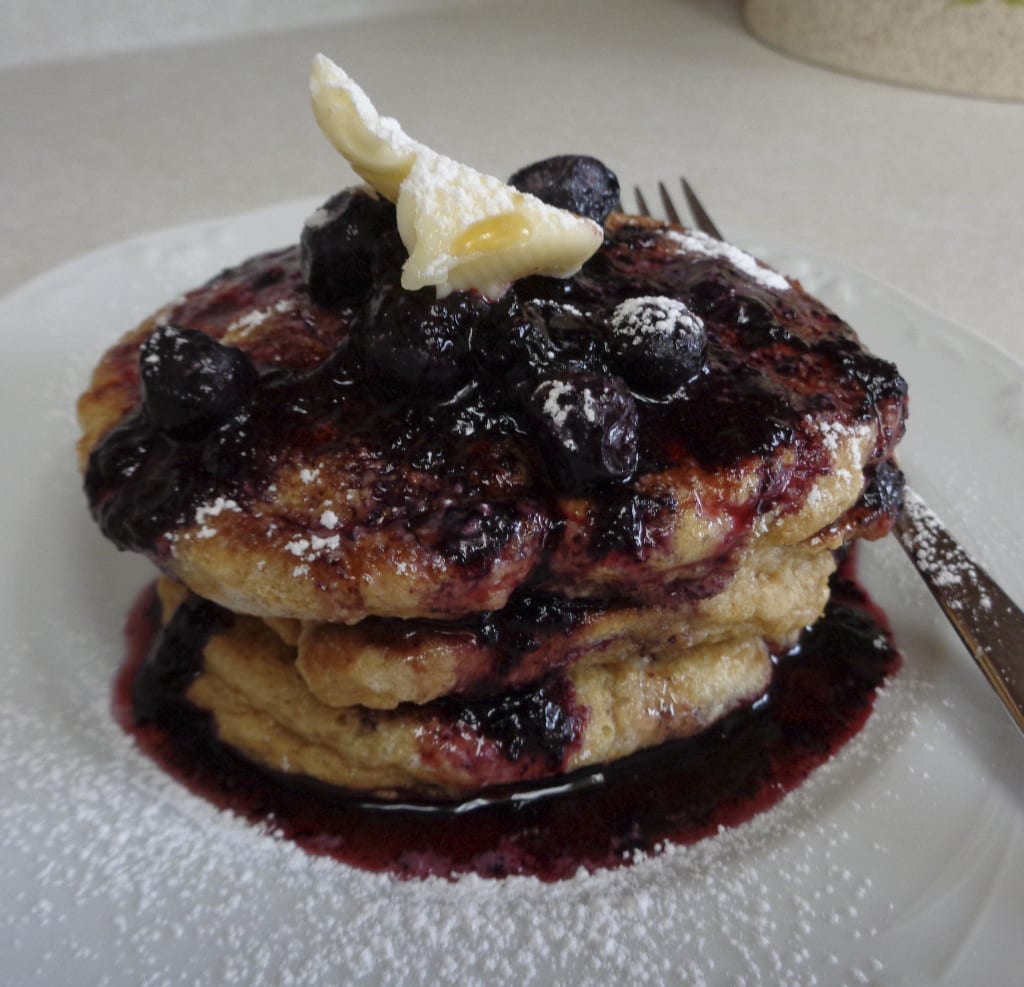 Einkorn Pancakes with Blueberries and Blackberry Puree from My Kitchen Wand