Handpies are freeform pastries smaller than a galette with a top cover, meant as a single serving, much like a turnover which around here is made with puff pastry. They can be packed with sweet or savoury goodness and are a great way to use up leftovers. Think of them as a portable meal with the added benefit of being able to be eaten warm.
Cherries are a symbol of love in western mythology. They are connected to Venus, the Goddess of Love. In eastern thought, they are connected to youthfulness and immortality, another mystical tradition of one goddess caring for magical fruit that keeps the gods alive.
It may not be Valentine's but that doesn't mean a little treat for the one you love wouldn't be appreciated. Cherries are in season now but peaches and apples are on there way.

left over pastry
2 Tbsp. cream cheese
3 Tbsp. ricotta
1 Tbsp. cane sugar
1 Tbsp. cornstarch
1 tsp. cinnamon/ginger or 1/2 tsp. lemon zest (optional)
24 – 27 fresh cherries
extra sugar for dusting
Normally I would begin with "You will need:" but this really is about using what is readily available, so I can only tell you what I did and share a few tips along the way.
Use your standard pastry recipe, wheat or gluten free. When I know that I will be using the pastry for sweet things I will sometimes add a teaspoon of cinnamon and/or nutmeg to the mixture. Similarly, curry or oregano work with savoury fillings. Five spice swings both ways and plain is just fine as well. Back in the days when I had students, I would make a big batch of pastry for chicken pies etc. and made sure I had small discs of pastry in the freezer that I could pull out when needed to repurpose savoury leftovers that were not enough for another meal. I had enough pastry in the fridge for three six to seven inch circles once rolled out.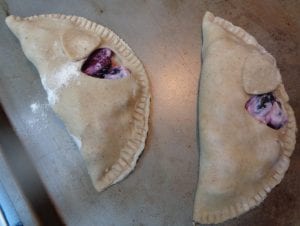 In a bowl, I mixed the cheeses, sugar and cornstarch together and then quartered the fresh cherries and added them to the mixture. Stirring to combine and feeling blessed that out of all the odds and sods, I would be able to create a tasty surprise.
No cheese?, no problem. Increase the fruit and add an extra tablespoon of sugar and cornstarch to hold the juice.
If you have left over stew or curry or casserole, they are all possible fillings. Turning the leftovers into a pastry will stretch the meal. Adding a tossed salad will finish it all off.
Roll out the dough. Place a round bowl on top and cut a circle with a knife. Cut a vent with a knife or use a cookie cutter. Ensure the hole is off to the side and not in the center of the circle.
Place the filling of the opposite side of the circle from the vent. Add a little water to the edge and fold in half. You will need to pull one side up and over to meet the other side so keeping the filling a little off center is helpful. There is not then a need to stretch the pastry while pulling.
Using a fork, press down along the edge making sure they are securely closed. Paint the pastries with egg white and sprinkle with a little extra coarse sugar. In truth I was only making three and the purpose was to use up what was in the fridge, not add more so I substituted a light brush water and didn't crack an egg. Regular table sugar would have dissolved. A larger grain sugar will make it through the baking.
Bake for 20 -30 minutes until golden brown at 375 degrees. Remove from the oven, cool a little and serve. These were lovely and crisp but with no one around to eat them at 11:00pm, they were popped back in the oven the following day before serving.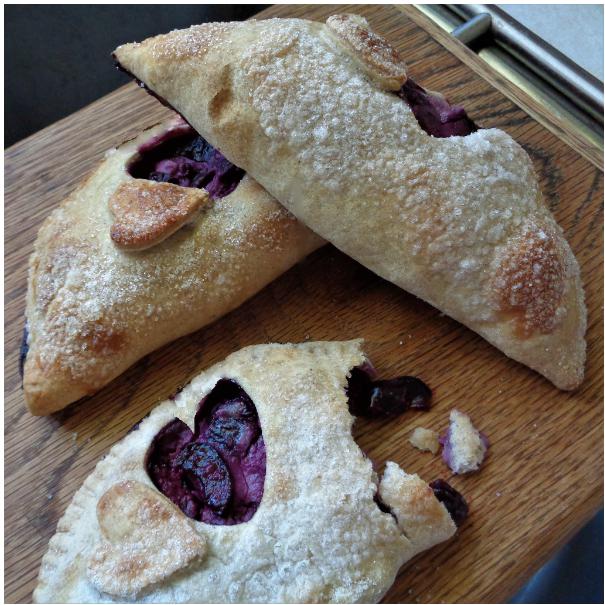 Freestyle Cherry Handpies from My Kitchen Wand