Jean's lavender is just opening and she generously gave me some to take home so I could share some techniques. I don't make much, we are a two person household. I do like to have some on hand as autumn arrives so that that last hint of summer stays just a little longer.
Expressing your gratitude for the life force of what you are taking helps keep a connected awareness to your actions. Lay the stocks out to rest for 15 minutes to allow little critters to find a new home.
Choose healthy unblemished plant parts for infusing and remember to label and date all those containers so you know what you are looking at in September.
Let's start with lavender sugar.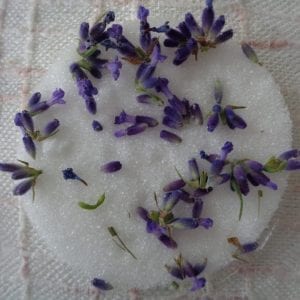 Clean the buds off the stocks. Start with a layer of sugar at the bottom of a clean jar.
Place some blossoms on the sugar. Add additional sugar and more blossoms. Repeat until your supply of blossoms is used up, starting and finishing with sugar.
Store in a dark cool place. The blossoms will dry out and the sugar will become infused after several weeks.
It is possible to sift out the blossoms. I tend to leave them in the jar until I have a use for the sugar. Sometimes the blossoms go in as well (cookies), sometimes not (beverages).
Lavender vinegar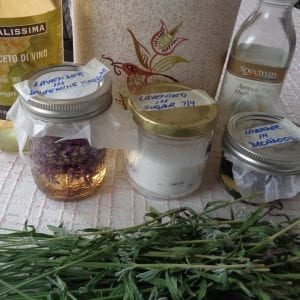 One nice thing about making lavender vinegar is that it is possible to use the leaves as well when infusing, a bonus after the blossoms are finished.
A good white wine vinegar and a jar will get you started. Fill a jar half full and slightly packed with blossoms, leaves or a combination. Top with vinegar and sit in a warm sunny location for three weeks, shaking every so often.
If the lid on the jar is metal, place some wax paper between the jar and the lid to stop any interaction with the vinegar.
It is possible to use dried culinary lavender but fresh is so nice when available.
Taste for strength of infusion; sieve and bottle in glass or plastic. Store in a dark cool place. If you are thinking about gifts and the timing is right, add one fresh piece into the final bottles vinegar as decoration.
Lavender in oil
This option will take a little longer as it is best to dry the buds first. Fresh, moist ingredients in oil run the risk of containing botulism. High sugar content makes it difficult for botulism for grow and acidic ph will kill it. Oil however is a different matter.  Dried ingredients are much safer if you're going to go with the let sit a few days/weeks method. Gather the stocks together and wrap with a rubber band or string. Hang upside down somewhere warm and dry. Once the blossoms are dry, crumble and add to the oil.
Choose a good non or lightly flavoured oil, such as avocado, sunflower, canola or almond. Fill a sterilized dry mason jar with dried blossoms to about half full, slightly packed and top with oil. Do not add water in any way to the mixture. Leave about an inch at the top to deal with expansion, close with secure lid and store in a dark place. Shake the contents every so often and return to the shelf. The oil will be ready in six to eight weeks. A couple of drops of Vitamin E can be used as a preservative.
I am going to stop there as the oil is currently sitting and towards the end of August there will be an additional post about using the infused oil.
There you have it three different ways to preserve the aroma and qualities of lavender for use in the coming months.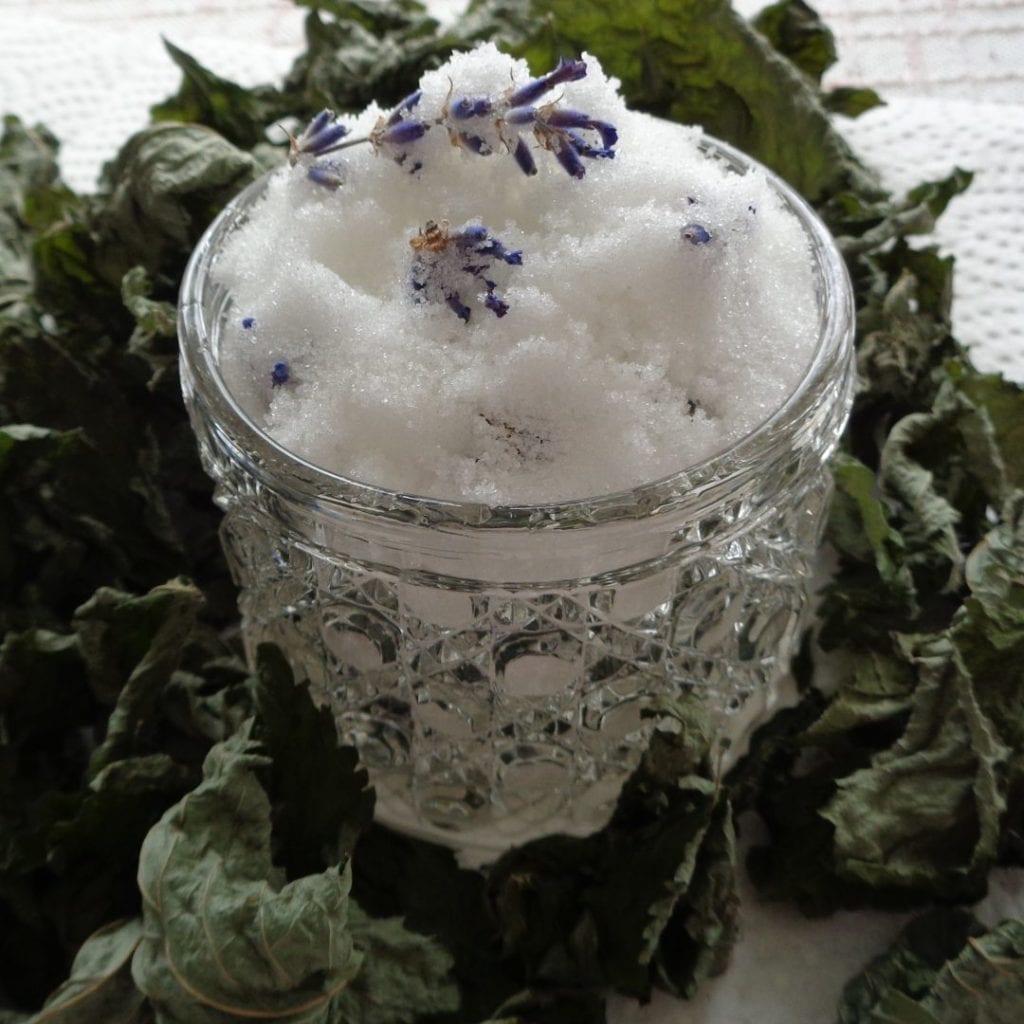 Lavender sugar with dried Lemon Balm (tea) makes a lovely summer hostess gift. The sugar can also be sprinkled on cookies, used in whipped cream and added to lemonade. Lavender vinegar can be added to salad dressing and also works as flea spray, window cleaner, fabric softener and is lovely and soothing in a bath.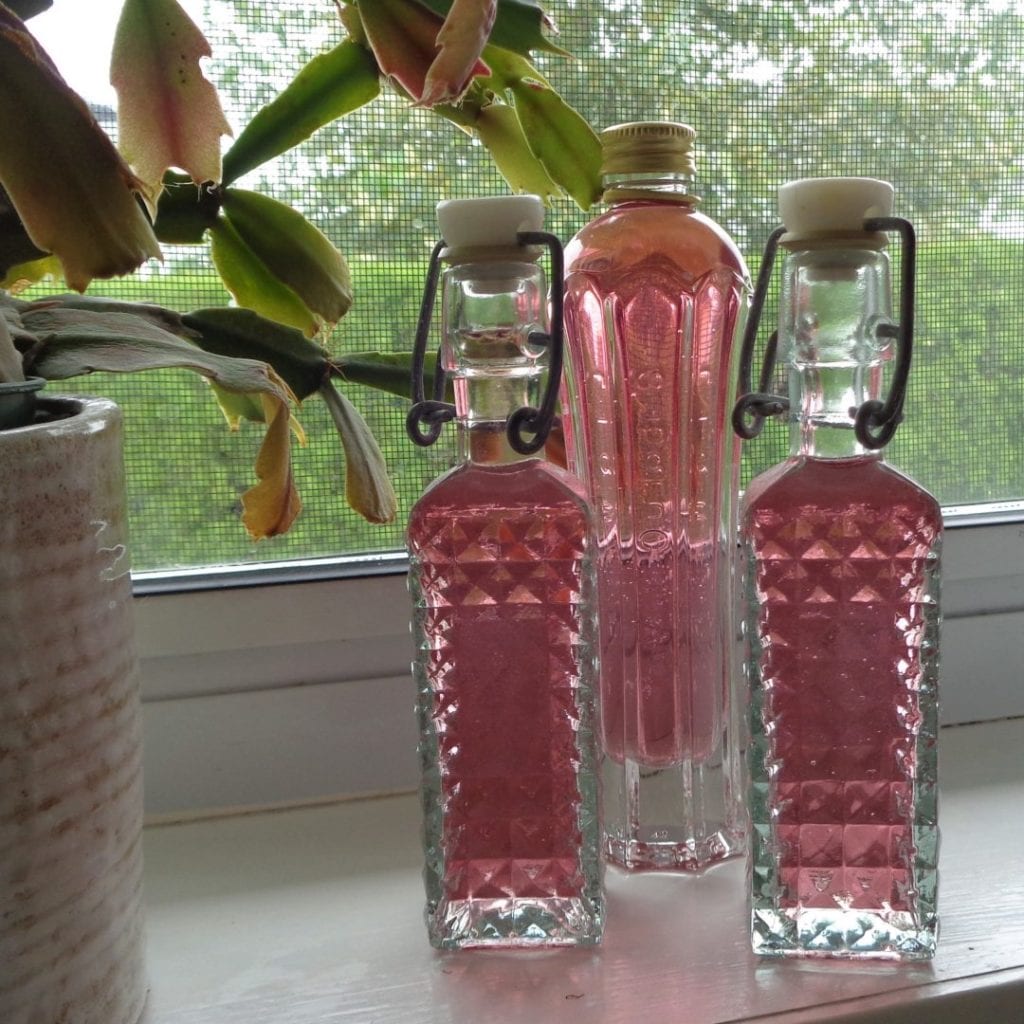 3 Ways Of Preserving Lavender from My Kitchen Wand