In European cultures, the word "korn" refers to all grains not just what we call corn in North America today. From the harvest comes the tradition of corn dollies and the story of John Barleycorn, making it very appropriate for corn, in some form, to be on a Mabon festival table. It can be a challenge to get a grain into a festival meal when there are dietary considerations. This is just one option for honouring the harvest without baking.
Corn dolly traditions are unique to local communities. From one farmer winning the honour for the village as first to finish harvesting to each farmer making his own, some dollies were small and other communities preferred theirs large. Some dollies were made from corn husks with long wide skirts and others from braided wheat sheaths with intertwined ribbons. These dollies were created to hold the last energy of the grain, an energy that would be returned to the soil in the spring to live and grow again.
When you shuck the corn for this recipe, think about keeping, drying and making a corn dolly for your home. A symbol of our relationship with Earth and the bounty She brings.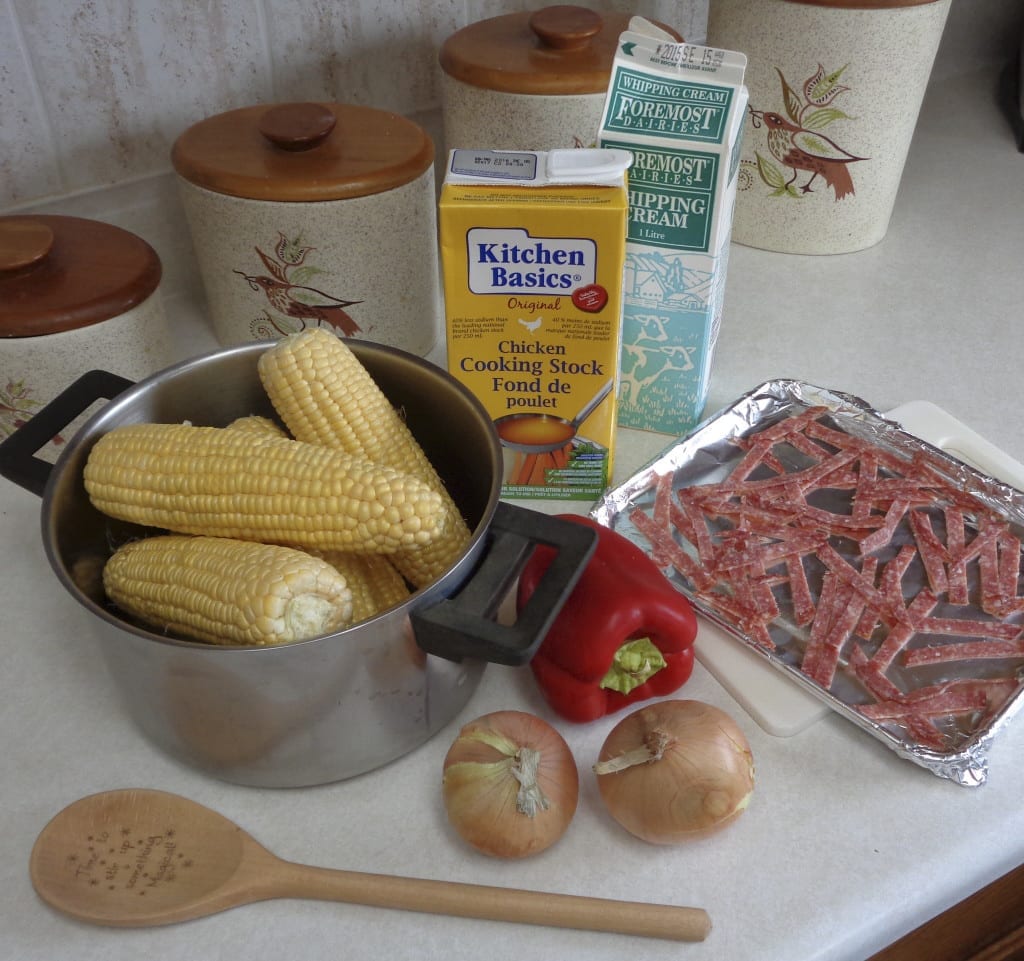 You will need:
4 – 6 slices salami
1/4 red pepper
1 medium onion or shallots
1 Tbsp. oil
4 cobs of corn
3 cups chicken stock
Hot pepper sauce, salt & black pepper to taste
4-6 Tbsp. whipping cream
Chives to garnish
Gather all your ingredients as you hold gratitude for food, our sustenance. Thank you the compassionate spirits for the abundance of harvest and its life affirming nutrition. Close your eyes, breath from your heart, let go of any nigglies that get between you and being …here…now.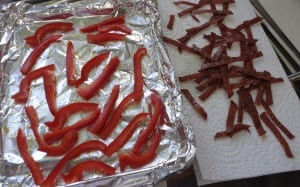 Begin by lining a tray with foil and heat the oven to 325 degrees.
Slice salami into strips and evenly space the slices on the foil. Bake until the salami sizzles and is crisp. Drain on paper towel.
If salami is not easily available or just not your taste, there is always BACON!
Repeat and roast 1/4 of a red pepper cut in strips.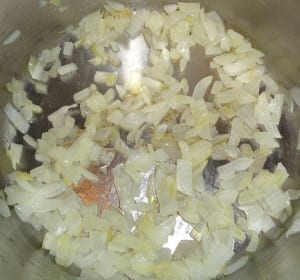 Peel and dice a medium onion or equivalent amount of shallots.
Add 1 Tbsp. oil to a medium sized pot and once heated, add the onions. Saute until transparent, about seven minutes.
While the onions are cooking shuck the corn, then slice the kernels off the cob.
When the cobs are cut they will have "sharp" corners full of tasty corn pieces. Run your knife over the edges to get all the goodness out or break the cobs in half and add to the soup while the kernels cook so that you get maximum flavour.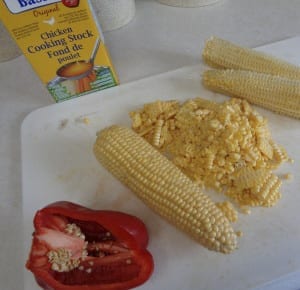 To the onions, add the kernels, cobs, chicken stock and your flavourings.
Don't worry if a few of the kernels are still attached to the cob, they will be used in the garnish.
Bring the soup to simmer and cook for 10 minutes. Fresh corn cooks quickly.
Remove the cobs and set on a cutting board. Using a blender or wand, puree. This could take a few minutes. I like to still recognize the outer layer of kernels in my mouth. If you prefer something smoother, take a little extra time for this step.
Taste the soup and tweak to your preference.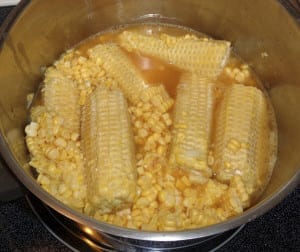 Spicing and final flavouring is a personal choice. I like the taste of fresh corn and used salt, pepper and red pepper sauce, spiced for the people who would be enjoying the soup. You might choose to add cayenne instead of black pepper to up the heat or a bit of honey if the corn is a little older and not as sweet or a selection of late summer herbs.
Cut off any remaining kernels before putting the cobs in the compost and gather the garnishes.
Ladle hot soup into warmed bowls and drizzle with a tablespoon of whipping cream. Add roasted pepper slices, crispy salami, chopped chives and corn kernels to finish. Serve hot.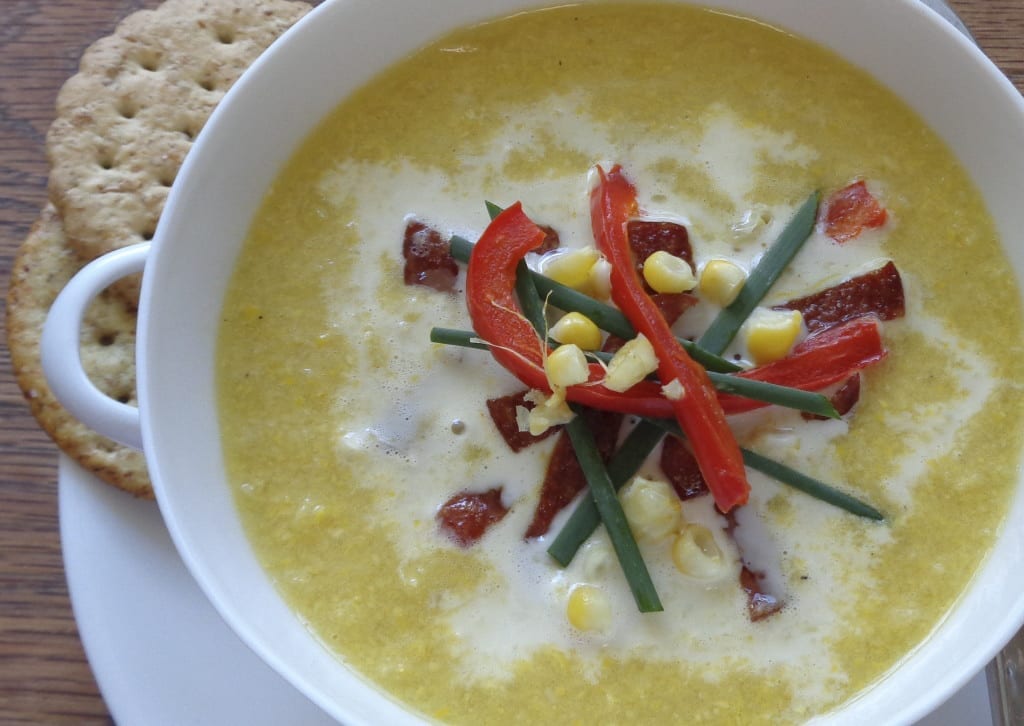 Fresh Corn Soup with Crispy Salami from My Kitchen Wand