Three more ideas for making use of those lovely garlic scapes before moving on. If scapes are new to you, here is an introduction.
The tried and true go to is a scapes pesto. This version is made with Asiago cheese and pine nuts. It is absolutely possible to make substitutions if walnuts and Parmesan are what's sitting in your kitchen.
You will need:
12 – 16 fresh garlic scapes
3/4 cup pine nuts
2/3 cup Asiago cheese, chopped
1/2 tsp. salt ( to taste )
1/2 – 3/4 cup olive oil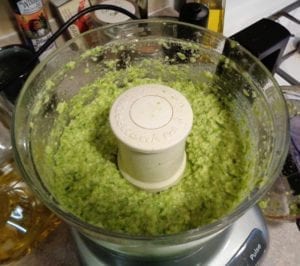 Place all the ingredients in a food processor and pulse until chopped and blended. It will be necessary to stop and scrape down the inside of the bowl several times. I used 1/2 cup oil to mix. It gave a thick finished pesto. If you are thinking pasta, 3/4 cup of olive oil will make a thinner, easier to toss sauce.
The thicker version, with less added olive oil, made 2 1/2 small jars of pesto. It is possible to freeze this pesto and if you are going to keep some in the fridge for awhile, be aware that it will darken in colour as it sits. A flat surface and a little lemon juice on top can help keep it a fresh green shade.
Instead of automatically thinking pasta, try adding 1/2 cup pesto to this no knead overnight bread for a moist tasty garlic bread. The pesto is far more visible in the dough than after the bread is baked and you could probaby get away with 3/4's of a cup if garlic is your thing.
This bread was so well received at the potluck lunch I attended that an auction began for the two loaves it was still possible to bake with the remaining scapes pesto.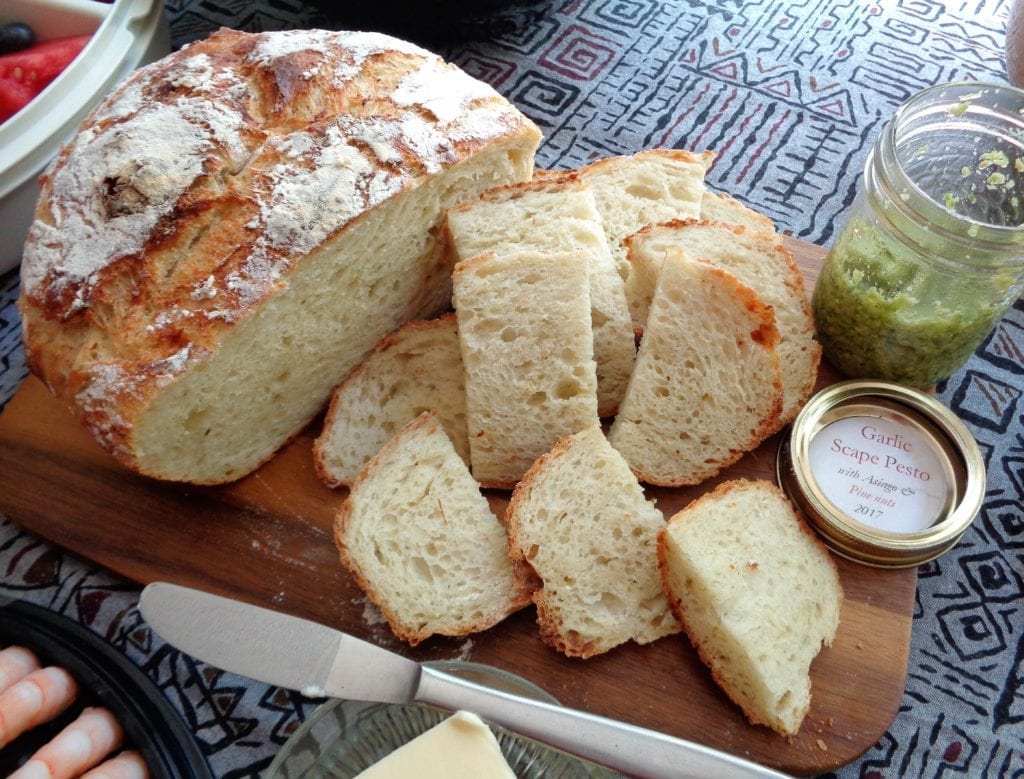 Pesto Bread from My Kitchen Wand
A scapes hummus can add interest and flavour to sandwiches and be used as a hearty dip with pita bread, naan or tortilla chips.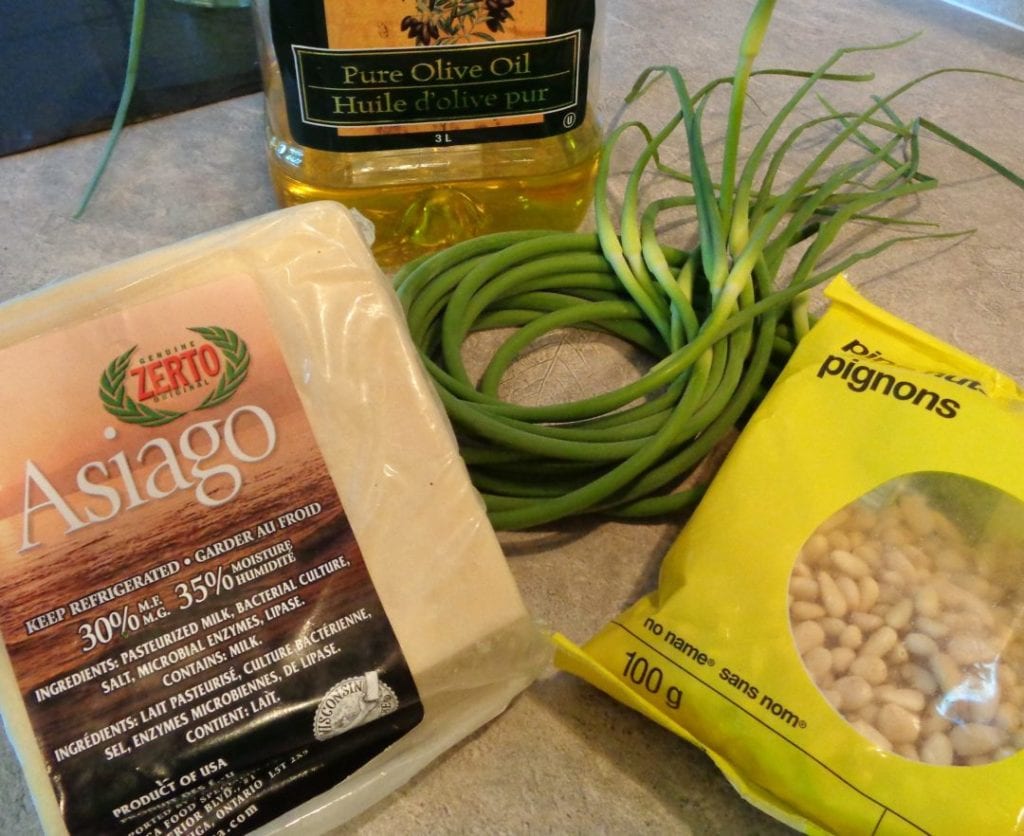 You will need:
1 15oz. can chick peas, drained and throughly rinsed
5 -6 Tbsp. lemon juice
4 fresh garlic scapes
1/4 cup ground roasted salted almonds ( totally optional )
1/2 cup olive oil
salt and pepper to taste.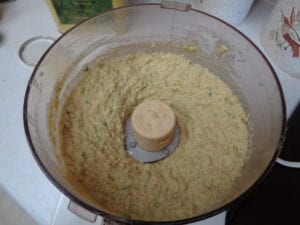 Again this is an add all ingredients to food processor and mix until smooth recipe.
Stop and scrape down the sides of the bowl once or twice to make sure all the larger bits are mixed in.
The amount of oil that you add is entirely up to you and your future plans for the hummus. It is strickly a matter of preference.
Transfer to a container and allow to mature for at least an hour before serving.
Garlic scapes are only around for a few weeks so take advantage while you can and enjoy! Both these recipes will have a stronger garlic flavour as the scapes are being used fresh. The pesto will be stronger due to a higher precentage of scape in the finished dish.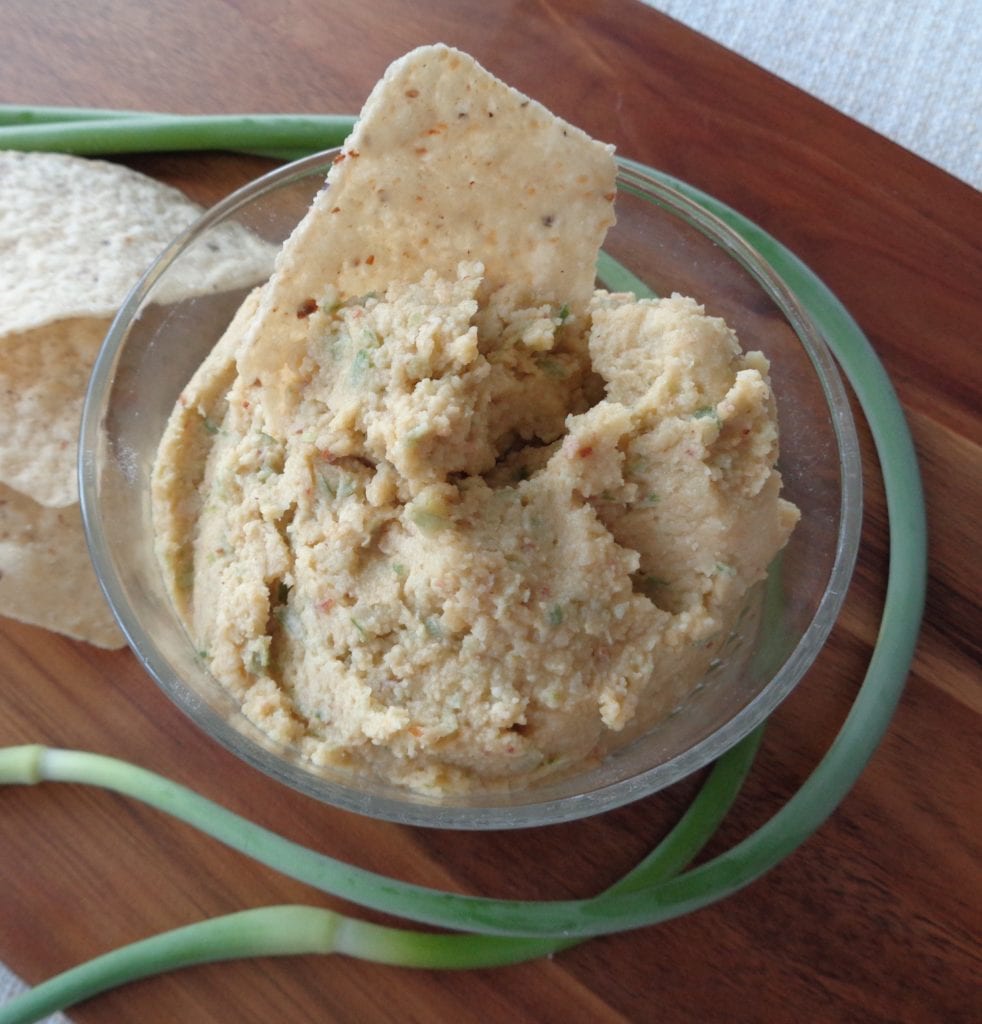 Garlic Scape Hummus from My Kitchen Wand