There are a very few weeks each year were garlic scapes are available and we are there in this part of the world.
Garlic comes in two varieties, hardneck and softneck. Hardneck  garlic needs to have their tops taken off so that the energy goes into the bulbs, making larger bulbs for harvesting later in the year. The yummy tops can be used as a vegetable, made into pesto, turned into soup, pickled and substituted for any recipe calling for garlic.
For the strongest garlic flavour, use the scapes in pesto and hummus, were it is ground fresh but if you would like something mellower then cooking your scapes it the answer.
The challenge in my home is that someone here has a serious negative reaction to garlic. No vampire jokes please. Instead of putting this together in my home, I ran off to use a friend's kitchen, share a meal and BONUS! cuddle cats!
My intention was to test two options but once I realized there was not enough asparagus, we went with the truly simple option to check out the flavour of the roasted scapes.
Garlic is a healthy little powerhouse, known to boost the function of the immune system improve blood pressure and cholesterol numbers when added regularly to a diet and contains antioxidants that protect against cell damage.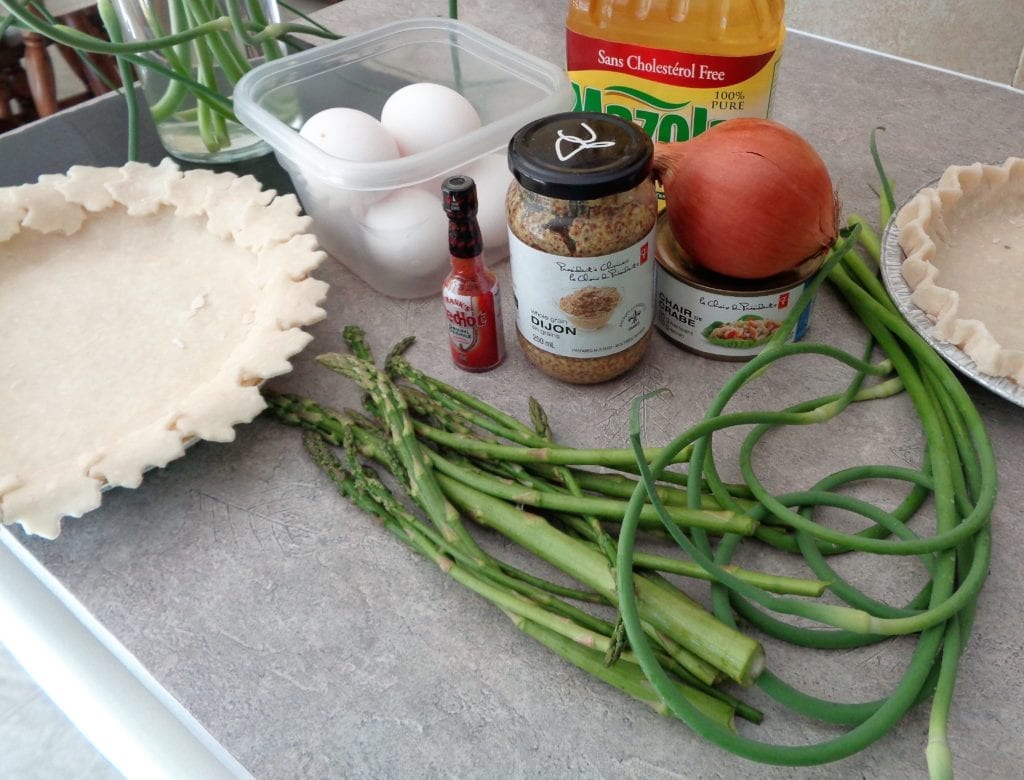 You will need:
1 pie crust, cold and uncooked
6 fresh garlic scapes, cut into 1 inch pieces
1 onion, chopped
3/4 cup of chopped asparagus, cup into 1 inch pieces
2 Tbsp. oil
3 eggs
1 cup milk
6 chives finely chopped
salt and pepper to taste
Take a deep breath, wash your hands and gather up your apron. Three simple actions to bring your focus into the present moment, let go of any nigglies and separate from daily life, into a place of connection with the job at hand. "Work is love in action" is a mantra from the Findhorn Foundation in Scotland but the concept that sacredness and food preparation go hand in hand can be found in cultures around the world.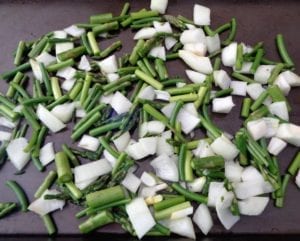 Cut the asparagus and garlic scapes into pieces, one inch long and toss along with the chopped onion in 2 Tbsp. oil. Place on cookie sheet and pop in the oven.
I pre-roasted the veggies in the oven at 375 degrees F. for what was supposed to be twenty minutes but what can I say, cuddling  cats and keeping track of time don't mix. They got about 10 extra minutes but in no way tasted burned, just well caramelized.
This can also be done in a pan or grilled on a BBQ if that makes better sense to your plans.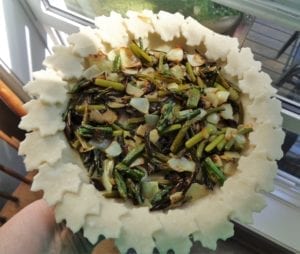 Mix the eggs, milk, spices and chives together.
I made an edge of pastry maple leaves because Canada's birthday celebrations happen next week and I was thinking about ways to get that symbolism into a meal.
A ready made pie shell or a different edge on home made pastry will work just as well.
Place the vegetables in the shell and pour the milk and egg mixture slowly on top making sure not to over fill. Remember that the eggs will puff a little.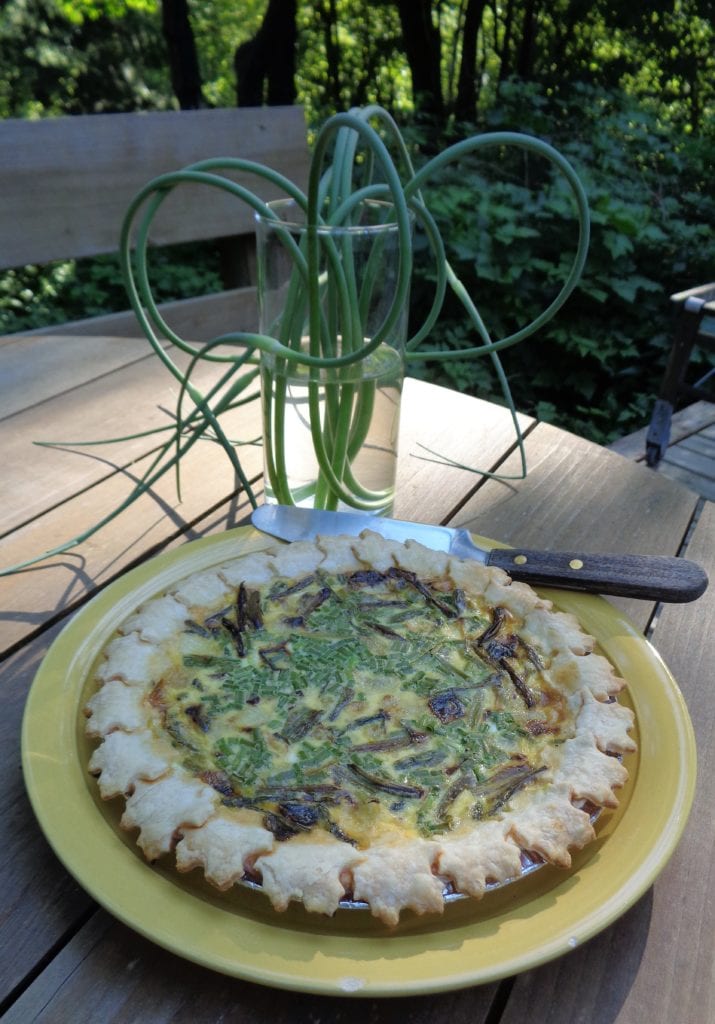 Place in the oven and bake for about 35 minutes until the mixture is cooked in the center and the edges are lightly browned.
See how much the pastry shrunk back to the edge of the pie plate even though it came directly from the fridge and had a much bigger overhang?
Serve warm or at room temperature and enjoy. The flavour is surprisingly delicate and if there is no asparagus easily available, no worries. This delicious quiche could have been made entirely with scapes and onions, as long as you like garlic.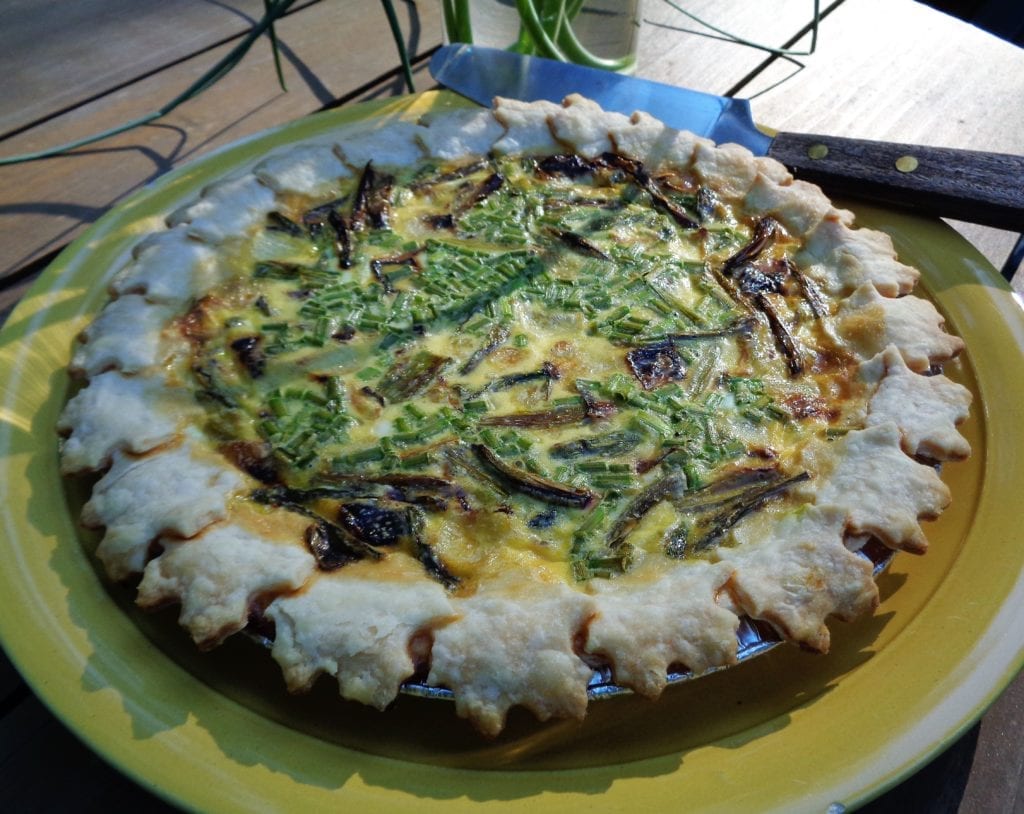 We shared dinner on the back veranda, in the lovely warm setting sun near bushes filled with six yellow song birds vying for dinner at the bird feeder and a fresh from the garden salad.
What better way to celebrate summer than with a simple tasty meal and good friends?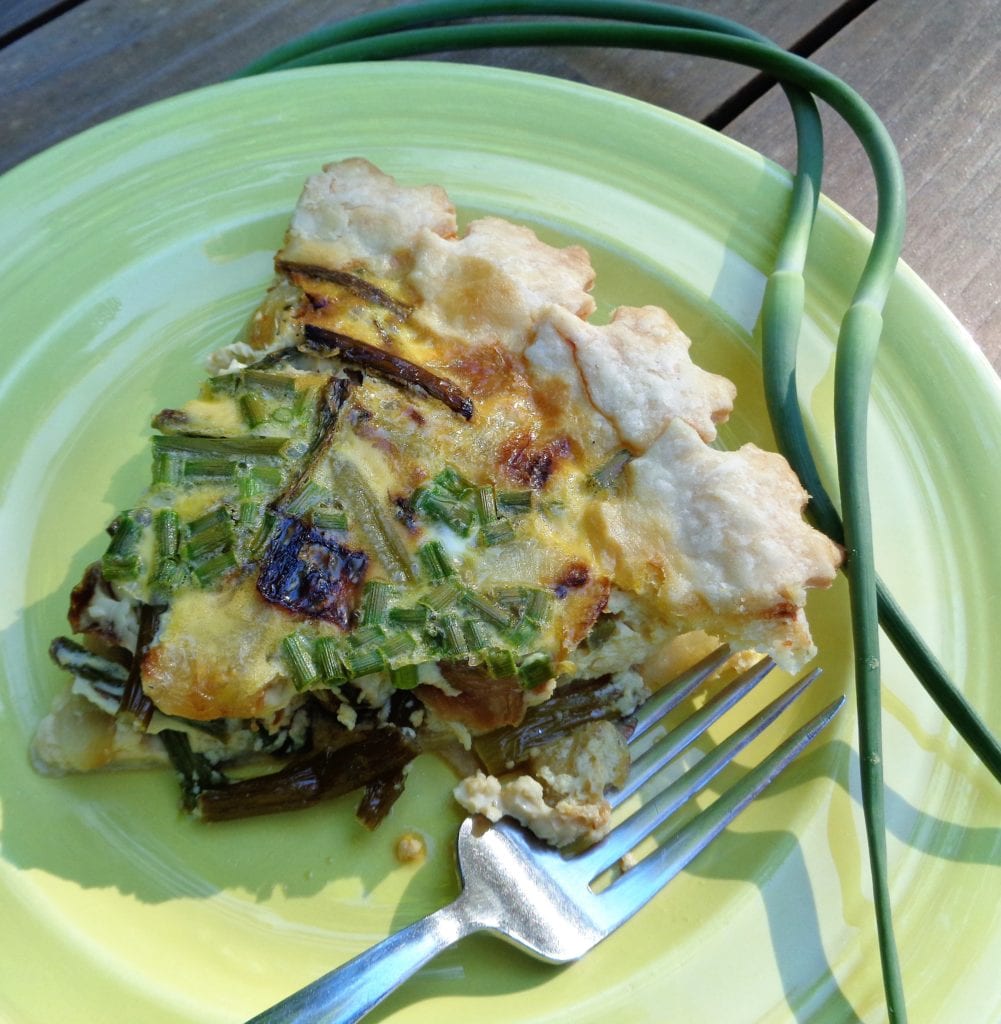 Roasted Aspargus and Garlic Scape Quiche from My Kitchen Wand.