Welcome back! Today I am going to cover the items we are not making together. Don't you just love seeing great ideas posted on line with not time to order them for a holiday or special occasion? I want to give plenty of time for any purchases you decide to make to arrive by August 1.
One of the traditions of Lammastide ( the time around Lammas ) is the craft fair ( due to Lugh's connection to craftsmanship & skills) and there are some wickedly crafty people out there. Sharing is GOOD! so consider this as a bit of a virtual craft fair. These are my choices. You may have similar small businesses in your neck of the woods that you would like to support. Please do, we all appreciate it.
First let's chat tea. We have a lovely store, Aromatica Fine Teas, in Chilliwack, B.C. with two fabulously knowledgeable and friendly owners, Karen and Kim. There is a large selection, easily available and it is also possible to create custom blend teas just for you, think wedding/handfasting gifts or other special occasions. Check out the website for ordering information. myaromatica.com.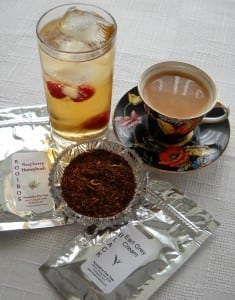 I chose a variation on the traditional, a black Earl Grey Creme ( it has an added hint of vanilla ) and also a Raspberry Honeybush that can be served hot and if Lammas turns out to be an overly warm day does very well iced. It is a Rooibos and Honeybush blend with freeze dried raspberries for an added layer of flavour. ( Just to be clear, I put fresh ones in the picture, those did not come with the tea. )
For that special touch of sweetness, I have two options. The first is a lovely Blackberry Blossom Honey produced by Elias Honey. It will work well in the iced Raspberry Honeybush and some of your guests may also prefer this delicious honey on their Red Lentil and Oatmeal Scones (being posted July 26 ) instead of the Strawberry and Rose Petal Jam. (Coming July 2nd).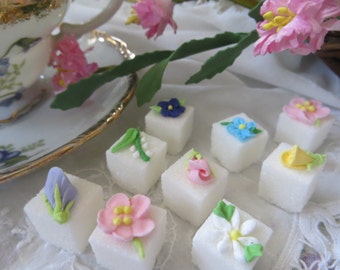 The second are some iced sugar cubes from Sharon at Sweet Specialties on Etsy.com. I know several people who offer these lovely additions to tea and I admire people who have the patience. This is simply not in my skill set. I think Sharon's have the clearest colours and best details. Just the thing to add a bit of "fancy" to your party, especially when the decorations connect to the season. These are the spring/summer collection and there is an autumn selection coming.
As I share the things I am doing, please remember there are lots of reasons to make different choices. Refined sugars may be off your list, cost may be a consideration, or allergies; whatever the reason, simply adjust the plan to what works for you. This is about gathering friends together, having them feel cared for and not stressing the host/ess.
This is also the week to do Invitations. Did you think about your guest list? Invitations as opposed to a phone call suggest to guests that this tea is special and the request for an answer adds to the impression that no matter how casual the actual event eventually is, it is not a "drop by if nothing better comes along afternoon", even though those can be lots of fun as well.
If you choose to send invitations and like the scroll from the last post I have included the blank template below. Feel free to copy and adjust as needed.  Send via email or print and post in enough time for guests to get back to you.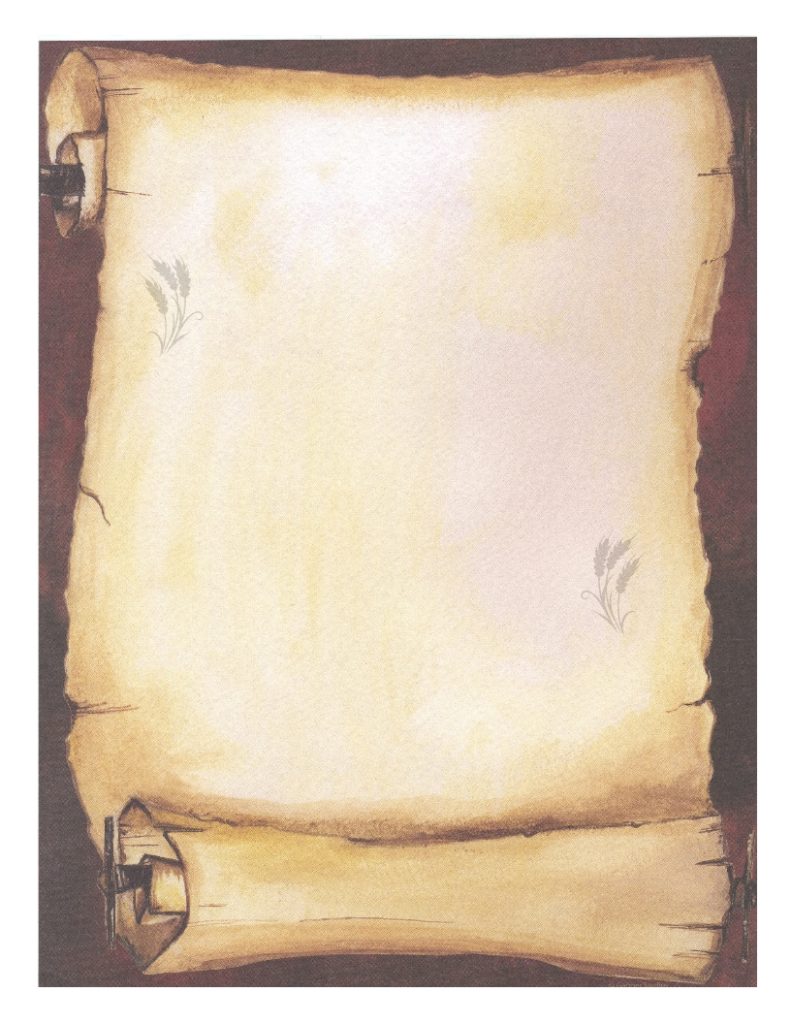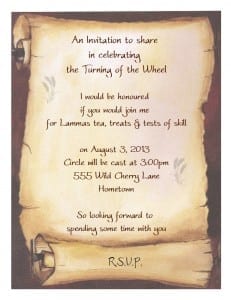 Here is a sample of what you can do. Change the wording in any way that suits the mood you are creating. With the vast variety of world perspectives, inviting in the four directions may not fit your tea.
You might choose to say tea service starts at 3:00pm instead and still find a way to begin with a few words of appreciation for the abundance of the day and the bounty on the table.
Inferring though that being on time is a good thing, is a good thing, as you are creating a special space and time.
And one last thing for today….Party Favours.
The symbols of celebrations are very very often connected to what is going on in Nature at the  time of the celebration. We get the tradition of colouring eggs at Easter via the natural colours of the first eggs of the season gathered from the wild and the last of the apples are an easy connection to All Hallows Eve, just before the land goes to sleep. Lughnasa traditions are connected to first fruits and grain harvest, corn dollies ( something woven ) and skilled craftsmanship.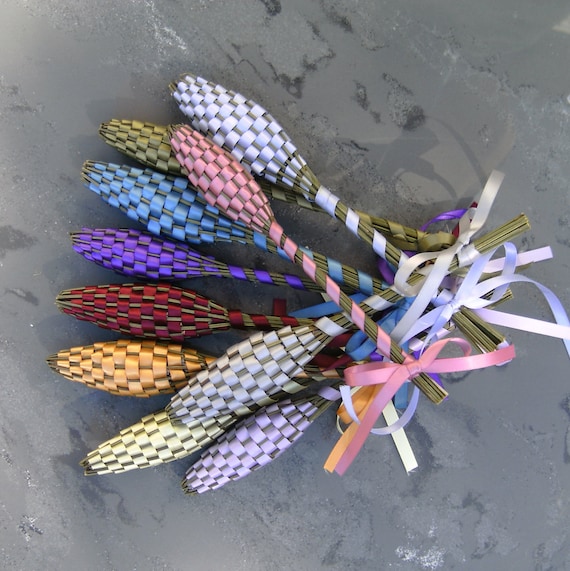 A plant that is just past the height of its cycle at this time is lavender. So these pretty Lavender Wands make an ideal party favour for a Lammas tea ( especially if you are inviting mostly women ); full of beauty, aroma and healing. These are available through Pedricks and my last update said that June 26th would be their first day of harvesting and weaving for 2013, so these will be fresh and fragrant. Tuck wands in a lingerie drawer or linen closet, use on an altar or calm your busy day with a deep breath in. A lovely remembrance of a lovely afternoon.
And we are done! We covered at lot.  I wanted to get all the things that might require some lead time out of the way. Thanks for hanging in. Moving forward the post will cover only one thing and be a little shorter.
Next time: Strawberry and Rose Petal Jam ( July 2 )
Bright Blessings,
M/.