Marzipan is an tasty confection of powdered almond and sugar with a touch of rosewater. With ingredients like that it would be easy to guess that it began its worldly travels in the Middle East, and you would be correct. Brought back to Europe as explorers returned home, marzipan was for centuries food for the elite of Europe. Today almond paste, with its extra sugar is easy to find in stores at this time of the year but it is equally easy to mix up a batch of proper not so sweet marzipan in just a few minutes, especially with almond flour being so readily available as a gluten free substitute.
The picture below is of a double batch as I was getting ready for a chocolate class and marzipan is a great first time option when learning to hand dip.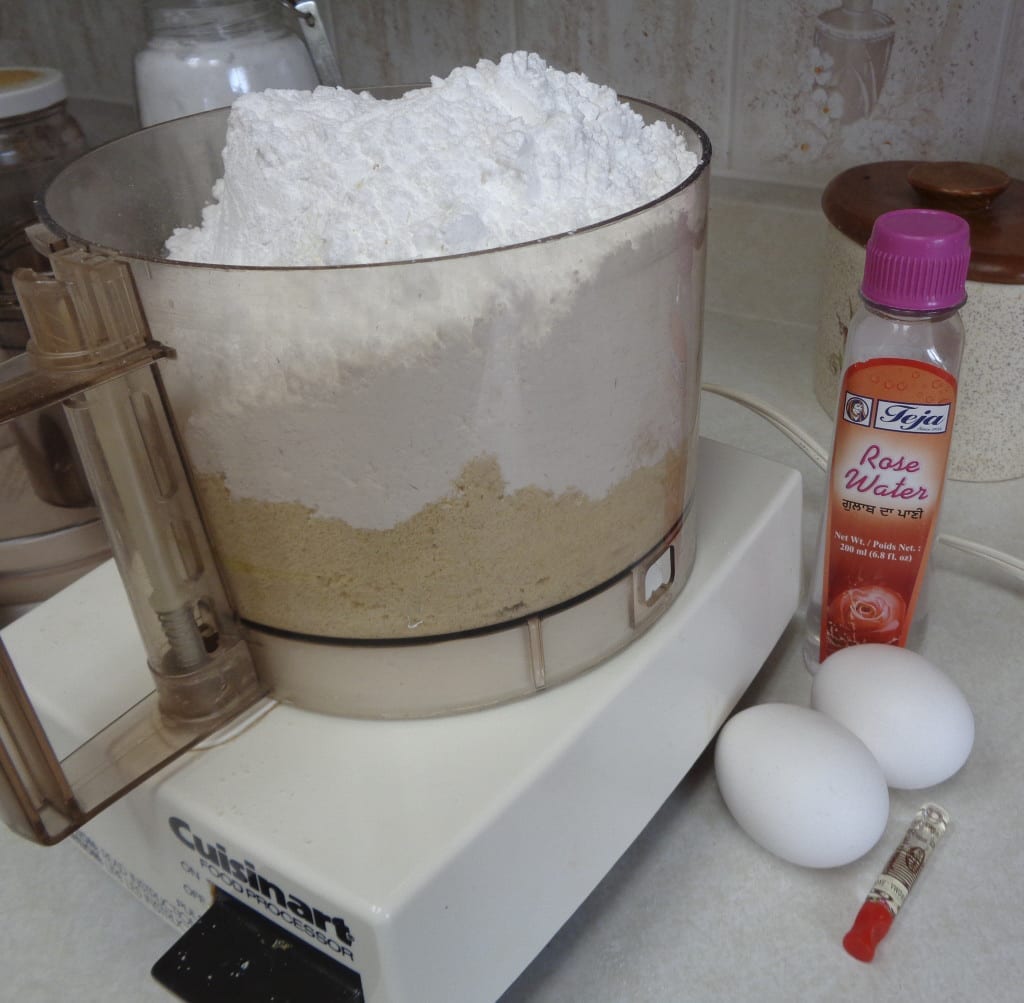 You will need:
1 1/2 cups almond flour
1 1/4 cups powdered/icing sugar
1 tsp. rosewater
2 tsp. almond extract
1 egg white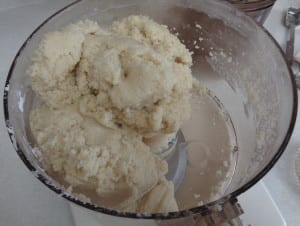 Gather the ingredients together and place in a food processor.
Pulse until the mixture comes together in a ball.
Remove the nut paste from the mixer, clean out the bowl and add to the mixture. Knead several times to bring the mixture together. Did I mention easy?
Notes and suggestions
If your almond flour seems a little more like meal and less like flour, try pulsing with the sugar before adding the liquids.
If you have access to Dr. Oetker bitter almond flavouring, try it as an option. Sweet almond extract will work it is just that bitter almond has an earthier flavour and it is one that I prefer. You will probably be able to find it in a European food store. They come in a package of 4 little bottles. Half a bottle will do for this recipe.
Raw egg whites can a concern for some. This is the traditional addition for binding. There is the option of pasteurized egg whites, the kind usually found in cartons of liquid eggs. Secondly, dried powdered eggs whites are also available but the best results will come from fresh egg whites from a safe producer.
On occassion I have been known to reduce the egg white content and add rum. It will change the taste ( goes very well in a plum chocolate filling ) and can also affect the consistency so use in moderation.
Marzipan can be frozen and will be good in your fridge over the Christmas season. Wrap it very well, several layers of plastic wrap. Air will hasten the drying out of your batch so ensure it is airtight.
When working with marzipan, set it on the counter and allow it to warm up a bit before using.
In Germany and other parts of Europe there is a Christmas treat called Marzipankartoffeln (Marzipan Potatoes). They are made by rolling marzipan into small balls and then rolling the balls in cocoa so that they look like small new potatoes, fresh from the ground. Best not to use dutch process cocoa as they will darken the finished product. It was however the only cocoa in the house and the unexpected guests were sitting in the living room and since there were none left over I think we were golden.
So the next time you come across a recipe that calls for almond paste or marzipan or if you just feel like dipping some Christmas chocolates, consider whipping up a batch of your very own.
Marzipan is a Christmas staple in my home, make it one in yours as well.
Homemade Marzipan from My Kitchen Wand