Food has fashion cycles. Just like clothes there are times when something is all the rage and then eventually you can not find a Harvey Wallbanger anywhere.
Dessert coffees are one of those things. For a time almost every restaurant was featuring Spanish & Irish Coffees. Things have moved along but I wanted to use the flavour pallette of whiskey, coffee, brown sugar and whipping cream as the basis for a St. Patrick's Day doughnut. Kookie, I know.
I recently purchased a new pan and the rest of the household is thoroughly enjoying it. Recipes are getting scaled down to make six at a time. I have also been trying muffin batter in the mold as they are out of the oven in half the time and it is easy to "put one over" when something healthier is doughnut shaped.
But back to the topic at hand.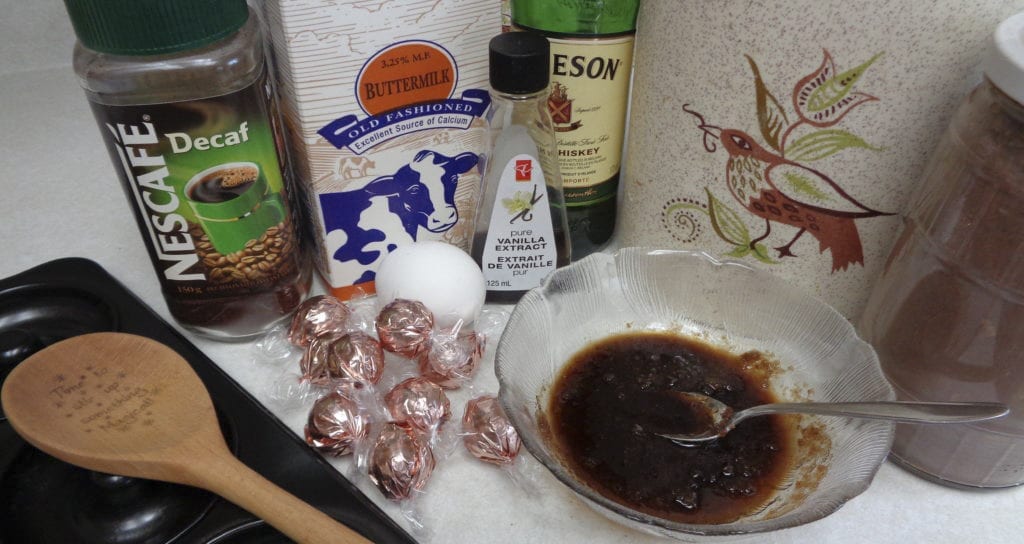 You will need:
1 1/4 cups flour + 2 Tbsp. + 1 Tbsp.
2 Tbsp. unsweetened cocoa
1 Tbsp. instant coffee
2 1/4 tsp. baking powder
1/4 tsp. salt
6 Tbsp. buttermilk
2 Tbsp. Whiskey
1/2 cup brown sugar
1 egg
1/3 cup butter, melted
12 Irish Cream or Bailey's liquer chocolates
whipped Cream
dark chocolate, shaved
Preheat oven to 350 degrees and grease a six cavity doughnut pan by hand or spray.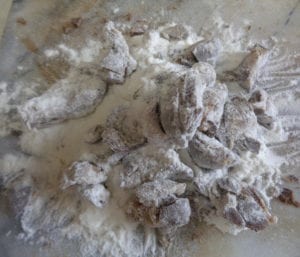 At the end of the Christmas /Valentine season, department stores need to clear space for Easter chocolates and what is left over from winter goes on sale. I was able to pick up several small boxes of 12 Irish Creme chocolates for 1.44 Cdn which I tucked away so I could play. When good quality chocolates are available for less than what it will cost to buy plain chocolate, I am open to improvising.
Unwrap six chocolates and chop into quarters and smaller. The batter is going to be pushed through the corner of a plastic bag and you don't want big pieces plugging the hole. The chocolates had a cream like center so toss in 1 tablespoon of flour to keep them from sticking together. Put aside, both flour and chocolate.
As personally, I don't drink coffee, so for me the easy way to get coffee flavour into a dish is to dissolve some instant coffee. If expresso powder or something similar is sitting in your kitchen feel free to substitute ( and reduce the amount as expresso will be stronger ). It is also possible to reduce the 1 Tbsp. if coffee is not your thing at all. That way more of the chocolate flavour will come through. Mix the sugar, whiskey, melted butter and coffee powder together and set aside.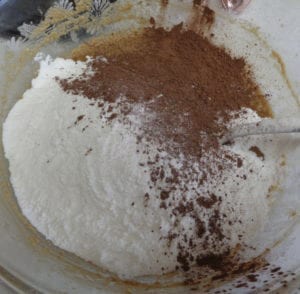 Place the dry ingredients in a sifter and sift half the contents into a bowl.
Combine the egg and buttermilk, stirring well and add to the flour mixture along with the sugar/whiskey. Stir only until a batter is formed. Do not over mix.
Sift in the remaining dry ingredients and fold together 2 or 3 times.
Add the chopped chocolates and fold only until combined.
Transfer the batter to a sandwich bag and seal the top.
Clip a bottom corner off and evenly divide the mixture into the doughnut pans.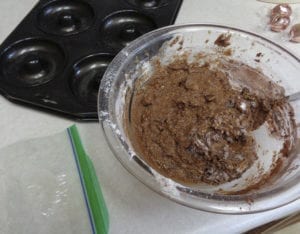 This is what I have learned over the past month of experimenting. Overfilling is bad. Keep to about 2/3's full 3/4's max.
The Wilton pan I purchased has a center that creates the hole that is even with the top of the pan. The pan I borrowed to begin with has no name imprinted so I can not share. It has center bits that are a little higher than the pan and I like it better. As the batter bakes and rises the higher centers keep the doughnut holes clean.
Pop in the preheated oven until baked, about 20 minutes. Remove fom the oven and let sit for 5 minutes. Turn the pan upside down and let the doughnuts drop to a cooling rack. Gently release any doughnuts that do not fall out. Remember there are pieces of chocolate in the batter and they might stick a little. The 5 minutes waiting helps the finished product to firm up a bit and be more stable when being removed from the pan.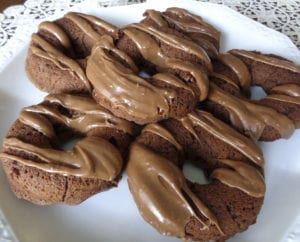 While the doughnuts are cooling, unwrap the remaining six chocolates, melt in a bowl, with shorts burst of heat in the microwave or over warm but not boiling water.
Stir until smooth and add 1 Tbsp. of butter or whipping cream if the mixture needs thinning. This will depend on the chocolate used in the chocolates purchased. A couple of tablespoons of icing sugar may also be needed to bring the glaze together. As mentioned it all depends on how the chocolates melt but it is difficult to go wrong. Fats, butter or whipping cream will thin the mixture and icing sugar will stiffen it.
Drizzle on top of the cool doughnuts and allow to harden.
A properly finished Irish coffee has whipped cream on top and a dusting of cocoa or chocolate shavings and since I was on a roll, here is the finished tribute to all things Irish and boozey.
I see no reason to celebrate St. Paddy's Day with green beer when there are other options.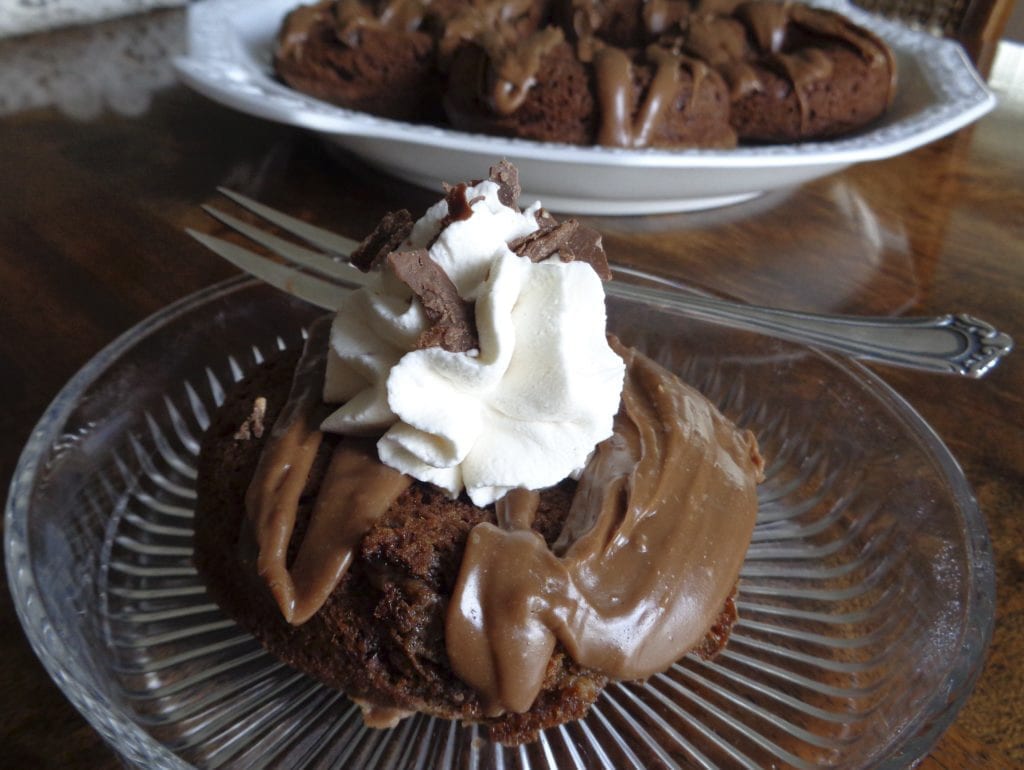 Irish Coffee Doughnut with Baileys Glaze from My Kitchen Wand