If you have any of that tasty raspberry jam shared last month left, here is a recipe for some mini doughnuts in need of a filling. All gone? Choose something else.
Not a baked doughnut this time but a yeast based sweet bread recipe that will need hot oil for cooking. I don't do this more than two or three times a year so I use a pot and thermometer to get the job done. Pour the cooled oil through a coffee filter afterwards and save the cleaned oil in the fridge for the next adventure if you also do not do alot of deep frying in your home.
You will need:1 Tbsp. active dry yeast

1/4 cup warm water (100 to 110 degrees)

2 Tbsp. plus 1 tsp. granulated sugar

1 1/4 cups all-purpose flour, plus more for surface and as needed

1 large eggs

1 Tbsp. unsalted butter, room temperature

1/4 tsp. freshly grated nutmeg

1 tsp. salt

2 cups vegetable oil, plus more for bowl

1/2 cup raspberry jam or jelly or another of your choice, best strained to remove large pieces of fruit

extra icing or regular sugar for dusting or rolling

Shift your attention to the kitchen as the ingredients for these sweets are gathered. Let go of the irritants of the last few hours or days. Letting it all drip away off with the water from washing your hands is a good place to start. As much as possible be in the present moment, ready to put your love into action. Take a few centering breaths and begin.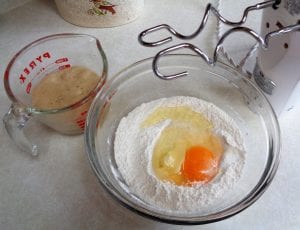 In a small bowl mix together yeast, warm water and 1 teaspoon granulated sugar. Let stand for about 10 minutes until the yeast is foamy as in the picture to the left.
Transfer the flour into a large bowl. Create a well in the middle and add the egg, yeast mixture, remaining two tablespoons granulated sugar, butter, nutmeg, and salt.
Using a wooden spoon or the dough hooks on a hand mixer, stir until a sticky dough forms.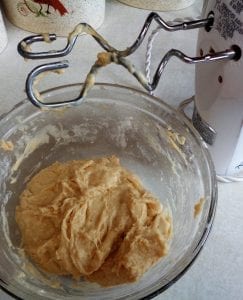 Dust a work surface with flour and turn out dough; knead until dough is soft and smooth. A little more flour might be needed. Just sprinkle on top as you work. When the dough bounces back as you poke it this step in complete.
Place in an oiled bowl and cover with plastic wrap. Let stand in a warm, draft-free spot until doubled in size, 1 to 1 1/2 hours.
When doubled, once again turn out dough onto a lightly floured work surface. Lightly flour a rolling pin and roll the dough out to 1/4-inch in thickness.
Using a small one to one and a half inch round cutter,  reworking the scraps as necessary cut out the doughnuts. Cover once more and let rise 20 minutes. This can be done on the counter away from drafts or on a cookie sheet.
I made these small for smaller appetites but if you would prefer a more standard 2 – 2 1/2 inch size change it up. Fewer doughnuts overall and bigger treats. Leave another 30-45 seconds while frying and check the first doughnut to make sure it is cooked through and know that you will probably need to double the filling.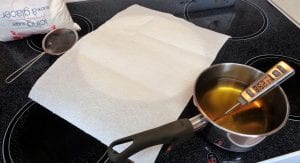 In a small to medium saucepan heat the oil to 370 degrees F.
The larger the pot the more shallow the oil will be and the more you will need. I kept to a small pot and fried two doughnuts at a time.
Using a slotted spoon, carefully place one or two dough rounds into the oil.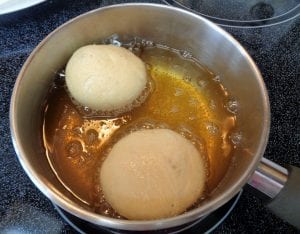 Fry until golden.
This should take about 1 minute on each side. Turn only once.
Transfer to a paper towel-lined baking sheet to drain.
Repeat process with remaining dough rounds.
If the oil is too hot the outside will be brown and the inside uncooked.
If the oil is too cool, cooking will take longer and more of the fat will be absorbed into the dough.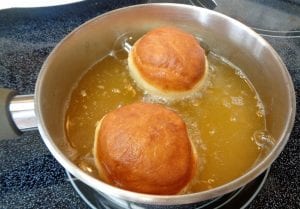 Chopsticks or a wooden skewers can be used to make a hole in the side of each doughnut.
Filling the doughnuts can happen a couple of ways.
Using a pastry bag and tip, pipe in the raspberry jam or what you have chosen. A teaspoon will be enough but make sure that the fruit is going all the way in, to the center.
If there is no piping bag handy, improvise with a sandwich bag and tip as shown below.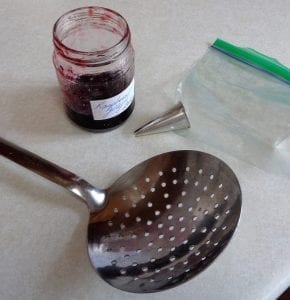 Repeat with the remaining doughnuts and filling.
Once the doughnuts are filled, using a small sieve dust the tops with icing sugar or alternately, roll the doughnuts in sugar. Working quickly keeps the doughnuts warm when rolling and more sugar will stick to the doughnuts.
If dusting with icing sugar wait a little longer as doughnuts that are too warm will melt the icing sugar and require a second coating.
I grew up with this style of doughnut being called a Berliner. They are usually filled with plum jam and are a traditional food for New Years Eve. It can be confusing as people who actually live in Berlin do not call them that. In Berlin they are called Pfannkuchen which actually translates as "pancake", a word used in the rest of Germany to describe what we know as pancakes.
Jelly doughnuts in this part of the world are more likely to be raspberry filled and you will find them in doughnut shops all year round.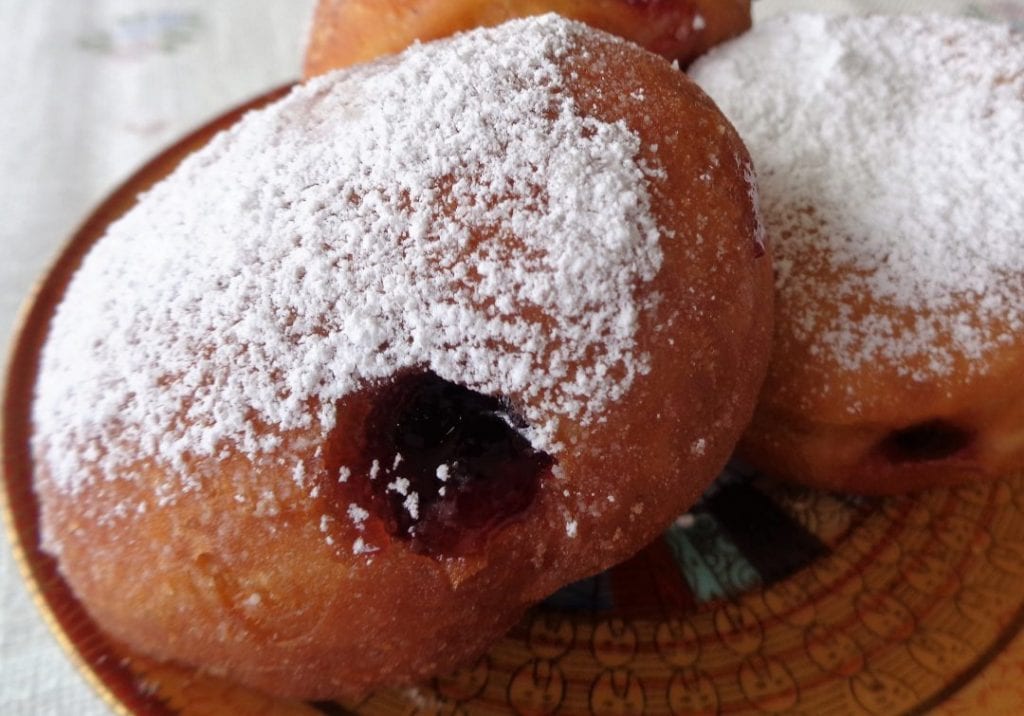 Jam or Jelly Filled Mini Doughnuts