Trading with other countries brings exciting new things from distant places and the spice trade is one example. Once Marco Polo and others went off traveling, the world of anise, cardamon and other delights opened up. European cities that had strong trading economies were first to see these spices and explore the possibilities. The first known references to "honey cakes" are in the late 13th century. Honey in many cultures was considered a gift of the gods and as far back as Egypt, foods that included honey were thought to also contain honey's gifts of protection and healing.
Lebkuchen, sometimes called Pfefferkuchen (Peppercakes) can be considered a German style, gingerbread. Each area has its own traditional flavours but generally speaking some combination of cinnamon, cloves, anise, cardamon, ginger, allspice and/or nutmeg is used with a small amount of chopped nuts and peel if it could be found. Remember, citrus fruits in northern countries during the Middle Ages would have been a pricy addition.
Originally baked in monestaries, public bakers in various cities began to build reputations around Lebkuchen and the competition was on.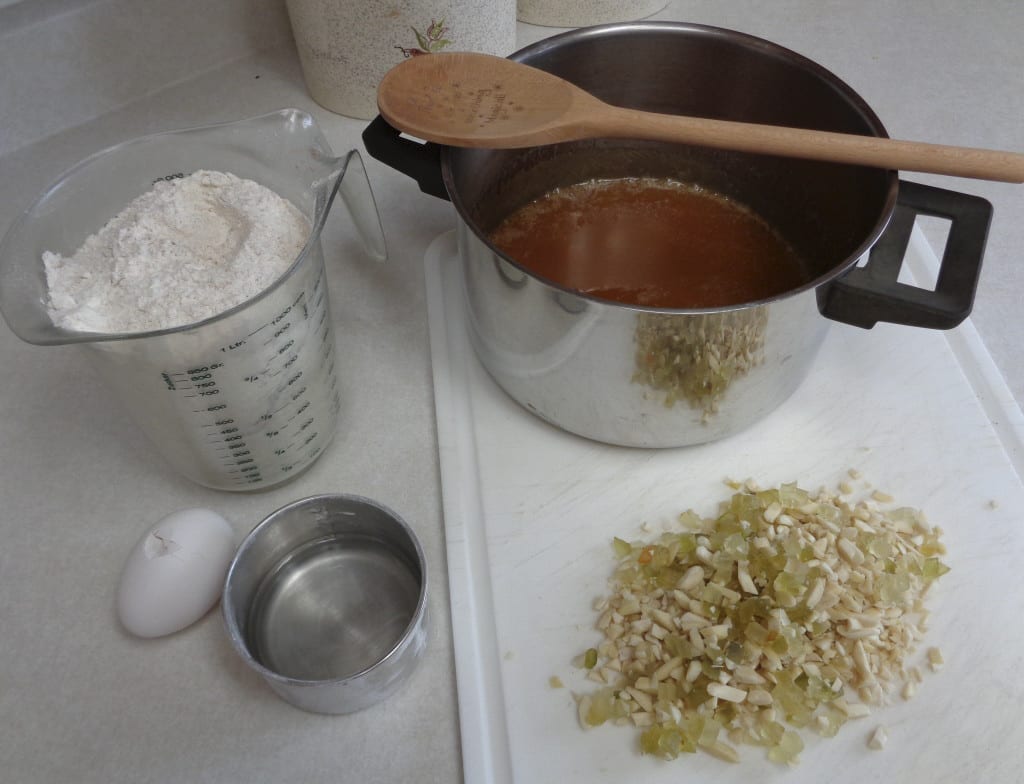 You will need:
1 cup sugar
2/3 cup honey
1/3 cup shortening
1 egg, beaten
1/3 cup water
4 cups cake flour
1 tsp. baking soda
1/2 tsp. salt
1 tsp. cinnamon
1 tsp. cloves
2/3 cup walnuts, chopped
1/3 cup citron, chopped
icing sugar
lemon juice
Wash hands, gather apron and ingredients. Shift focus, especially if you have a special purpose in mind. Call the compassionate spirits "In my kitchen filled with Care, I welcome, Earth, Fire, Water, Air" or as my friend invoked yesterday, "Earth, Flour, Water, AIr." Things generally go better with a smile. Begin.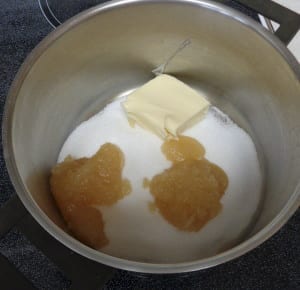 Combine the sugar, honey and shortening together in a pot and bring to a boil. (Originally this would have been lard and you can substitute if that is your preference.)
Honey is hygroscopic which means it draws moisture to itself and this is what will keep the finished cookies soft over the period of weeks between production and consumption as lebkuchen is shipped around the world these days. It also means you can prepare a batch before the seasonal rush catches up with you. always a good thing.
Boil for 5 minutes.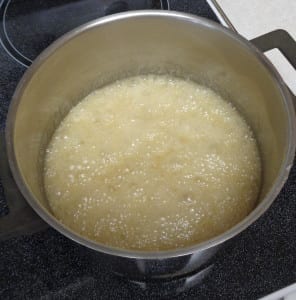 Remove from the heat and allow to cool enough that the egg will not be cooked when added. You may find that the mixture becomes very stiff. Either work quickly or put over low heat and warm enough to allow the addition of ingredients to continue.
Mix together the egg and water.
Sift together the dry ingredients and add 1/3 to the sugar/honey mixture.
Add 1/2 the egg mixture and stir well. Repeat.
Finally add the last 1/3 flour mixture with the nuts and citron. You can also toss the nuts and citron in the remaining flour mixture before adding.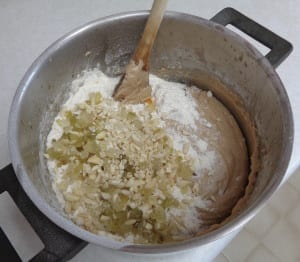 The dough will still be a little on the warm side. You can also place the dough on a floured board and knead a little to bring all the elements together.
Once well mixed, wrap and store the cookie dough in the fridge for one week to allow the mixture to ripen.
The traditional size and shape of this lebkuchen is a reactangle the size of a playing card.
I have two plans for this batch, one is a cookie exchange where I will need 5 dozen and I need another 3 dozen for our Yule dinner so I am going to make the cookies a little smaller.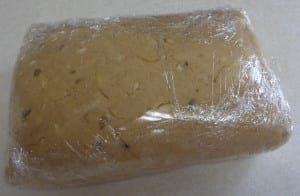 In total I was able to make about 100 small stars from this recipe.
Place on cookies sheets and bake to 15 – 20 minutes. They will puff up a little but will not expand too much.
Due to the nuts and citron, the cookies will not be smooth when finished. This is not a problem as they will be glazed once cool.
In a small bowl, mix icing sugar with just enough lemon juice to get a smooth brushable paste and brush the top of each cookie. Set on a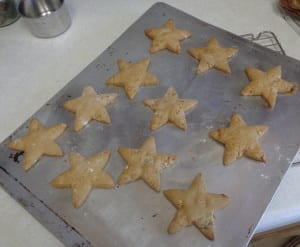 cooling rack and allow to dry. The glaze will form a sort of snowflaky, ( not a real word , I know ) effect.
Store in an airtight container until needed.
These cookies are great for dipping in tea and are something decidely different if you are used to shortbread and spritz cookies at this time of the year. I considered dipping the bottoms in chocolate but decied to go for the traditional approach.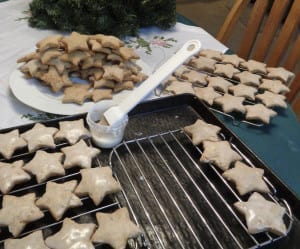 In Europe, once glazed these cookies can also be found decorated with coloured icing and special words for loved one, a little like Valentine Heart Candies.
What I am going to do is turn the 36 cookies I need for Yule over as they will be used to decorate the banquet tables and add on the bottom either Runes as this is a Norse themed dinner or gift exchange numbers. Hopefully they will not be discovered until the time is just right.
Pfeffernuss and Oblaten are both variations on the theme of spiced cookies with heat that smell of adventures to be had in places far away.
Can you see the painted mirror below? It is my solution to the battle of the Holly and the Ivy. By adding the Yuletide mirror above to my decorations, they both arrive at the same time and one does not get to rule over the other. Blessed Yule to you and yours.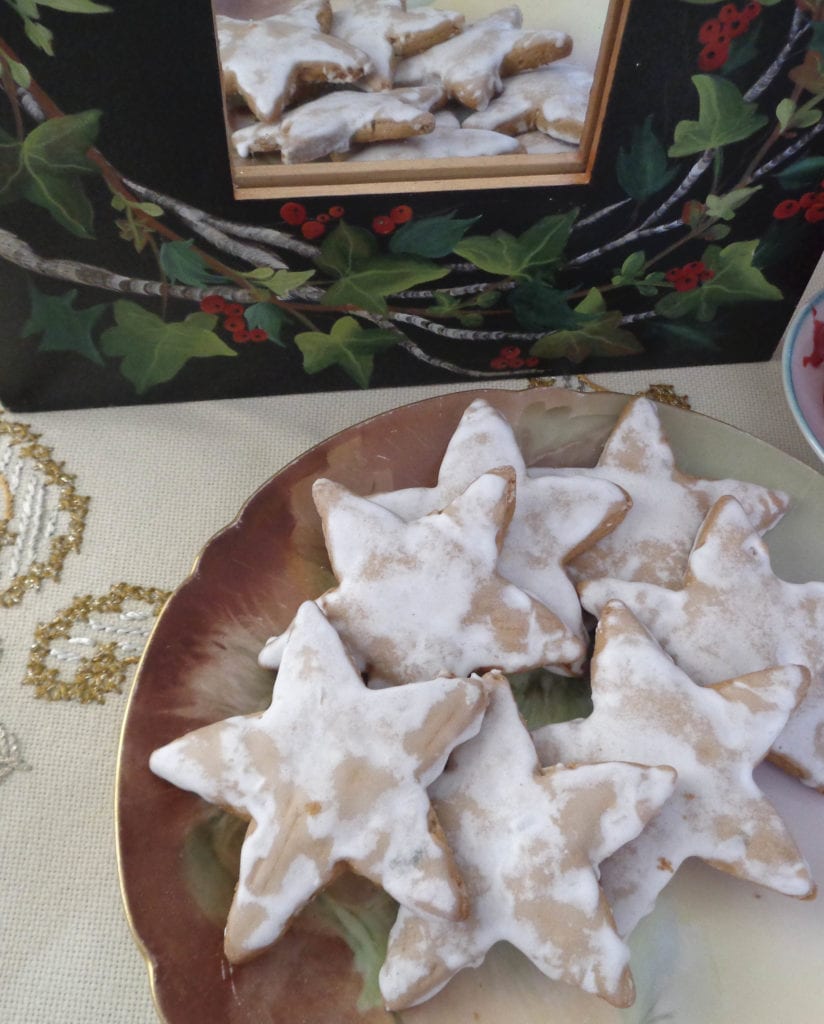 Lebkuchen from My Kitchen Wand