My Gaelic roots hail from the Scottish side of the Irish Sea but I wanted a chance to play in the kitchen and since St. Patrick's Day is happening this week several themes came together. This dish can be thought of as a side to Bangers or Corned Beef and Cabbage. It can also be a main entree with a side of salad or fresh steamed veggies. Do what works for your family this St Paddy's Day or any other.
St. Patrick was a Roman born cleric, considered the patron saint of Ireland, who is given credit for driving out the snakes from Ireland ( there weren't actually any there in the first place ) and bringing Christian faith to the Emerald Isle. When his feast day falls during Lent it is permissible to set aside the rules of Lent and celebrate.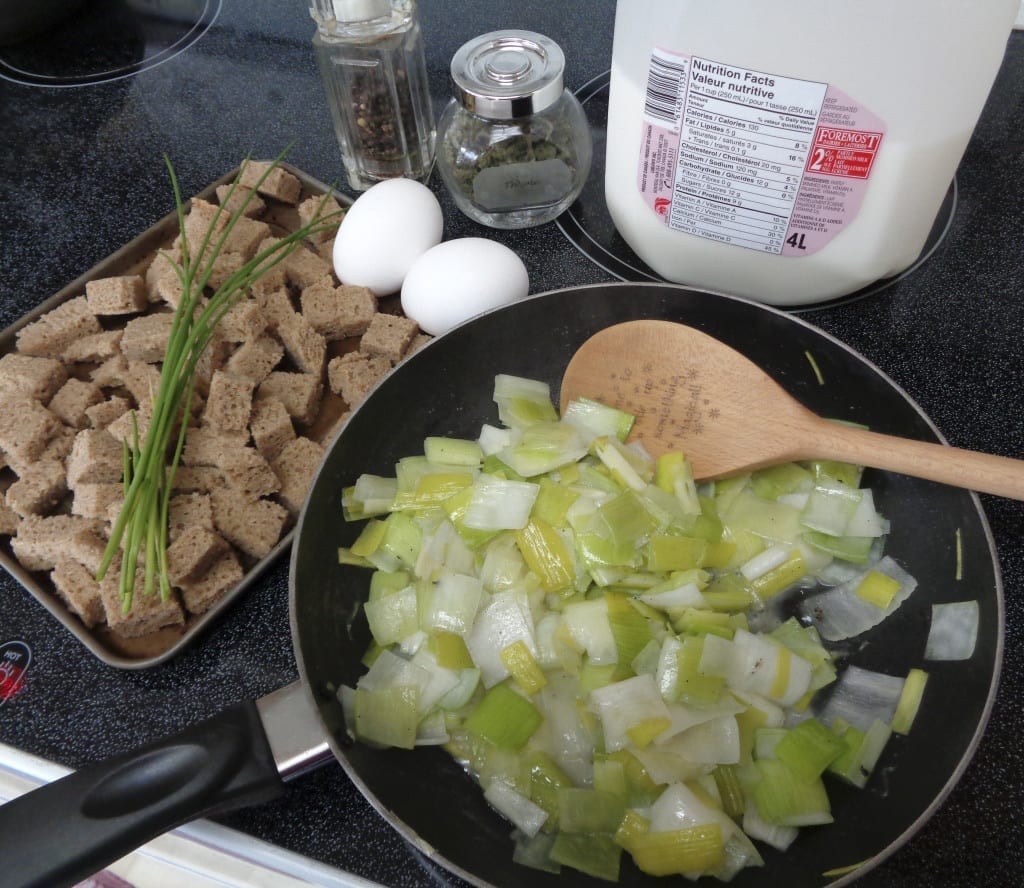 You will need:
2 1/2 cups crustless cubed bread
1 Tbsp. butter
2 cups sliced leek pieces ( I used about 8 inches of white and light green parts )
2 Tbsp. fresh chopped chives
1 tsp. dried thyme
1/2 cup cooked potato ( finely chopped or grated, optional )
2 eggs
plus milk to make 2 cups
salt and pepper to taste
1 1/4 -1/2 cups emmenthal cheese or another of your choosing
Start by clearing the nigglies out of your day. Allow the warm water to drain the tension from your body as you wash your hands and let the day go. Take a deep breath and release. Bring your focus from the outside world into your kitchen. "In my kitchen, filled with Care, I welcome, Earth, Water, Fire, Air." Begin.
I am on a bit of an Einkorn flour kick so I baked a loaf for this recipe but if you have a different variety of bread hanging around going stale ( which never happens with Einkorn bread around here ), feel free to change it up.
Fresh bread does not soak up the egg and milk mixture as well as dried bread. If you are concerned, pop your bread cubes in a toaster oven on low for 5 – 10 minutes. The intention is not to brown the cubes, just to dry them out a little while other preparations are underway. My Einkorn bread had sat for two days and was still soft and spongy so I gave it 10 minutes.
Pre heat the oven to 325 degrees.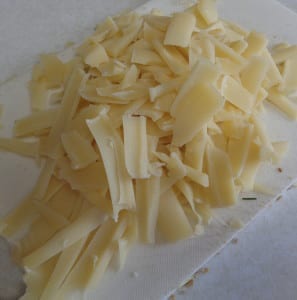 Quarter the leek down the middle of the stock and then cut in slices. Leeks can sometimes contain a lot of earth so a thorough wash is well advised. Place the butter in a frying pan and melt over medium heat. Once melted add the chopped leeks and cook, tossing regularly until tender.
Grate the cheese and put aside. I would have gone with an Irish option like a Porter flavoured cheddar, however Ireland's cheese making industry is very small and getting something truly Irish is more likely to happen on the East Coast of North America than one this side.
These were the first chives of the year. It was so nice to pop outside and clip a few fresh stems for this dish.
Place chives and thyme in a 2 cup measuring cup.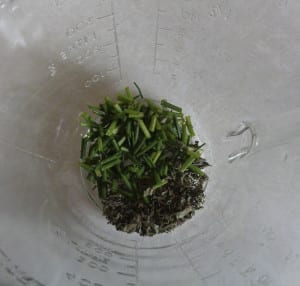 Crack eggs into cup and add salt and pepper to taste. Stir with a fork and add milk to the 2 cup marker. If you are feeling generous, fill to 1 1/2 cups and top up with cream to 2 cups.
I used a 7 x 7 x 2 1/2 inch casserole but an 8 x 8 inch will work as well, possibly better and probably easier to find.
Butter the dish and place a few slices of cheese on the bottom. Top with a layer of bread crumbs and then pour in 1/3 of the egg/milk mixture followed by half the cooked leeks. Add the grated potatoes, if using. Repeat the layers again and finish off with the last of the emmenthal. Allow the mixture to sit and absorb the liquid for 10 -1 5 minutes,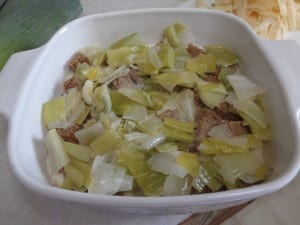 Place on the middle rack and bake for 50 – 60 minutes.
Keeping a cookie sheet underneath the casserole dish, just to be safe, makes clean up much easier the doing the oven as the milk mixture will expand as it bakes.
Serve hot from the oven as or with dinner. Expect the pudding to deflate a little as it cools.
St Patrick's Day can go beyond green beer and shamrock cookies to offering the flavours of Ireland in tasty ways while celebrating a wonderful history of mysterious megalithic sites, leprechans, the Ulster Cycle and its heros; all part of the national pride of Ireland.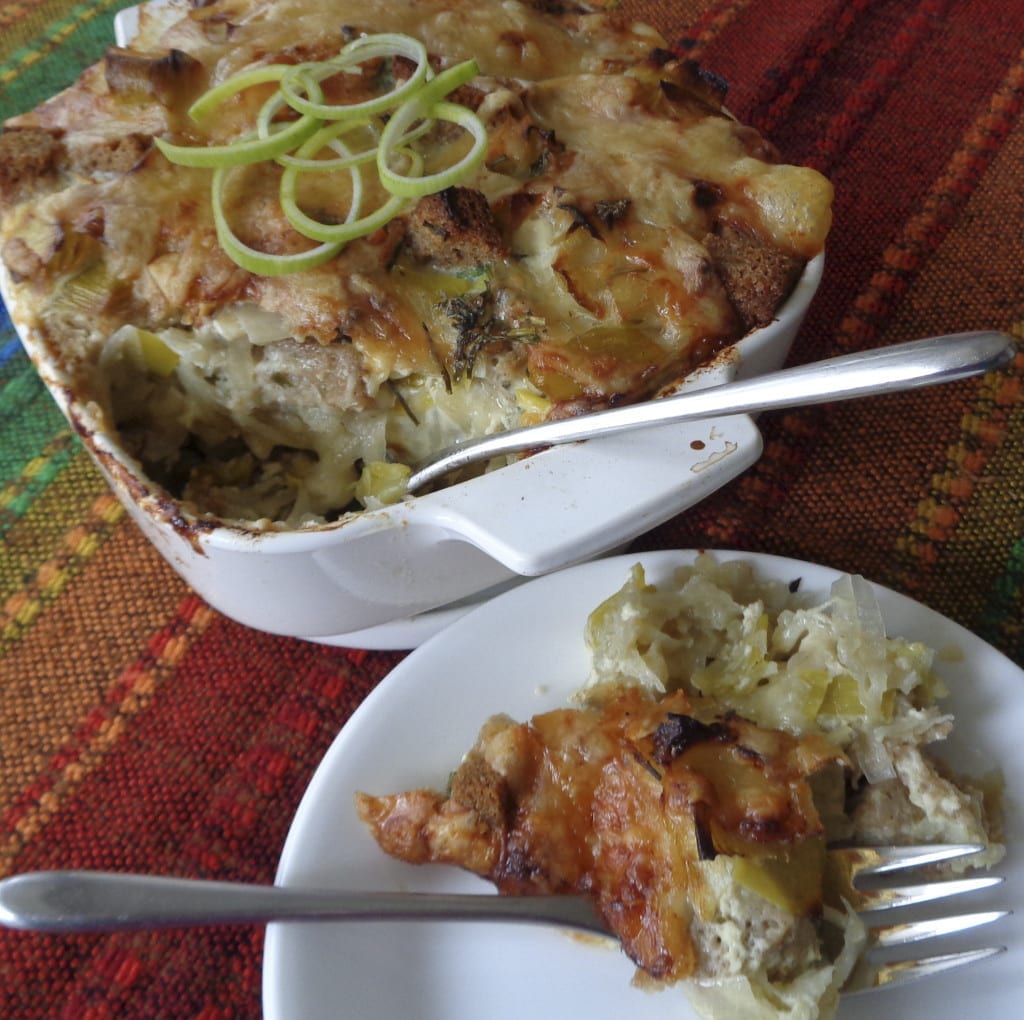 Leek and Potato Bread Pudding from My Kitchen Wand