One last ode to the Irish before March 17th. If you have never heard of a "Hot Whiskey" you might have come across a "Hot Toddy". Same church, different pew. Hot Whiskey is a classic Irish answer to the onset of any cold, including an imagined one or for simply taking off the chill of chilly damp weather, something any West Coaster can relate to. It is a combination of lemon, cloves, sugar ( white or brown depending on your taste ) and hot water.
Years ago, the Irish Rovers did a cover of Whiskey on a Sunday. Now St. Patrick's day this year is Tuesday so it's a buttermilk day ( check out the song if that makes no sense ) but since it also falls during Lent I am told a little leniency for this recipe might be in order.
This cake is a strong lemon clove pound cake, steeped in a lemon whiskey clove syrup and finished off with a little glaze and clove spiked wheels of lemon just like a true Hot Whiskey drink. By strong I mean the cake is not a light and fluffy variety as there is much goodness that it needs to soak up after baking and still be able to hold together.
I used my scalloped edged pans to add interest to the finished pieces but they can be baked perfectly well in 2 more traditional cake tins; 8 or 9 inches would be best.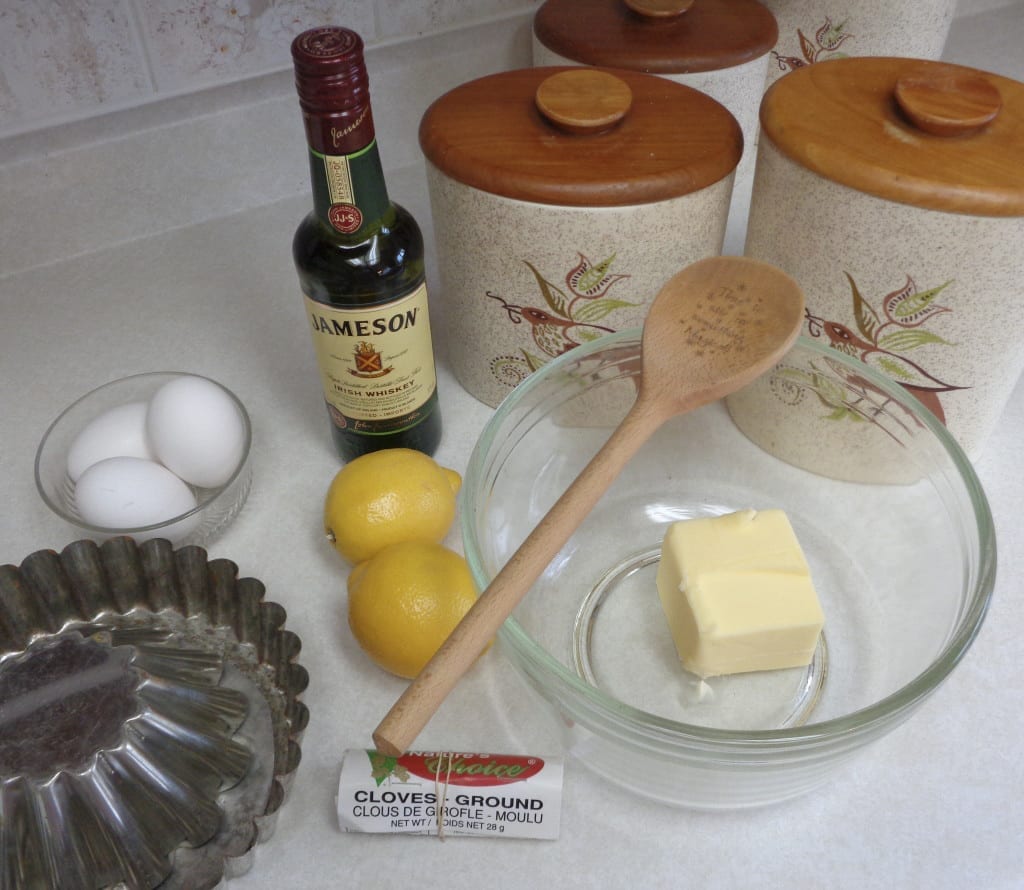 You will need:

Cake:
3/4 cup butter
1 1/4 cups granulated sugar
3 cups flour ( cake if you have it or one tablespoon less per cup and sift it )
2 1/2 tsp. baking powder
1/4 tsp. salt
Finely grated rind of 1 lemon
2 Tbsp. fresh lemon juice
1/4 tsp. ground cloves
3 large eggs
1/3 cup milk
Syrup:
3/4 cup water
zest of one lemon
3/4 cup lemon juice
5 whole cloves
1 1/3 cups granulated sugar
6 Tbsp. Irish whiskey
Glaze:
1 cup icing sugar
1 1/2 Tbsp. lemon juice
1 1/2 Tbsp. Irish whiskey
Find your center and take a deep breath, hold and release. Repeat as needed. Coming from the idea that work is love in action, it is always good to let go of distractions before starting a project. Make room for the recipe in your day. Be in the moment while you are working and ask for assistance as needed from those around you and the compassionate spirits. That can mean staying quiet when you need to concentrate and/or being open to inspiration.
Preheat the oven to 375 degrees and grease the pans. I floured mine as well to make sure there were no sticking issues as I will not be able to cover up oopsies with icing.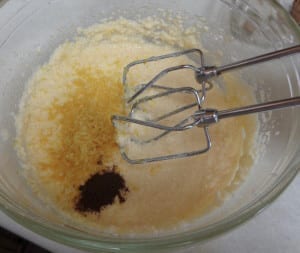 Cream the butter and sugar together until light in colour and fluffy in texture, then add the eggs and continue beating after each until the whole mixture is well mixed. Add in the lemon juice, zest and ground cloves. Mix. Measure 2 cups of flour into a hand sifter and sift into the batter. Mix in. Add the milk and mix again. Measure the last cup of flour into the sifter and add the baking powder and salt. Sift over the batter and mix in.
Transfer the batter into your prepared pans and smooth/level the top of the batter. You will find the batter doesn't neccesarily want to go where you want it to. It is stiff enough to have a mind of its own. Just be gentle and firm.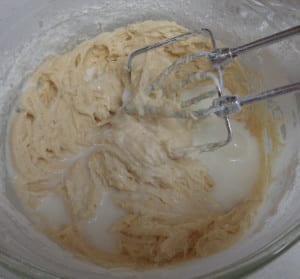 Place in the middle of the oven and bake until the cake is golden and just starting to pull away at the edges. As I was using forms that did not allow for equal amounts of batter in each, one was ready before the other. If you have divided yours into two equal pans, they should be done in about 30 minutes. Take the cakes from oven, set on cooling racks to cool for ten or fifteen minutes then gentlly turn the cakes out onto the rack for further cooling. You are going to need the pans again, so a hand wash and dry at this point is best.
The syrup is made by heating the water, lemon juice, grated lemon rind and cloves together gently. It is more of a steaming and the boiling will come later. Reduce the liquid for about 20 minutes before adding the sugar.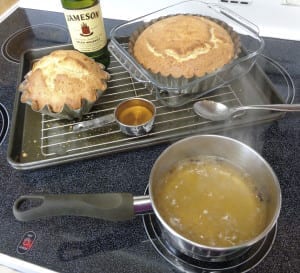 Stir the sugar while it dissolves and bring the mixture to a proper boil for five minutes. Take the pot off the heat and cool at least five minutes. You want the whiskey to hold on to some of its alcohol don't you?
Using a spoon remove the cloves. Pouring it through a sieve will take all the lemon pulp as well. Add the whiskey and stir.
Place the cooled cake back in their pans and using a skewer or knitting needle, poke holes into each cake. Keep to the top 2/3's of the cake. Going all the way through can make getting the cake out later a little more tricky. Slowly pour the syrup over each cake. It works best to do a little on each, alternating back and forth.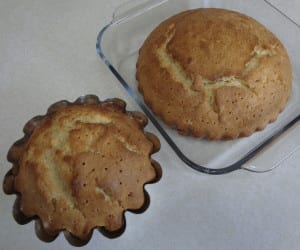 In theory half the syrup is poured over each cake. Mine was more 1/3 – 2/3s. It is going to take several hours for the syrup to be absorbed into the cake. I saved about 1/2 a cup and added it an hour later as it seemed like a lot of liquid to begin with.
Your cake will be nice and shiny and the holes will still be visible. Do not worry the glaze will solve that issue.
Measure the icing sugar into the sifter and sift. Add the lemon juice and whiskey mixing until smooth. Transfer the glaze to a piping bag and drizzle over the top of the cake from different angles.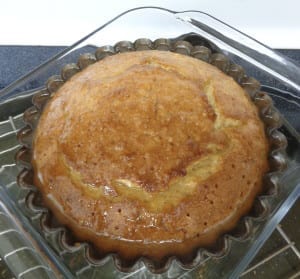 If you are putting the two layers of your cake together, use about one third of the mixture on the top of the bottom layer and then add the top layer, using the remaining glaze to cover the top and sides. Let sit undisturbed for a quarter of an hour when finished before moving again to let the glaze set up.
Cut several slices of lemon and place on paper towel to dry. Pop some cloves through the lemon, the same as would be done for a Hot Whiskey drink and place as decoration on the cake.
If you are feeling adventurous and would like to take this cake over the top for Cakes and Ale instead of a tribute to Ireland, try bringing out the fire aspect of the whiskey by lighting a saucier of whiskey and pouring it around the bottom of the cake before serving. I found it interesting that the flaming whiskey did not melt the glaze. Best done in lower light so the blue flame will be visible. Make sure the flame is fully out before cutting and serving.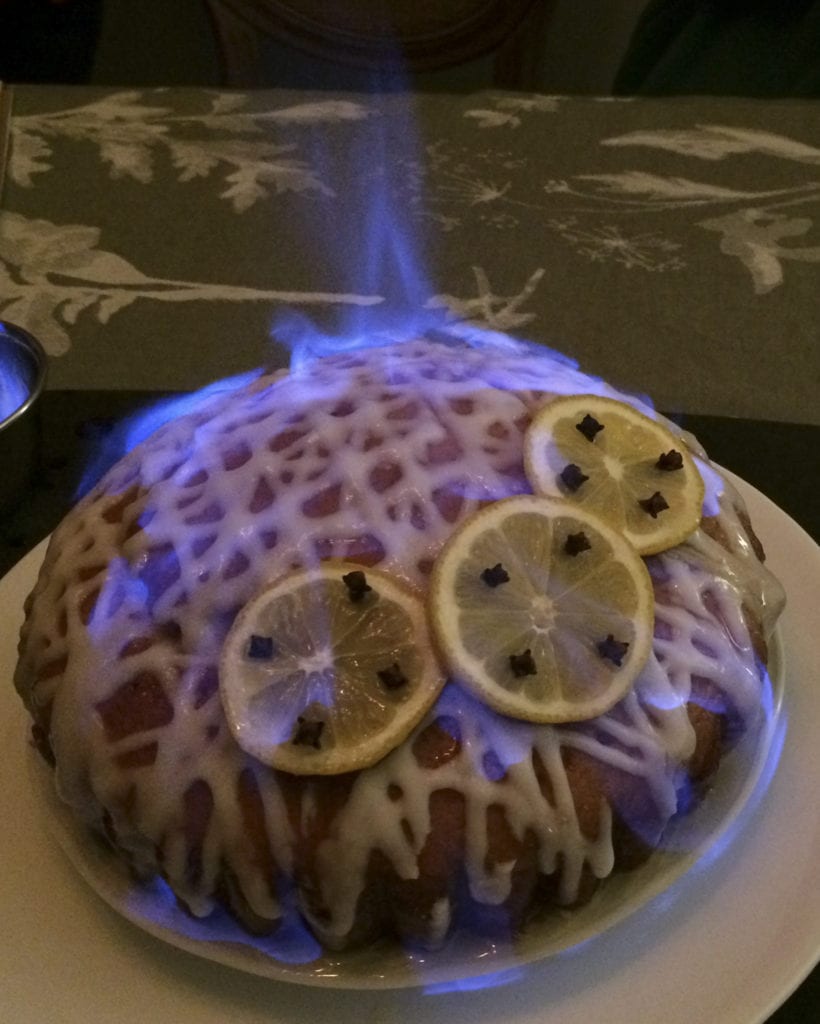 With and without fire.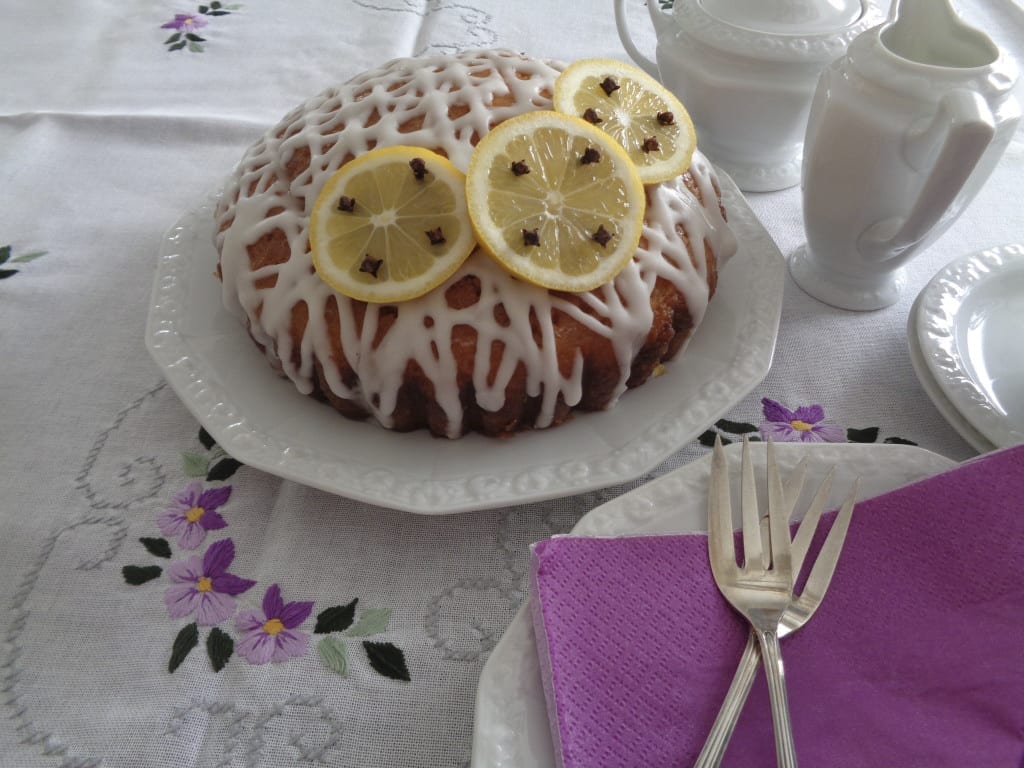 Spiced Lemon Whiskey Cake from My Kitchen Wand