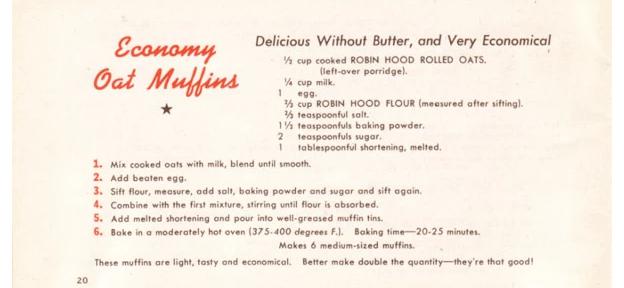 Last month I taught a class called "Cooking with Less".  It was in conjunction with a World War Two display at a local museum that focused on keeping your family healthy when rationing and lack of availability was common. This is one of the recipes I baked and brought along to class. It is made with leftover oatmeal as flour was a rationed item.
There were none left at the end of class. In 2020, I would probably add a few raisins to the mix as a breakfast muffin but left plain they could be sliced toasted and served with cheese for a quick snack. I also don't see any reason why a good gluten free flour could not be substituted.
From a Wheel of the Year perspective, these would be perfect for an Imbolc potluck, when stores could be low.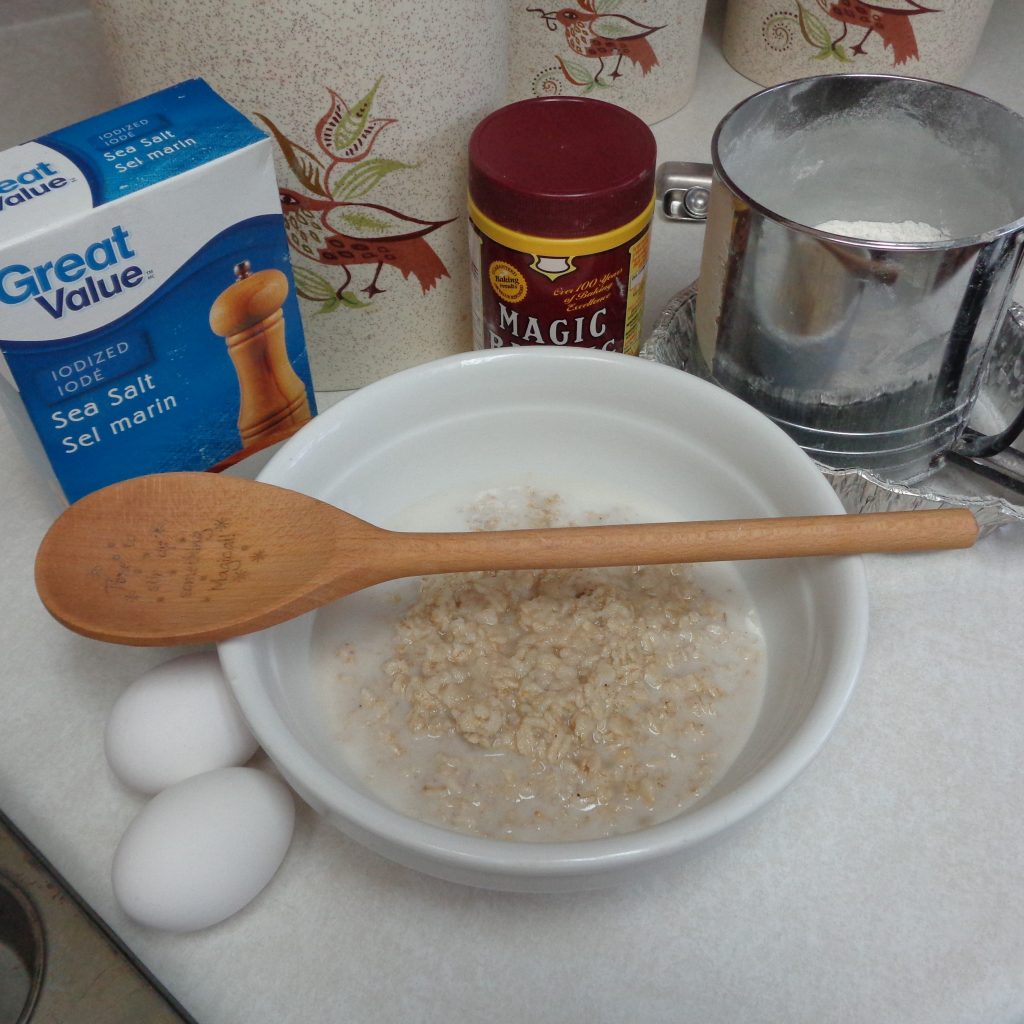 You will need:
1 cup left over cooked oatmeal
1/2 cup milk
2 eggs
1 1/3 sifted flour
1 1/3 tsp. salt
1 T. baking powder
2 Tsp. sugar
Since almost everything was in short supply during the war years, a great place to begin this project is with simple gratitude for the availability of supplies. Close your eyes and take a deep breath in. Appreciate the bounty we currently can access. Be thankful there is nutrition that our bodies need to stay healthy and acknowledge that things could be very different. Release your breath, letting go of anything that keeps you from being present and begin.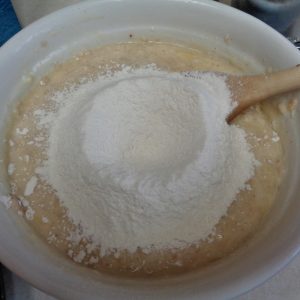 Preheat oven to 375 degree F and grease tins or add muffin cups to ease the release after baking.
Stir the porridge and milk together before adding the eggs and thoroughly combining.
My leftover porridge was cooked a couple of days before I baked these. I knew I was going to make them so I added the milk to the porridge, stirred it together before the oatmeal got stiff and stored the mixture, sealed, in a container until I got to baking. It was much easier to blend together than having to start with an unhelpful lump.
Sifting the flour, sugar and baking powder was highly recommended as getting air into the flour would mean less flour in the recipe and flour was a cherished item during the war.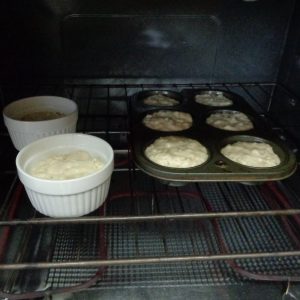 Fold the dry ingredients into the wet and then transfer the batter to the muffin tins. This recipe was originally for 6 muffins. I doubled it as there were a number of people in class, filled the muffin tins and then needed somewhere else to bake the last of the batter.
Portion sizes were smaller during the war years and this was not enough batter to fill a dozen regular sized tins but probably enough for one size down if they were 3/4's full.
Twenty minutes in the oven and they were lightly browned and very moist.
My grandfather used to make a 12 grain porridge that he assembled himself. It bubbled away at the back of the wood stove in the kitchen. I think that kind of porridge would make a great muffin as well.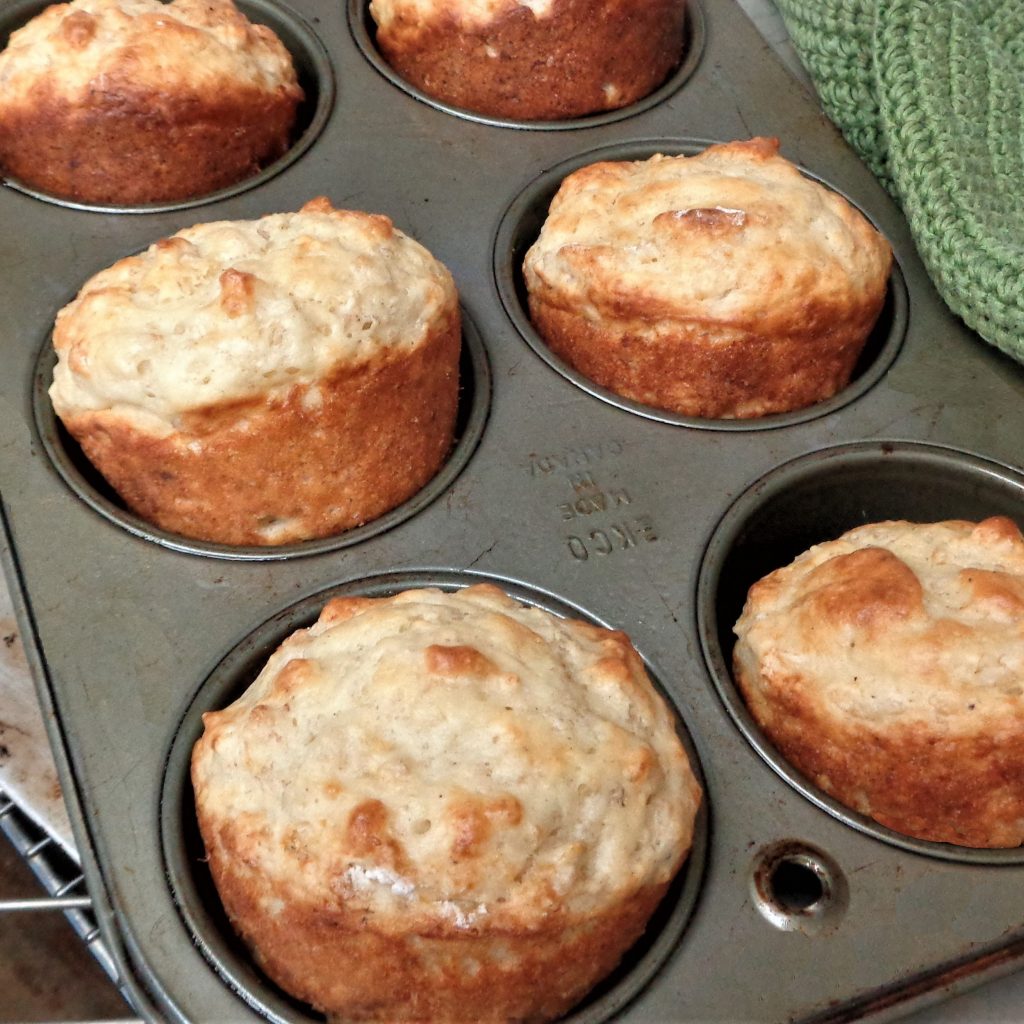 Leftover Porridge Muffins from My Kitchen Wand