It was not a dark and stormy night. The clock said it was eight in the morning but you would never know it by looking out the window this morning. Time for pancakes!
I had an open container of pumpkin puree in the fridge, this is October and Thanksgiving weekend to boot, so why not stir up something magical, or at least try and hope the buckets and brooms don't get out of hand. That was a Fantasia reference, just in case I was being too obscure. Oh my, now I am going off topic. Speaking of things getting out of hand, Elaine Altman, one of my readers came across the funny below and sent it to me this morning.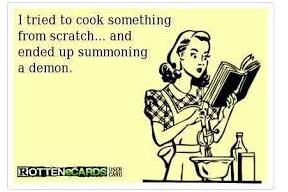 I hope it was a recipe for Devil's food cake. She said it made her think of the My Kitchen Wand Facebook page. Thank you, Elaine!… I think?
Okay, back to pumpkin pancakes. I will admit I am rather fond of whole wheat buttermilk pancakes and I had all the ingredients pulled out before my conscience got the better of me and I opted for a different road.
I don't have a gluten intolerance but I do think that the conditions in the wheat industry have supported looking for more nutrient rich options. The pumpkin puree in these pancakes create the moistness you would find in a chocolate zucchini loaf, pumpkin bread or applesauce cake and using rolled oats changes up the food values.
You will need:
1/2 cup pumpkin puree
2 Tbsp. buttermilk ( fill to overflowing )
1 egg
1/2 vanilla extract
1 tsp. honey or maple syrup or molasses or brown sugar
1 tsp. butter
1 Tbsp. bacon, chopped. optional
1/2 cup rolled oats, scant
2 Tbsp. pecans for the grinder
1 Tbsp. pecans finely chopped, optional
1/4 tsp. soda
1/4 tsp. salt
1/4 tsp. cinnamon
1/4 tsp ginger
1/8 tsp. nutmeg
1/8 tsp. cloves
As I gathered my ingredients, I thanked Asiaq for the lovely weather that allowed a pancake morning. Asiaq is a Northern Canadian & Greenland deity who is responsible for weather in Inuit traditions. " In my kitchen, filled with care, I welcome, Water, Fire, Earth, Air ". Ground…breath… focus… begin.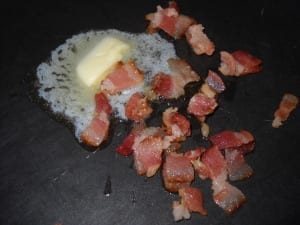 I had chopped, partially cooked bacon in the fridge so popped a tablespoon into the pan I was going to use for cooking the pancakes and added the butter while the pieces released a little more of their fat. It is also possible to start the bacon from scratch, in which case, there is no need to add butter.
In truth, I would also leave out the bacon the next time I make these but that is a personal preference. I enjoyed the bites without the bacon more than the ones with as there was too much contrast for me between the salty bacon and the rest of the pancake. A rasher or two of crisp bacon can always be served on the side.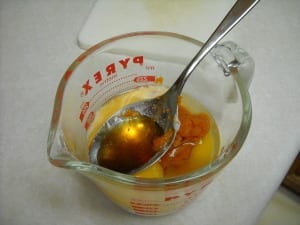 Combine all the wet ingredients in a measuring cup and mix together until well blended.
Place the oats and 2 Tbsp. pecans into a grinder and pulse until powder like. If you have oat flour in your pantry feel free to substitute. It wasn't in mine and as long as you are not using quick oats but proper rolled oats, all will be good.
Not all rolled oats are equal though. If you are choosing gluten free for medical reasons,  please make sure that the oats have been processed in a gluten free environment. It will say so somewhere on the packaging.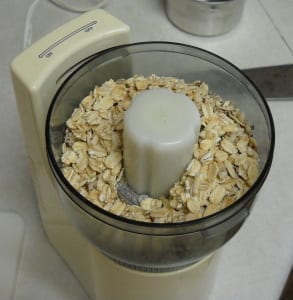 Combine oat mixture with spices, additional nuts if you like your pancakes crunchy and soda.
Add bacon and juices to the wet ingredients, stir.
Mix the wet ingredients into the dry ones just until  moist and then allow the batter to rest for 5 – 10 minutes.
This will allow the baking soda to begin working and the moisture to soften the oat mixture.
Reheat the frying pan to medium and place enough batter in the pan to make a three inch circle. This batter is thick and you will need to use the back of the spoon to smooth it out and widen the perimeter.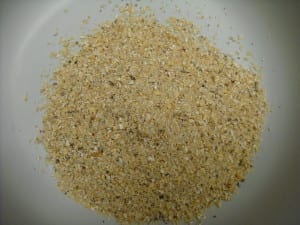 Because it is thick you will not be able to tell when the pancakes are done by the bubbles popping and staying open. I paid attention to the edges and when they has dried out and I could get a spatula underneath easily, I flipped them over. Generally pancakes cook on the second side for half the time of the first and you might find that cooking times will shorten as you go through the batch of batter, if the frying pan is not fully warmed before starting to cook.
Once cooked, serve immediately with butter and maple syrup or place in a warming oven until all the batter is used up and serve all together. Maple syrup is a better alternative than maple flavoured syrup and is an excellent source of manganese but it is still high in sugar content so use in moderation.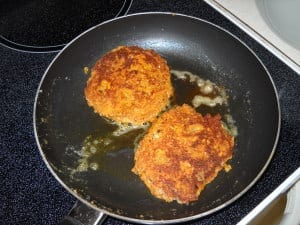 These are moist, light and filling. Nice for a cold morning when there is no need to rush out the door. I don't have that heavy feeling in the pit of my stomach, I get sometimes with pancakes and my body is happy, happy for the nutrients that go way beyond what a buttermilk pancake would have supplied.
Tip: If you don't have buttermilk in the house, use regular milk and add 1/2 tsp. of either lemon juice or vinegar.
This recipe made 6 pancakes, enough for two non ravenous people with some fresh fruit, milk or coffee and no place to run off to on a dark and stormy Saturday morning.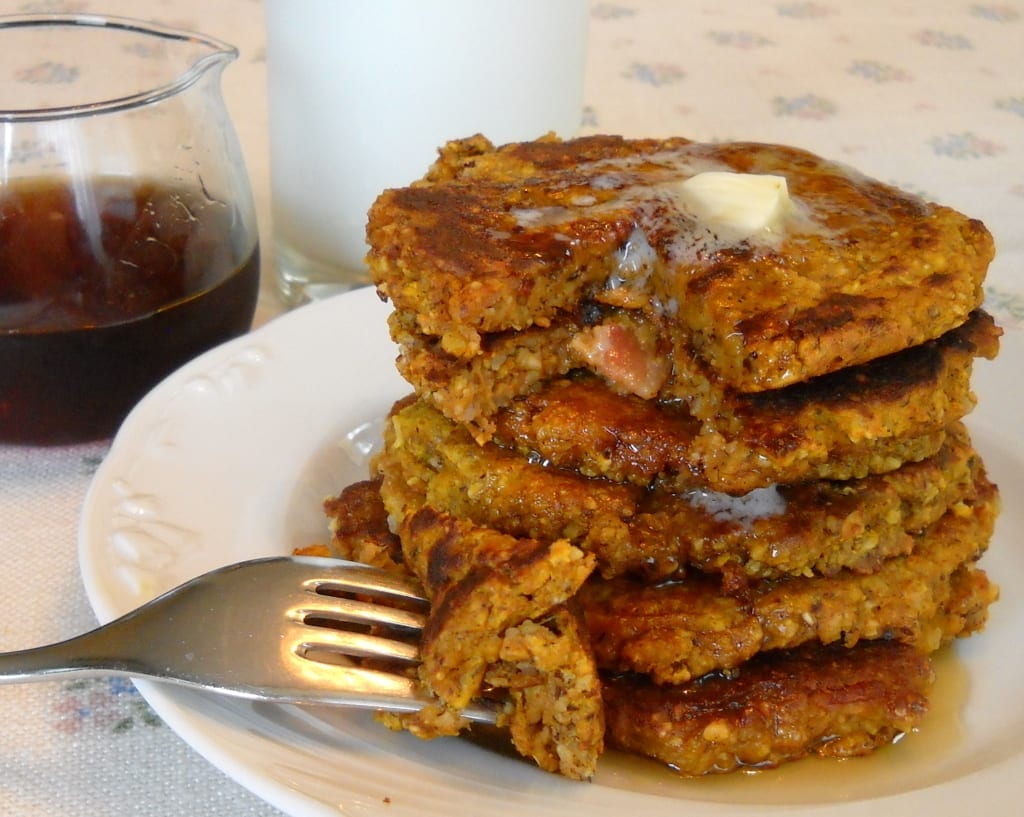 Oat Pumpkin Pancakes with Bacon & Pecans ( Gluten free ) from My Kitchen Wand