Oatcakes, where to begin? Crackers, cookies or scones? Sweet or plain? Crisp or soft? Wheat in or gluten free? Baking soda or powder? Hot water or buttermilk? Rolled or steel-cut oats? The choices go on and on and on. What makes that so lovely is that playing with options will get you through the entire year with a plethora of flavours and textures. So if this particular recipe is not your style, there are lots more ways to make oatcakes.
In their natural state oats are gluten free but some are processed in a location that also handles wheat and the gluten will be in the product simply by virtue of being in the same building. This might not be an issue for most people but if you are someone dealing with Celiac related issues, please check labels before purchasing any oat products to ensure you have a gluten free product.
Eating oats will help you feel fuller for a longer period of time and aid in healthy digestion as they are full of fibre both soluble and insoluble. High mineral content, including manganese and phosphorous help keep energy levels up which helps us all get through the day.
With all the processing that goes into creating what we know of today as all purpose flour, it is worthwhile adding a more complex carbohydrate to our diets and oatcakes are simple to make, have better nutrition than a slice of white bread, are open to lots of tweaks, are easy to transport and keep handy. And they are tasty!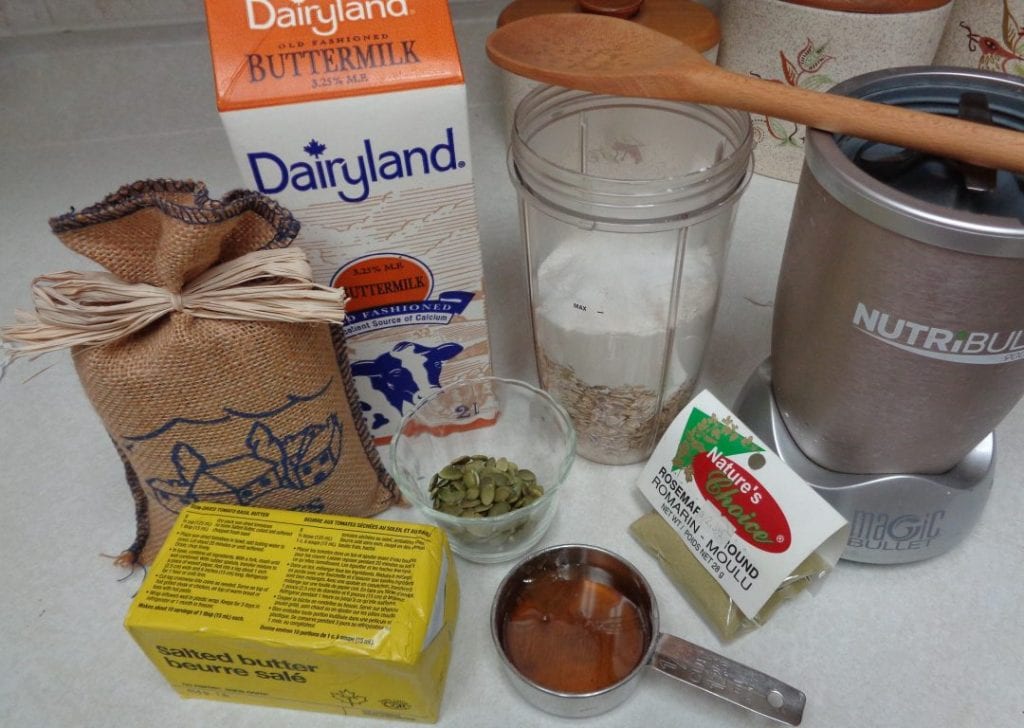 You will need:
1 1/2 cups rolled oats
1 tsp. rosemary, ground
1 cup all purpose, oat or gluten free flour
1/2 tsp. baking soda
pinch – 1/4 tsp. salt
2 -3 Tbsp. chopped pumpkin seeds ( optional )
3 Tbsp. butter, cubed
1/4 cup buttermilk
1/4 cup honey
Preheat oven to 350 degrees.
Gather the ingredients and prepare yourself by washing up, bringing your thoughts into the present moment and  centering with a deep breath or two. Being present keeps you aware of what you are doing and open to inspiration. Welcome the compassionate spirits and begin.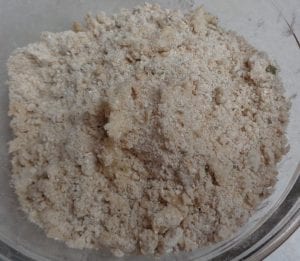 Place the dry ingredients, including the seeds in a blender and pulse for several seconds to chop the oats. If there is not one easily available, chop up the oats a little by hand first and then mix the dry ingredients together.
Many recipes leave the rolled oats whole so not to worry if that is your choice. Just make sure that real rolled oats are used and not the instant or pre-cooked varieties.
Add the butter and rub together with the dry ingredients until it looks something like the picture on the left, all crumbled, no big chunks, just many smaller bits all coated in the flour mixture. The idea is that just like in pastry there are lots of little bits of butter that will melt and create holes keeping the oatcakes flaky and enjoyable to eat.
Adding herbs to oatcakes has become very popular over the past few years, so as we shift from summer to fall, take a look at rosemary or sage or herbs d'provence. I used ground rosemary which gave a greenish hue to the dough but if you have fresh available in the garden, finely chopping or spending some time with a mortar and pestle are other options. Oatcakes have flexibility.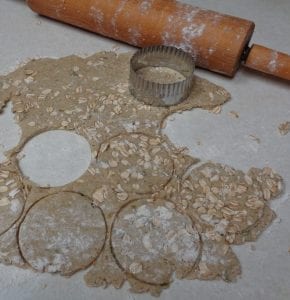 Stir the honey and buttermilk together and add to the mixture. I used  spruce flavoured honey, infused earlier this year, but if that is not sitting on your shelf, use what is available. Boiling water is often used as the liquid in oatcakes so if buttermilk is not handy try that instead. Start with three tablespoons and add one more if needed. Did I mention flexibility?
Gather into a ball. and transfer to a work surface to roll out the dough. The counter should have some variety of flour on it or as an alternate sprinkle rolled oats and roll the dough out on top as seen to the right.
Using a cookie cutter or glass cut out the cakes and transfer to a cookie sheet. A traditional size is about two inches. These are 1 1/2  inches.
These oatcakes will ultimately be soft once baked. That is because honey is a humectant, something that keeps moisture in a product. Another way that oatcakes stay soft is if they are baked thicker and while we are most familiar with thin crispy options, there are recipes that are shaped more like scones with soft insides. Taking out the honey is an option if you are looking for a more savoury finished product, as is substituting a couple of tablespoons of sugar for the honey. Both these options give a crisper finished oatcake. I think I said something earlier about flexibility.
Bake for 7- 10 minutes if making the smaller version and about three minutes longer when going with the two inch size. Cool and enjoy.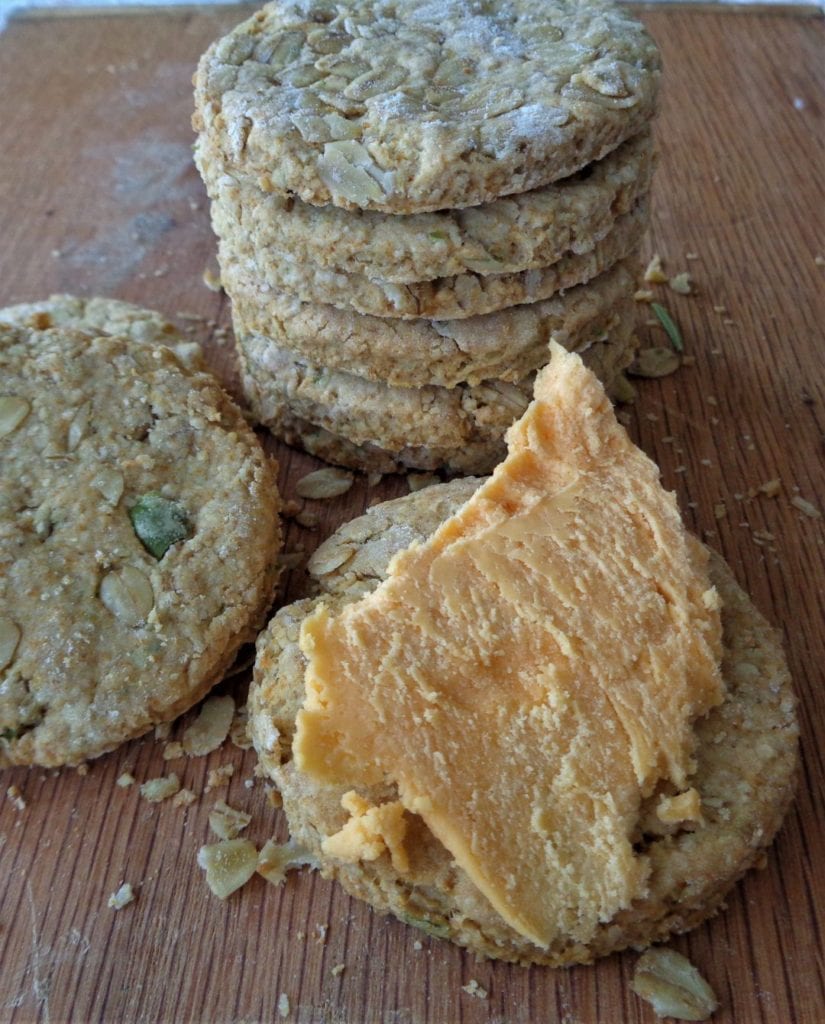 Lovely plain or with cheese, nut butter or jam. Unsweetened options can be served with pate and a variety of spreads. Try substituting these for crackers on soup night or when you are feeling a bit peckish and need something easy to tide you over.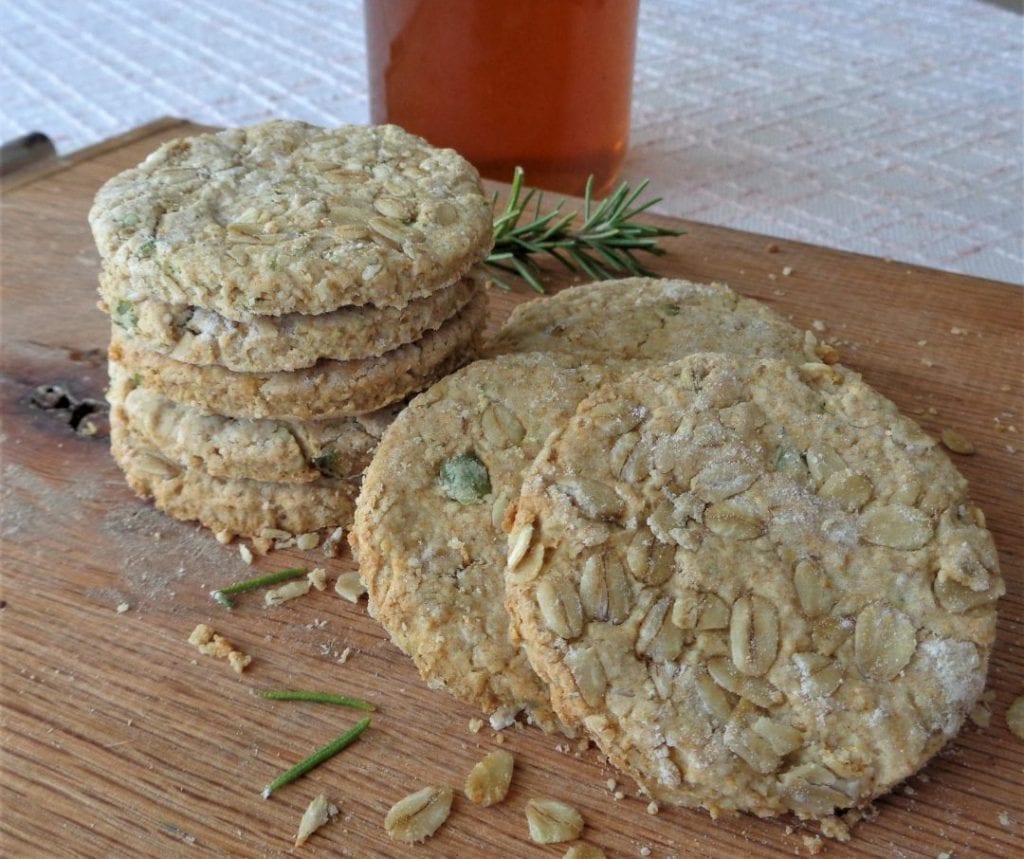 Oatcakes with Rosemary and Spruce Honey from My Kitchen Wand