I made this cream for Yule gifts and then did not post the recipe as promised. For that I apologize. It has been a busy few months. This cream is also the fifth and final "potion" we made for the Aging Naturally class last week.
It has become a go to cream for me. I said to my step-mother today that I have probably used more hand cream in this last month than in several previous years. One reason is the weather we have been having combined with how much time my hands have been in water. The other reason is I like how my hands, feet arms, elbows, face feel when I use it. This is not a heavy duty hand cream as it is intended as a face cream but it works for me. Actually it reminds me of the ad for Frank's Red Hot, " I put that…….on everything!"
You will need:
6 g. Apricot Kernel oil
6 g. Wheatgerm oil
2 g.  Rose hip oil
5 g. Shea Butter
6 g. Emulsifying Wax
70 g. Distilled Water

2 g. Honey
2 g. Vitamin E
1 ml. Optiphen Plus ( optional and there is more below )
12 drops Sweet Orange Essential Oil
3 drops Neroli Essential Oil
6 drops Lemon Essential Oil
3 drops Frankincense Essential Oil
Let's begin with a quick chat about neroli essential oil and orange blossom water. I was all set to use the bottles in the picture until I realized that they were in fact flavoured water and not actual orange blossom water. Since a trip to the store was out of the question, I used distilled water and then added neroli essential oil. Neroli is distilled from bitter orange blossoms. If you have proper orange blossom water on a shelf at home then use it for half the distilled water volume in the recipe above.
Additionally, the Optiphen Plus is an optional ingredient. It is a natural preservative. It can be left out but the finished product will need to be stored in the fridge and is best used within about a month. Adding the Optiphen Plus allows the cream to sit out and it will last about a year.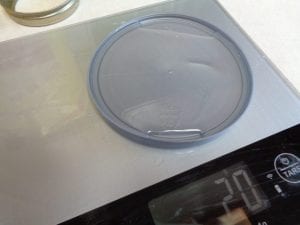 Weighing the ingredients will give consistent product repetition and investing in a scale for DIY projects is valuable.
Begin by weighing out the first five ingredients (these are all oil based) and placing them in a  container in warm water while the shea butter melts.
In class I only have access to a microwave but at home I would choose to go with water.
Into a second container add the measured water and honey. It is a good idea to use heat proof containers to avoid surprises.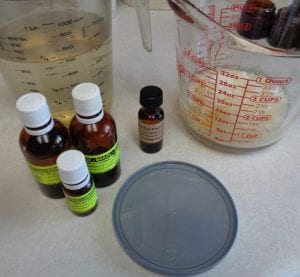 Place the second container into the warm water as well and allow both containers to come to a similar temperature but do not allow them to boil. They really only need to be warm enough for the container with the oils to be fully liquid.
In class, when I am making 10 times the volume of this recipe I use a stick blender, making sure to keep the head below the surface as much as possible. This will help keep bubbles out of the mixture.
When making this smaller batch, try a whisk or a frother and mix quickly and consistently to blend the oil and water. It is the job of the emulsifying wax to keep these two groups together.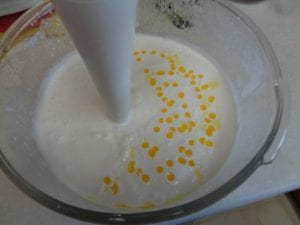 When the cream has reached room temperature add the essential essential oils, optiphen plus if using and vitamin E. Keep stirring.
Keep stirring until everything has cooled to ensure all the components stay together. Thickening will continue as this product sits in the fridge.
Transfer to dark airtight jars. This will help the essential oils stay active longer. If using a clear jar, the mixture will need to be stored in a cool, dark location. Label before storing.
There are lots of ways to modify this recipe and since we all have slightly different skin and different preferences, feel free to  change up the oils, both base and essential until it is perfect for you. As an example, a younger person with less delicate skin might prefer almond oil to apricot kernel oil. A few of the benefits for the recipe above are mentioned below.
Wheatgerm oil has a plethora of micronutrients, Vitamin E, A, D, proteins, Lecithin, Squalane. Many of these ingredients are also natural preservatives, giving extra support to homemade skin care products. Wheat germ oil is especially useful on mature skin with wrinkles, rough, dry and chaffing skin.
Rosehip oil can reduce scars and fine lines due to its' essential fatty acids and antioxidants, which are needed for tissue and skin cell regeneration.
Apricot Kernel oil excellent for delicate or prematurely aged skin.
Shea butter is another hydrator of skin. It contains anti-aging and anti-inflammatory components. For clarity, skin that lacks water is dehydrated and needs hydration. Moisturizer is needed when skin is dry and lacks oil. Hydrated dry skin that is not moisturized will still have a rough, flaky texture.
Honey has natural moisturizing ability, is an exfoliant and contains antioxidants.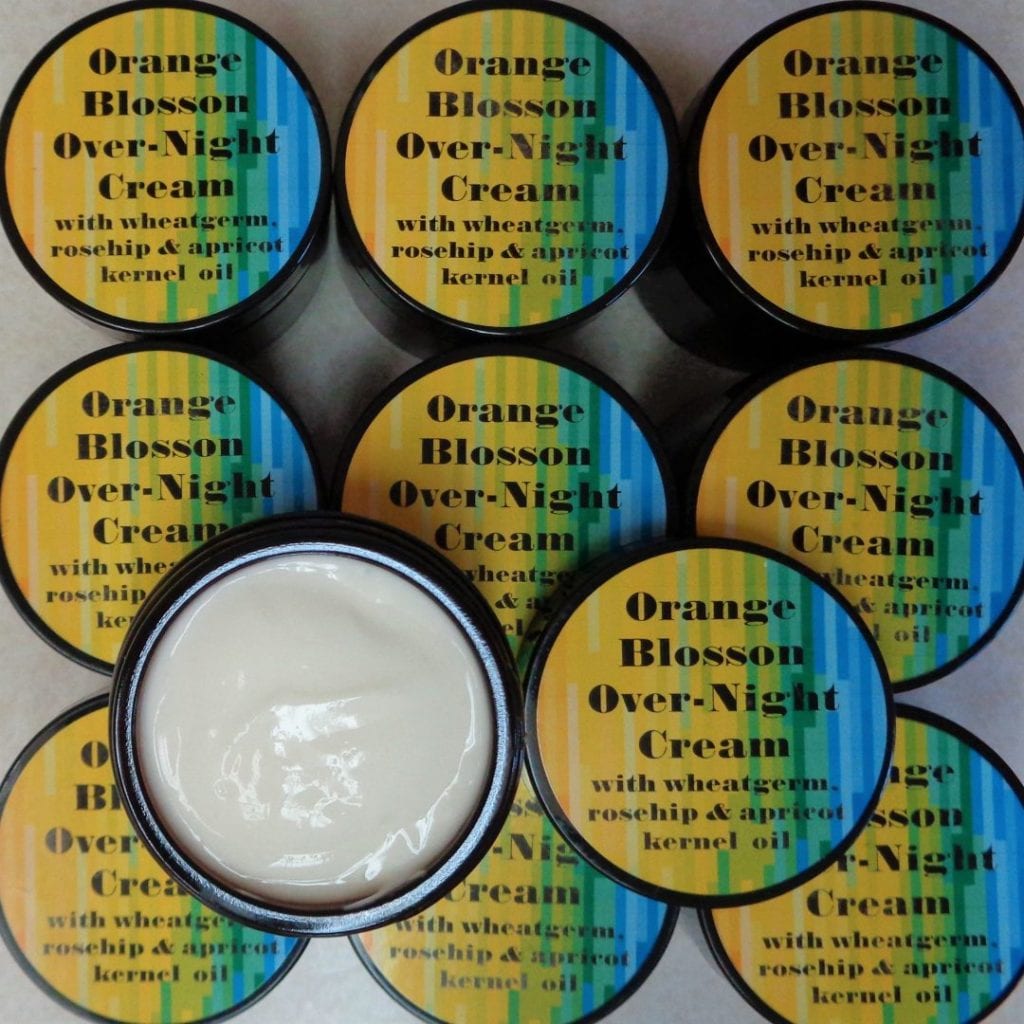 Orange Blossom Cream from My Kitchen Wand